Since mid-April, hundreds of acres in the Green Mountain National Forest have burned, with plumes of smoke at times visible in the northern Berkshires.
That happened last weekend, when residents of Williamstown saw smoke and may have thought they were seeing a forest fire.
It was the Forest Service of the U.S. Department of Agriculture conducting a prescribed burn around the Dome Trail in Pownal, Vt., just over the Massachusetts line.
Dan McKinley, a natural resources officer with the Forest Service, said the burns seek to improve the health of the 400,000-acre forest.
"We burn open areas of shrubs and grass to keep the area from becoming wooded, which is good for the wildlife. It also reduces the fuels for potential wildfires," he said.
Environmentalists interviewed about the practice say it has uses in improving habitat for wildlife, though its value in preventing uncontrolled wildfire is hard to assess.
Henry Art, a research associate with the Center for Environmental studies at Williams College, said that when controlled burns target open terrain, the results can improve access through the forest for wildlife.
"You want to do more open terrain, because you don't want to burn wood and create a hot fire that could get out of control," Art said. "It's better to have a small fire under control than a large fire that could adversely affect the environment."
Ryan Rebozo, director of conservation science at the Vermont Center for Ecostudies in Norwich, Vt., says the effectiveness of controlled burns depends on the condition of the terrain.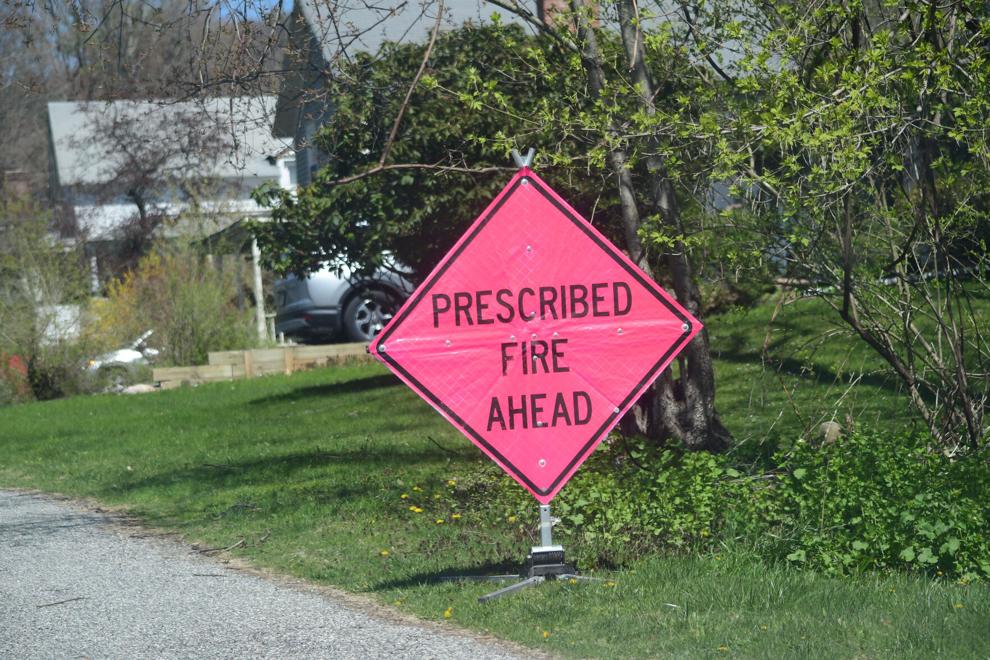 "In some cases, they do reduce the amount of fuel for wildfires and in some cases they don't work, because there isn't enough material that will burn," he said. "No prescribed burn will eliminate the risk of a wildfire."
That's a point that McKinley, of the Forest Service, concedes. He said it's hard to gauge if the controlled burns have helped reduce the risk of wildfires. The last one in the forest was two summers ago in Killington and scorched a small area that was not part of an earlier controlled burn.
In all, this year's prescribed burn will cover 800 acres over a 100-mile stretch from Pownal north to Middlebury and Rochester in Vermont. McKinley says between 700 and 800 acres have already been burned. The burns are timed to precede the growth of new vegetation.
"Once it greens up, there is so much moisture that the fire won't carry. We have a small window of opportunity to conduct these burns," he said.
Art noted that a controlled burn doesn't put the wildlife at risk.
"In the areas being burned, the animals are faster than the fire, as it's a slow burn," he said.
Added Rebozo, "Large mammals, birds, insects can all easily move away from the fire, while reptiles can get under cover because controlled burns move slowly."
McKinley said controlled burns are typically a spring ritual and on rare occasions will be done in the fall. None are scheduled for this fall in the forest.
The controlled burn this past weekend seen by Williamstown residents was in an area called The Dome, a recreational area in Pownal.
McKinley said the area can be prone to fire and the burn helps the oak trees, blueberry and huckleberry bushes that thrive there.
"Some ecosystems, like The Dome, are susceptible to fire and if we didn't do a controlled burn, those type of plants wouldn't be sustained," he said.
Wildlife like to feed on blueberries. Art said the burn helps the plants regenerate and come back healthier, since their root systems remain intact.
"The oaks do well because they have thick bark making them fire resistant, unlike maples which have thin bark," he said.
An official with the Berkshire Natural Resources Council sees benefits in controlled burns, though the group hasn't used them. The council owns 12,000 acres and protects another 12,000 through conservation restrictions.
Doug Brown, the council's director of stewardship, said the group has never done a controlled burn on its properties, but supports them elsewhere.
"There are certain ecosystems that benefit from controlled burns, as fire is part of certain trees' life cycle," Brown said.
In the burns, crews use the lay of the land and topography to make sure fires do not get out of control.
"Where we have roads and streams, we burn away from them so the fire doesn't jump them," McKinley said. "We also use available water sources and we have people carrying water tanks."
Art, of Williams College, said the only drawback to a controlled fire is if it gets out of control.
"But when done properly, they mimic natural fires, which are important to the life cycle of a forest," he said.