WASHINGTON —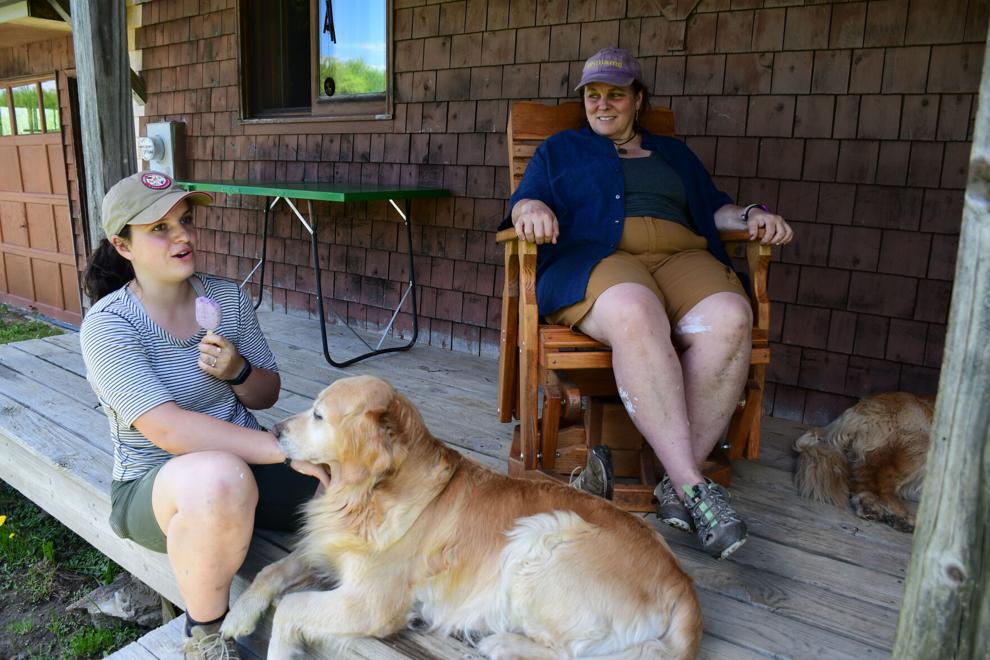 A sign still says "COOKIE LADY" — and well it should, as a tribute to the late Marilyn Wiley, who for three decades made her family's Washington blueberry farm a sweet destination for hikers coming up or down the Appalachian Trail.
The other day, hikers chattered with excitement as they neared. The cookies are there without fail. But for the second summer, members of another family now greet hikers.
"COOKIES," reads a wooden box on a colorful picnic table. "Always home-made."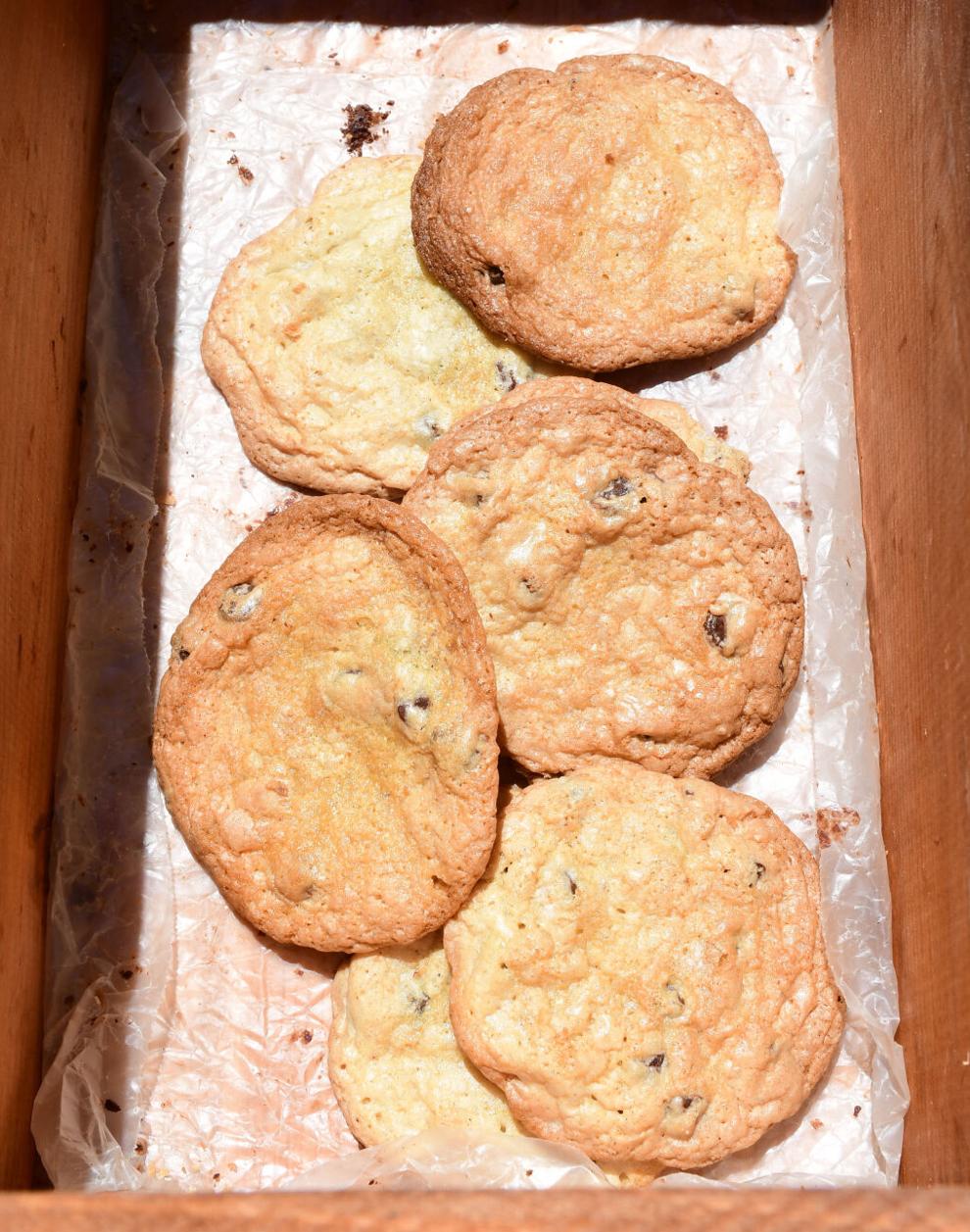 Last summer, about 1,200 hikers from all 50 states — Ruth Sangree and her family kept track on a clipboard — came to their lawn to relax, eat cookies, drink lemonade, water, or homemade soda and kombucha, charge their phones, and snack on freshly picked blueberries.
"We run completely on donations," Sangree said. Some hikers donate, others don't, she said, "and we don't care."
Sangree and her family are "trail angels," a label the Appalachian Trail Conservancy defines as: "a term of endearment given to people who have provided trail magic in the form of direct kindness and generosity to hikers." Ruth Sangree lives in Ashford, Conn., where she is a fourth grade teacher. They come to the house on weekends and summer vacation, and hope to eventually live in Washington full-time.
This is the Sangree family's second summer on the property it now owns. Sangree is embracing the practice of giving Appalachian Trail hikers homemade cookies and cold drinks, inherited from the home's previous owners, Marilyn and Roy John Wiley.
For decades, Marilyn Wiley served cookies to hikers and made the lawn a destination, earning the nickname amongst hikers as "the cookie lady," a title that stuck so well that it was included in her obituary when she died last year at 85.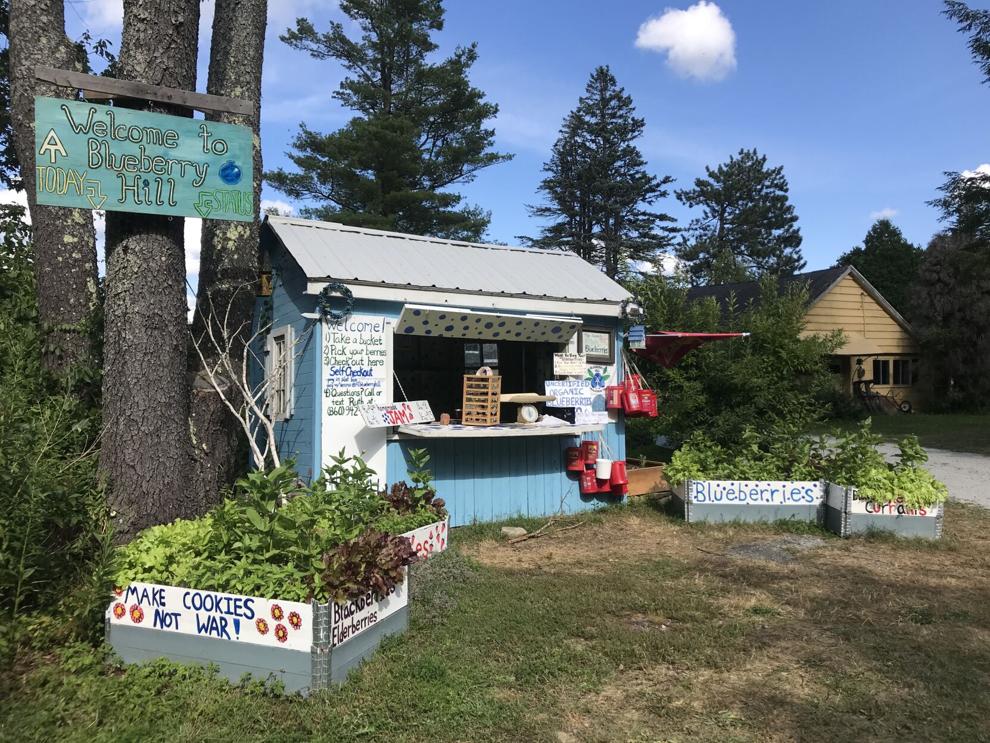 When the Wileys bought the house in the 1983, they never intended to be a stop for hikers, said Andrea Wiley, one of the couple's daughters, who lives in Indiana. The house's lure was not its proximity to the Appalachian Trail, nor that it had a blueberry farm, but that it had an airstrip that Roy, a pilot, could use.
Still, because it was so close to the trail, people inevitably would walk by asking for water or a ride. "I think that just kind of evolved into a little bit more hospitality on the side," Andrea said.
Marilyn started giving hikers cookies, Andrea said, and sometimes they would camp there. Over time, the endeavor grew. "Word spread through the AT community that there's someone who makes you cookies," Andrea said.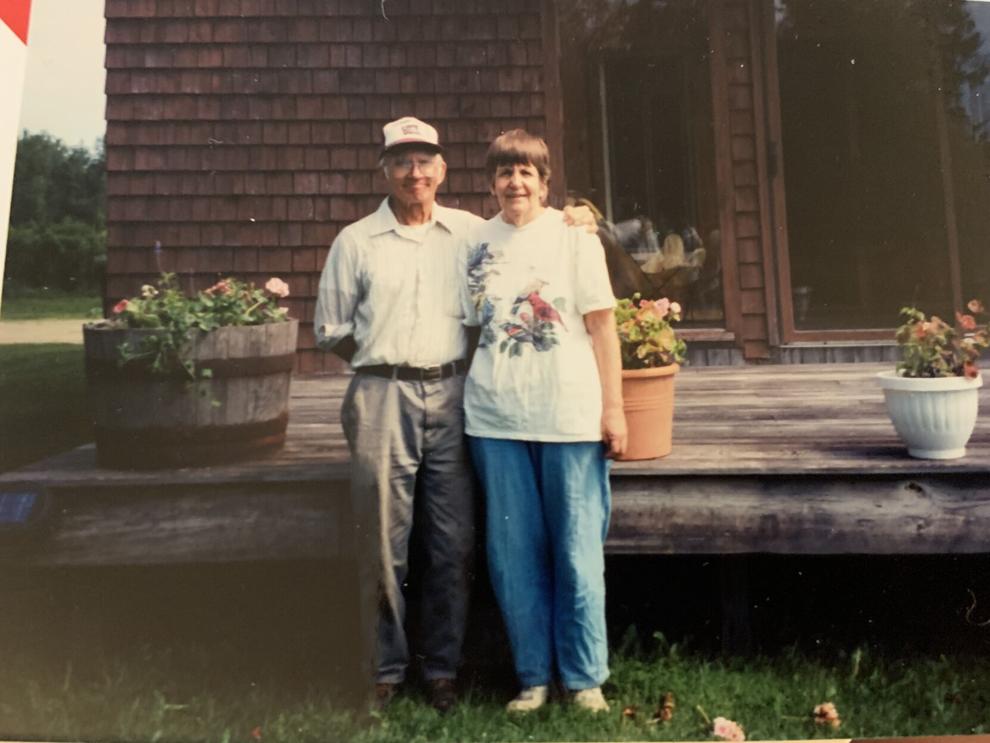 She became known as "the cookie lady." "I think she adopted that name quite easily," Andrea said. "My father never took to being the cookie man, that was not his name."
Marilyn was fit for the job. She was used to making food in large quantities — for decades, she worked as director of food services in the Pittsfield Public Schools.
In the cakey vs. cripsy cookie debate, her mother's large batches of cookies were on the crispy side, and often had oatmeal in them, Andrea said. "She put in whatever she could find. She had a recipe, but she was also very frugal and used what she had."
The project was quirky, Andrea said, but it fit them. "This was like the best of my mother in some ways," she said.
When the Wileys retired — Marilyn from the public schools and Roy from decades as an engineer at General Electric — giving hikers cookies and beverages was a way to engage with interesting people after a winter in rural Washington that could be long and lonely, Andrea said.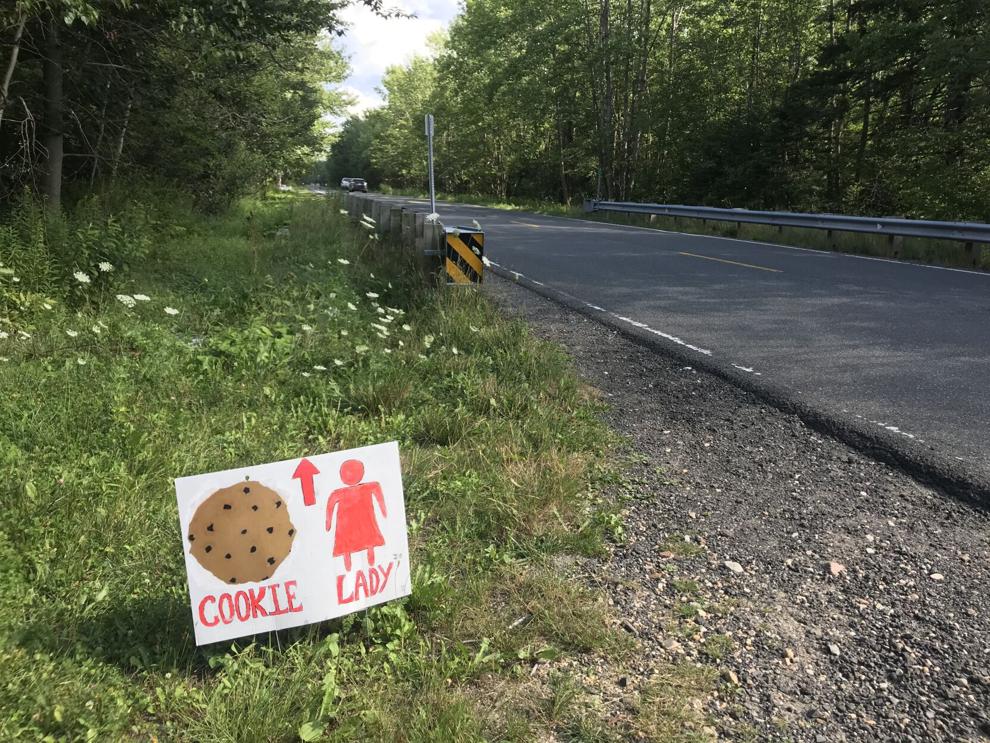 "They come from all walks of life and they have really interesting stories to tell," she said of her parents' interactions with hikers. "It was really an opportunity for them to get to know people. And many of them would send postcards when they got to Katahdin," she said, referring to Mount Katahdin, at the northern end of the Appalachian Trail in Maine.
Some hikers would send gifts, like two framed prints that have been passed down to Andrea. "For many years people would follow up," Andrea said. "It was a really lovely sense of community in the summer with lots of interesting people coming through."
Though Andrea has never hiked the entire Appalachian Trail, she has traveled parts of it — and met hikers along the way. "You're related to the cookie lady? You're like AT royalty," people would say to her. "Their fame kind of spread."
Andrea has benefited from the same culture elsewhere. When she was hiking the West Highland Way in Scotland, a 96-mile route, she met someone giving walkers tea. "That kind of service to people who are just walking the trail I think is a really lovely thing," she said. "I'm glad to see it continue especially with Ruth's enthusiasm and energy."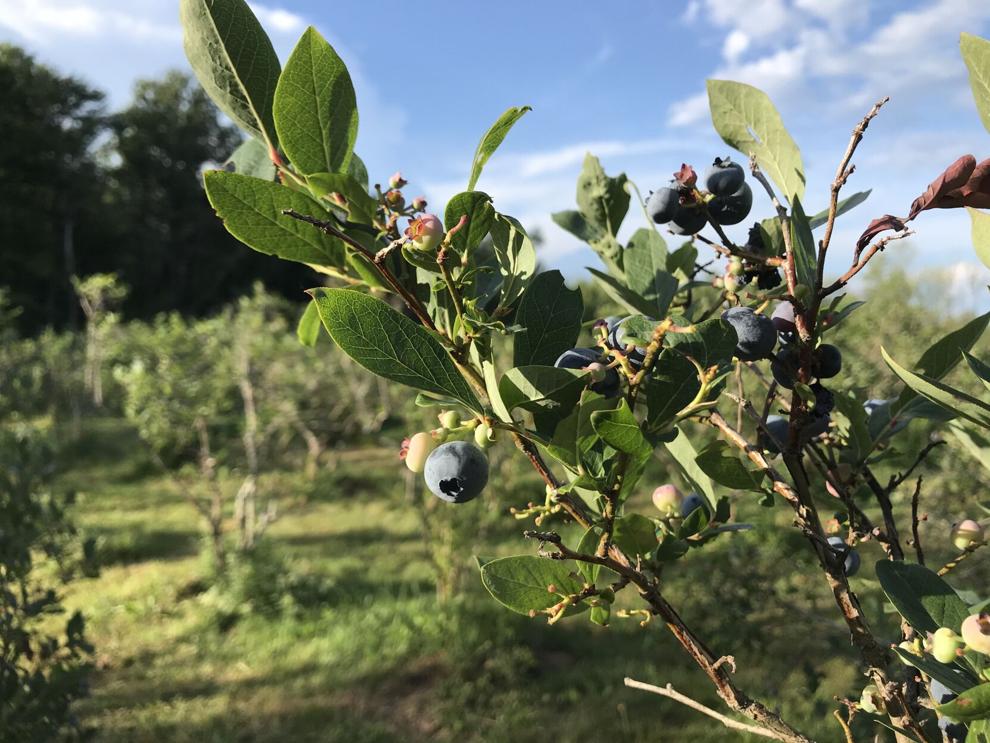 A summer movie
Like the Wileys, the Sangrees enjoy meeting the hikers who pass through. Ruth and her youngest daughter, Ellie, remember one guy who carried a kitten in his backpack and played a bamboo flute. A 5-year-old — one of the youngest people known to complete the trail — walking with his family. And other hikers who they got to know over dinner together outside.
"It's like a movie that goes on all summer long," Ruth said.
Sangree stumbled upon the farm when her family was volunteering for a week to run Upper Goose Pond Cabin, a house alongside the Appalachian Trail in Lee where many hikers stop and stay. A hiker brought blueberries to the cabin and told her about the farm, and she and Ellie visited the farm during blueberry season.
Afterwards, Ruth wrote the Wileys an email, telling them she loved the farm and hoped they would, some day, consider selling it to her.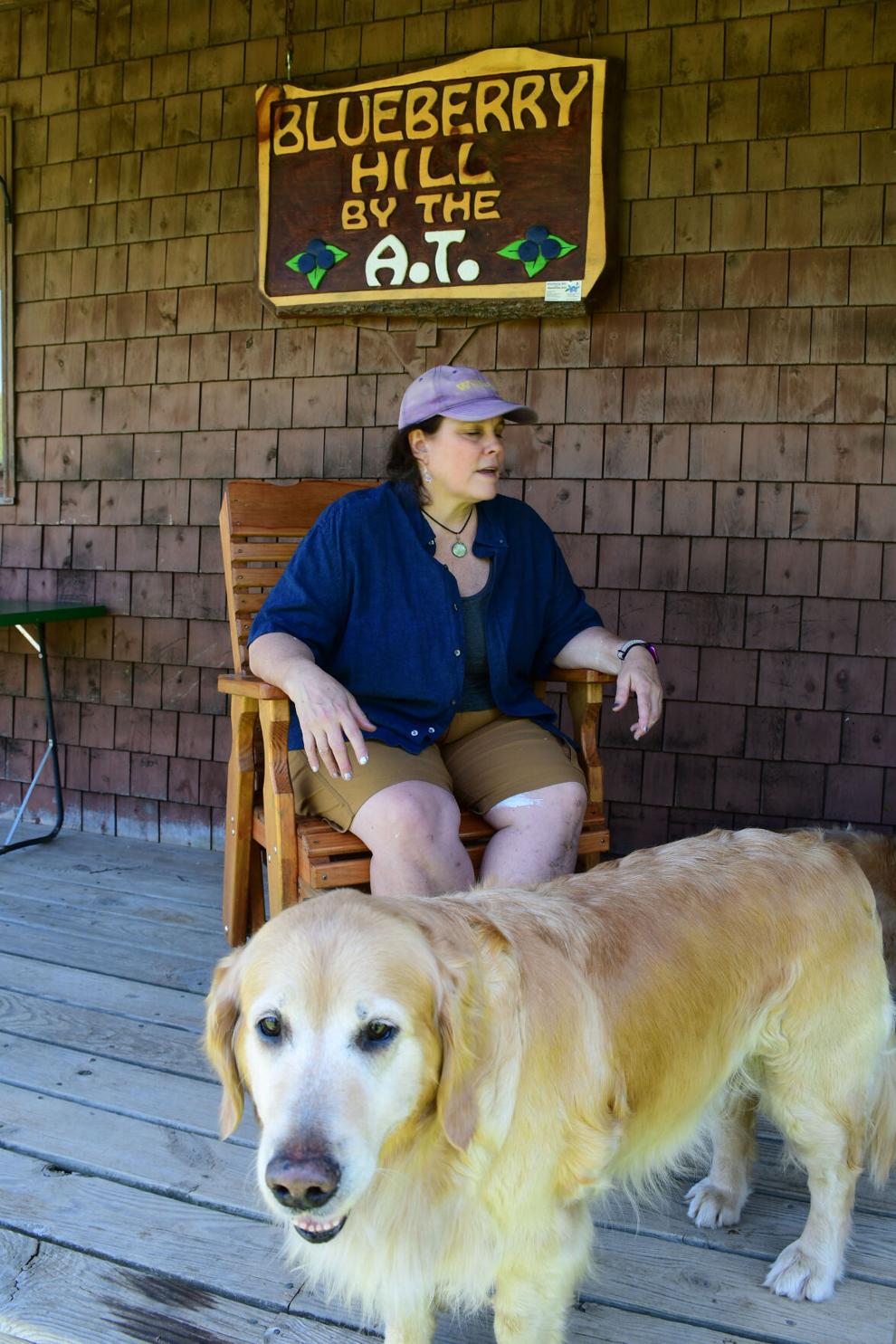 "Just kind of like painting that picture, putting that word out. But nobody ever answered it," she said.
Years later, after both Marilyn and Roy died — she in 2021 and Roy in 2019 — Ruth heard the Wileys' daughters were selling the property. "I couldn't think about anything else," Ruth said. It was more expensive than she could afford, but when she put in an offer under the market value, it was accepted. "We were very committed to selling the property to someone who shard our parents' vision," Andrea said.
The Sangrees appear to do so. "Our favorite part, honestly, is just when they come down the driveway — we run," Ruth said. "We have a refrigerator in the garage. We grab a cool one and they just can't believe it they're just so happy."
Everyone in the family helps make cookies. "It's really funny because it's really a point of contention in our family," Ellie said.
"She doesn't make them as well as I do," Ruth said.
"She makes these stupid half-dome cake balls, whereas I make nice thin crispy cookies," Ellie said.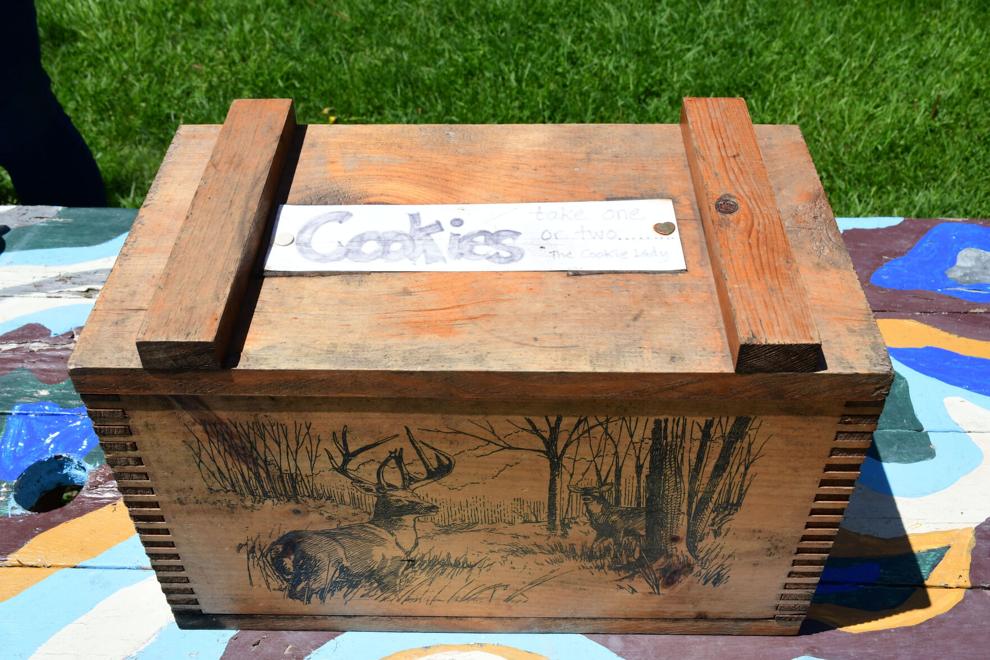 Some hikers, with permission, camp in the yard, and all summer the family rents a port-a-potty. During blueberry season, the influx of hikers can be helpful — they will often trade a bucket of picked blueberries for a hamburger. "We always have a bunch of hamburgers in August," Ruth said, "and that's how we get a lot of the berries picked."
The family keeps busy on the farm, planting vegetables, making drinks like kefir soda for hikers, completing painting projects, and trying to keep the grass mowed.
"The thing that we liked the most about this place is that there's that there's this constant bunch of projects that we do," Ruth said. Ellie floated the idea of one day making the property into a full-fledged hostel.
"Maybe," Ruth said, trailing off. "We sometimes think the Wileys kept it so simple for a reason."