At first glance, the 25-foot, multi-colored, wooden sculpture may appear out of place.
Yet, the narrow, split-image artwork in the forefront of the First Congregational Church park in downtown Lee fits in among the much taller park trees. The sculpture's streaks of orange, yellow, red, blue and other hues complement the boldly colored visitor's center and picnic tables in the unofficial town square.
Artist and summertime Lee resident Harold Grinspoon says he couldn't have picked a better place to publicly display his talent.
"If something feels right, I do it," he said, basking in the mid-morning sunshine as he showed off his creation to County Fare on Sunday. "Look at these different colored tables. The park looks vibrant."
"It warms up the green," he said. "It gives the green vitality."
The 91-year-old eastern Massachusetts native, who enjoyed a lucrative career in real estate development, has produced 100 pieces of sculpture in recent years using driftwood or downed tree limbs.
Installed on May 22, Grinspoon's sculpture located next to Lee Memorial Town Hall is a large limb from a live oak that fell at an apartment complex in Florida. Live oak gets its name from having evergreen foliage allowing it to stay green through the Southern winter months.
Grinspoon and his creative team carefully used a chainsaw to split the limb in half, creating nearly two identical pieces. Each was painted vertically in multiple colors and varnished several times to protect it from Mother Nature's weather extremes. Each half was sunk 4 feet into the ground at such an angle it frames into view the church and its iconic steeple.
"They look like dancers in sync, yes?" he said.
The church steeple, the town's beacon to visitors coming off Exit 2 of the Massachusetts Turnpike, is one of the most photographed landmarks in town. Add in the newly restored Chief Konkapot water fountain, the Grinspoon original is fast being added to tourists' photo collections.
"It's a spectacular piece," said church spokesman Garth Story. "It's another reason for people to pull into the park."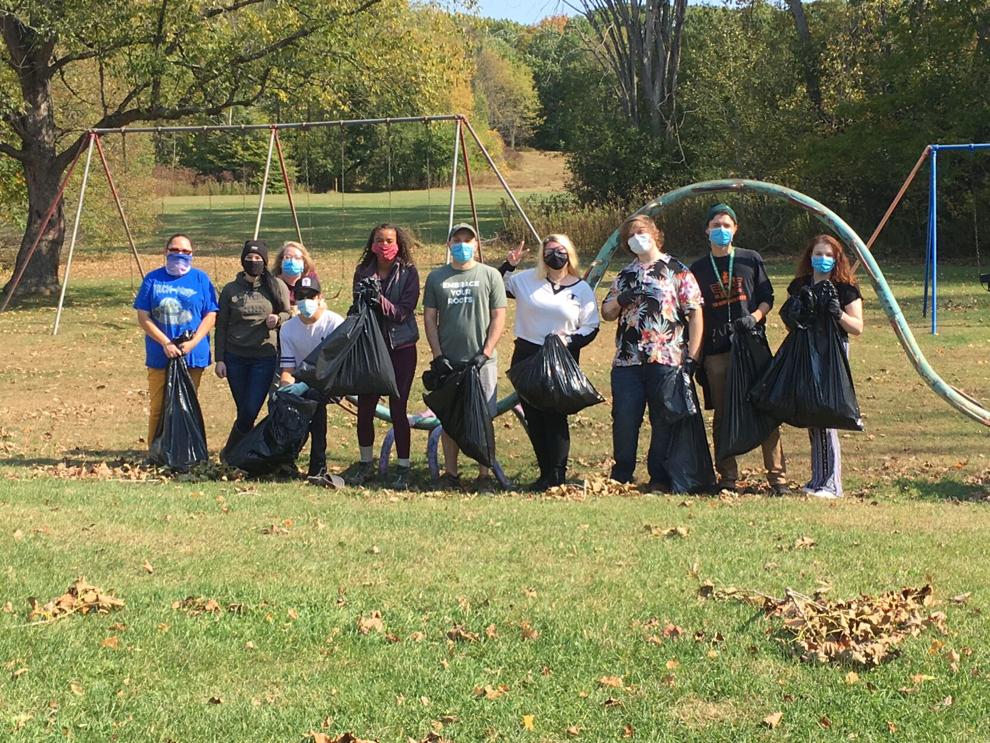 SPRUCING UP SPRINGSIDEThirty volunteers spent several hours collecting approximately 500 pounds of trash at Springside Park in Pittsfield on Saturday during the 31st annual fall cleanup sponsored by the Friends of Springside Park.
Due to the COVID-19 pandemic, face masks and social distancing were required to ensure the safety of the volunteers working in the many areas of the 250 acre park during the cleanup, which is held every spring and fall.
Eleven employees from Berkshire Roots, the largest group to volunteer, demonstrated a great deal of motivation and enthusiasm during their time at the park.
"We, the Friends of Springside Park, are extremely appreciative of the outpouring of support from community and company employees to assist in helping to maintain the appearance of our valuable and beautiful Springside Park," said Bernie Mack, president of the organization.
Other projects undertaken by the Friends and other park-related groups this year included pruning of the lilac orchard; removal of invasive species; weeding, mulching, pruning and maintaining the flower beds behind Springside House; and refinishing eight benches located around these gardens.
The benches had been seriously neglected and covered with lichen and required a great deal of labor to bring them back to their original luster. All of this work is done with volunteer hours to supplement the tightly stretched paid Parks Department employees.
Groups assisting the Friends include the Springside Park Greenhouse Group, Springside Park Conservancy, Vincent Hebert Arboretum, Arborist Bob Presutti, Tyler Street Business Group, Morningside Initiative, and the Berkshire Mountain Bike Training Series.
Those interested in volunteering can contact Mack at 413-281-1722.