PITTSFIELD — Due to a documented lapse with alcohol, the man accused in a notorious Dalton blaze was ordered held in custody for up to 90 days, while awaiting trial on charges he torched a massive homemade Biden-Harris endorsement last fall.
In remanding Lonnie Durfee back to pretrial custody for violating pretrial release terms, Judge Paul Smyth ruled that no conditions of release exist to ensure the safety of the public from Durfee, given what he described as Durfee's history of violent behavior while intoxicated.
Prosecutors said a monitoring device showed that Durfee consumed alcohol twice in recent months.
Defense lawyer Robert Sullivan had argued that severe alcohol use disorder was difficult to overcome, and that Durfee — who is working with a counselor at the Brien Center to try to stay sober — should be permitted to continue wearing a monitoring device and to obey a curfew, which would allow him to keep his job as a laborer for a stone company.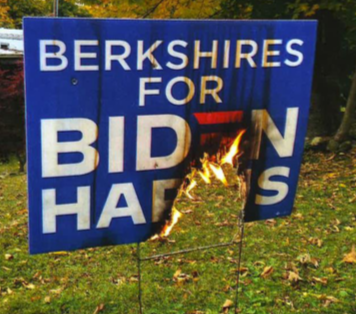 Assistant District Attorney Richard Dohoney also introduced photos newly obtained from Durfee's phone that showed Durfee standing beside at least one Black Lives Matter sign that had been set of fire, along with a burning Biden-Harris campaign sign. The prosecutor could not say exactly when the photos were taken, but said they predate the hay-bale arson. Dohoney cited the photos as evidence of Durfee's "escalating pattern of behavior."
Judge Smyth said his ruling was based not on the newly obtained photos, but solely on the threat to public safety he said Durfee poses when consuming alcohol, based on prior acts.
"This is strictly on the alcohol use, and in making my decision it's not simply a relapse I must consider, it's public safety. And when I look at the different offenses over the years ... which involve alcohol and violence directed at police officers and directed at an intimate partner, it paints a very frightening picture about what happens when Mr. Durfee is intoxicated," said Smyth.
The hearing was postponed at noon after Smyth insisted that Durfee be present. It resumed after 2 p.m. when Durfee was advised by his lawyer of the judge's request and left work to participate.
According to prosecutors, Durfee's alcohol monitoring device detected a blood alcohol level of 0.043 at 6:41 a.m. on Nov. 21. Prosecutors asked a judge to revoke Durfee's bail at that time, but the request was denied, according to court documents. Then, just after 6 a.m. last Saturday, Durfee failed a second test that registered a blood alcohol level of 0.02.
For comparison sake, the blood alcohol level that is considered to be intoxication when operating a motor vehicle is 0.08.
In oral argument, Sullivan countered that there was no accusation that Durfee misbehaved due to drinking Nov. 21, or last weekend.
"Unless there was an allegation the drinking resulted in an infraction, he should be allowed to keep his job," said Sullivan.
Dohoney pointed to the newly obtained photos as evidence that Durfee's alleged burning of the Biden-Harris hay bale display Oct. 9 was not an isolated incident, but "a persistent, escalating behavior of politically motivated burning."
"The clear history of intimidation by arson in the white supremacist and civil rights area is very troubling, and we see those very concerns here. And that's why we're so concerned about this case," said Dohoney.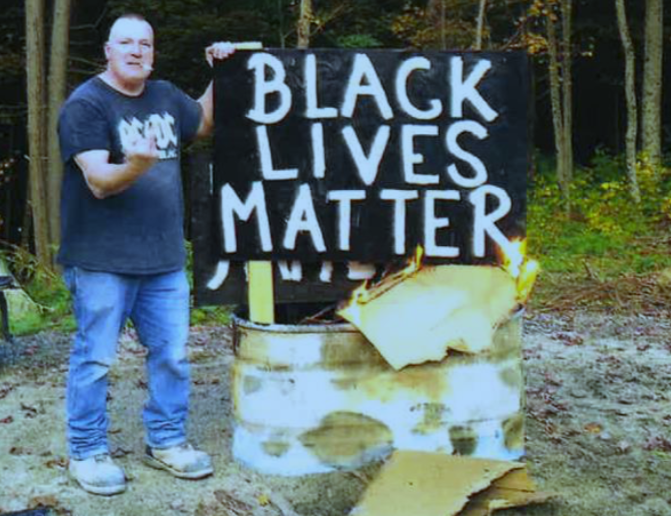 Sullivan objected to Dohoney "drawing a connection with my client as a white supremacist," calling the label unfounded and inflammatory.
Durfee was arrested Oct. 10 in connection with the Oct. 9 burning of a massive political endorsement for the Democratic ticket that had been painted on a stack of plastic-wrapped hay bales by Holiday Brook Farm.
In an Oct. 13 appearance before Smyth in district court, Durfee was initially ordered held without bail until a dangerousness hearing, but was later released by a superior court judge over the objections of prosecutors. Durfee pleaded not guilty to a charge of burning personal property.
Dohoney's motion noted that while the conditions of release expired upon Biden's inauguration, the nation's political climate remains unsettled.
In a statement following the hearing, a spokesperson for Berkshire District Attorney Andrea Harrington said burning a BLM sign, while not the subject of criminal charges, was akin to hate speech.
"The symbolism of fire has a dark association with political and civil rights intimidation. Burning a Black Lives Matter sign is threatening and a traumatic stressor to the protected Black community. This is akin to hate speech. The Berkshire District Attorney's Office stands with the Black community in the fight for justice," the statement read.
Durfee is due back in court for a hearing Feb. 12.