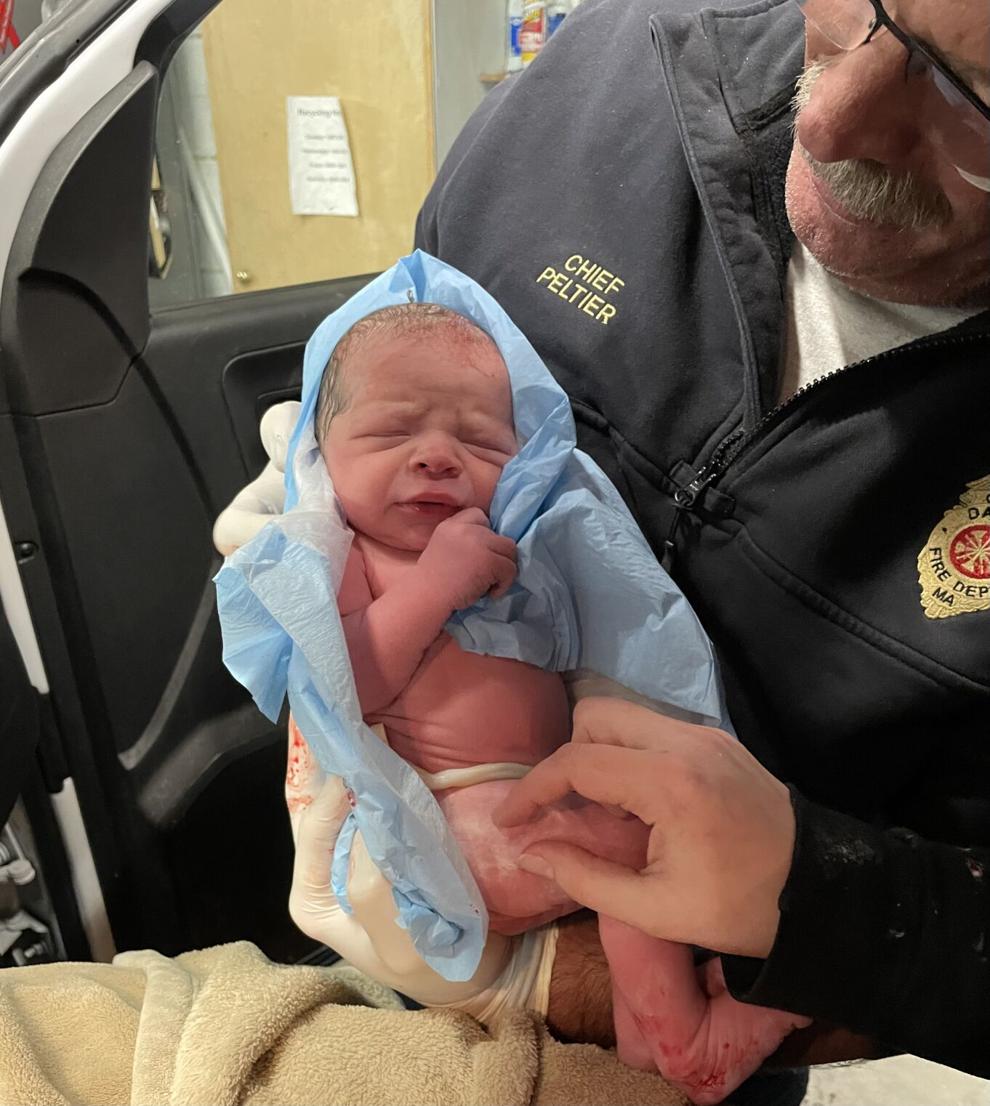 DALTON — Brittany Maloney and her husband, Michael, were racing against the clock Dec. 28 on their way to Berkshire Medical Center.
The Maloneys were traveling in a pickup truck, a Dodge Ram 3500, trying to make it to the hospital in Pittsfield from their home in Savoy in time for their baby to be born.
Brittany Maloney had been dealing with contractions all morning — but as they were driving through Windsor, they started to worsen. She felt her body really start pushing, she said.
Her husband said the final push had an audible difference.
"It was like a war cry," he said.
When her husband reached down to check on her progress, and found something he wasn't expecting; the baby's head was already out of the birth canal.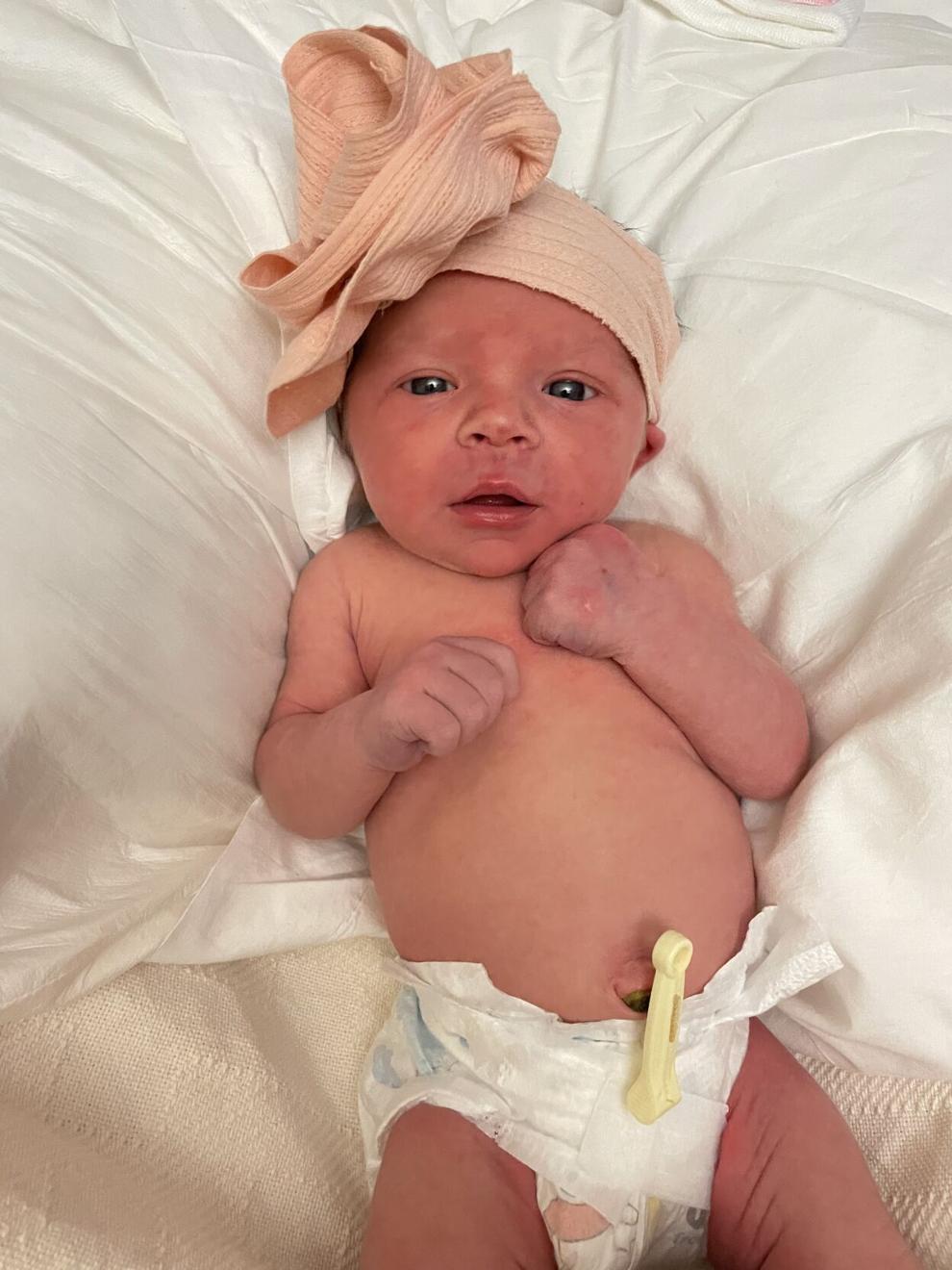 "He tells me, 'You need to pull your pants down; you're about to have this baby,'" she said. "I have one more contraction and my body just literally pushed her out."
With one hand on the wheel, Michael Maloney reached down and caught the newborn as she delivered it, then helped move the baby up to her stomach.
That's the story of how Charleigh Mae Maloney was born. She arrived exactly on her due date, about 2 minutes away from the welcome sign for the town of Windsor.
But it doesn't end there.
Dalton first responders step in
After the baby was born, the Maloneys still had to have the umbilical cord cut, the baby cleaned and get the rest of the way to the hospital for other postnatal care. A 911 dispatcher instructed them to go to the closest fire station — which led them to 20 Flansburg Ave. in Dalton.
The doors were open for them at the Dalton fire station; they pulled right in and were met by a group of first responders to check vital signs on the mother and child and get them ready for transport to BMC.
This kind of thing doesn't happen every day, said Dalton Fire Chief James Peltier — in fact, it's the first time he's seen it since he started as chief in 2021. When the Maloneys arrived at the station, the department's ambulance was already out on another call. That meant having to search for the supplies that would have been in a readily available obstetrics kit — including sterile gloves and clamps for an umbilical cord.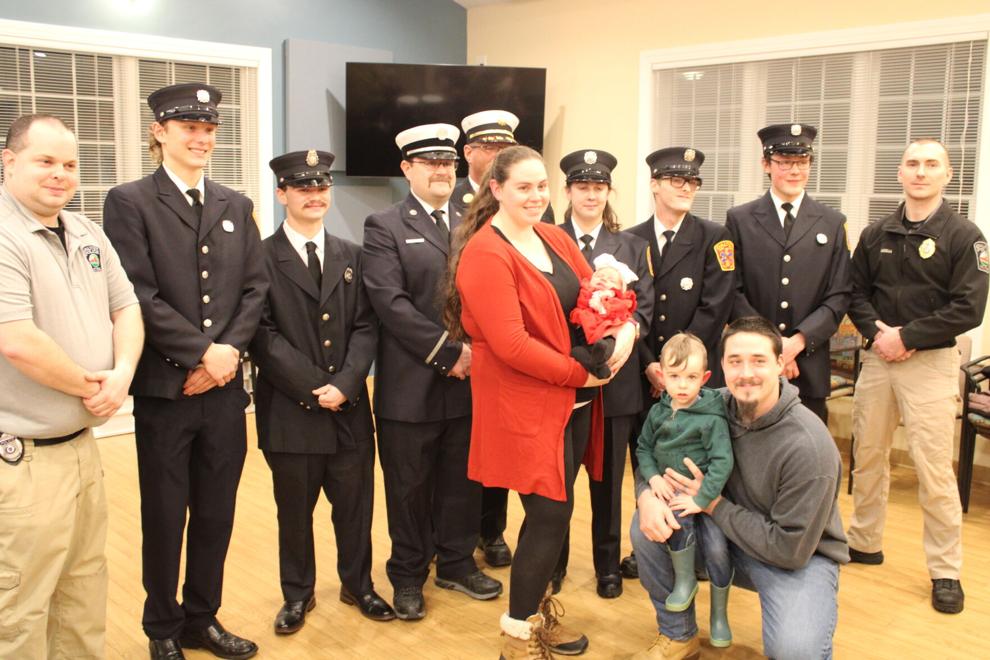 Eventually they were able to get it all together, and get the Maloneys ready to head to BMC. Every member of the team was vital to the response, Peltier said, and in keeping things "calm and quiet." Both Brittany and Charleigh Mae Maloney were in good health when they left the station.
There were 13 responders who assisted in the delivery, Peltier said; eight from the fire department, two from the police department, one emergency dispatcher and two paramedics from County Ambulance.
"The stars aligned, if you will, that we got this many people to help out," Peltier said.
Peltier and the team of responders were recognized at Monday's meeting of the Dalton Select Board for their efforts. Peltier presented those who assisted with a stork pin, meant to commemorate their role in the birth.
The teams worked together flawlessly, the chief said, and it was nice to have a positive outcome to share with the town.
"It's always nice to hear about bringing a life into this world, instead of dealing with one that's going out," Peltier said.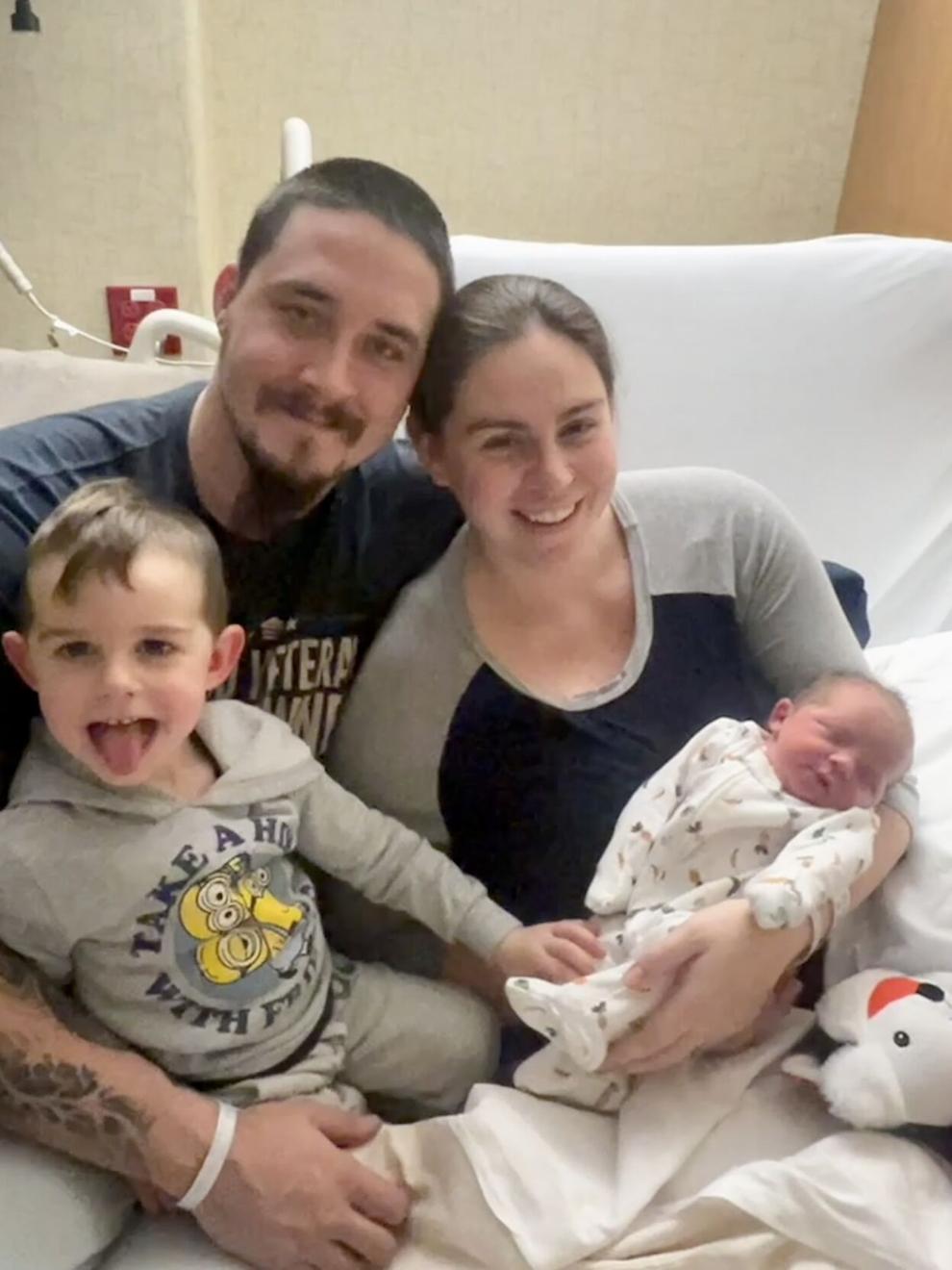 'A little bit of experience'
For Brittany Maloney, the entire saga is a blur.
It was around 6 a.m. when the first contractions started; she was going into labor. She was in contact with her OB-GYN throughout the morning to figure out the best time to leave her home, but either way it was going to be a long trek — about a half-hour on the road.
Maloney had a number of reasons to delay leaving — she was timing her contractions to see how far along she was, while also waiting for her mother to arrive to watch her 2 1/2-year-old son, William.
"I took my sweet time getting out the door, honestly," she said.
Around 9 a.m., it was time to go. As she climbed into a pickup truck, the thought hadn't quite occurred to her that she had waited too long. After all, nobody expects a 4-hour labor, she said.
She was in shock during most of the ordeal, she said. It took her about 30 minutes to realize that no one had gotten a video of the birth, which she had done easily for her first birth. As she's told her story to relatives, she's been met with amazement and incredulity. She can still hardly believe it herself.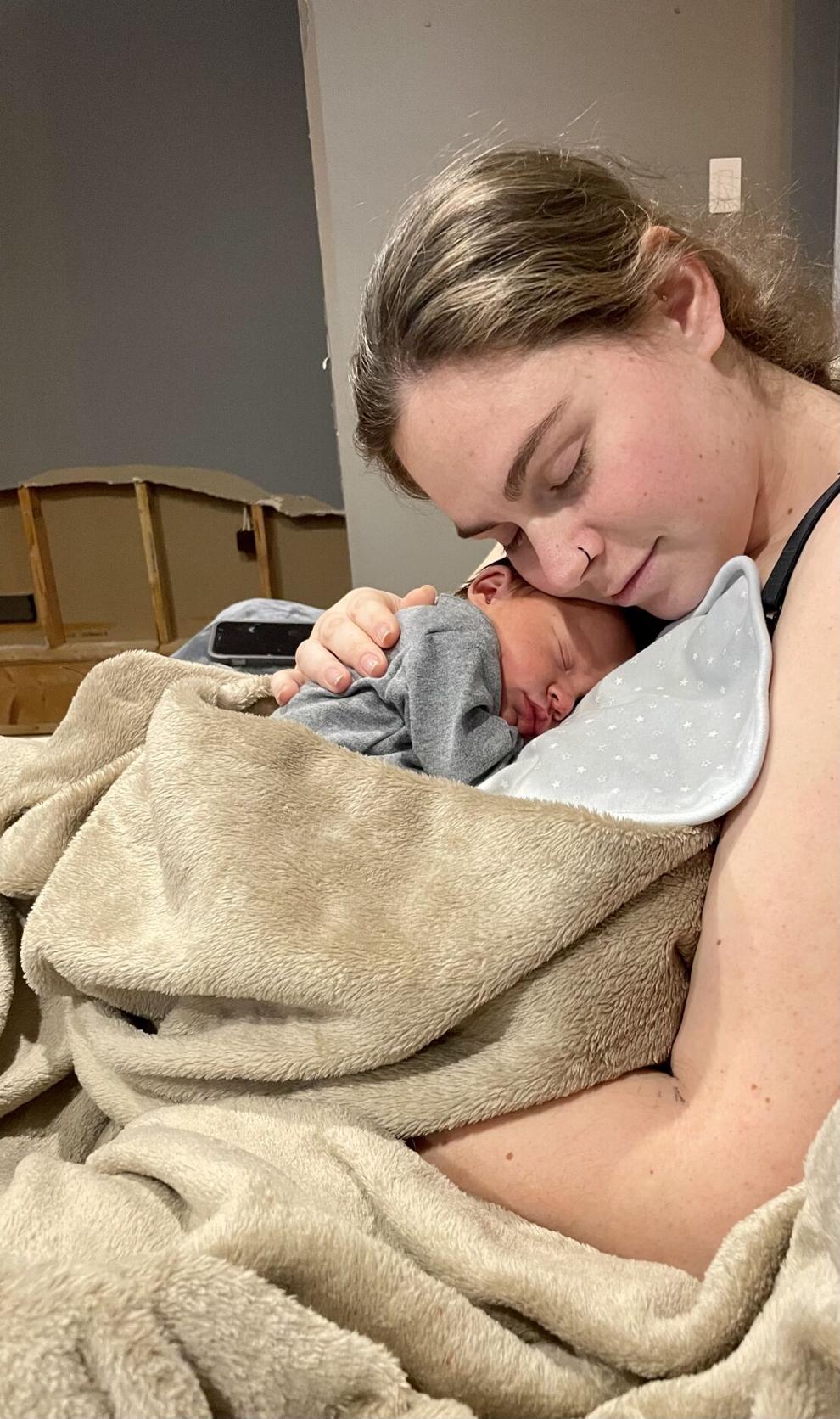 But it was the heads-up actions of her husband that helped it all work out, she said. Michael Maloney, a veteran of the U.S. Marine Corps and a former member of the military police, is good at thinking on his feet and has emergency training. She said he was the perfect person to guide it through him.
It wasn't even his first time doing it.
"My doctor actually let him catch my son when he was born in the hospital," she said. "So he has a little bit of experience under his belt, I guess."
The couple met 11 years ago when they were in high school. They have been married since 2015, living in California, Cheshire and ultimately Savoy.
Michael Maloney's memory of that morning is crystal-clear. He stayed calm and collected, which helped Brittany stay calm, too.
"She's a champ," he said. "Not a single tear came out of that lady's eye."
For Brittany Maloney, it was just a matter of letting her body do what it needed to do, she said.
"I don't even know," she said. "I just rolled with it."