UPDATE: Answers sought after the weekend failure of an earthen dam on private land in Hinsdale
HINSDALE — When Bill and Denise Hill went to bed early Saturday morning, their dock was attached, their property was uncluttered and their shed was on their lawn.
When they woke up a few hours later, their dock was dislodged, their property was strewn with rocks, tree limbs and dirt, and their shed was floating in Ashmere Lake.
"It's out there somewhere," Denise Hill said Saturday afternoon.
Sometime after midnight Saturday, a portion of an earthen dam that holds back a pond located behind the abandoned Ashmere Manor Nursing Home on George Schnopp Road gave way, sending water and debris hurtling down a brook that flows down a hill before it crosses the Hills' property.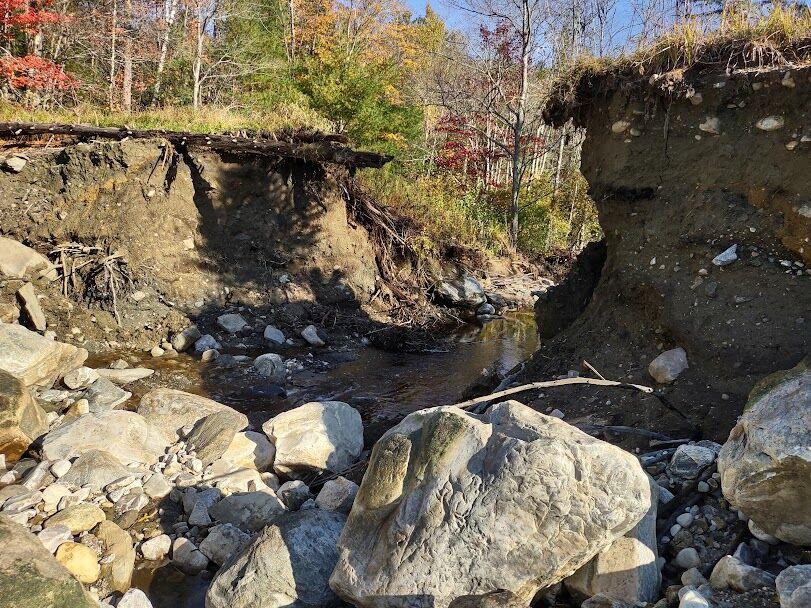 The water and debris picked up speed as it came down the hill, crossed the roadway, then hurtled through their property on its way to the lake.
"I'm blown away by the power of this water," Denise Hill said, as she examined the damage to her property Saturday afternoon. "What I've been told [by the state Department of Environmental Protection] is probably like five to 10 million gallons of water came down. It wiped out our property completely."
Some water entered the Hills' house and their deck was caked with mud, but the home itself was not damaged.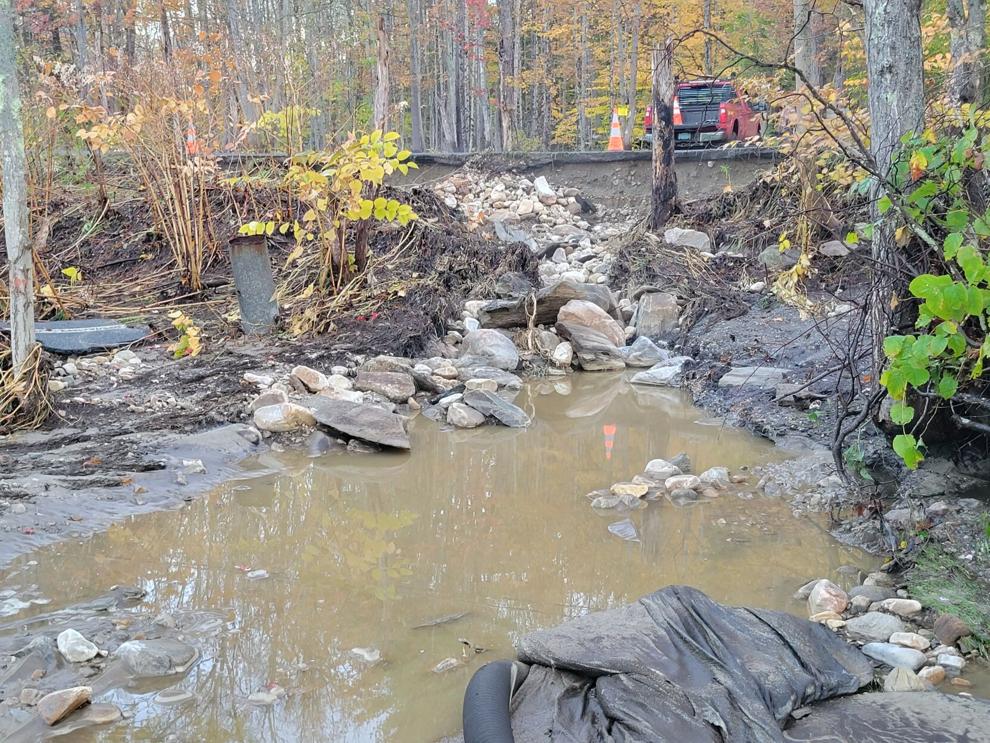 "The last time this happened the town put boulders under the road because the road collapsed," she said. "Now all of those boulders are in our yard."
What caused the breach in the dam could not be determined Saturday. The state DEP, Hinsdale Police and the Hinsdale Highway Department all did not return phone calls seeking comment. The state Environmental Police referred inquires to Mass. Fisheries and Wildlife, whose western office in Dalton was closed over the weekend.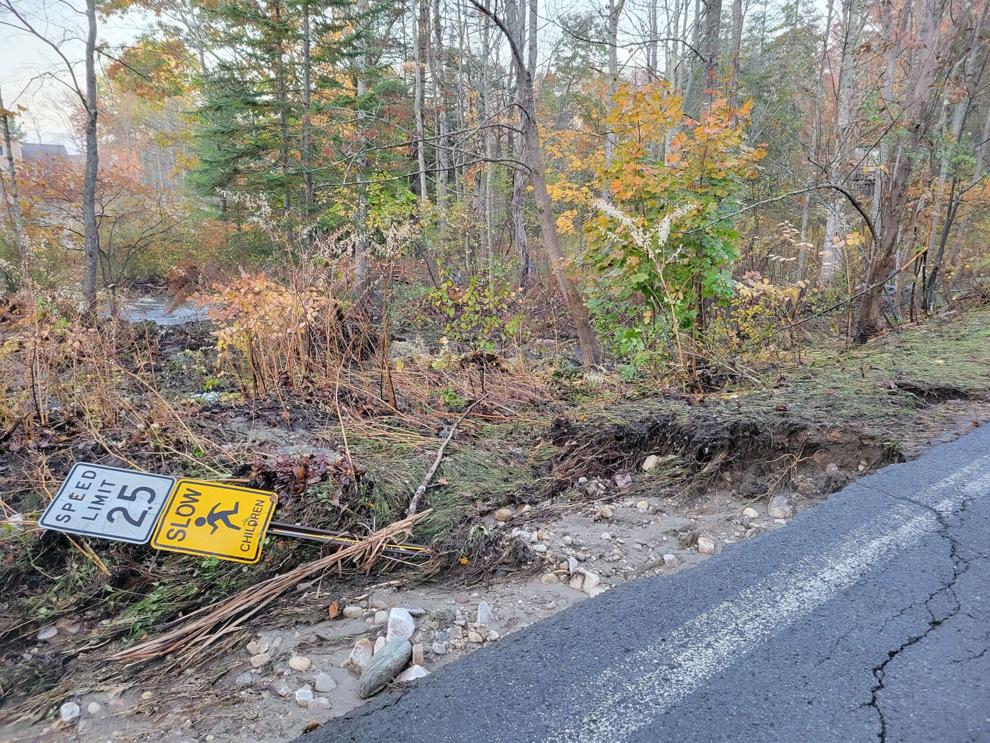 The couple, who had been sitting out by the lake as late as midnight Saturday, neither saw nor heard the water and debris when it swept across their property.
"There were four of us and three dogs," Denise Hill said. "I can't believe we slept through it."
According to Denise Hill, the water and debris initially washed out George Schnopp Road in the vicinity of their home, but work crews removed enough of the debris to allow the road to stay open. Up at the pond, on the other side of the breach, large boulders and uprooted trees were left behind by the rushing water. The pond was almost completely emptied of water Saturday afternoon from the Hills' home after it crossed the road and swept across the couple's property.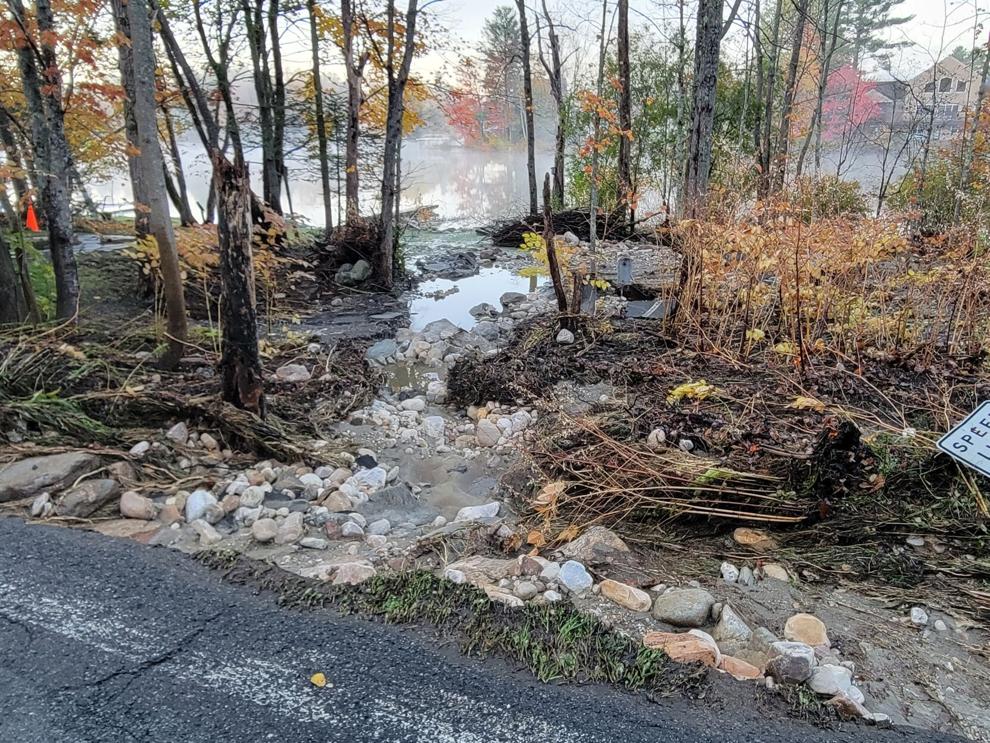 The water and debris missed their house, but left mud on their deck and wiped out their yard. Up at the pond, on the other side of the breach, large boulders and uprooted trees were left in the debris field's wake.
Despite leaving extensive property damage, no one was injured.