DALTON — More than four months after he pleaded not guilty to torching a farmer's Biden-Harris political display, Lonnie Durfee intends to change his plea, according to the spokesman for Berkshire District Attorney Andrea Harrington.
Durfee's defense lawyer Robert Sullivan notified prosecutors of Durfee's intention to enter a change-of-plea, but the two sides have not yet reached a plea deal, said Andy McKeever, the DA's office spokesman. The case is scheduled for an 11:30 a.m. hearing Wednesday in Pittsfield District Court, when a judge is expected to take up the matter of Durfee's plea. McKeever said the prosecution and defense will recommend desired penalties.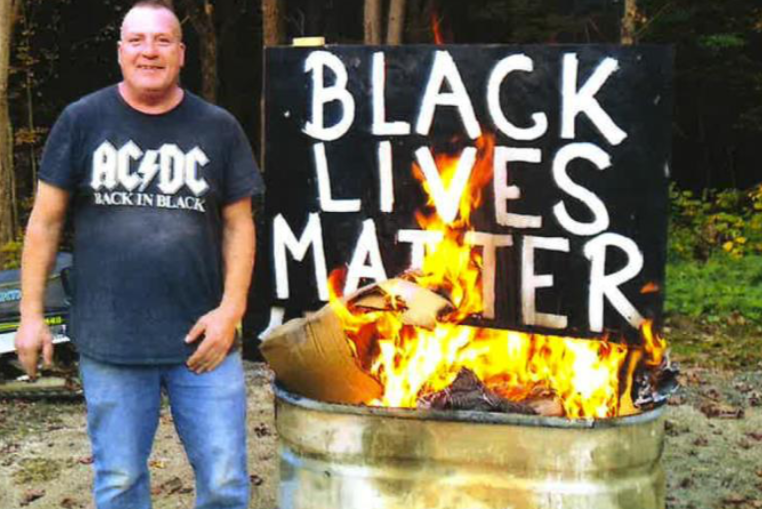 News of Durfee's plan comes exactly one month after Deputy District Attorney Richard Dohoney raised evidence that Durfee had consumed alcohol against court orders during his pretrial period, prompting a judge to send him back into custody. The prosecutor also obtained undated photographs that showed Durfee standing next to a burning Black Lives Matter sign.
The fire set Oct. 9 sent shockwaves through the community and grabbed national headlines. Dramatic images of flames consuming the display on the side of Route 9, across from Holiday Brook Farm, spread online. Many viewed the incident as the latest example of a nation deeply divided.
It wasn't long before police identified Durfee as their suspect.
Durfee told people at a Dalton convenience store, and later at a bar, that he planned to burn the display less than an hour before the fire was set. Authorities said Durfee was remorseful when he admitted to setting the fire and using motor oil and gasoline as accelerants.
Police told Durfee to come to the station the next day, and at that point he was arrested and charged.
Neighbors described Durfee to police as a strong supporter of then-President Donald Trump, according to a police report. Authorities said he had burned other Democratic campaign signs before the hay bale display.
In court hearings, defense lawyer Sullivan has described Durfee as a grieving father whose alcohol use was exacerbated by the untimely death of his son last summer. He said Durfee made a bad decision out of misdirected anger at the loss of his child at a time of toxic political discourse nationally.
Harrington's office argued that Durfee's behavior was escalating to the point where he posed an immediate danger to the community and needed to be in custody before trial, given his willingness to deploy fire in pursuit of making a political statement and his record of "uncontrollable violence" that included prior assault and strangulation charges.
A district court judge in October ordered Durfee held without bail before trial, but the decision was overturned in Berkshire Superior Court. Durfee was released with an alcohol monitor and conditions that included abstaining from alcohol. Durfee was ordered back to custody last month following the alcohol lapse.