DALTON — Money manager Allen Harris has a reputation for going big. Last year, Harris gave $2,500 to each employee at his company, Berkshire Money Management, and told them to splurge on gifts from themselves and others, with one caveat: Shop local.
In this coronavirus pandemic year, Harris knew it wouldn't be possible to gather his dozen employees and their families for their usual holiday party. Restrictions on the number of people at indoor gatherings wouldn't allow it.
So, he's closing out 2020 by quadrupling last year's bonus.
All 11 staffers, regardless or job title or years of service, are receiving $10,001 bonuses.
While scores of Berkshire businesses have battened down the hatches, financially speaking, Harris' wealth management company has had a good year. The company was deemed an essential business. Harris acknowledges that many companies are struggling to survive, while others have been able to adapt and even do well in this economic climate.
"We're fortunately in the latter," he said. The firm is looking to expand to South County, where it hopes to open an office able to serve an increasing number of people seeking alternatives to jobs and homes in metropolitan areas.
"It's a surprisingly robust year for the stock market," said Harris, who writes a regular column for The Eagle on business and financial issues. His commentaries this year have addressed the pandemic's impact on small businesses, mapping out ways they can find and seize upon new opportunities.
The $10,001 gifts come on top of other payments the company has shared with employees this year, including a $5,000 gift after the firm was ranked as providing "best wealth management" in The Berkshire Eagle's "Best of the Berkshires" program this year. Staff members also got $2,500 when the pandemic first closed businesses, a yearly Community Supported Agriculture membership worth $500 and other payments adding up to another several thousand dollars.
"I'm a big fan of spot bonuses," Harris said. "Sometimes you don't pamper yourself until you're forced to."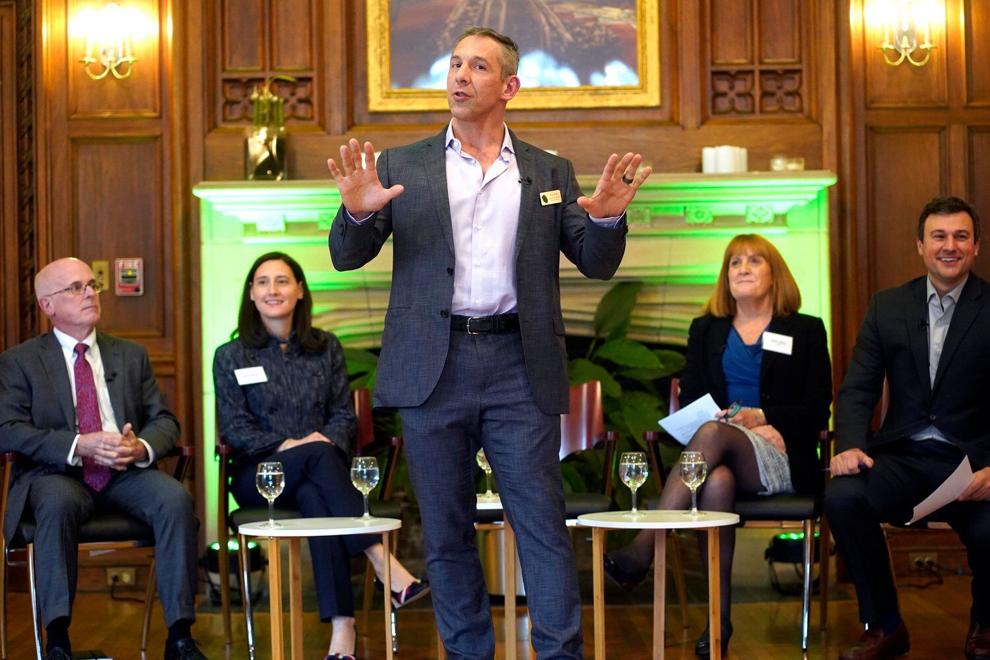 The $10,001 payments come in addition to year-end merit bonuses based on an employee's financial performance.
Jonathan Butler, president and CEO of 1Berkshire, says that while the pandemic has hurt many firms in the region, others were able to shift or strengthen their lines of business. That is bound to influence how they approach the granting of year-end bonuses.
"This year is going to look different for every organization," Butler said. "We've seen a lot of people lose their jobs in the last eight or nine months."
In general, Butler said, the use of bonuses can be strategic or cultural within an organization. "They have their own set of values about how they handle compensation and bonuses. There are companies that [in good years] take care of everybody."
In past years, Berkshire Money Management has asked its staff to avoid big-box outlets and shop in smaller area stores. The company's call has been "go as 'mom and pop' as you can," Harris said, paying the community back. "Everyone seems to be on the page with my sentiment."
The pay-it-forward philosophy was evident last April, during the height of the first coronavirus surge, when Harris devoted several weeks of his time and more than $10,000 to expand supplies of personal protective equipment for Berkshire health care workers.
This fall, in another outreach effort, Berkshire Money Management bought and donated 121 winter coats, along with pairs of boots and gloves, to the Berkshire Community Action Council's Warm Winter Clothing Program. The program, now in its fourth decade, will provide winter gear to 2,200 local children ages 12 and younger.
"It's very helpful. It means a lot," Melissa Baehr, the council's community programs administrator, said of the Dalton company's donation. "It's providing for that number of children, and our numbers are bigger. The need is really great this year with everything happening with COVID."
Baehr is shaping an appeal to other financial services firms. If a group of them provides new clothing or money equal to the initial Berkshire Money Management contribution of $7,600, Harris has pledged to match that new giving, in effect tripling his original donation.
"The support has been a huge relief to BCAC, as our enrollment numbers have greatly increased due to the pandemic," she said. "It's inspiring to have a business leader giving back by contributing to the needs of our most vulnerable, our kids. His enthusiastic 'call to arms' for support of this beloved program is so appreciated."
Mandate clear
Harris admits that could be a little harder for employees to shop local when they are spending $10,001. But, the mandate remains. "This time it's a little more tied to what's going on with small businesses."
Not surprisingly, the company has had success retaining workers. It is looking to hire more financial advisers.