NORTH ADAMS — Once considered a rising star in the Massachusetts Senate, Ben Downing surprised many when he walked away in 2016, fulfilling a promise to serve no more than 10 years, despite colleagues' pleas for him to stay.
Few expected Downing, now 39, to leave public service for long. Downing's entry into the 2022 race for governor, which he announced Monday, doesn't shock anyone who knows him well.
Downing says he is running with a sense of urgency to tackle economic inequality, climate change and wide-ranging racial disparities.
In Downing's vision for "a fairer, stronger Massachusetts," the state would set a higher minimum wage, commit to using 100 percent renewable energy by 2030, raise taxes on top earners and invest more in public infrastructure, he told The Eagle.
"If we're going to build that type of economy, we're going to need someone who sees, feels and understands the experiences of families from Pittsfield to East Boston, and can knit together their stories to build the political coalition to win a campaign, and will govern with their experiences at the forefront," said Downing, who spent the past four years as an executive for solar energy company Nexamp in Boston, where he now lives after representing the largest and westernmost Senate district as a Pittsfield Democrat.
To be sure, Downing faces an uphill battle, especially if Gov. Charlie Baker, still popular among voters, runs again. Even Lt. Gov. Karyn Polito, who carries $1.9 million in her campaign coffers, could hold a financial edge over a Democratic opponent.
On the Democrats' side, Attorney General Maura Healey's name often has surfaced in the rumor mill. If Healey runs, she would boast strong name recognition and nearly $3 million in cash on hand.
Downing is "well known" among Democratic activists and Western Massachusetts political circles, although fundraising could pose a challenge, said Mary Anne Marsh, a Boston-based political analyst who has known the Downing family for decades. But, a "hard slog, grind-it-out" brand of grassroots fundraising could work to Downing's advantage, Marsh said, if he could pull it off.
Downing will lean on the leadership and policy credentials he believes he cemented while in the Senate. Fundraising, he said, represents "one of several viability thresholds" he will face, but he said he will run a campaign that is "grassroots in the truest sense."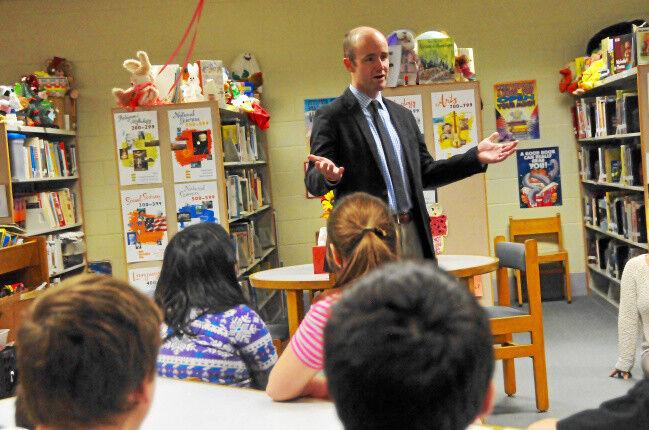 "There is a commitment in every way possible to be in every one of those 351 cities and towns, and to be there to listen first because I don't think I have all the answers," Downing said, pledging to center "the lived experiences of Black and brown communities."
Independent voters in the state's largely white suburbs often decide statewide elections, including for governor. But, turning out new and infrequent voters would be "low-hanging fruit" for Democrats, Marsh said. The party could gain from getting out the vote in lower-income communities and communities of color, where voters tend to favor Democrats but voted early and by mail at lower rates than the general population in 2020.
It's still unclear how the field might shape up, but Democrats' chance of victory would benefit significantly if one candidate emerges as the front-runner early on, Marsh said. The quick turnaround from the September primary to the November general election doesn't give voters much time to get to know a candidate new to the spotlight.
So far, Danielle Allen, a Harvard University professor and political theorist, and Scott Khourie, a Quincy resident with a background in finance, each has said they are considering a run.
Downing believes that he can appeal to Western Massachusetts and Gateway Cities voters, as well as climate advocates statewide, and young families dealing with struggles related to child care and education, he said.
He found an early supporter in Chelsea City Councilor Damali Vidot, who said she went "all in" on Downing after just one conversation. As a councilor in one of the communities hit hardest by the pandemic, she trusts Downing to lead on issues such as racial justice, environmental justice and health inequities.
"We cannot silo these issues anymore, so, I think it's important to get a leader who understands that these issues intersect somewhere, who has the macro-level perspective and can come up with policy changes to help at the micro level," Vidot said. "We can't go into governing with just a blanket approach to everybody, and I think Ben will bring a level of care to every community."
Born in Great Barrington, the "son of Pam and Gerry, husband to Micaelah, and dad to Eamon and Mac" would be the first Berkshire native to serve as governor since North Adams' Jane Swift was acting governor from 2001 to 2003. He would be the first to win election since Dalton's Winthrop Crane won three one-year terms in 1899, 1900 and 1901.
Should he make it to the "corner office," Downing would bring a perspective shaped by his roots in the state's westernmost county, where many have felt overlooked by state leadership for decades.
"When you have to go back and forth from the Berkshires to Beacon Hill, you go through a lot of different communities and a lot of different demographics in the state," said former state Rep. Dan Bosley, who represented northern Berkshire County from 1993 to 2010. "I think Ben learned things that people in the Boston area don't necessarily see, and I think those trips made him very well-suited to speak about what people need."
Passion for service
Despite the difficulty of a gubernatorial challenge, no one ever saw Downing as one to back down from a fight, particularly given his personal history.
"This is not the hardest thing Ben has ever done," Marsh said. "The hardest thing Ben has ever done was losing his father and losing his brother."
Gerard Downing, then the Berkshire District Attorney, died in 2003, at age 52, from a heart attack. Ben, fresh out of Providence College and the oldest of four children, was left broken.
"When you've had to eulogize your dad and your role model, it makes things you might otherwise see as difficult much easier," Downing said. "I don't know if I'd have ever run for office if my dad didn't pass away."
It was through family that Downing acquired his "genetic passion for service," said state Rep. William "Smitty" Pignatelli, D-Lenox, dean of the Berkshire delegation and a longtime family friend.
When a state Senate seat opened in 2006, family and friends prodded Downing to run. He remembers his reluctance to sacrifice his graduate studies at Tufts University or his work as a part-time congressional aide, and he voiced some of those doubts in a phone call with his younger brother Nate.
Nate hung up on him. The message was clear: "You're running."
So, a barely 25-year-old Ben Downing won his first term, defeating former 20-year state Rep. Christopher Hodgkins by just 243 ballots, or 1 percent of the total vote, in the Democratic primary.
After Nate Downing, the same brother Ben credits for convincing him to run, died in 2012 from a genetic heart condition at 26, Ben called that period his most challenging time in office.
The experience of having "been through tragedy, while coming through privilege," shaped Downing's approach to life and government. It led him to appreciate what he calls "the randomness of life," and to see the role of government as to "limit the sharp edges of that randomness."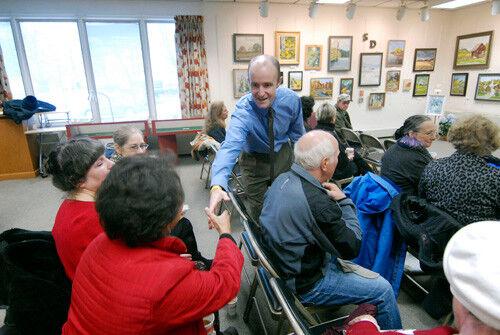 That Downing came away "more willing to fight for other people," Marsh said, bears some resemblance to the life of President Joe Biden.
"It made him a very empathetic person who understands the value of every day, but also understands that there's a lot of good you can do on this Earth and there's no time to be wasted," she said. "Given the times we live in, I think a lot of people are going to take a look at him the more they get to know him."
Seeking big solutions
What Downing has taken away from his four years in the private sector, in addition to a realization that "the snacks in the office are much better," is a conviction that Massachusetts is ready to take on climate change and other great challenges.
Through his work with Nexamp, Downing has witnessed energy storage innovations and reductions in the cost of solar energy. Those advancements, he said, can facilitate a renewable energy transition that helps, not hurts, the economy.
"We are just sitting here with all of the solutions ready to be deployed," Downing said. "And the only thing that's missing is leadership."
When he thinks of effective leadership from the corner office, it's former Gov. Deval Patrick's work on clean energy that comes to mind. The idea that slowly rolling out climate action reduces costs, Downing said, "couldn't be more wrong."
"At every single step along the way he was told that those steps were too bold," Downing said. "Not only did we hit the goals and exceed the goals, but we did them in a more cost-effective manner."
It's undeniable that the next few years also will be crucial for climate.
"The next governor is going to be a governor that is tasked with implementing some of these policies that get us to a net-zero economy and finding those synergies between decarbonization and economic growth," said Elizabeth Turnbull Henry, president of the Environmental League of Massachusetts, for which Downing is a board member. Henry called Downing "a strong voice" on climate but said the group has not decided if it will endorse a candidate for governor.
Downing led on climate and social justice before many others embraced those issues, his former Statehouse colleagues said. His work in the Senate, Downing said, provides an indication of how he would govern.
In 2008, Downing worked to establish a Pathways out of Poverty program to train low- and middle-wage earners for jobs in clean energy. He now calls that program a precursor to the Green New Deal-esque proposals that will feature in his bid for governor.
On civil rights for transgender residents, Downing helped push through anti-discrimination protections in 2011 and 2016.
In 2014, then-North Adams Mayor Richard Alcombright warned that Massachusetts' smallest city was "one cycle short of Detroit" after the sudden closing of North Adams Regional Hospital eliminated 500 jobs (the Michigan city had filed for bankruptcy the previous year). Downing, in the state budget, helped to give North Adams a lifeline through a one-time $750,000 capital infusion.
Downing later would play a role in helping North Adams install a 6,000-panel solar project, redevelop the final portion of a former electric factory as the Massachusetts Museum of Contemporary Art and build a new science center at the Massachusetts College of Liberal Arts.
Alcombright "never had to wait more than five minutes" to get a call back from Downing on those projects, which he said helped provide short- and long-term economic opportunity when the city was strapped for cash.
"Access to the guy was incredible," said Alcombright, who called Downing "a quick study" on issues. "If we needed him to come up and meet with a small business that might need some help from the state, he'd be there in two or three days."
As a private citizen, Downing has not hesitated to criticize Baker's leadership, and he has often done so through a Twitter thread calling to "focus on the record."
On transportation, which Downing sees as a climate issue, he says a current lack of investment "fails everyone." The state eviction moratorium, which Baker opted to replace with a $171 million eviction diversion initiative, should have been extended through the pandemic, Downing said. But, he added, "we would have had to bring together landlords, big and small, along with advocates to make sure that we were doing so in a way that was thoughtful and smart."
Climate action, for Downing, also requires a greater focus on communities that have borne the brunt of environmental harm. At least 40 percent of money from Massachusetts' energy efficiency and clean energy programs, he said, should go to environmental justice communities.
"We've seen the impacts of decades of locating fossil fuel infrastructure, locating highways, locating coal and gas plants and pipelines in Black and brown communities," Downing said. "If we're going to right that wrong, we're going to need a commitment on the books."
Downing's goal to reach 100 percent renewable energy by 2030, a target Rhode Island set last year, is more ambitious than any timeline put forth in the Legislature, where Democratic leaders in the previous session shied away from a 100 percent renewable by 2045 bill that was popular among activists.
It all comes back to urgency. Of the "cracks and fissures" the pandemic laid bare, one Downing finds most pressing is the widening gap between communities that have benefited from economic growth and those that the tide didn't reach. While the district Downing represented was over 90 percent white, he sees the issues that drew him into government as the same issues that "most disproportionately impact Black and brown communities."
At the heart of Downing's strategy is a belief that bridging gaps requires big investments, along with an overhaul of the state tax system to ask more of the wealthiest.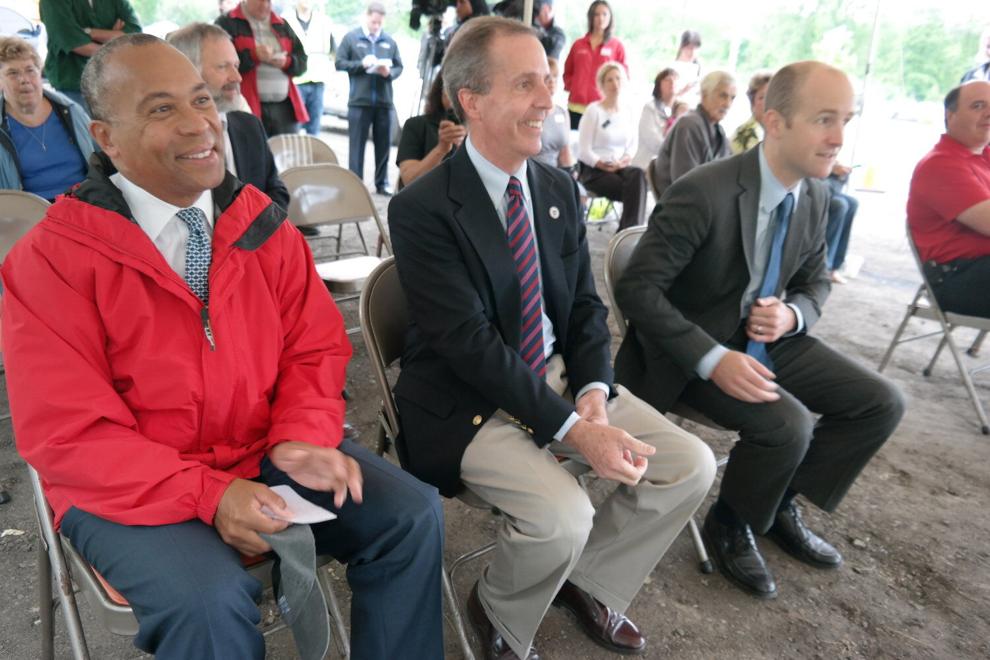 "We don't do that by simply going back to the status quo, by going back to the normal that we practiced before COVID came," Downing said.
Downing knows he can't go it alone, but rather needs to assemble a wide coalition. He brings to the race the personal experience of having traveled from Pittsfield to Boston — from growing up in one of the best-known families in the state's westernmost county, to shaping policy through powerful posts in the Legislature. But, to win in 2022, he is banking on an ability to understand and win over all the communities in between.
"They're filled with talented, generous, hardworking people who too often have to fight harder than they should to be heard on Beacon Hill and to have their needs met," Downing said.
"I make a commitment to come to this race with humility and empathy, to put the lived experiences of those who have dealt with all sorts of challenges beyond everything I will ever know in my life first, and to make sure that they inform the type of campaign that we build."