SHEFFIELD — Bruce Howden, 82, doesn't just grow pumpkins, he breeds them to perfection.
He grew up on his family's 250-acre farm in the southern corner of the Berkshires, flanked by the Housatonic River and views of Mt. Race. His family holds horticultural patents. His dad, John A. Howden, developed the Howden Pumpkin and Howden Biggie. Bruce Howden's contribution to the family pumpkin legacy is the Howden XXX, in which his cultivation efforts focused on refining the plant's stem.
While he can seek plant perfection, he can't make it rain. And so he posted a handmade sign this summer amid a drought. "PRAY 4 RAIN," it said. Howden wrote the message with a Magic Marker. "It was with hope the magic would rub off," he said.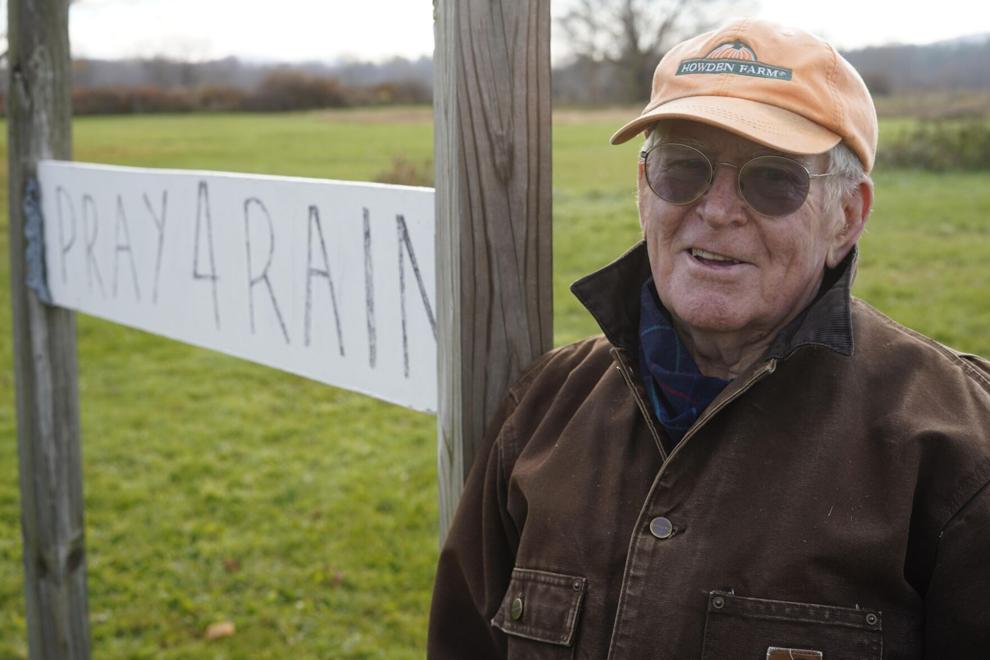 That magic did not materialize. "It was dust when I planted," Howden said of his fields, where he usually grows more than 200 tons of pumpkins each year. This year, there were none.
Most falls, Howden offers pick-your-own pumpkins. Not this year or last. After a historically wet July last summer, his crop was poor — though not nonexistent, like this year.
"I say thank God I am the age I am. I'll pass on before times get really tough," he said.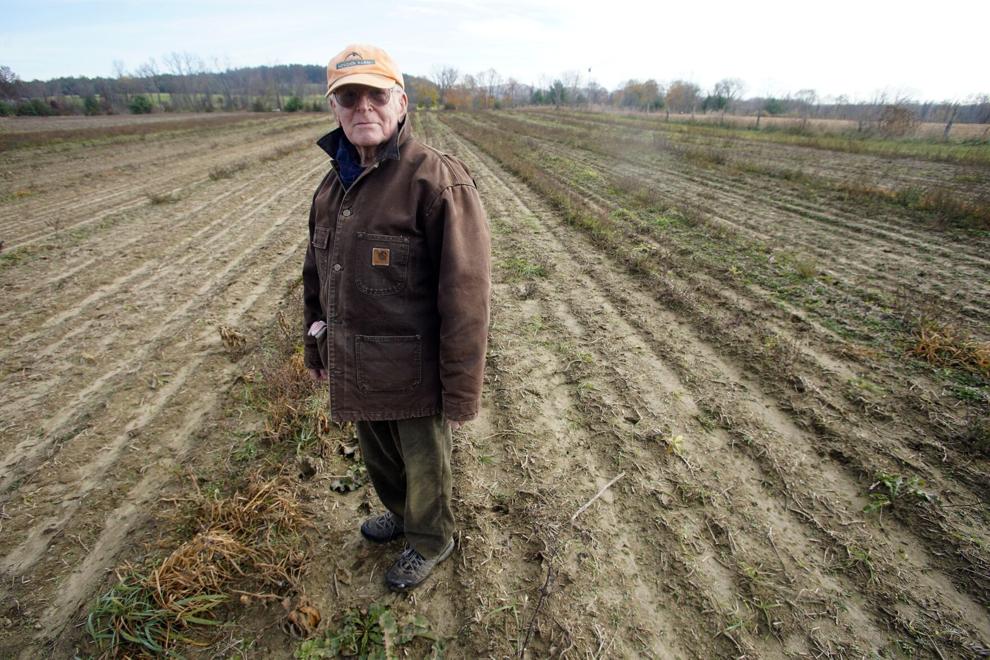 While it's hard to pin a specific weather event on climate change, patterns of more extreme weather, like intense rain and heat waves, are hallmarks of a warming world, and that's expected to continue as climate change intensifies.
The average annual temperature in Berkshire County has increased more than 2 degrees Fahrenheit since 1895, according to data from the National Oceanic and Atmospheric Administration (NOAA).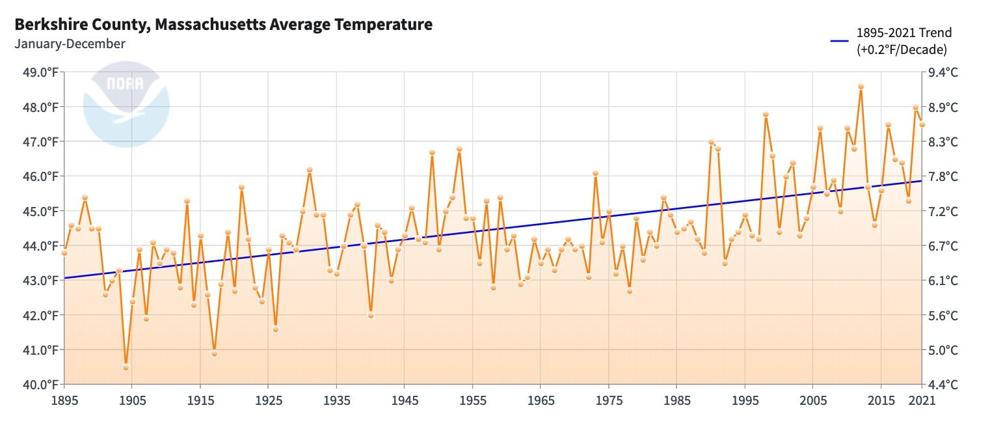 Farmers in the Berkshires are adapting and planning for future impacts of climate change. Solutions depend on the farm size, food farmed, factors like the type of soil, and financial considerations. Food producers are turning to strategies including finding new water sources to use during droughts, increasingly growing under covered spaces to protect from the variable weather, and planting more trees to keep livestock cooler in hot temperatures.
This is a time, local farm advocates say, to ensure the survival of local food production as other parts of the country face multiyear droughts.
In the northeastern U.S., downpours have gotten more intense. From 1958 to 2012, the amount of rainfall in heavy events increased by 71 percent in the Northeast, more than any region of the country, according to the Third National Climate Assessment, a report from the U.S. Global Change Research Program.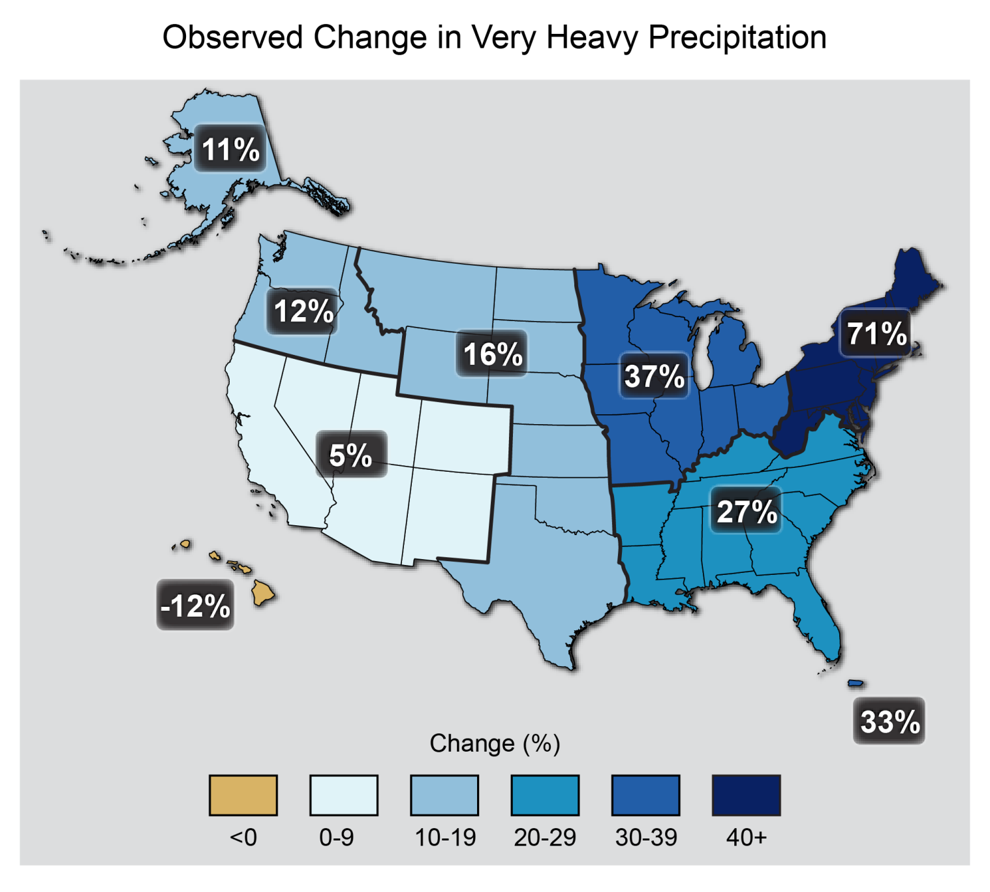 More evidence of increasing variability: This past summer was the county's third driest on record. The previous summer was the county's tenth wettest, NOAA data shows.
That flip, from one extreme to another, does not surprise Michael Rawlins, associate director of the Climate System Research Center at the University of Massachusetts Amherst.
"Wide swings between wet and dry periods may be an emerging manifestation of climate warming related to a warmer atmosphere being able to hold and release more moisture," he said. While intense rainfall and droughts are often relatively short, they can cause problems for farmers, he said. And then there are other less obvious impacts from climate change, like increasing pests and diseases, Rawlins said.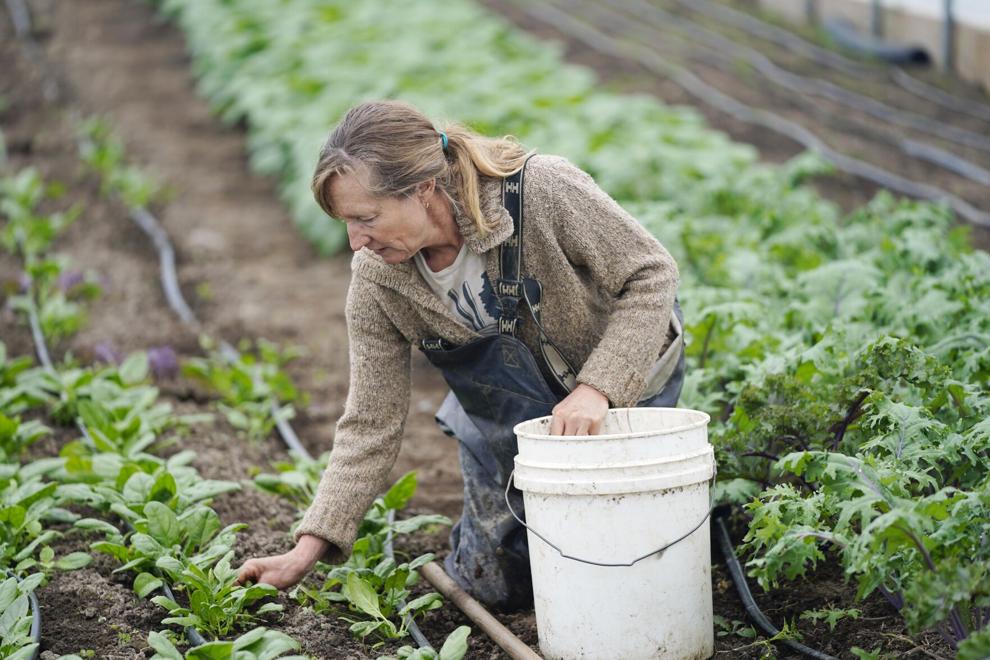 Farmers across the Berkshires are up for the challenge of adapting.
"I feel like farmers are perfectly poised to deal with the effects of climate change because we're constantly having to deal with weather ... the vagaries of weather," said Elizabeth Keen, owner and lead farmer at Indian Line Farm in South Egremont, who has been farming for 25 years. "Farmers are always thinking about how to be creative and economically viable,"' she said.
Berkshire farmers say they expect to endure weather extremes. "Everything has become less predictable," said Sarah Gardner, associate director and lecturer in Environmental Studies at Williams College. "It's a greater risk of crop loss, of livestock loss, and already, farmers are operating on tiny slim margins. Expecting them to pay more for these infrastructure solutions …. it's a really big ask when they are already operating on the financial edge."
In New England, there will be some upsides to farming in a warming world. Scientists expect a longer growing season in the Northeast to help agricultural productivity in the region over the next 50 years, according to the Fourth National Climate Assessment.
"Benefits are all tempered by potential negative impacts, too," Gardner said. "But I think it's important to note that because most of our country where most of our food is produced is in a megadrought," she said.
Droughts in the Northeast pale in comparison to the long-term drought in the western U.S., where it is the driest it's been in at least 1,200 years, researchers found.
"We're still in denial about the climate impacts to agriculture. We're still going along, drawing from aquifers and rivers that are being overdrawn," Gardner said. "It's a critical time to preserve all the farmland we have in New England."
She has worked on a number of farming-related films and is on the Williamstown Agricultural Commission.
Gardner believes now is the time to rally behind the region's farming sector. "This is really serious. If we don't support the farmers enough so they keep farming, we aren't going to have food produced here," she said. "And we're going to be reliant on other parts of the country that are producing food on dwindling non-renewable water supply. It's so short-sighted."
In some ways, farmers in the Northeast are lucky, Keen agreed. By the end of October, the vegetable fields at Indian Line Farm are usually empty. But this year, amid warm fall temperatures, there were still crops growing in early November, Keen said. "That's one benefit to the Northeast — it's warmer."
Managing the water
It's not that simple, though, she and Gardner say.
In recent summers, the irrigation system on Keen's farm, fed by a wall, was used so much that sand would get in the water. They needed another water source, but it was not obvious where to look. With help from the Natural Resources Conservation Service, a geologist was able to find water on the perimeter of the farm by digging shallow wells.
"It was a miracle to us," Keen said. That was in April, before the dry summer. "Who knew we were going to have a drought? We were just ecstatic we were able to use this water source."
Without the new wells this summer, she said, "I would have probably had to let some crops go." Instead, her lettuce crop thrived.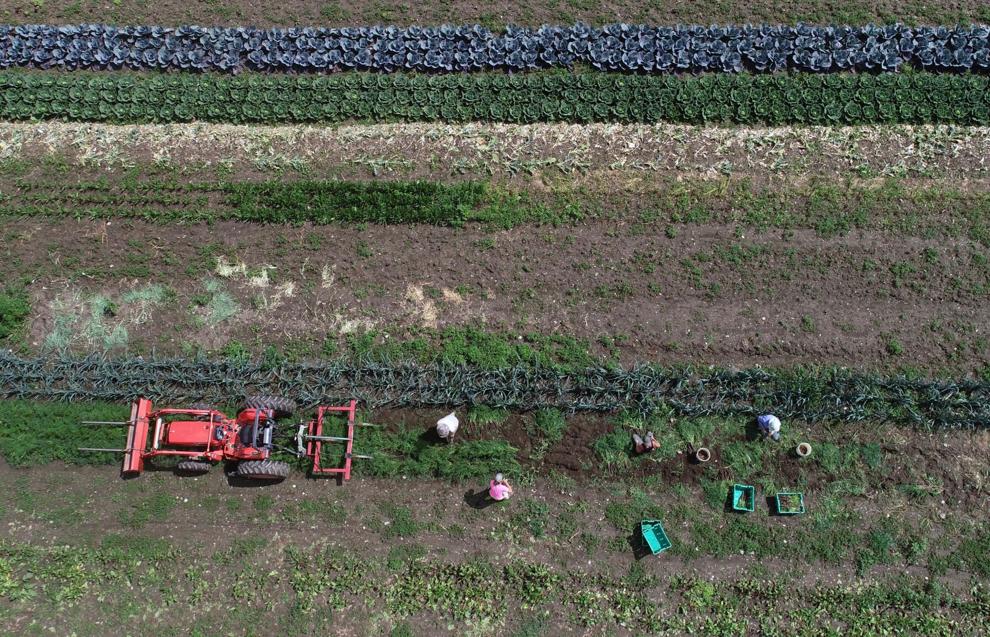 To cope with the extreme of too much water, the farm has invested in raised beds, which elevate plants three to five inches higher. "It can be the difference of crops being in water or not," she said. During Tropical Storm Irene in 2011, the farm's carrots rotted. "If I had raised beds in those sections I wouldn't have lost that particular crop," she said.
At the northern end of Berkshire County, Don Zasada operates Caretaker Farm in Williamstown with his wife, Bridget Spann. "It's just trying to expect the extremes at this point," he said of climate change.
The farm grows seven acres of vegetables on its 34-acre tract. Its clay soil holds water, so the farm struggles more with wet years than dry ones, Zasada said.
One way to deal with weather variability: try to control crop conditions as much as possible, like starting plants in a greenhouse. Instead of seeding spinach in the field, where it would be for roughly 45 days in all leading up to harvest, they start plants inside, which then spend about 28 days in the field. "It's exposed to the elements a little less," he said.
The farm has been adding covered structures, which provide more control and extend the season. But those structures take time to erect and maintain. "I don't really want to be pulled in that direction, and yet every couple years we add a structure," Zasada said. The plastic around the structures needs to be replaced regularly; intense wind blew the top off one this year. And because a tractor can't fit inside, soil needs to be hand-tilled.
The 'climate battery'
A few years ago, Meg Bantle and Laura Tupper-Palches started Full Well Farm in Adams, where they grow vegetables and flowers on three-quarters of an acre.
"The overarching model of our practice is based on being climate prepared," Tupper-Palches said at a picnic table at the farm on a sunny fall afternoon. People hear "global warming" and think it's simply getting warmer, Bantle said. "The truth is, it's more erratic."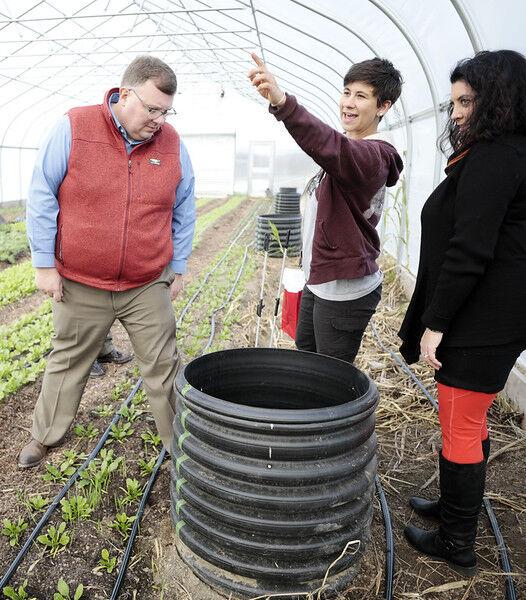 One choice they've made is not tilling their soil, minimizing soil disturbance. If the soil isn't mechanically broken, its intact structure is healthier — generally, soil that's not tilled has more organic matter, according to the U.S. Department of Agriculture. It absorbs more water, which is helpful in times of drought and to resist flooding, the farmers said.
With a grant, Full Well Farm recently added a "climate battery" greenhouse. There's no actual battery. Deep holes dug into the ground under the 30-by-96-foot greenhouse carry tubing. When it's warm up top, fans in the greenhouse blow that warm air into the ground, where it's stored — that's the "battery."
When it's cold, the reverse process warms the space. The system will extend the farm's growing season, keeping air in the greenhouse around 42 degrees with, they hope, little use of propane all winter.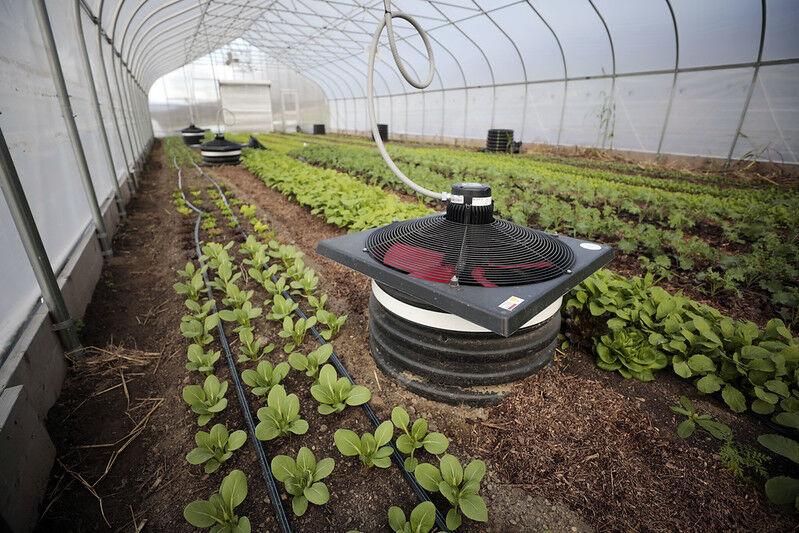 At Red Shirt Farm in Lanesborough, owner Jim Schultz has used a "climate battery" greenhouse for several years. The space remains at about 40 degrees all winter, and he doesn't need propane to heat it unless it's unusually cold. "It's an elegant system," he said on a recent afternoon, standing in the greenhouse where arugula, lettuce and other vegetables were growing.
Climate change has made is hard to know what to expect. "The changes we've seen have been varied, from extreme weather conditions ... to the drought we had in 2020 to the drought this year," he said. "You can't plan for one thing."
The farm takes a regenerative agriculture approach, a philosophy that aims to improve the ecosystem and improve the climate, as the Natural Resources Defense Council explains it.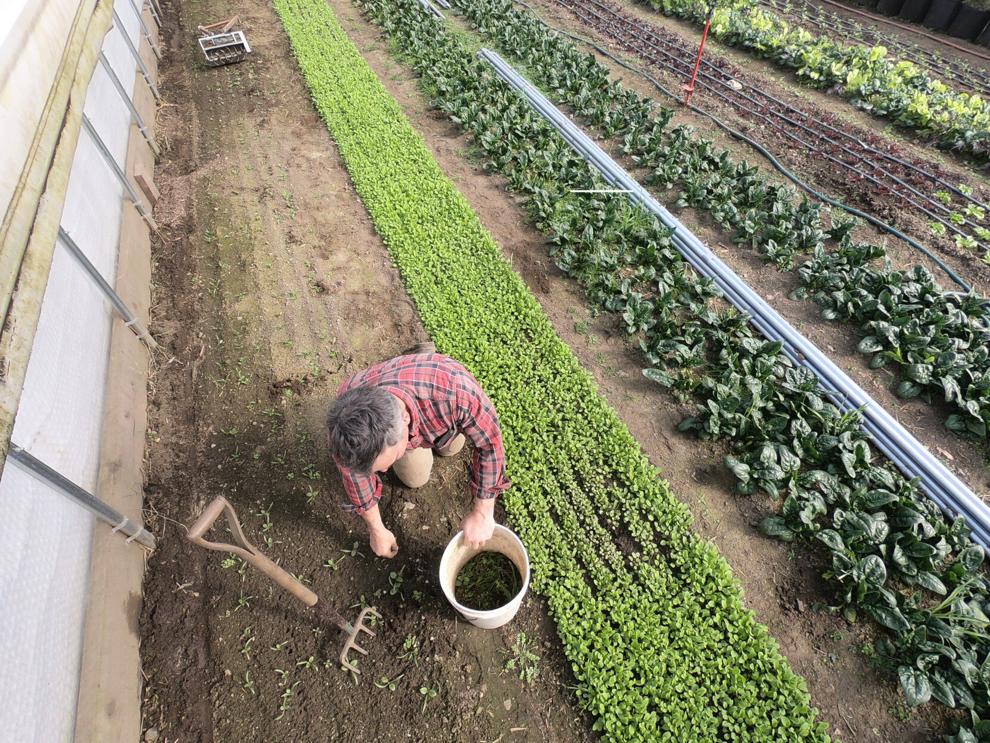 Soil health is key in climate resilience, he said. The farm plants cover crops to feed soil microbes. In the winter, they protect the soil, Schultz said. He also puts mulch on the fields to prevent weed growth. He tills sparingly, not wanting to break up the fungal network in the soil.
Drought hurts hay crop
This summer, the spring on Michael Gallagher's Lanesborough farm ran dry. He found himself filling tanks of water from his house and hauling it on a tractor across Square Roots Farm for his 40 cows, 10,000 meat chickens, 1,500 laying hens, and 250 Thanksgiving turkeys. "It's a big hassle," he said of the hauling.
When there isn't a drought, a spring feeds a 500-gallon storage container on a hill and water flows through a pipe to the whole farm, where a spigot is always within 150 feet.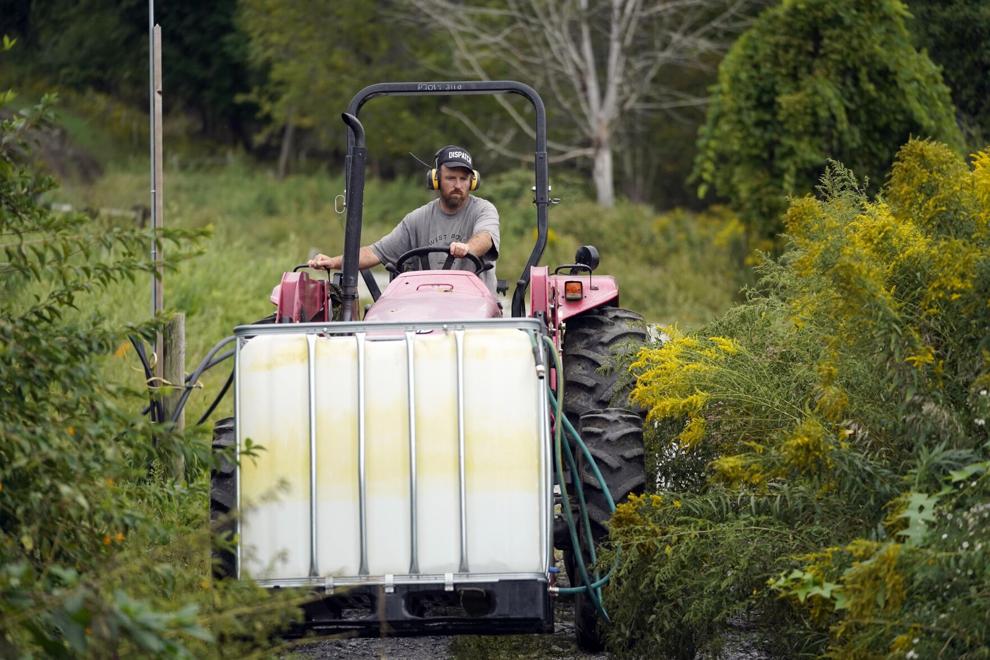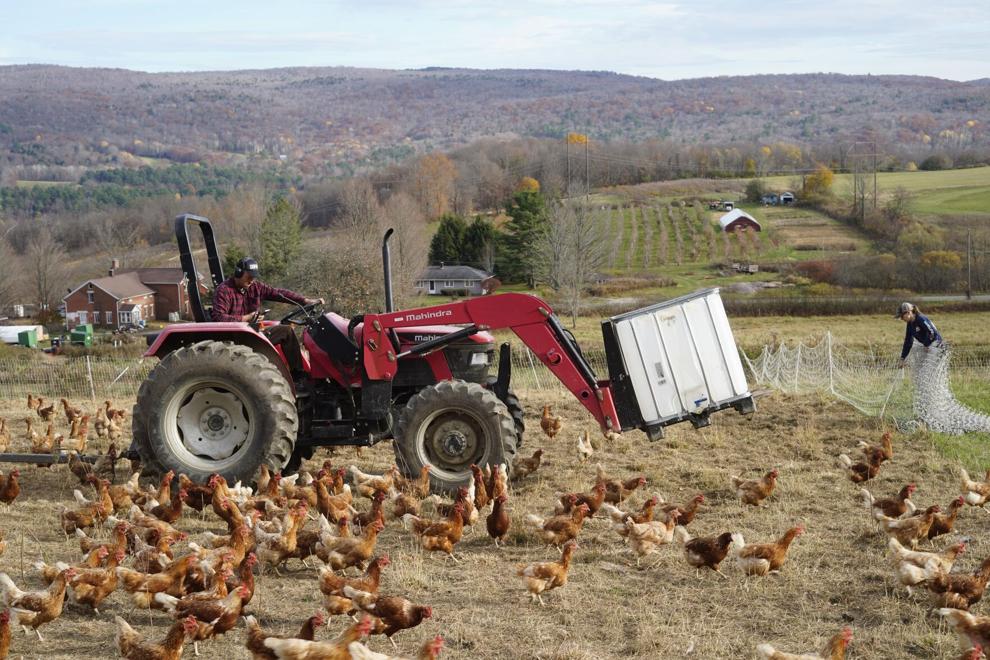 The biggest climate-related issue he's having: increased variability in temperature and precipitation.
In early November, though the drought had lifted, his spring remained dry.
"We're going to have to do something different next year," he said. "We can't be in this situation that relies on a spring that might or might not flow." What the change will be, he's not sure yet. Right now, he's focused on getting to the end of the season.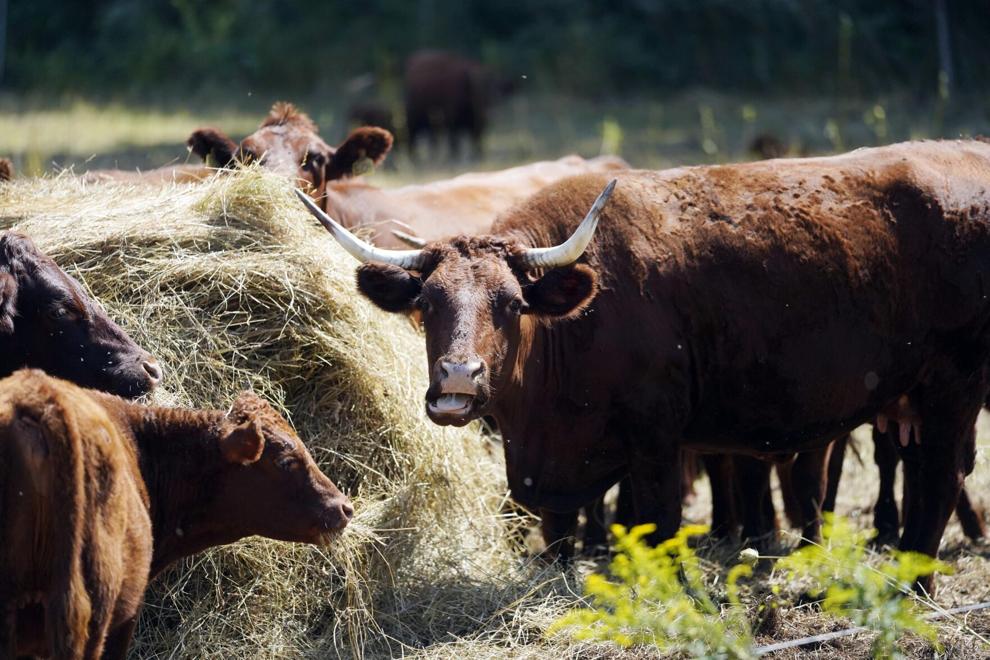 Dry weather dried out the grass on which his cattle graze, forcing him to feed them hay in the middle of the summer. That has a financial impact. The large bales of hay he uses cost about $40 each — and he bought more than 30.
He's turning to trees for help. The farm is planning an agroforestry project. Trees will create shade for livestock and help make grass grow more consistently all season, rather than high growth in the spring and slower growth in the summer.
"The hotter and drier it gets, the happier we will be to have the trees," Gallagher said.
The farm is selecting species that can double as food for their animals, like honey locust trees, which have edible pods, as well as persimmon and mulberry trees. Some trees will be repeatedly cut back to ground level so that livestock can eat them, creating, as Gallagher put it, a "three-dimensional pasture to be grazed."
And, of course, there's the benefit that trees sequester carbon, meaning they capture carbon from the atmosphere through photosynthesis.
"We really need to do this now," Gallagher said. If they wait 10 years to start carbon sequestration efforts, "it's just going to be too late."