In the photos that got him in trouble, Brian P. McCreary is himself taking pictures.
But, that's another story. The photos that led the FBI to track him down were not taken on the cellphone he carried into the U.S. Capitol on Jan. 6, when he joined a mob whose conduct lies at the heart of this week's second impeachment trial of former President Donald Trump.
McCreary hopes to get back his phone, but he understands it could take awhile. In the meantime, he says he is using his wife's phone to look for a new job, now that he has been canned by his employer in North Adams as a result of his notoriety before and after his arrest last week by the FBI.
As explained in reports in The Eagle last week, McCreary hopes that his effort to document violent behavior inside the Capitol will aid his legal defense. On Feb. 3 he was charged with violent entry and disorderly conduct on Capitol grounds (three counts) and knowingly entering or remaining in any restricted building or grounds without lawful authority (two counts), according to an FBI news release.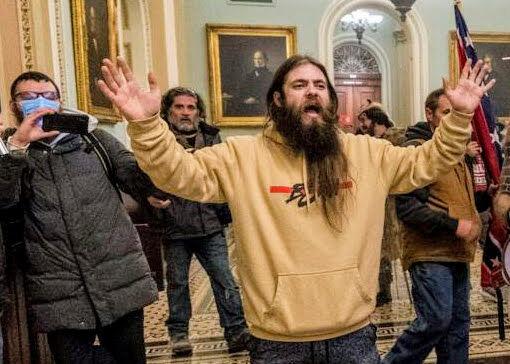 The FBI says McCreary told agents he tried to dissuade people inside from hurting others.
"McCreary stated he directed people inside the building not to harm police officers or commit any acts of violence. McCreary further stated that he understood going into the building 'might not have been legal' but 'he made a personal choice at that point,'" the FBI said.
McCreary says that within 24 hours of the events in the District of Columbia, he turned over to the FBI digital video of scenes inside the Capitol. But, he remains in trouble for being inside the building on the day that people stormed inside, beating members of the Capitol Oolice force and sending lawmakers into hiding.
"The FBI confiscated my phone about two weeks ago," McCreary, 33, told The Eagle this week.
According to the agency, McCreary was interviewed Jan. 26 about his presence inside the Capitol building. He surrendered his phone about that time and believes the FBI took the device in an effort to find evidence that he had previous knowledge of what was going to happen on the day of the insurrection.
"I am confident they will not," he said. "Part of my cooperation has been allowing them to hold on to the equipment without pushing on its return."
When he will get it back remains unclear.
"The supplied warrant does state the government will return devices 'after inspecting' and creation of 'forensic copies.' The warrant also says this will occur over 'reasonable time,' whenever that may be," he said.
Social media posts from Jan. 6 and days after are being used by federal authorities in the ongoing effort to track down people who stormed the building and temporarily halted what normally is a routine procedure to ratify November election results.
The FBI says that it has received more than 200,000 tips in the form of digital media — and still is collecting them. People can submit tips about people they suspect were involved in the Jan. 6 occupation by visiting tips.fbi.gov or calling 800-CALL-FBI.
On another front, social media posts likely are responsible, McCreary believes, for his recent firing from his job delivering pizzas for a Domino's franchise in North Adams. During the coronavirus pandemic, his lighting and event business has been on hiatus.
One of his Domino's Pizza co-workers tweeted a photo of McCreary inside the Capitol. As of Monday night, that tweet has drawn 82,300 likes, 22,000 retweets and 3,100 replies. According to MassLive, the co-worker who sent that tweet promptly was interviewed by the FBI.
"I was fired and my boss cited social media bombardment as the reasoning behind the action," he said. "I personally think this is a weak-kneed response to, most likely, individuals who were not paying customers to begin with. I understand though. Bad press is undesirable ... therefore a desire to part with me."
As for his legal problems, McCreary said last week that he will let the process play out.
"Like any situation, there is much nuance [in the] events surrounding Jan. 6," he told The Eagle. "I have and will continue to fully cooperate with officers working on this case. I love our country and will accept the judgment passed from our judiciary system."