LEE — Aldo Pera and Victor Pezzottini grew up in a close-knit neighborhood of Italian immigrant families on Canal Street in Lee. Like a lot of men of their generation, they went to war — with the U.S. Navy, in their case — and never came home.
More than seven decades later, new headstones mark their service, thanks to one of their boyhood friends.
The two future Navy seamen played sports together, worked together and watched over their younger siblings together. They were a band of brothers, joined by Pera's twin brother, Alfred, and another friend, Amosso Regalbuti.
World War II would break up this band of brothers. All four went their separate ways as Uncle Sam beckoned. Pezzottini enlisted in the Navy in September 1941. After the U.S. entered the world war that December, Aldo Pera also joined the Navy. Brother Alfred and Regalbuti signed on with the U.S. Army.
All were in their early 20s when they enlisted. Regalbuti landed on Utah Beach as part of the D-Day invasion of Normandy, France, on June 6, 1944.
Alfred Pera and Regalbuti survived the war and returned home. Aldo Pera and Pezzottini were lost at sea — Pera in the Pacific Ocean and his friend in the Atlantic Ocean.
"I cried when they died. I could cry right now. They were good to me," said Lee native Armand Regalbuti, who is about 10 years younger than his brother, Amosso, and the other three men.
The Lee sailors never were returned home for a proper burial. But, Armand Regalbuti learned this year that they still could be honored with a headstone at the Massachusetts Veterans' Memorial Cemetery in Agawam.
A section of the cemetery, on Main Street just north of Six Flags New England, is devoted to those missing in action and declared dead. So far, 68 U.S. soldiers and sailors who died fighting overseas are honored with simple headstones. The nearly 20-year-old cemetery has buried 9,184 servicemen and women, as well as eligible spouses and dependents of veterans.
Regalbuti, who lives just south of Agawam, in Suffield, Conn., spent eight months researching the military records of the lost sailors to prove that they deserve a spot at the cemetery, with help from Kathy Storti, of Becket, a niece of the Pera brothers. The federal government approved the headstones in July, and they were installed a month later, near those of other Massachusetts servicemen and women who never came home.
"Victor and Aldo belong here. They belong with the other guys," Regalbuti said.
Added Storti: "So many people don't know about Aldo and Victor. Doing this research makes it more real."
U-boat attack
Seaman 1st Class Victor Pezzottini's fateful voyage left the U.S. for Great Britain in winter 1943. He was one of at least 12 Navy guards on the cargo ship USS West Portal, part of a 61-vessel convoy protected by seven U.S. and British navy ships and a U.S. Coast Guard cutter.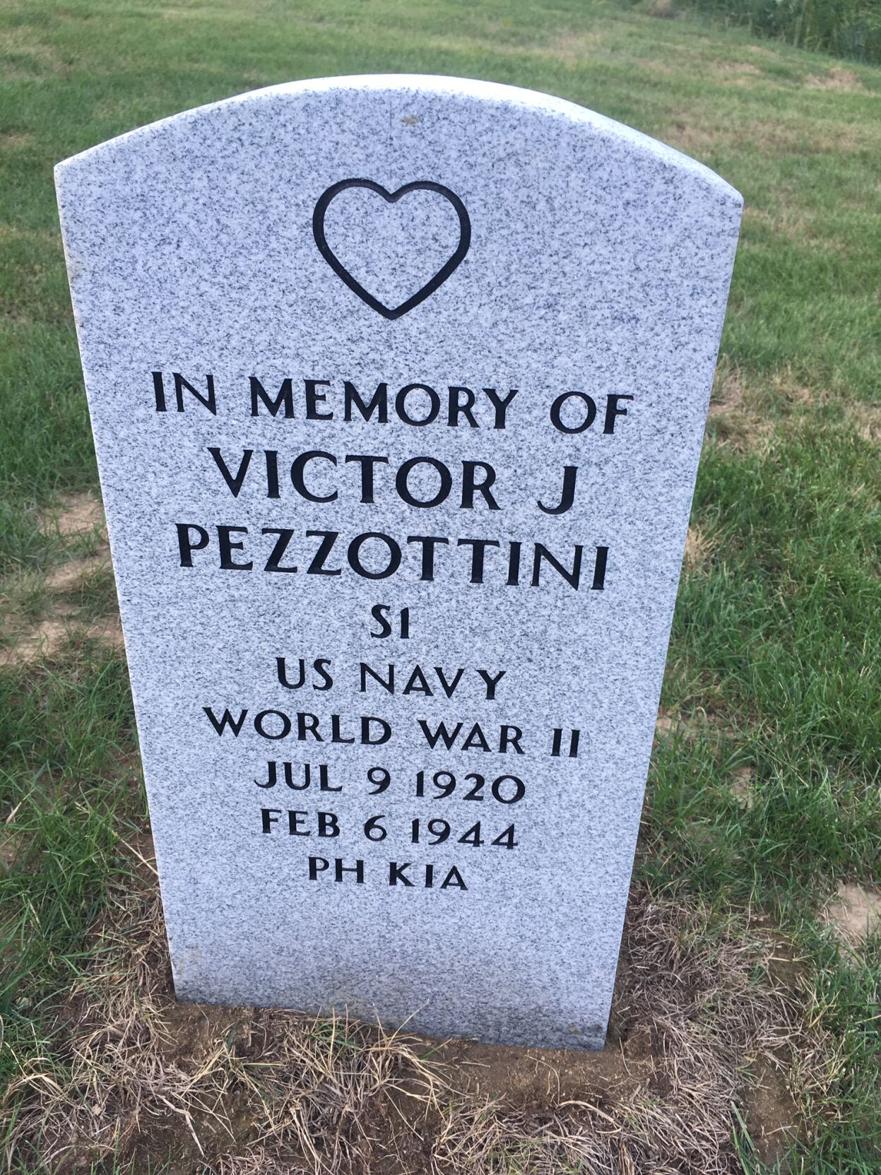 On Feb. 5, a German U-boat twice torpedoed the West Portal, the second one delivering a mortal blow to the vessel. Before the Portal sank, halfway across the Atlantic, the ship's crew sent out a distress signal. The British Navy's HMS Vanessa broke from the convoy to search for survivors, but it proved fruitless, as the Portal's SOS did not include its last position.
Later, three other American warships dispatched from Iceland were able to retrieve 27 survivors. Pezzottini was among the 52 who perished in the frigid Atlantic.
Paul Monachina Sr. was 10 years old when Pezzottini died. He admired him.
"I knew him as nice, friendly, always taking care of the younger kids," he said.
Surviving the war was a big deal in the Monachina household. When his older brother, Charles, returned after a three-year stint (1942-45) with the Army in Europe, there was a big celebration at the Monachina house on Canal Street.
"[My mother] put up lights, there was dancing … and she was a great cook," said the younger brother.
Killer typhoon
Aldo Pera survived the Japanese navy, but not the wrath of nature in the Pacific.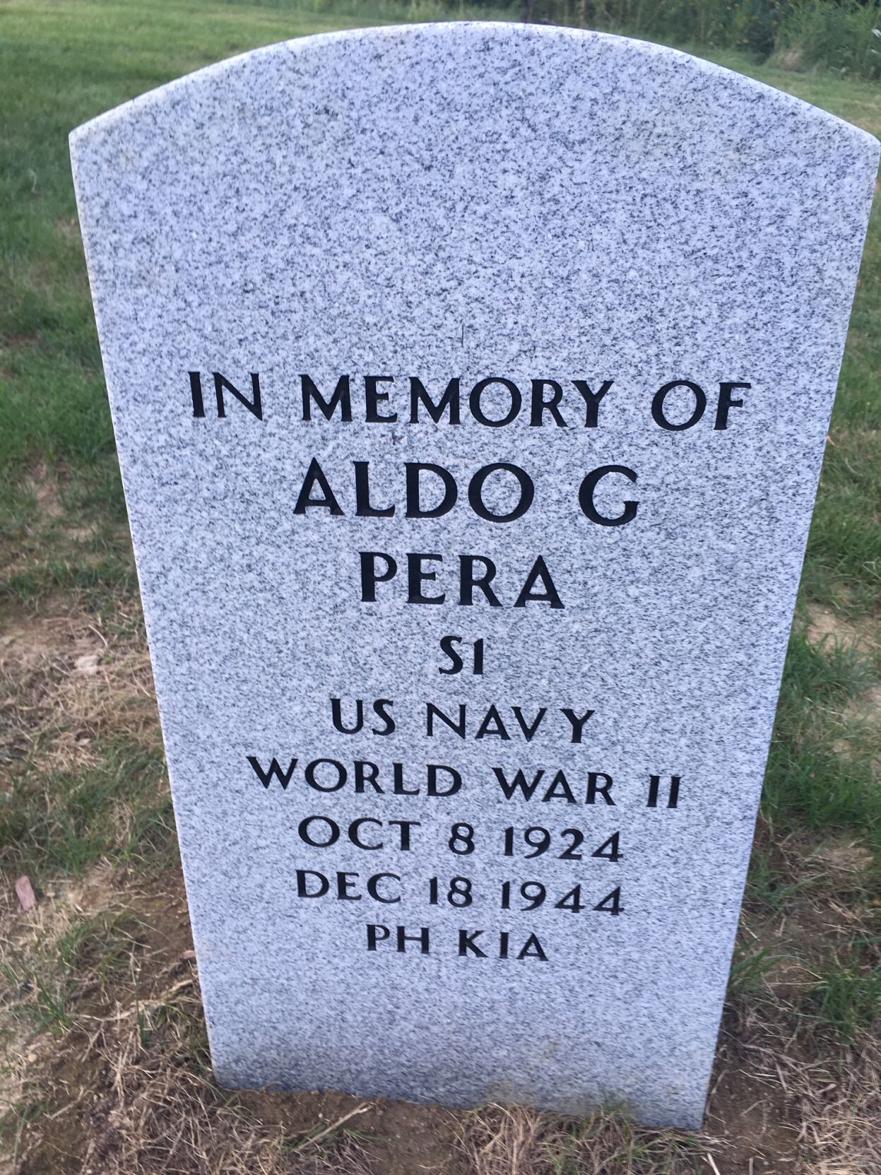 Pera served on the USS Spence, a destroyer that was part of Admiral William Halsey's Third Fleet, whose mission was to support General Douglas MacArthur's invasion of the Philippines and take back the island nation from the Japanese.
On Dec. 18, 1944, the Spence was 380 nautical miles east of Manila, the Philippines, when it capsized and sank in 50- to 60-foot waves whipped up by a fierce typhoon. Only 24 of the 338 on board survived, Pera not one of them.
One of the survivors was David Moore, who floated at sea for two days and is credited with saving the lives of two other men.
Storti says her uncle Aldo's story needs to be told, especially on behalf of the family that lived through the tragedy.
"I'm doing this mostly for my mother and grandmother … because they never had any closure," she said.
Armand Regalbuti says he will pay his respects to his good, older friends, Pera and Pezzottini, at the cemetery.
Regalbuti's wife, Patricia, is buried at the Agawam military burial ground, since husbands and wives of veterans can be interred next to their spouses.
"I'm a regular visitor, as I know several people buried there," he said. "It gets to me all the time when I go to that cemetery."