LENOX — For half a century, composer-conductor Leonard Bernstein spent most summers at Tanglewood, the seasonal home of the Boston Symphony and its institute for advanced young musicians, originally the Berkshire Music Center, created in 1940 by BSO Music Director Serge Koussevitzky.
Bernstein was in the first class of the institute, when he was 21, and he conducted his final concert at Tanglewood on Aug. 14, 1990, just six weeks before his death.
Now, superstar actor Bradley Cooper is portraying Bernstein in a Netflix film, "Maestro," due for release next year. A one-week, closed-set film shoot at Tanglewood, which included local background actors, concluded last Thursday.
Netflix released some first-look photos of Cooper and co-star Carey Mulligan, portraying Bernstein's wife, Felicia Montealegre, via Twitter on Monday.
Cooper, 47, is also director, a producer and co-screenwriter with Josh Singer of the biographical film, originally a Steven Spielberg project. The iconic director, also listed as a producer of "Maestro," handed the film off to Cooper several years ago. Famed director Martin Scorsese is also among the producers.
For Cooper, it's his first film as director since "A Star is Born," released in 2018.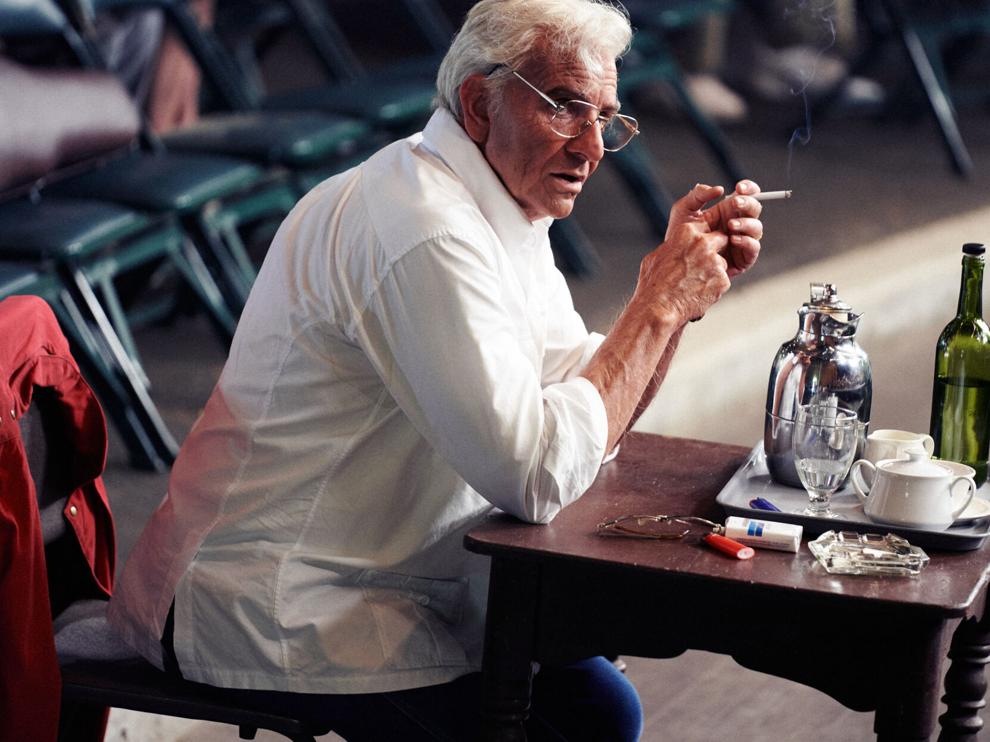 The photos released by Netflix show a remarkable makeup job, resulting in a striking resemblance between Cooper and Bernstein in both his later years — thanks to prosthetics — as well as in his early 40s at Tanglewood. The actor depicts Bernstein over three decades until his death at age 72 in New York City.
"I [told Spielberg], 'I always felt like I could play a conductor, but may I research the material and see if I can write it and direct it? Would you let me do that?' " Cooper told Variety last December. "Steven has a lot of interests — he'll just choose one thing and all of the other things will be on hold. I think he knew he wasn't going to make that movie for a while. He was kind enough to hand it off to me."
"We've done a lot of work on the makeup," said Scott Stuber, head of global films at Netflix. "We've done a lot of work on the voice. I'm excited to see someone so deeply focused on creating a story that means so much to him. And Carey Mulligan is an incredible actress."
Cooper's most recent starring role was in director Guillermo del Toro's "Nightmare Alley," released last December.
Bernstein composed the score for "West Side Story" and for the film "On the Waterfront," as well as the musical "Candide" and numerous classical works.
According to sources, a main focus of Cooper's film is the difficult marriage between Bernstein, who came out as gay in the mid-1970s, and Montealegre, a Chilean-American actress who died in 1978. She had married Bernstein in 1951; the couple had three children, Jamie, Alexander and Nina.
Cooper has appeared at the Williamstown Theatre Festival in 2008 (at the Nikos Stage in "The Understudy") and in 2012 ("The Elephant Man").
"Maestro" supporting cast member Matthew Bomer, portraying one of Bernstein's lovers, was at WTF in July 2007, depicting Ernest Hemingway in "Villa America." Maya Hawke, in the role of Jamie Bernstein, is the daughter of Ethan Hawke and Uma Thurman and is one of the stars of the Netflix series "Stranger Things" and its just-released season 4. She performed at the Egremont Barn in May 2020 with Grammy Award-winning songwriter Jesse Harris.
In January, Cooper, appearing on "The Late Show with Stephen Colbert," discussed how he was "obsessed" with conducting as a child — probably inspired by Bugs Bunny and Tom and Jerry cartoons depicting maestros on the podium— and spent "hundreds of hours" practicing it.
Cooper had convinced Spielberg to let him take over "Maestro" after screening for him a rough cut of "A Star Is Born."
"I'll never forget this," Cooper told Colbert. "We were sitting there and he's all the way on the other side on the front row, it's a pretty huge screen. It's the scene where Jackson calls Ally up on the stage, it's the biggest scene in the movie. And right as she is going on the stage he gets up, walks over, and says, 'You're directing 'Maestro!' "