Dottie's Coffee Lounge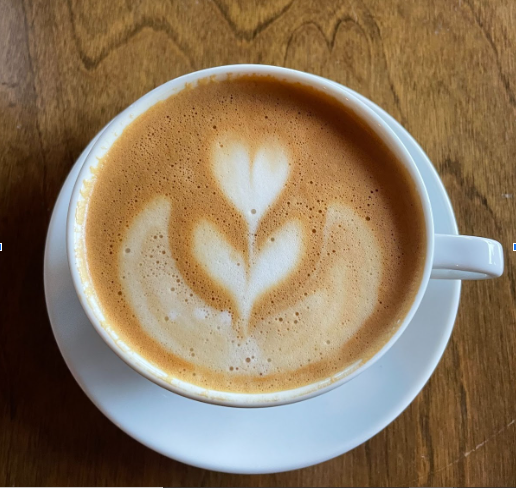 Address: 444 North St., Pittsfield
Hours: Weekdays: 7 a.m.-2 p.m., Weekends: 8 a.m.-2 p.m.
Cost range: $$
Find out more:
Phone: 413-443-1792
Email: Dottiescoffeelounge@gmail.com
Website: dottiescoffeelounge.com
Order Online: toasttab.com/dotties-coffee-lounge-444-north-st/v3
A Pittsfield staple since 2007, Dottie's Coffee Lounge has a funky but welcoming interior with a bohemian vibe. A mini gift shop greets you filled with candles, mugs, journals and other small novelty items. The front of the coffee lounge boasts large window walls with a table and two tufted lounge chairs, perfect for sipping a coffee and looking out into downtown Pittsfield. The employees are friendly and accommodating, and my order (a hot latte with oat milk) was crafted with perfection. When I received my drink in a large mug, the surface of my latte was decorated with foam hearts. Dottie's Coffee Lounge has a cozy, welcoming environment, and better yet, the cafe is home to several kind baristas, and delicious coffee.
Here's what to order:
Waffle Sandwich
Berkshire Breakfast Sandwich
Cinnamon Toast Crunch Latte
Naked Burrito Bowl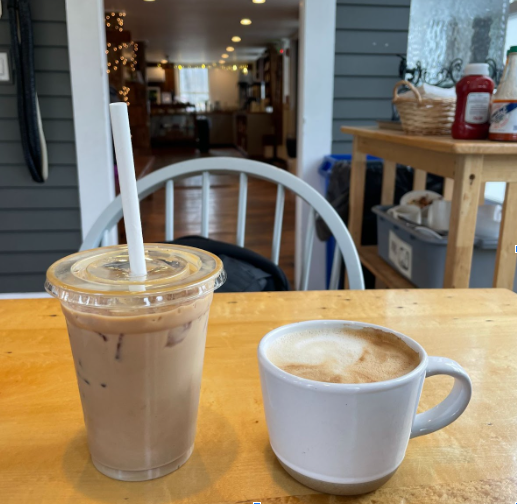 The Store at Five Corners
Address: 4 New Ashford Road, Williamstown
Hours: Monday: Closed, Tuesday-Saturday: 8 a.m.-7 p.m., Sunday: 9 a.m.-3 p.m.
Cost range: $$
Find out more:
Phone: 413-458-6105
Email: info@storeatfivecorners.com
Website: storeatfivecorners.com
The Store at Five Corners is an overlooked gem. Located in Williamstown, the store had been running for over 200 years before it was shut down by its previous owner in the summer of 2020. Several residents came together to preserve the business and refurbish the building in 2021, and The Store at Five Corners reopen in August of 2022. Now, this cafe is a prime spot for breakfast, lunch, a morning coffee, or to grab your groceries to prepare for the week. The Store at Five Corners is small but quaint; the interior has a rustic, wooden vibe and is decorated with cozy Christmas lights that wrap around the banisters inside. The main room is filled with fruit, grocery items, comfortable seating, and a coffee bar, and there is an adjoining sunroom for additional seating and dining. I order an iced latte with oat milk here, as well as the breakfast sandwich, which is conveniently served all day. Both the coffee and the food at Five Corners are incredible — the milk is typically poured heavily (to my liking), with the perfect amount of ice. The Store at Five Corners is a great place to enjoy a slow Sunday morning with family, and sip on a coffee to start your day.
Here's what to order:
Breakfast Sandwich
SAFC Breakfast plate
Croissant
Maple scone
Latte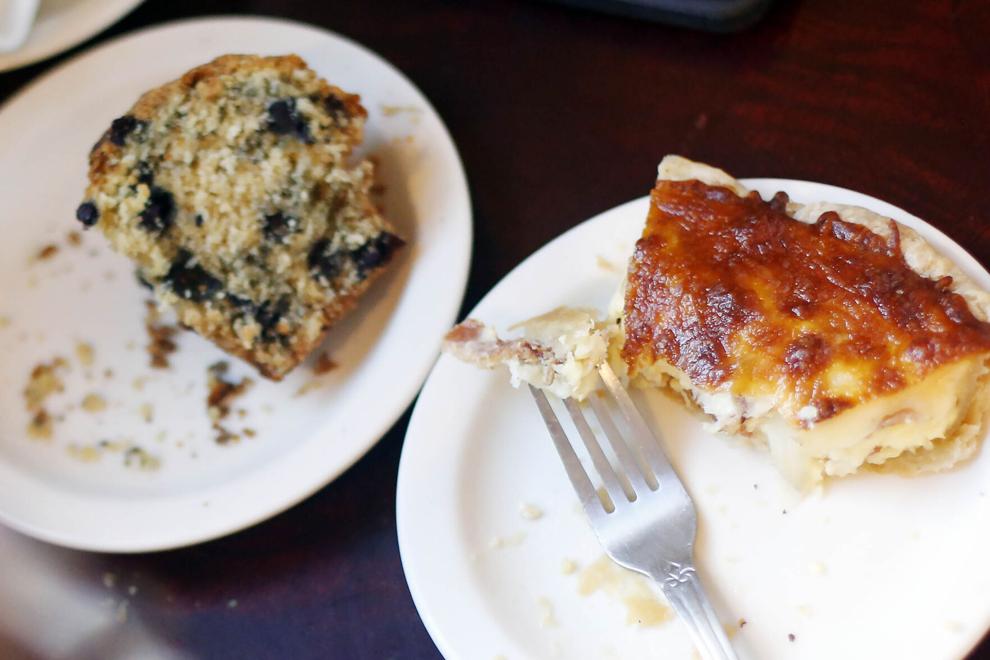 Tunnel City Coffee
Address: 100 Spring St., #102, Williamstown
Hours: Monday-Thursday: 6 a.m.-2 p.m., Friday-Sunday: 6 a.m.-5 p.m.
Cost Range: $$
Find out more:
Phone: 413-458-5010
Email: tunnelcitycoffee@gmail.com
Website: tunnelcitycoffee.com
Located in Williamstown at the bottom of Spring Street, Tunnel City Coffee is a quaint coffee spot bustling with local townspeople and college students. Tunnel has a wide variety of coffee options, as well as pastries such as muffins, scones, croissants and other baked goods. You may consider ordering matcha, coffee, tea, accompanied by a baked good. Located at the heart of the Williams College campus, Tunnel is a favorite study spot for students and visitors, who are often working on their laptops, reading the newspaper, or deeply engrossed in a New York Times bestseller. The interior is slightly dim, which helps ease you into the morning and makes the coffee shop feel like a safe and cozy den. Both the lattes and frappuccinos at Tunnel are excellent. This cafe is on the pricier side, but it is worth the cost.
Here's what to order:
Organic Matcha Latte
Frappuccino
Latte
Raspberry Corn Muffin
Egg Sandwich
Greylock Grounds Coffee Drive-Thru and Cafe
Address: 20 Williamstown Road, Lanesborough
Hours: 6 a.m.-10 p.m. Daily
Cost Range: $
Find out more:
Phone: 413-496-3144
Website: greylock-grounds.com
Located in Lanesborough, Greylock Grounds Coffee Drive-Thru is the only drive-thru in the Berkshires with a local brew. The drive-thru is in the Village at Greylock shopping center off Williamstown road. Owned and operated by Joe Prince, Greylock Grounds Coffee Drive-Thru has its own coffee (Greylock Grounds), which is now also sold by Whole Foods, Guido's Fresh Marketplace, Wild Oats Market and Big Y. The location of the drive-thru is cute and welcoming, as are the staff. I ordered an iced latte with oat milk and a cinnamon chunk scone, and was kindly gifted two free scones with my order. Pricing is on the cheaper side, which makes it a wallet-friendly pit stop for your morning drive. The coffee brew is excellent and on the acidic side, and the cinnamon chunk scone as well as the free blueberry scones were delicious — both were sweet treats with a bready texture. The service at the drive-thru was warm and friendly, and my experience has made me change the location of my coffee stop on my drive home.
Here's what to order:
Blueberry Scone
Vanilla Latte
Cinnamon Chunk Scone
Bacon Egg & Cheese Wrap
The Veg Panini
Cheshire Cheese Press
Shots Cafe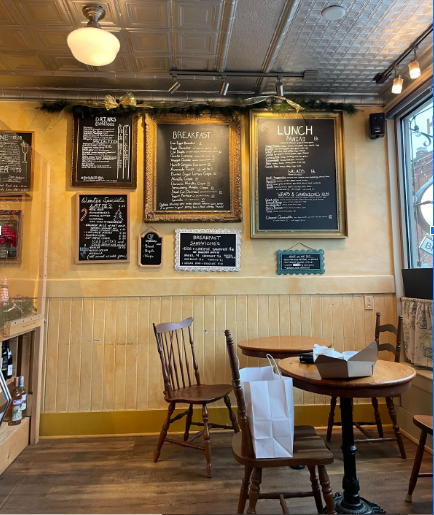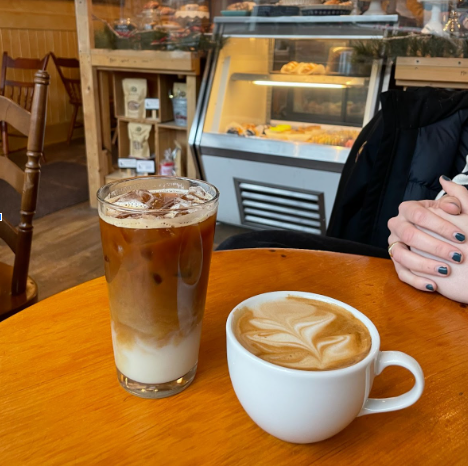 Address: 27 Housatonic St., Lenox
Hours: Sunday-Monday Closed, Tuesday-Friday: 7 a.m.-6 p.m., Saturday: 8 a.m.-6 p.m.
Cost Range: $$
Find out more:
Phone: 413-637-1055
Email: shotscafe@verizon.net
Website: shotscafelenox.com
Order online: shots-cafe.square.site
Shots Cafe is a small, warm and welcoming European cafe located in downtown Lenox off Housatonic Street. Co-owned by Matthew Tucker and his wife, Liliana Arteaga-Tucker, Shots Cafe opened in 2010, and continues to impress Lenox locals, as well as Berkshire residents and visitors. Upon walking in, I was captivated by an incredible display of pastries and sweets, as well as the smell of coffee. Shots Cafe serves a wide array of food and drinks including coffee, tea, pastries, breakfast items, sandwiches and ice cream. The cafe boasts vegetarian options as well, and I ordered a Michelangelo panini (tomato, basil, pesto and mozzarella on focaccia) with an iced latte with oat milk, both of which were delicious. Shots Cafe has excellent coffee, which is on the acidic side, as well as several dining options for either a quick bite, or a sit-down meal in the cozy cafe. The service was quick and kind, making customers feel cared for and at home. Shots Cafe is an excellent breakfast and lunch spot, and is perfect for a sit-down coffee during your time in Lenox.
Here's what to order:
Strawberry Nutella Crepe
Avocado Toast
Michelangelo Panini
Wild Salad
Cappuccino
Ice Mocha
Caramel Frappe