The phones rang off the hooks, from Monterey to Adams.
It was early February, and Massachusetts just had opened COVID-19 vaccine eligibility to everyone 75 and older. Berkshire County seniors who could not secure an appointment online turned to the only resource available: local councils on aging.
In Pittsfield, the voicemails piled up. In Williamstown, the same people called again and again — until they got through. In Adams, Council on Aging Director Erica Girgenti walked into her home, evening after evening, prepared to open up her laptop again after long days working with her tiny staff to secure hundreds of slots.
"It's been a huge effort, and a really exciting opportunity," Girgenti said. "But, I don't think any of this has been normal. We're essentially call centers, and meanwhile we're still doing an incredible amount of other work. I'm fortunate my family still recognizes my face when I walk through the door."
County vaccine coordinators enlisted the help of councils on aging early in the rollout, as Phase Two drew near. The commonwealth did not provide a solution for people without internet — the 211 line — until several days after registration opened for people 75 and older.
Though municipalities have taken slightly different tacks in their efforts, all the councils have one mandate: to secure appointments for people who cannot access the internet. Since January, councils on aging have made appointments for thousands of seniors and talked many more people through the process.
Even as the need wanes, with many seniors fully vaccinated, some councils still maintain waitlists, and new vaccine hopefuls without internet access continue to call every day.
In Pittsfield, Council on Aging Executive Director Jim Clark estimates that his five-person office has set up at least 2,000 appointments. The council still has a list of at least 250 people who have not yet gotten in for a dose.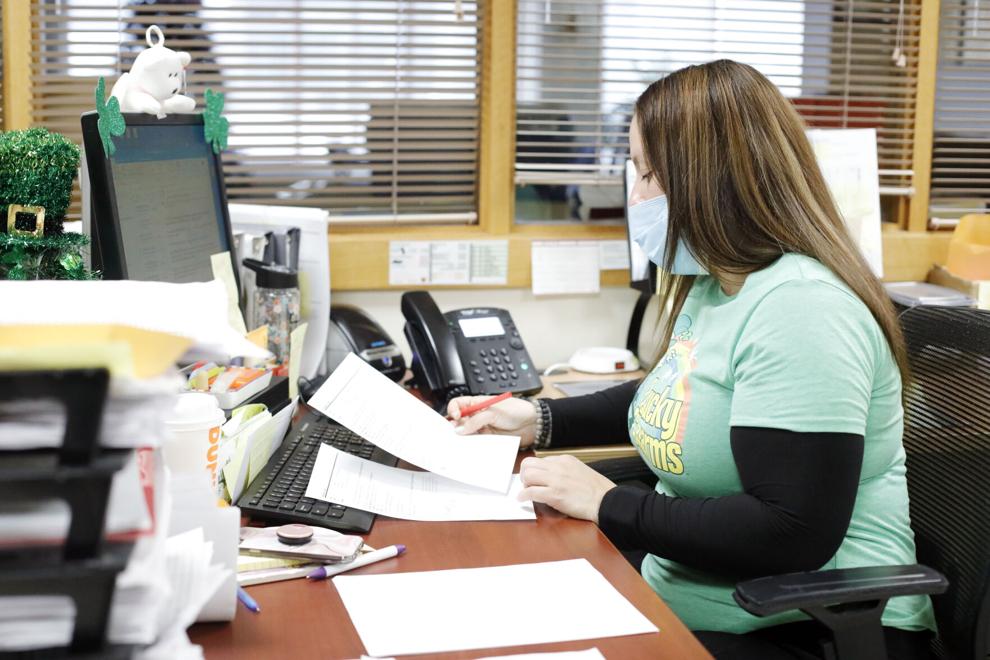 At first, even as the volume of calls overwhelmed Clark's office, there still were plenty of appointment slots to go around. People would call, and the council staff would sign them up, a process they mastered this winter and now can complete in a matter of minutes.
"During the first couple weeks, you left here on a high every day," he said. "All the thanks from people for helping them, it was awesome."
The landscape shifted when people with two or more comorbidities became eligible. Clark says he was operating under guidance from the city to only help seniors who did not have access to the registration portal. That meant he had to turn away people younger than 65, or anyone who could get online but just could not manage to secure a slot.
"We've had good moments," Clark said. "And we've had moments where your knuckles are white on the receiver, someone's calling you every name in the world and you have to say, 'We can't help you,' or 'You don't qualify,' or 'There are no spots available.' "
Many of those callers felt frustrated and abandoned during the rollout, unable to secure an appointment and uncertain where to turn for help. They would lay out their comorbidities and struggles on the line with council on aging staff, who would listen sympathetically and then tell them to check state and local resources and keep trying.
Despite some harsh interactions, Clark adds, many were understanding and grateful for the registration tips.
County vaccine coordinators also began to set aside slots for councils on aging, sometimes fewer than five, sometimes a few dozen, depending on the size of the municipality and the length of the waitlist, several directors told The Eagle. Staff at the councils could sign up people for those limited slots a few days before the rest of the public had access.
Part of the idea, the directors described, was to help local seniors secure slots even as bots and the nature of the system gave tech-savvy registrants a leg up. The practice has continued for recent clinics.
'The most rewarding thing'
Most of the council on aging directors told The Eagle that, despite the occasional rude caller, they are grateful to be part of the vaccination machine.
"Before [this program began], I said, 'I feel like I'm not doing enough,' " Girgenti recalled. "It's hands down the most rewarding thing I've ever participated in."
Still, she would not mind more state or federal money. Her staff continues to work overtime, and she suspects that many other councils on aging have been doing the same thing.
"It would've been awesome for the state to say, 'Hey, there's a council on aging in almost every town in Massachusetts, so, why don't we help them with some of the funding we're paying for the 211 line,' " she said. Some municipalities have been able to tap into CARES Act money for the work, she added.
The furor continues to this day. Even as the county has vaccinated the vast majority of its 75-and-older residents, the volume of calls to some councils on aging barely had abated, as even people with computer skills struggle to make appointments.
While Girgenti's team had been assisting some people who had access to the internet, they since have cut back on that practice. Her staff now only offers services to people who are unable to get online.
After all, Girgenti points out, they have more responsibilities than just vaccine registration, including their typical array of human services programs and the added burden of tax season.
"It's really hard to draw the line in the sand," she said. "But, we're small-staffed, and municipally funded. There's no extra budget. We don't have the time."
Walk-in vaccine help
In towns with noted internet access issues, many community organizers worried this year that the need could be even more acute.
Roy Carwile, who sits on the Monterey Board of Health, thought he might have hundreds of neighbors unable to register, so, he joined together with members of the council on aging and other locals to brainstorm solutions.
"We got together a group of people that know people in the community," he said. "We knew who the people were, their ages, their situations."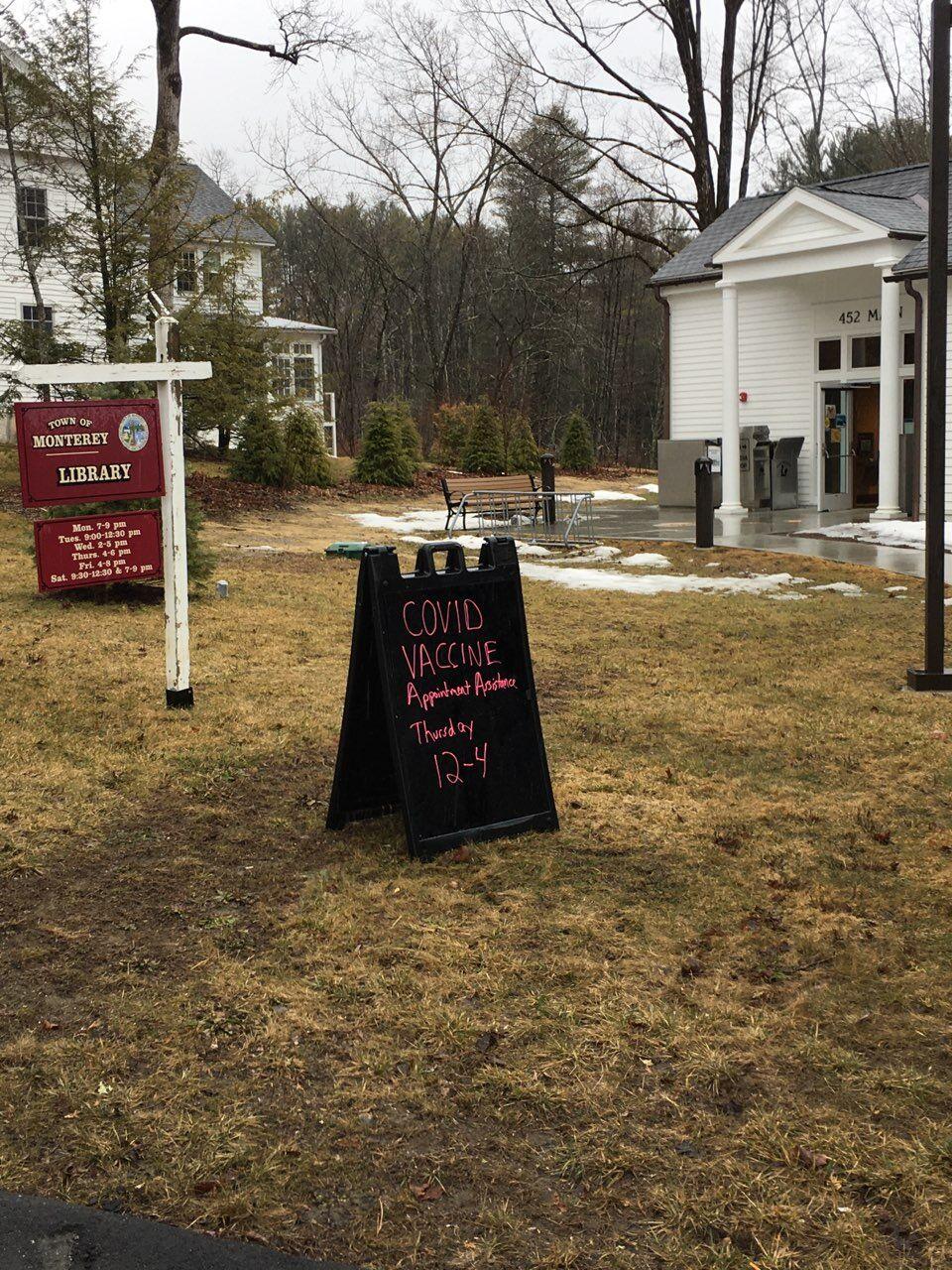 The group went a step further than most municipalities: It opened a physical space for walk-ins at the Monterey Public Library. Now, a sign outside the library invites anyone to come in on Thursday afternoons and get in-person help, from 6 feet away.
"It's a large room with good ventilation, and we sit apart from each other with masks on," said Mary Makuc, the Monterey Community Center coordinator. "Because some people have come into the library who don't use email at all, we know that we're really providing a service that would be tough for them to do otherwise."
Since the council on aging had laid groundwork already in making calls to seniors, the Monterey group was spared the expected rush of calls. For Carwile, the lower-than-expected number of people seeking assistance also was a signal that the community came together, with friends and family helping their loved ones.
But, the frustration from the people who did call for help also left him aggravated. In addition to his work on the vaccine registration, Carwile helps his neighbors repair tractors, and he draws a clear line between the two tasks.
To fix even some simple tractor issues, he says, a farmer often has to dismantle almost the entire machine, a massive undertaking.
"We kid that people who design tractors should be required to repair them for three years before they're allowed to design them," he said. "I feel the same way about the people who designed the vaccine registration system."