PITTSFIELD — All they wanted was a steel garage, but instead they found themselves scouring the internet, commiserating with each other and police as they tried to hold accountable the man with a Southern drawl who always looked them in the eye but who they say made off with their hard-earned thousands.
And because of their efforts to stop what police say is possibly a multistate, multiyear crime spree that has touched more than a dozen people and even a local fire department, Pittsfield Police detectives were able to stop Fred Lewis Senter Jr., who they say was taking deposits for steel garages that he never would build.
They arrested him Sept. 16, accused of stealing money from three city residents. Senter is in jail after the court revoked his bail on an open case in Central Berkshire District Court, also for a larceny charge. The state may request bail on the current charges at at later time, according to court documents and the Berkshire District Attorney's Office.
Senter's first pretrial hearing is set for Oct. 14.
According to police and three of Senter's alleged victims, Senter, 39, is accused of making his way through at least six states, collecting cash and checks representing a 50 percent deposit on the steel garage structures he said he would build through his company, Northern Steel Buildings & Structures LLC. The Lee-based limited liability company was dissolved by court order June 30.
Detectives across Massachusetts and beyond are investigating more of Senter's alleged crimes. He also is accused of taking deposits from people and entities in Saugus, Acushnet, Hinsdale, Huntington, Richmond and Dalton. His reach is said to stretch to New Hampshire, New York, Rhode Island and Pennsylvania, according to the police report.
Police say there likely are many more victims who have not come forward.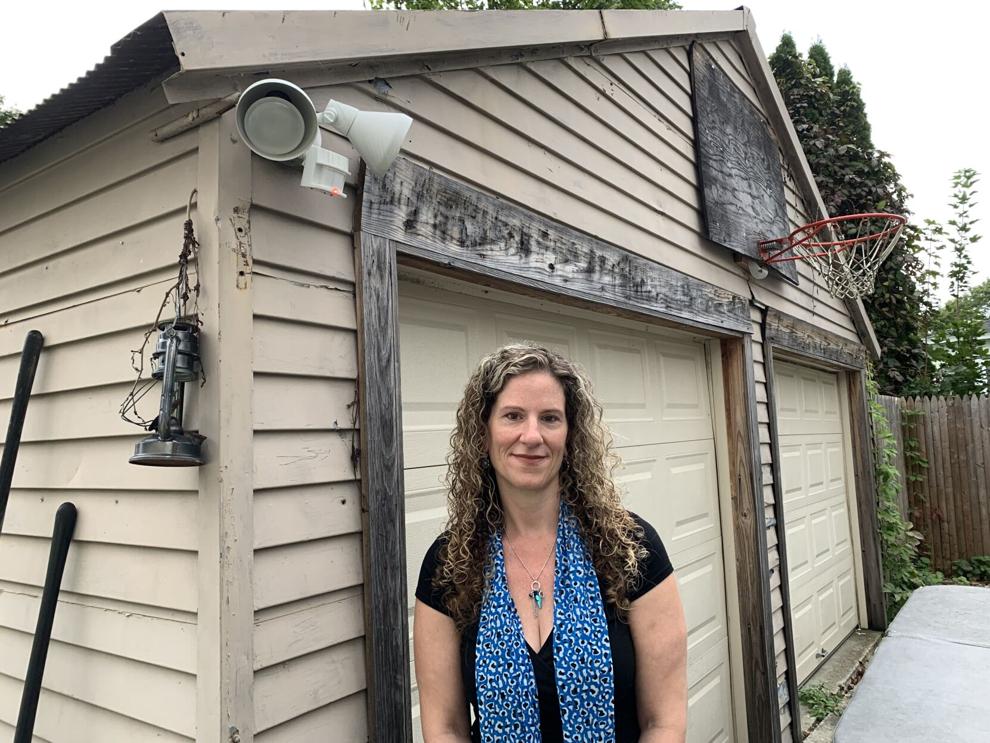 "There are numerous Google reviews and Facebook postings where victims of Senter/NSBS are discussing their experiences and venting their frustrations," the police report noted.
This isn't Senter's first arrest.
Senter, who has said he originally hails from North Carolina, was arrested in 2018 for larceny stemming from the theft of sheet metal in 2018 from TNT Carports and Metal on Industrial Drive. He was out on probation for that charge, and arraigned in the same court in 2019 for being a fugitive from justice without a warrant after being charged with grand larceny in Columbia County in New York, according to court documents. Police say that charge was dismissed.
'No small-time crook'
What led to Senter's arrest last week at the Econo Lodge on Cheshire Road is a pattern that three of his alleged victims, speaking to The Eagle at one of their homes, say was his inspiring trust through charm and eye contact. He then would put their deposits in a bank immediately, then start making excuses why he had to delay the work, before cutting off contact entirely. The coronavirus pandemic helped his scheme along, since he was able to claim steel and labor shortages, as well as price increases.
Those who thought they were doing business with him say they learned in hindsight that materials never were sourced, and, in at least some cases, permits never filed.
At Courtney Soto's dining room table in the Holmes Road/Elm Street neighborhood, Soto holds a file filled with her research about Senter. She and two others who say they lost money to Senter talked about how it happened. Senter behaved the same way with all three.
"This is no small-time crook," said William Rennie, of Dalton, who has given Senter a total of $13,000 in deposit checks since February for a garage to hold his automotive lift — a garage that never was built.
Rennie, who works for the Pittsfield Highway Department, still has to build a structure to protect his investment.
"Now, I have to come up with another $25,000," he said. "I have a lift sitting outside. I'm losing more money."
He marvels that he didn't pick up on the alleged malfeasance, since he considers himself naturally suspicious.
"I didn't see a lie in him," Rennie said of Senter, whom he and the others describe as "the nicest guy."
"He looked us in the eye, talked to us about our family and his family," Soto said. "He was a seemingly down-to-earth, nice guy."
Michael Codella lives around the corner from Soto. The two found each other because Codella posted a negative review of Senter's limited liability company on Google. That snowballed into a chat group of 18 people in six states who say Senter did the same thing to them.
It also includes Rennie and Pittsfield resident Lisa Echard. One independent sales agent in Uniontown, Pa. says he lost $102,000 in customer deposits to Senter, according to the police report.
Unlike Rennie, Soto and Codella had taken out home equity loans to hire Senter to build their new garages. Soto, who runs a day care out of her home, knew that when she bought it 18 years ago, the garage would have to be replaced. She waited that long for equity that would qualify her for the loan, which she has to keep making payments on. In May, she gave Senter $9,145 — a 50 percent deposit that he insisted on.
"You add interest and everything to it, and it's going to be a lot more than that that he stole from us," she said. "He said he required 50 percent down, and that should have been a flag for us, but we didn't know. He said the cost of steel had gone up due to the pandemic."
Codella, who works for the state, gave Senter a bank check for $11,000 in August 2020 for a garage next to his house. He built a concrete slab to prepare for it, and now that slab sits exposed to the elements.
"So, I'm out even more money because it'll be ruined by the time I put a garage over it," Codella said.
'Crazy nice'
Lisa Echard, of Pittsfield, in a phone interview, said Senter gained trust quickly before asking for the 50 percent deposit for a two-car garage. She and her husband paid Senter $6,250.
"He was crazy nice," she said.
She and her husband visited Senter's shop, met his girlfriend and her mother — she is listed as a manager on the company's Massachusetts corporate filing — and they discussed why he had moved to New England from Mount Airy, N.C., where, he told them, he was from. It was a place Echard and her husband loved.
Senter told them that his father had saturated the steel building market there and he learned that the Berkshires had very few steel builders.
"My husband is a very good judge of character," Echard said. "And he just can't get over it."
In Echard's case, Senter had completed the engineer's drawings and received permitting from the city in September 2020. Their concrete slab was completed the month before.
"That's when the excuses started," said Echard, who works at General Dynamics. "From the moment we had the permit, we were suddenly in a really long line because of COVID, he told us."
After a stream of COVID-related excuses until this May, he then said he couldn't source materials for the steel doors. And in July, when Echard said he could build it without them, Senter stopped communicating.
"The slab is still empty," she said. "It's there waiting for a garage, which is not going to happen."
Richmond's Volunteer Fire Department, which is a privately run fire company, also is out a new garage, and a $52,965 deposit, meant to hold fire equipment and other apparatus, said Eric Smith, president of the fire company.
Smith said that he can't comment because he doesn't know where the investigation stands.
"It's in the hands of the state police," he said.
Soto says her faith is getting her through, and she, Codella and Rennie say they will press for justice, and hope more people come forward.
"I don't want this to happen to anyone else," Codella said.
This story has been modified to correct information about Senter's bail status.