ON VACCINES, CALL. AND CALL AGAIN: All people 75 and older are now eligible to sign up for the vaccine. Anyone who has not received their firs…
By the time registration opened for people 75 and older on the Massachusetts vaccination website Wednesday, many Berkshire County seniors and their loved ones already had spent hours trying to figure out how to secure a slot.
They stayed up until midnight, or woke early, only to find that the Phase Two clinics were not available yet. Even after appointment sign-ups began about noon, website issues bogged down the process. While some residents sped through the sign-ups, others described sites that would not load, forms that froze and pharmacies with no available appointments.
Local health officials urged residents to continue to try to access maimmunizations.org, the state-operated website for public clinics.
"If these appointments fill, there will be more down the line," said Laura Kittross, director of the Berkshire County Boards of Health Association. "So, check back often."
Residents also can check their eligibility, see a map of vaccination sites and register for appointments at mass.gov/covidvaccine. People without access to the internet can call many local councils on aging for help registering.
People 75 and older will be eligible for the vaccine starting Monday, with the first large-scale public clinic in the Berkshires scheduled for Tuesday. Current vaccination locations include three primary sites — Berkshire Community College in Pittsfield, W.E.B. Du Bois Regional Middle School in Great Barrington and the St. Elizabeth of Hungary Parish Center in North Adams — as well as several pharmacies.
Residents in later stages of Phase Two, including those ages 65 to 74, are not eligible yet. They should not reserve an appointment, Kittross said, as that would slow the process. IDs will be checked at clinic doors.
Officials stressed that the vaccination timeline depends on the availability of doses.
State representatives for the region have expressed hope that vaccinations might begin for the next priority group in Phase Two as soon as mid- or late February. But, in an email to patients, Berkshire Health Systems warned that it might take up to eight weeks to vaccinate the estimated 18,000 county residents who are 75 or older.
The state said Wednesday that it remains on track to start vaccinating the general public in April.
State officials told The Eagle that the website issues were caused by high demand and limited vaccine supply. At a news conference, Gov. Charlie Baker defended the process and urged patience.
"If you can't secure an appointment right away, you need to be patient about that," he said. "We understand the difficulty that's attached to that. But, keep checking the website."
Baker said that more time slots would be added on a rolling basis as additional vaccine shipments arrive from the federal government and that the administration "is working to create additional resources" for the registration process.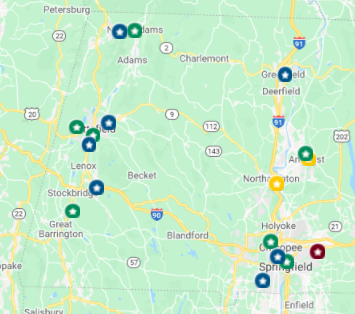 In Berkshire County, people rushed to snag several thousand available appointment slots through the afternoon and early evening, with about 500 openings remaining by 6 p.m. But, as the earliest clinics filled up to capacity, some would-be recipients ran into virtual walls.
Dave Pill, manager of a condo in Lenox, spent the day trying to help troubleshoot for a half-dozen of his eligible residents who wanted to make appointments. None was able to get the site to load.
"This is so frustrating," he said. "You're rolling this website out, it's having issues, and these are the people that are least technically adept."
Pill, who is not yet eligible, found that the server timed out every time he tried it. One woman who lives in the complex told him she was giving up on public clinics and would wait until Walgreens had more appointments available.
"I don't know if it's a supply issue, or a technology issue," he said. "It's kind of funny that none of this seems to be working right. Doesn't matter which state you're in."
Though pharmacies also are offering some vaccinations statewide, Walgreens and Stop & Shop locations countywide did not appear to have available appointments as of midday Wednesday. Some vaccine hopefuls described long wait times in virtual lines at pharmacies — and frustration that they were forced to make a Walgreens account, only to find that they could not book an appointment.
Berkshire Allergy Care, though listed as a vaccine provider, is not making appointments at present.
Despite initial confusion, some Berkshire seniors found that the whole process ran quite smoothly.
Loretta Scheel, of Stockbridge, woke up early to register but saw only Phase One clinics on offer. As she sorted through the website, it froze several times, crashing her tablet and a computer browser. Shortly after noon, though, she was able to get through and book appointments for herself and her husband.
"It was very simple; we just chipped right through the process," she said. "It was pretty clear and, at the end, they just sent us an email to say you're confirmed!"
Like others who were able to register Wednesday, Scheel, 79, is thrilled to have a concrete date for the long-anticipated vaccine.
"When you're our ages, you feel like this is a year you never get back," she said. "So, we really wanted to get back out. We know we still have to be careful, but we're looking forward to breathing more easily."