Dalton — If top managers in Dalton had their way, a volunteer committee that they say operates counter to the town's interests already would be history.
It's not easy being green, Kermit the Frog said. In these managers' view, it's not easy being with the Green Dalton Committee.
But, a petition calling for the group's dissolution never reached a vote when aired at a recent Select Board meeting. Instead, the board's chairman, Robert W. Bishop Jr., got colleagues to agree to let him conduct a hurry-up inquiry into why eight of the town's top employees believe that the Green Dalton Committee should be unplugged.
"It breaks my heart. I think the whole thing is a lack of communication," Bishop said.
Cheryl Rose, who founded the committee and whose interactions and statements appear to have created the most antipathy within Town Hall, said in an interview that she supports Bishop's effort to gather information and pin down incidents that have alienated department heads.
Rose said she believes that the conflict is overblown.
"There's no 'there' there, as far as I'm concerned," she said. "It's difficult being progressive. … I'm a squeaky wheel."
But, town employees calling for the panel's ouster say they have had enough of what they see as arrogant and self-serving stances taken by the Green Dalton Committee, including what one official says have been comments "openly defaming" town employees.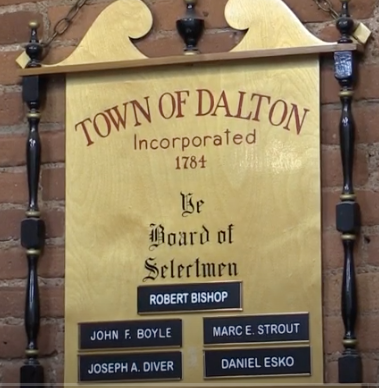 Before the start of a Green Dalton meeting in December, Rose could be heard questioning the Select Board's performance.
"I really don't have a lot of confidence in our Select Board being competent to make decisions and get stuff done, I'm sorry to say," Rose said, according to a recording reviewed by The Eagle. "Anything that takes any kind of thought process, they defer to a consultant."
"It's beyond the pale and should not be allowed," Daniel D. Filiault, a former Dalton Police chief who serves as emergency management director, said of such remarks.
Bishop said he wants to better understand why town department heads, including interim Town Manager Sandra J. Albano, believe that the group should no longer exist. The Jan. 14 petition, initiated by Town Planner Rebecca Slick, cites "ongoing tension" and a wish to take dealings with the committee off the table for an incoming town manager.
"We can all agree these issues have been consuming many of us in negative ways and as Town employees we do need to move in a positive way and work together with our new Town Manager," the petition says. On Monday, the Select Board picked Tom Hutcheson to replace former Town Manager Kenneth Walto.
The volunteer group was created in 2013. Along with Rose, its current members are Joseph Fish, its chairman; Richard Hall, vice chairman; Joseph Diver, who also sits on the Select Board; Jennifer Gitlitz; and Wendy Brown.
Slick told members of the Select Board on Jan. 25 that she was moved to circulate the call to disband the committee after hearing comments deriding other town officials, and not just once.
"I was pretty appalled at the bashing of my coworkers," she said, especially comments directed against Walto. "I don't want to work with committees that don't have the town's best interests [at heart] and that are self-serving. I don't want to point fingers. I really want to work together. It's not healthy, and I want to resolve it. It's not right."
John Roughley, Dalton's highway superintendent, told the board that he believed action needed to be taken, even ahead of the review planned by Bishop.
"All the evidence is out there. Nobody wants to discuss it any more," he said Jan. 25. "I'm asking tonight that you have faith in these department heads as hardworking town employees. This board knows how we feel. We're done."
Select Board member John Boyle said he believes that the Green Dalton Committee is responsible for Roughley resigning recently as tree warden, after members of the panel criticized his work.
"It's nice to get along with these people, but they make it difficult," Boyle said.
Select Board member Daniel Esko said a petition signed by eight department heads needs to be taken seriously.
"It's very valid, their concerns," he said.
But, he supported Bishop's plan to gather information.
"I think this is deeper than just taking a vote on disbanding the committee," Esko said. "I think this has the potential to take us down a rabbit hole."
Along with Slick, Roughley, Filiault and Albano, the petition was signed by Judy Wagner, administrative assistant; Jayne Smith, Board of Health agent; Patrick Pettit, building superintendent; and Brian Duval, building commissioner.
Bishop plans to report his findings to the board at its last meeting this month, on Feb. 22.
The petition isn't the first time a town official has suggested that the Green Dalton Committee be closed out. In a memo to Walto a year ago, Ed Fahey, then the town's health agent, said the panel was not serving effectively in an advisory role to the Board of Health. Fahey recommended that it be phased out.
Rose's husband, Dr. Henry Rose, said he finds it disheartening that volunteers who helped Dalton save thousands of dollars in energy costs and invested "countless hours" of their time should be questioned.
"This is upsetting. Volunteers should be thanked for their service, not criticized at a public meeting," he said.
Cheryl Rose, who also is chair of the Conservation Commission, on which Bishop sits, acknowledged that the Green Dalton Committee has felt boxed in — and hasn't been silent about that.
"We were willing to do more work but weren't allowed to, to make things happen. We just felt that things have moved more slowly than they needed to," Rose said. "We never really had overt friction, but we let off steam at our meetings about our frustration.
"Even though I'm personally hurting, I want to give the Select Board a chance to work through this," she said.