Pittsfield resident J.D. Hebert thought running late to church was the biggest problem he'd deal with Sunday morning.
He was on his way back into Pittsfield from Lanesborough around 7:30 a.m. Sunday, running errands before making his way to the weekly services. As he headed down the 1200 block of North Street, something gave him pause: white smoke coming from the eaves of a two-family apartment building.
Instantly, his training in emergency services kicked in — he's been EMT-certified since 1991, and worked for the National Ski Patrol before that.
A house fire has a distinctive smell, he said, and that was what he noticed as he passed 1223 North St.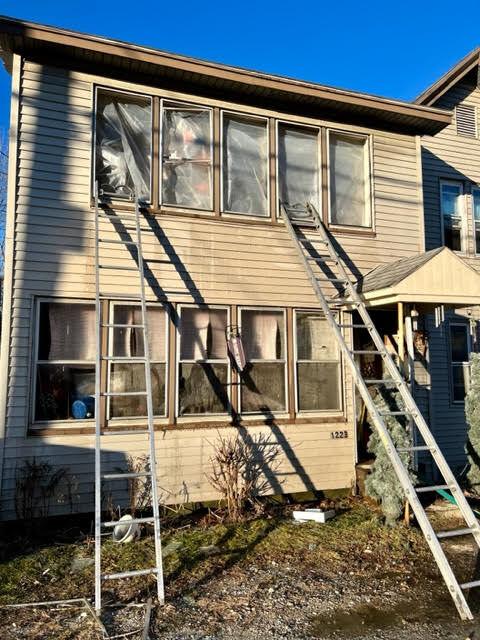 "I'm a perpetual student and it's a vocation of mine to help people who are hurting," Hebert said. "It sounds cliche, but I'm a man of faith."
Hebert, 50, got about two doors past the fire and realized he had to turn around. From the parking lot across the street, he began to assess the situation. Windows on the building's second floor were turning brown. White smoke poured from the eaves.
"I called up my fiancee on video chat and I said, 'This is a problem. I'm not going to make it to church,'" Hebert said. He later spoke to his pastor and got a pass for his absence, he said with a smile.
Hebert called 911 to get first responders moving, then donned his high-visibility turnout coat, a similar garment to a fire jacket, and entered the building to warn residents inside. There were two doors to knock on, one on each floor. He didn't stop until he was certain that everyone was out.
The fire was contained to one room on the building's second floor, thanks in part to Hebert. A press release detailing the fire described him as a "good Samaritan," and noted his actions helped to minimize the fire's damage. There were no injuries reported; no residents were displaced.
Hebert waited with a first-floor resident, and his dog, until the fire was out and the building was safe to enter. He helped counsel to the resident, and wrapped the dog, small and shaking, in a spare jacket he had.
It gave him a chance to use his skills as a chaplain, he said: listening and helping where he can.
Hebert works as the facilities director for the URJ Eisner Camp in Great Barrington. For the last six months, he's also been a chaplain for the Pittsfield Police Department. He's a practicing Episcopalian, but the services he provides for the department are non-denominational.
Hebert's faith fuels his desire to help others. He said he's felt a spiritual direction in his life, particularly as he's navigated challenges. In the early days of the pandemic, he was diagnosed with kidney cancer that was able to be treated surgically. In reflection, he said he felt God is always with him, he said.
Whether in his work as a chaplain, through service as an EMT or outreach in everyday life, Hebert's goal is simple. He puts it how you might expect a good Samaritan to: "By helping people, I help make the world a better place," he said.