Whether you want it to or not, Google is watching, and here is what it sees people doing in the Berkshires.
They are going to shops, pharmacies and restaurants more often than in the winter weeks before the coronavirus pandemic struck — but only slightly more. They still go to workplaces in fewer numbers since that time just before the lockdowns began, yet visits to transit stations and parks are way up.
The Eagle took a look at Google's human tracking data, which lag several days while the reports are completed. The data compares recent trends with the baseline time span from Jan. 3, 2020, to Feb. 6, 2020. On July 13 in the Berkshires, for instance, the reports showed a 7 percent increase in visits to retail and recreation locations like restaurants and movie theaters, and a 12 percent rise in grocery and pharmacy visits, for instance. Earlier data this year shows a steady growth in these visits over the past five months.
As for the change in people's habits, there are many caveats in Google's COVID-19 Community Mobility Report, including summertime influx of visitors, the increase in new Berkshire residents last year, compared with the winter baseline, and vaccinations.
And by Google's own admission — with an asterisk on a chart — some of the data doesn't meet the company's "quality and privacy thresholds for every day in the chart." Also, the company explains that "location accuracy varies from regional to region, so we don't recommend using the data to compare changes between countries, or between regions with different characteristics (e.g. rural versus urban areas)."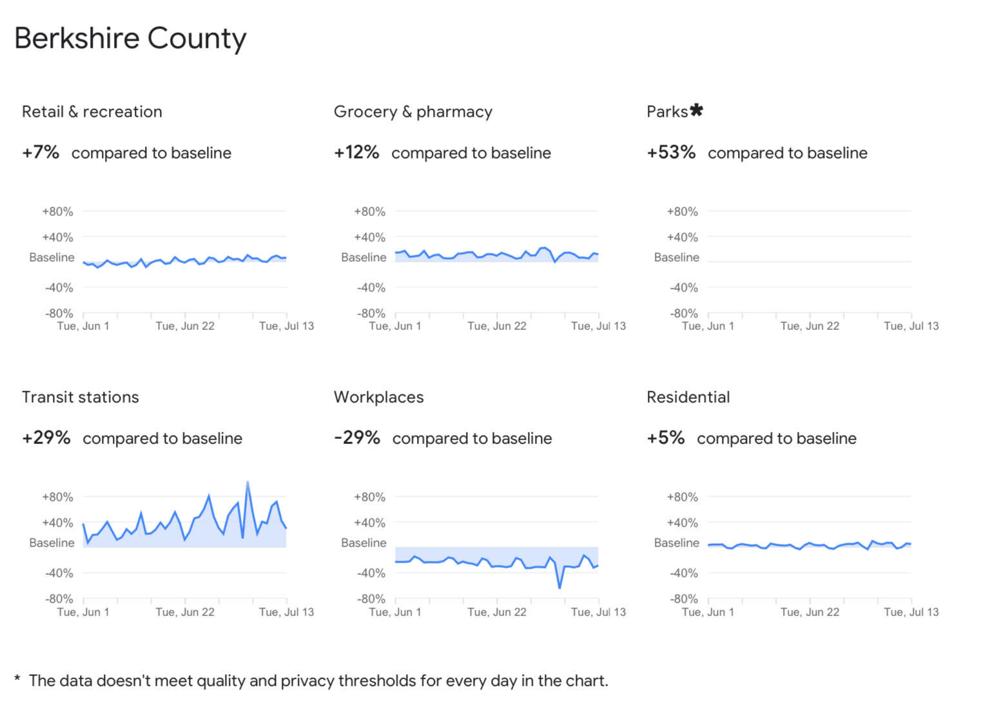 Residents say they find the tracking unsettling, and perhaps a dark trade-off for the benefits of mapping and other services.
"It's the price of the technology world that we're living in," said Austin Winters, of West Stockbridge. "I don't think there's a way to have this type of technology and not be tracked."
On July 13 in the Berkshires, Google spotted a 29 percent decline in workplace attendance, compared to a 39 percent drop statewide. It also saw a 53 percent increase in park visits, but it did not include data on the latter, indicating data quality and privacy problems. Google explains that the privacy threshold isn't met "when somewhere isn't busy enough to ensure anonymity."
Transit stations registered a 29 percent increase that day, but it was trending closer to 80 percent days before, perhaps owing to the recent startup of service to Pittsfield by Peter Pan and Greyhound bus lines, and Amtrak, according to local transit officials.
Google says those tracked are only a "sample" of the population. And while the company says in its COVID-19 Community Mobility Report that it only shows a person's location if their cellular device's "location history" is turned on, an Associated Press investigation found that, even if it is turned off, the company still stores location data through a number of services on Android devices and iPhones. The AP created an interactive map showing where Gunes Acar, a privacy researcher from Princeton University, traveled over a period of days with his location service turned off.
Despite problems and privacy concerns, the charts show movement patterns that are meaningful enough for use by epidemiologists, as well as those studying a rebound from the devastating effects of the illness and lockdowns. And the reports won't be around forever, just until they are needed "so long as public health officials find them useful in their work to stop the spread of COVID-19," according to the company.
"We include categories that are useful to social distancing efforts as well as access to essential services," says the explainer on the report website, regarding six categories that show peaks and valleys of movement from May 31 to the present against that baseline from early 2020, which is a median value.
Statewide, the increase at parks, which includes beaches, hit 91 percent July 11, a Sunday. Barnstable County, which includes Cape Cod, had a park visit increase of 345 percent that day.
In the Berkshires, transit numbers had grown. Also, the number of fixed-route local riders has jumped from 28,643 in May of this year to 30,468 in June, according to Sarah Vallieres, deputy administrator at the Berkshire Regional Transit Authority, which provided limited service during the heart of the pandemic.
May and June visits to Monument Mountain in Great Barrington and Naumkeag Public Garden in Stockbridge more than doubled from summer 2020, said Aaron Gouveia, director of public relations for The Trustees of Reservations. Gouveia, who didn't have pre-pandemic data because of a systems change, also said Trustees member households increased by 40 percent this year.
Nationwide, July 13 retail and recreation visits were down 3 percent from the baseline, park visits were up 44 percent and workplace visits were down 33 percent.
Outside the West Stockbridge post office, some town residents said they are uneasy with Google's tracking, particularly when the company claims that turning off "location history" stops it.
"It doesn't have to be Big Brother all the time," said Eddie Robbins, who lives in town. He said in this case, Google is tracking for the "greater good" of public health, and he also said that citizens are watched in public by an increasing number of surveillance cameras. "It's a trade-off — like living in a small town."
A resident who would only give his first name, Paul, for privacy reasons, said Google is turning the world into a small town like this one, where "you know everything about everybody."
"Google has made the world smaller, in a sense," he said.
Gail, who also would only give her first name, said she finds Google's tracking "very offensive."
"I thought I lived in America," she said.