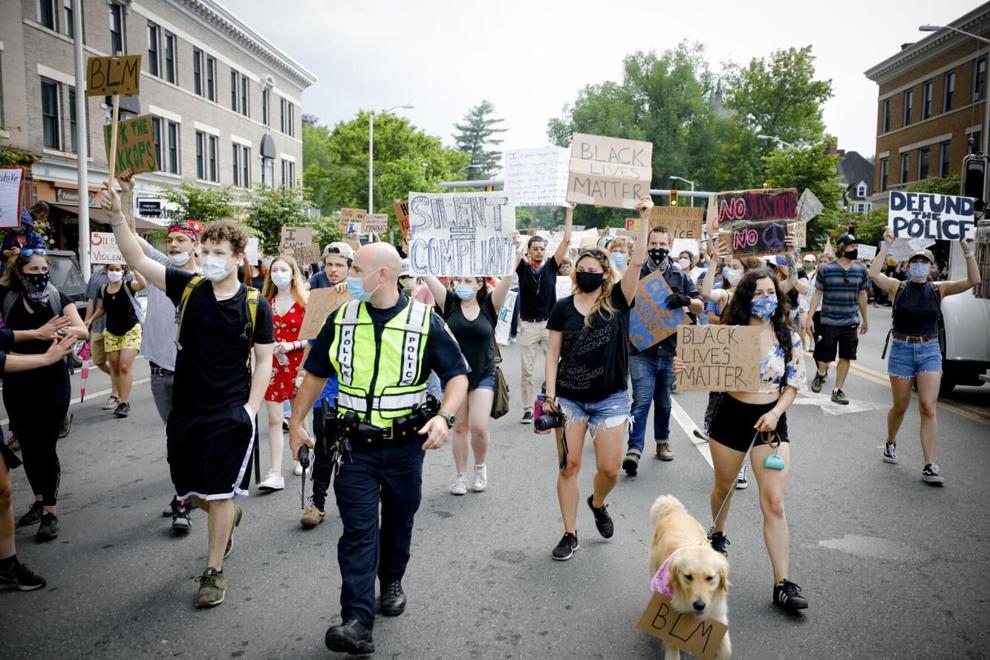 GREAT BARRINGTON — A new commission will enforce a town policy enacted four years ago to equally protect all residents from discrimination by police and government.
It will eventually serve as a police oversight committee, if one is not separately formed.
The Select Board voted unanimously this week to create a working group that had been mandated by the town's 2017 Trust Policy. That policy said that vulnerable residents, particularly those who are undocumented, should feel safe in the community and have support from local police and government.
The proposed charter for the group says it can include members from any town in South County, not just Great Barrington. And it would include making recommendations about police policies, as well as handling allegations of misconduct, and financial support of local services that help divert residents from the criminal justice system.
Board member Kate Burke said that expanding beyond Great Barrington will help recruit a more diverse group.
Residents said that they were thrilled that a commission will be empaneled, despite it being four years late.
It was Gwendolyn VanSant, the CEO of Bridge, who spearheaded the creation of the Trust Policy, with help from the nonprofit's staff and volunteers, and sought input from residents, town officials and local police to come up with a document that is not simply idealistic, but also practical.
It germinated during the "sanctuary city" era — amid widespread fear by undocumented immigrants at a time when the Immigration and Customs Enforcement agency was making deportation sweeps across the U.S. and, reportedly, in the Berkshires.
The spirit of the policy rekindled last summer after George Floyd's death while in Minneapolis Police custody, and a summer of pressure to defund and apply more scrutiny to police.
The policy prevents, for instance, town police from aiding ICE to locate and pursue undocumented residents. Overall, it grew from the belief that if residents fear deportation, they might not report crimes or seek health care.
A number of local organizations, like Community Health Programs, were part of the initiative. And those who participated in drafting it say that the collaboration was noteworthy.
"We actually got a group of around 15 to 20 people around the table, everyone from undocumented members of our community to police officers … and to really just put our heads together," said Jeff Lowenstein, who, as a volunteer with Bridge, worked on the effort.
Lowenstein said he hopes that the transparency the policy seeks also will be part of the commission member recruitment and the handling of complaints.
This shouldn't be a problem, given that the commission is Select Board-appointed and the board makes decisions in public, said board Vice Chairman Ed Abrahams.
Great Barrington's Select Board voted Monday to establish a police oversight board that also will enforce the town's Trust Policy. Clockwise f…
Police oversight
VanSant said that the work on the policy has not been static these past few years, and that a key component is building trust and relationships alongside town police, and that this will continue.
"I'm really interested in talking to Chief [Paul] Storti and Sgt. [Adam] Carlotto about the next steps," she told the board.
Board member Leigh Davis said she is curious about Pittsfield's Police Advisory and Review Board, established two years ago.
Ellen Maxon, the board's chair, told The Eagle that the 11-member board still is developing and wants more "pre-decision involvement" in policy-making and the handling of complaints, which are investigated by Pittsfield Police. She said Pittsfield Police Chief Michael Wynn was a strong advocate for establishing the board.
"There are not a lot of complaints against the Police Department, so I see some of our involvement being done to avoid serious issues like a George Floyd thing," she said. "We review complaints post-decision."
Member Drew Herzig said this review is helpful for showing police how their actions might appear to residents, and it helps the board and police learn for the future.
"We have a really frank discussion with the police chief," Herzig said, as an example. "We see this [action] in the report and we say, 'Why are you doing that?" It's a really good exchange. We learn, and then the police chief sees how it looks. We are still saying, "Does it have to be this way? Does it have to be this way for the future?"