Less than a mile in Monday morning, I met a hiker packing up his hammock from where he had just slept — between two trees, with a tarp over his head. He was listening to the BBC news on the radio. Like it was a normal morning at home.
I'd just come up a short path up onto the Appalachian Trail in Connecticut. I didn't know when, in the middle of woods, I'd cross back into Massachusetts and my journey would officially begin.
This guy pointed out a sign on a tree: "CONN MASS STATE LINE," it read.
He told me he'd been on the AT for more than 100 days. I told him I started about 10 minutes ago.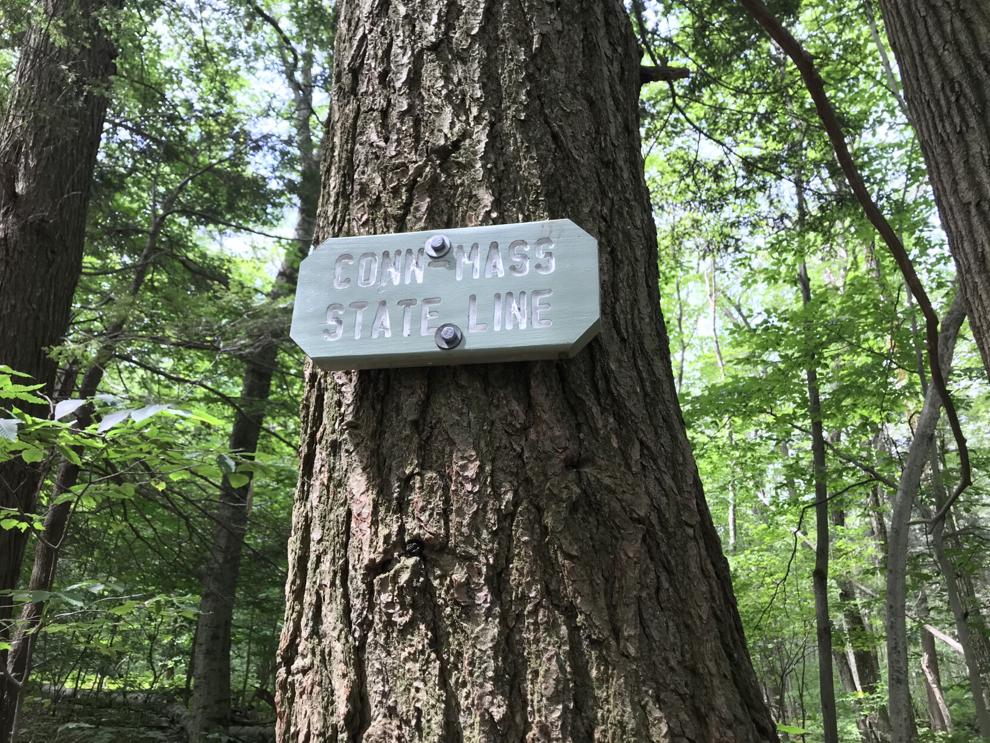 Why I'm doing this
If you want a deeply personal story about a woman in crisis looking to find herself on a long hiking trip, this is not it.
I'd suggest "Wild," by Cheryl Strayed, a story of a hike along the Pacific Crest Trail. My reasoning is less dramatic. Early this spring, I pitched one of my editors a story about a well-known "trail angel," someone who does kind acts for hikers in the central Berkshires. The editor asked, "Why not hike the whole thing and see what you find?"
As a newspaper that covers the Berkshire County, I felt we should be writing more about a famous trail that cuts straight through the region from Connecticut to Vermont. Hundreds of hikers come through every year, from all over.
You see the long-distance AT hikers near places like the North Adams Stop & Shop. In Dalton. At post offices. The large backpacks are the giveaway.
But I think many people, myself included, don't know much about the trail and what goes on in this roughly 90-mile section of the county. I love writing about the Berkshires and telling stories about ordinary people doing interesting things.
I see this reporting trip as just that — and look forward to bringing you stories from the trail.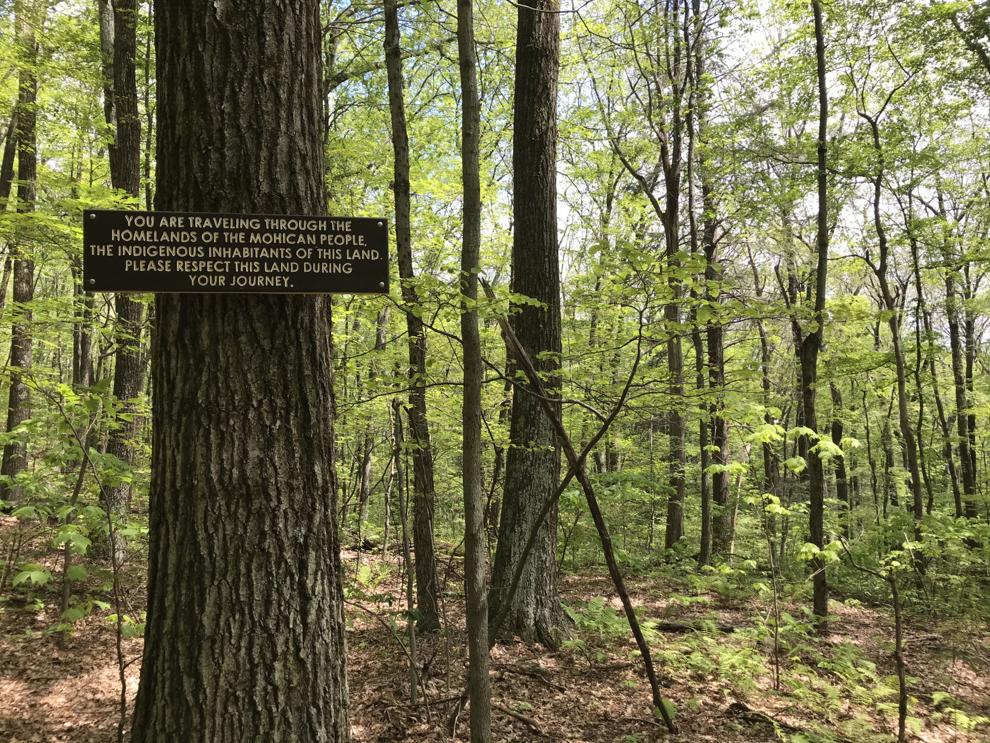 And there's this: I like hiking and jumped at the chance for this challenge. In high school, my best friend and I tried to start an outdoor club. I can't say it was super successful. Our parents were a large percentage of the attendees of our first hike, which was embarrassing as a high schooler.
But since, I've gotten more into backpacking and hiking and have summited many mountains, mostly in the Northeast.
I'm still no expert. I've made mistakes on trips and ended up having to hitchhike back to the start of a trail. Once, New York police escorted me and a friend from a spot where we thought we could camp.
So why am I doing this? I'm going to explore miles and miles of the Berkshires that are rarely traveled by local journalists. And I love being outside. I caught a lucky assignment.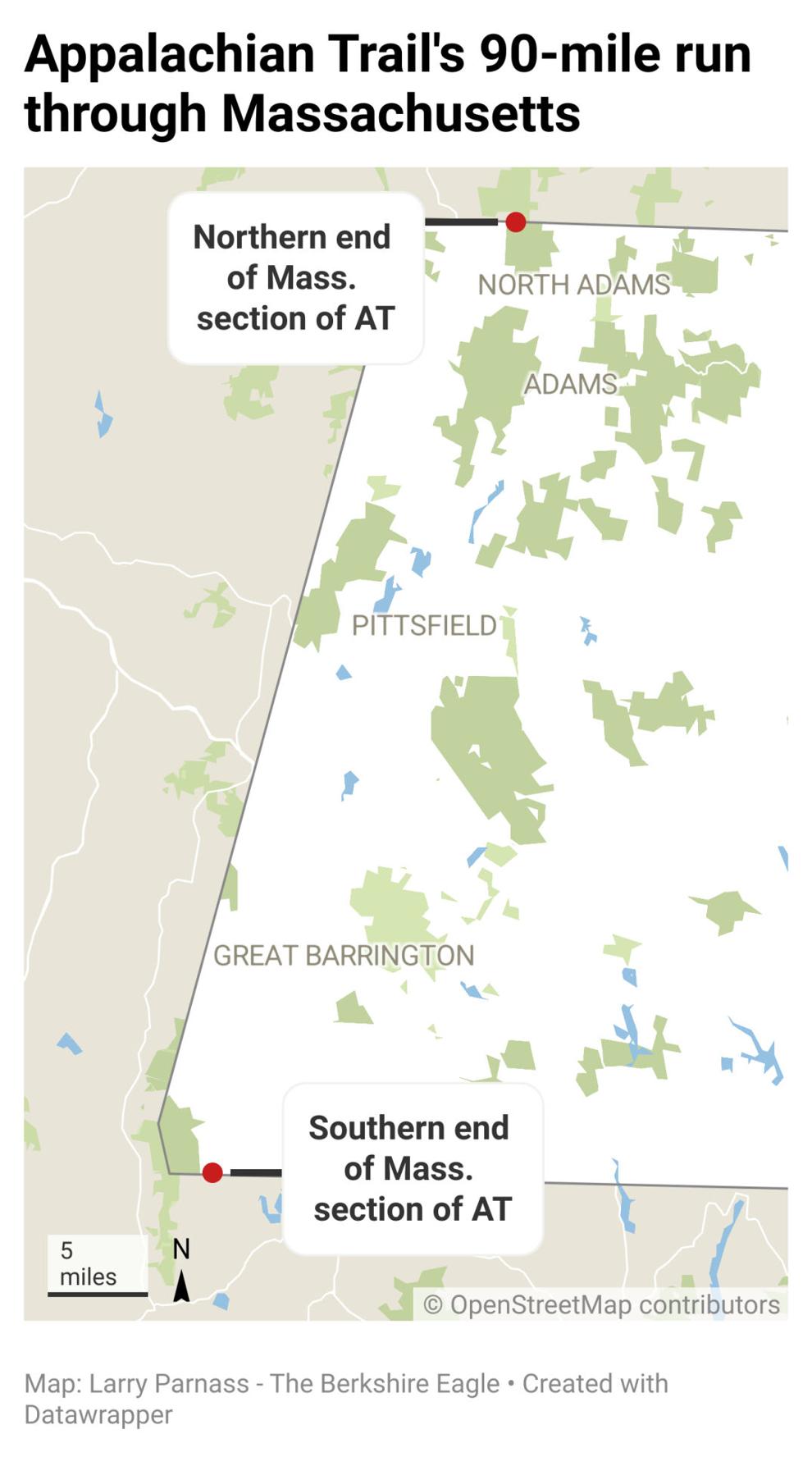 'Backpackers are my people'
After more than 1,500 miles of hiking, Ridealong was sitting by a stream Monday near the Appalachian Trail in the southern Berkshires, eating lunch with two other hikers.
On April 16, he started heading north on the AT in Georgia. "I've never hiked a day in my life before April 16," he said. "I didn't realize it would be so hard to walk — just keep walking all day. It's quite an effort to keep going."
When he started the trip he was out of shape. "I wouldn't recommend you start 50 pounds overweight. But I recommend you start, no matter what."
A book helped inspire his trip. Ridealong, who is from Rockford, Michigan, had long considered hiking the trail, but thoughts turned to action after he read "Die with Zero." He took away this message: If there's something you want to do, do it while you still can.
Though a book sparked his trip, he didn't bring any. His entertainment out here, he said, is "just these two," referring to two hikers with him — Komorebi, a woman from Wisconsin, and Deluxe, a guy from California. They'd been hiking together since mid-July, when they joined up with Ridealong.
Deluxe said he just likes to travel. "Backpacking, you get to see a lot of the world you normally wouldn't see," he said.
Being off the beaten track means everything. Deluxe travels to places many people overlook. When hiking the Continental Divide Trail, he says he once stopped in Silver City, New Mexico, and happened in at a hostel with a dozen hikers celebrating Thanksgiving. "Those people are still my friends to this day," he said. "My phone is roughly half real names and half trail names. Backpackers are my people."
Some people want to be alone on the trail. But many make friends and hike with others. It's more fun that way, Deluxe said.
That was unexpected for Komorebi, who heard concern from some people that knew that she was going alone. "I find that the trail community is amazing," she said. "You're complete strangers and in the course of a day you can make a new friend."
Seven years ago, she found herself in "a really dark period." She joined a backpacking group at home in Wisconsin and it helped her, leading her to take a sabbatical from work and start the AT in April.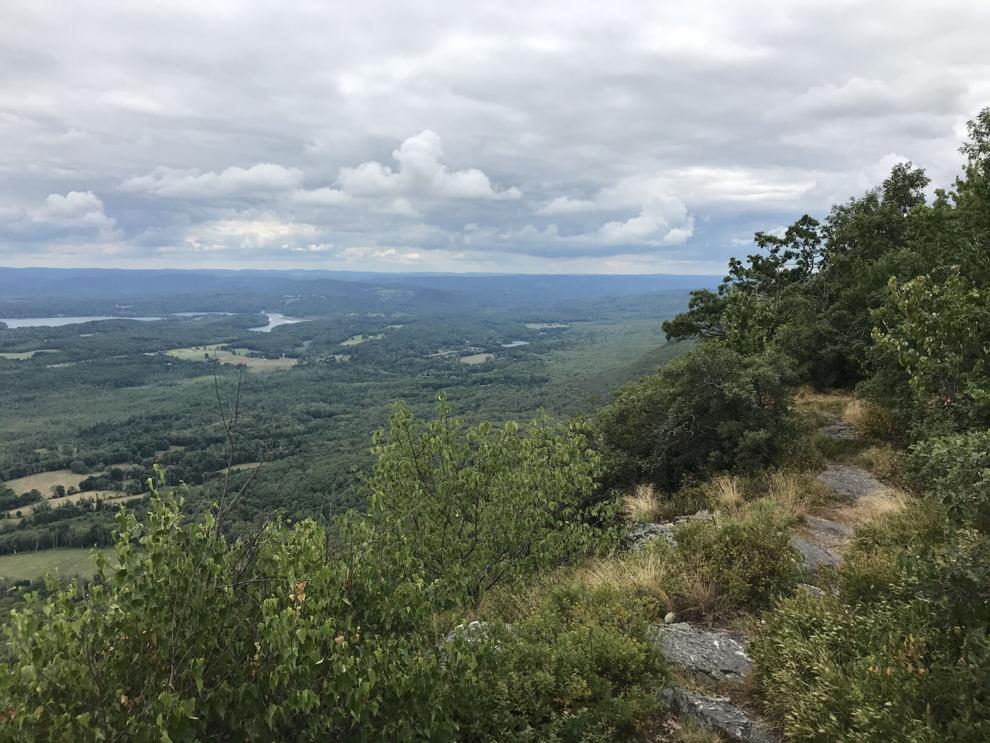 This week is her first time in this part of the country. "I'm experiencing the East Coast through hiking the AT," she said, before chewing on some jerky.
A day of sweat and shelter
Later Monday, I was feeling Ridealong's comment about the simple difficulty of walking as I trudged up Mount Race with a heavy backpack, sweat glistening.
As I approached Mount Everett, a hiker covered in sweat crossed my path. "Have fun with that incline, it's brutal," she said of the trail ahead. It seemed a good reason to take a lunch break.
Miles later, by evening, I was in my tent at Glen Brook Shelter, having come about eight miles of this journey. There are about a dozen people camping at this clearing off the trail, including a group of kids from a summer camp.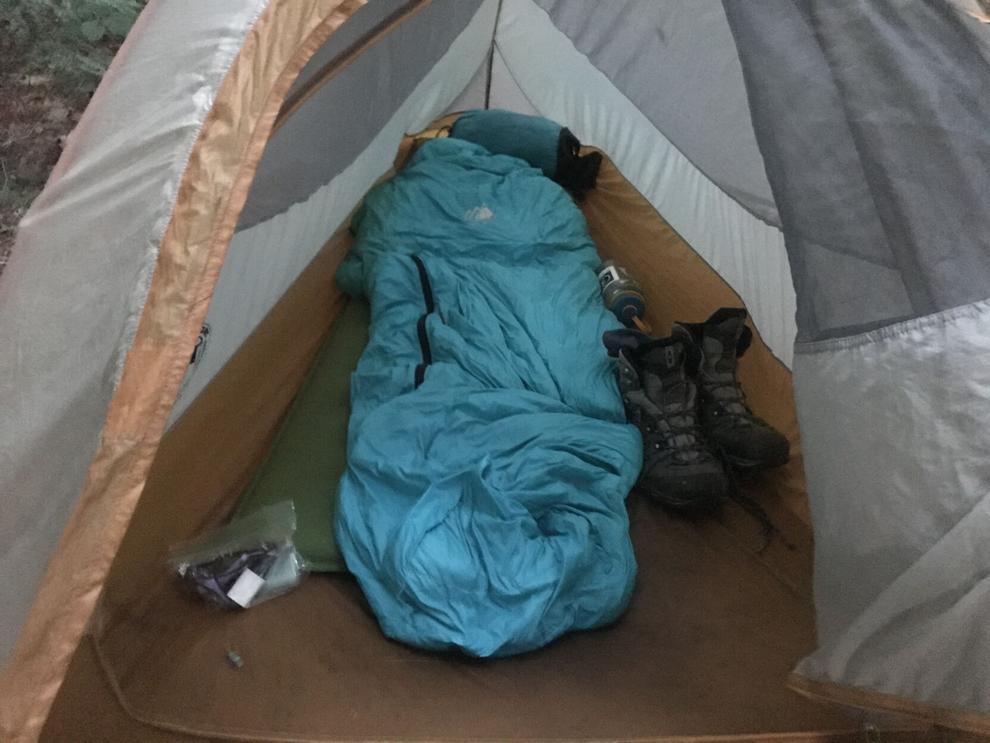 Inside my tent, at 9 p.m., it is quiet, aside from trees rustling in the wind and some on and off again snoring — I have a guess who it is, but I won't reveal my suspicions.
A new day, and new beverages
Normally, I'm particular when it comes to morning coffee. I have two certain mugs at home I always use and I'm partial to whole milk and plenty of sugar. And yet, waking up on the second morning of the hike to a cup of instant coffee, with a dollop of powdered creamer made in a plastic Tupperware that had been shoved in a croc sandal, tasted pretty good.
When backpacking, food tastes much better.
Even an un-toasted grocery store bagel with hunks of sweaty cheddar cheese at lunch Monday tasted practically gourmet.
Around 10 a.m. Tuesday, I reached a road crossing. There was a man parked with his trunk open, revealing jugs of water, a cooler of cold drinks and snacks. I was not aware that a blue Gatorade and brown sugar Pop-Tart was what I needed. But it was.
Steve McLaughlin lives about 20 miles away in Colebrook, Connecticut. He's never done the whole AT, but likes to hike. A hiker who makes regular YouTube videos, Craig Mains, got him interested performing "trail magic" for hikers (that means acts of kindness), and he started regularly driving out to Jug End Road to bring people food and water.
"The daily YouTube videos are more entertaining than Netflix," he said of Mains. During the busy summer season, McLaughlin comes out here regularly. His magic has touched a woman and her 8-year-old daughter, an 80-year-old man and scores of others.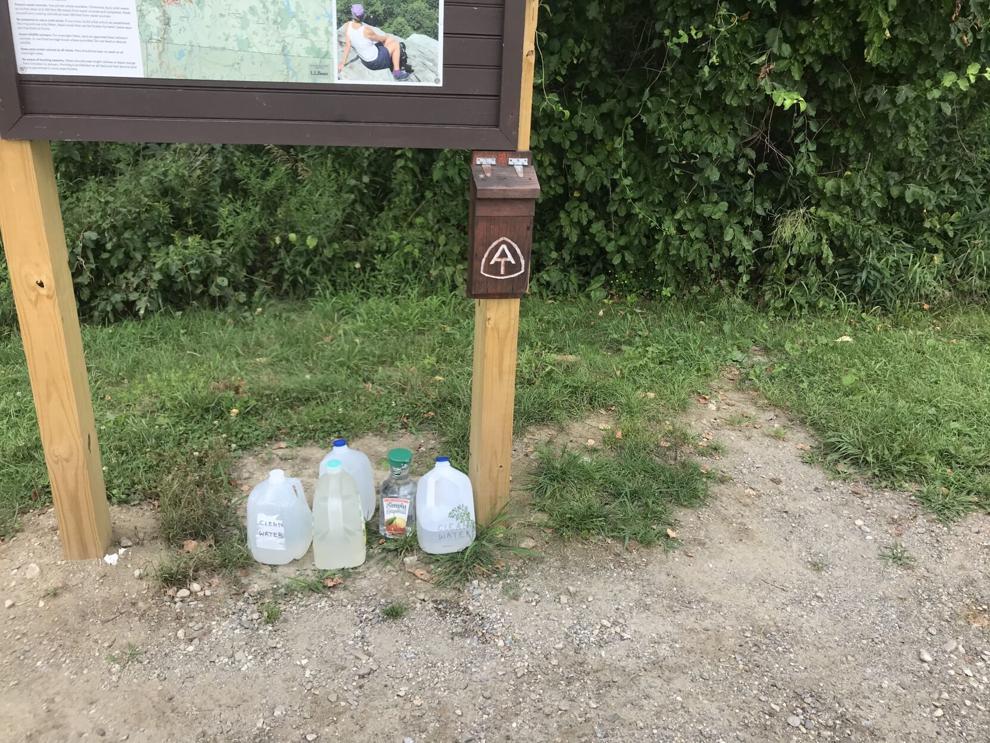 On Tuesday morning, I found hikers happily relaxing, drinking Coke and water on the side of the gravel road, chatting with McLaughlin.
It's all free. "We don't take donations," he said.
As I walked down the trail, a spring in my step from the extra hydration and sugar, I talked to Psyched, aka Will Leslie, a 22-year-old from Knoxville, Tennessee.
With rain in the forecast, I worried about trail conditions. I asked what he does when it rains and he shrugged it off. Either you're wet with sweat or rain, he said. It's not really different, as we passed a wide meadow.
When he asked my "trail name," I hesitated. Having only been on the trail for about 24 hours, it felt false. I told him it was "Grit," a name my cousin and close friend gave me on a previous trip. Sure I like grits, preferably with cheese. But mostly, it's a shorter form of my name.
I'd like to think I'm tough. It's an aspirational name, I said.