SHEFFIELD — Roberto "Robbie" Robles finally is opening his own restaurant, after years of helping other proprietors succeed.
And he is doing it in Sheffield village at the end of April, right around the corner from where he grew up on Miller Avenue. He wants to bring more brick oven-style pizza to the Berkshires — that's how good he thinks it is.
"You're never going to get the crust the way you want it unless you have the high heat," he said.
The coronavirus pandemic might have led him down this path, but it wasn't easy, since he was perfecting his pizza recipe and making plans to open Roberto's Pizza while still general manager of The Marketplace Cafe, which has three locations in the Berkshires and a massive catering operation.
"It was madness," he said.
But, he was obsessed. He hunted down a renowned pizza-maker in the New York City borough of Staten Island and went to learn the art during COVID-19.
"It was like zombie land — nobody was out, and Staten Island is like the forgotten borough," Robles said. "And I sat there with this world champion pizza-maker."
Robles' menu will have other items, including salads, soups and High Lawn Farm ice cream; he has applied for his beer and wine license, and will work toward a liquor license.
He will have initial capacity inside for about 15 diners, and is working on 90-capacity outdoor seating. Robles also will run a robust takeout system.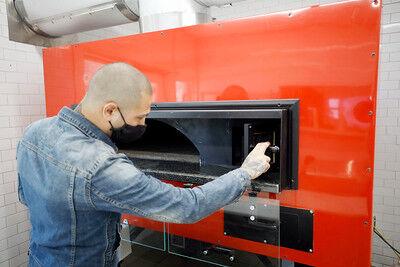 Robles says he wants to draw more people to this sleepy farm town with its acres upon acres of cornfields, and thinks it will work as the Berkshires flood with summer visitors, on top of all the new residents who fled the cities during the pandemic.
"As Great Barrington gets crowded, you can come down here," he said. "We have a distillery, antique shops, a winery, a bakery … there's more coming."
Robles has worked at and helped open a number of local establishments, including The Prairie Whale; he was sous chef at Xicohtencatl Mexican Restaurant.
"Mexican food is one of my passions," said Robles, a California native who is first-generation Mexican American, and who landed in Sheffield as a boy when his mother remarried and moved.
He says it was his experience helping The Marketplace Cafe open its three restaurants that has made this new venture possible.
And many years of hard work.
"I've been working in restaurants since I was a little boy," he said. "I am an artist, and it comes through in my food."