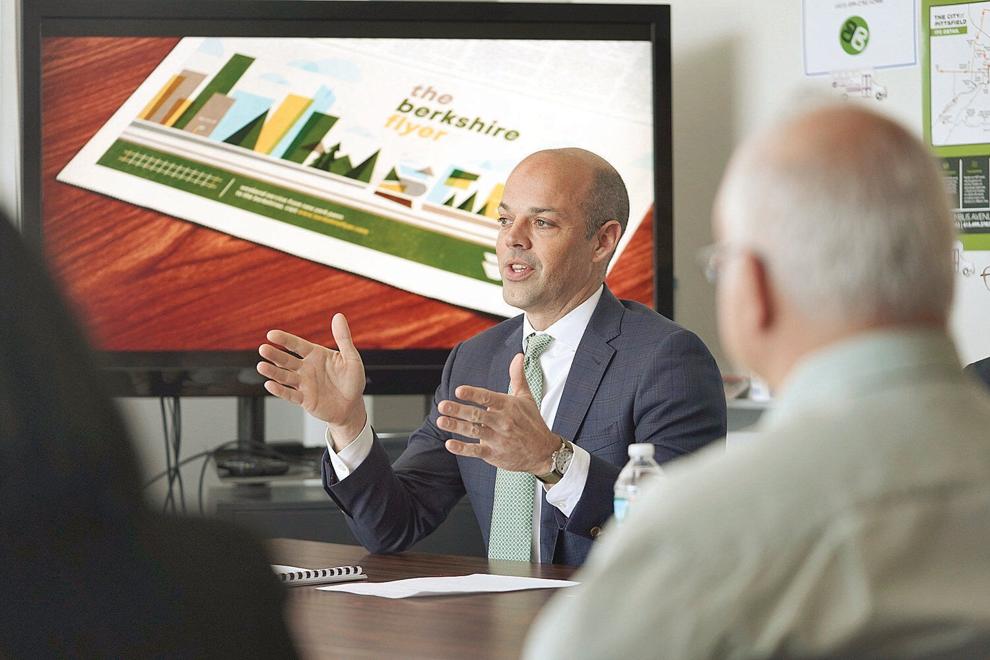 PITTSFIELD — Passenger rail service between Berkshire County and New York City could begin in summer 2022, as long as the company that owns part of the tracks agrees to allow Amtrak to operate service on those tracks.
A pilot for the project, known as the Berkshire Flyer, was set to begin in summer 2020. But, legal questions and the onset of the pandemic delayed its start.
Funding for the pilot, and an agreement for Amtrak to operate service, are in place for a summer 2022 launch, state Sen. Adam Hinds, D-Pittsfield, said in a Tuesday phone interview.
But, CSX Corp., which owns the stretch of tracks between Albany, N.Y., and Pittsfield, still needs to reach an agreement with Amtrak over the use of that 35-mile stretch.
"Essentially, what's needed is an alignment of services on that 35-mile stretch of track between Albany and Pittsfield and just making sure we're all on the same page," said Hinds, who added that his office is in "regular" communication with CSX officials.
An upcoming decision on CSX's proposed acquisition of Pan Am Railways might help to move the process along. It is possible, Hinds said, that a sharing agreement could be included in the conditions of the Pan Am purchase.
Federal regulators rejected an initial bid from CSX to acquire Pan Am, but an expanded bid from CSX will receive a Jan. 13 hearing before the federal Surface Transportation Board.
While the pilot would run service only on weekends and during the tourist season, Hinds said the goal is that if the pilot shows strong numbers, the project would expand to daily and year-round service.
Under the pilot, from June to early October, a Friday train would take passengers from New York's Penn Station to Pittsfield's Joseph Scelsi Intermodal Transportation Center, and a Sunday train would return to New York from Pittsfield.
"The long term of daily, year-round service would allow people to live in the Berkshires and travel down to the economic center of New York as they need to," Hinds said.
"In the short term, it's more folks coming from New York for the weekend or people going down for the weekend," he said, adding that many New York residents do not own a car. "We like the idea that it's new visitors, unique visitors."
The steering committee for the project includes Hinds' office, 1Berkshire, the Berkshire Regional Planning Commission, the Berkshire Regional Transit Authority and the city of Pittsfield.
Pittsfield remains on board with serving as the fiscal sponsor of the pilot and plans to coordinate with rental car companies to set up at the Columbus Avenue and Summer Street parking lot, said Deanna Ruffer, Pittsfield's director of community development.
The state of the pandemic, Ruffer added, may influence the decision whether to continue planning for a 2022 debut or to wait until 2023.
"During our last team meeting, everyone agreed that at the latest a go/no go decision for 2022 would need to be made in the November to January timeframe in order for a 2022 start to be viable," Ruffer said in an email through a spokesperson.
The regional planning commission and transit authority have worked on last-mile transportation options for passengers once they arrive in Pittsfield, and 1Berkshire has worked on the marketing side.
1Berkshire has set up a Berkshire Flyer landing page, developed a marketing plan and established relationships with the necessary vendors, said Jonathan Butler, its president and CEO.
"Those are all things ready to go for some time now, and we basically have all of our work mapped out and ready to go," Butler said. "It's just a matter of hitting the go button when the final details are worked out and we have an official launch."