Across all four western Massachusetts counties, 2,836 people faced homelessness one night in February. That's an increase from last year. The number of chronically homeless people more than doubled.
The reasons are known. The solutions remain elusive.
"We have nowhere near enough housing and then our renters spend far more than what is reasonable on housing costs," Keleigh Pereira, director of the Three County Continuum of Care, which includes Berkshire County, told a recent gathering working to find answers.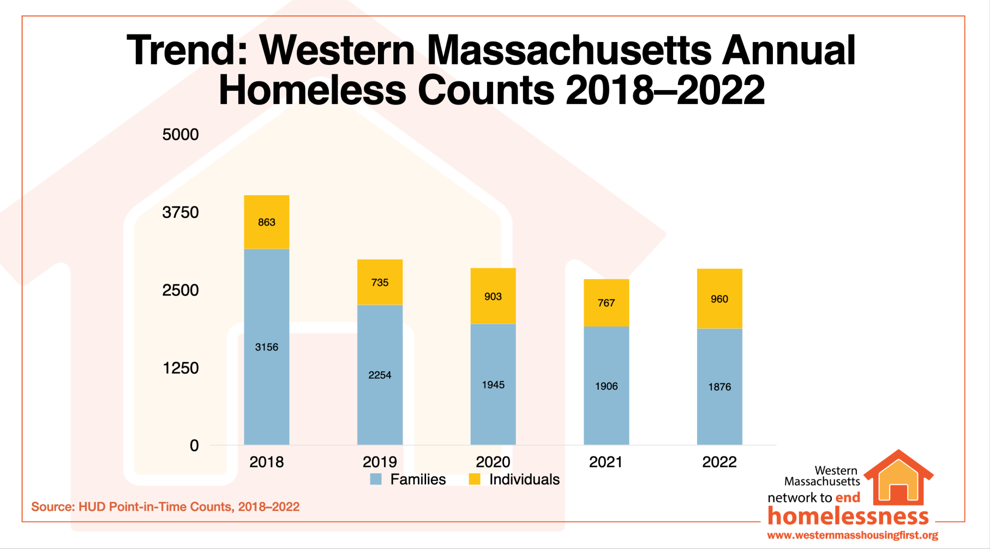 The number of people found to be chronically homeless across western Massachusetts more than doubled this year, jumping from 118 to 303 people. The data is collected annually in the Point-in-Time Count, a survey for the U.S. Department of Housing and Urban Development.
"Our chronically homeless number is very high and the highest it's been in this five-year period," Gerry McCafferty, director of Springfield's Office of Housing and the Hampden Continuum of Care, told a recent gathering of the Western Massachusetts Network to End Homelessness.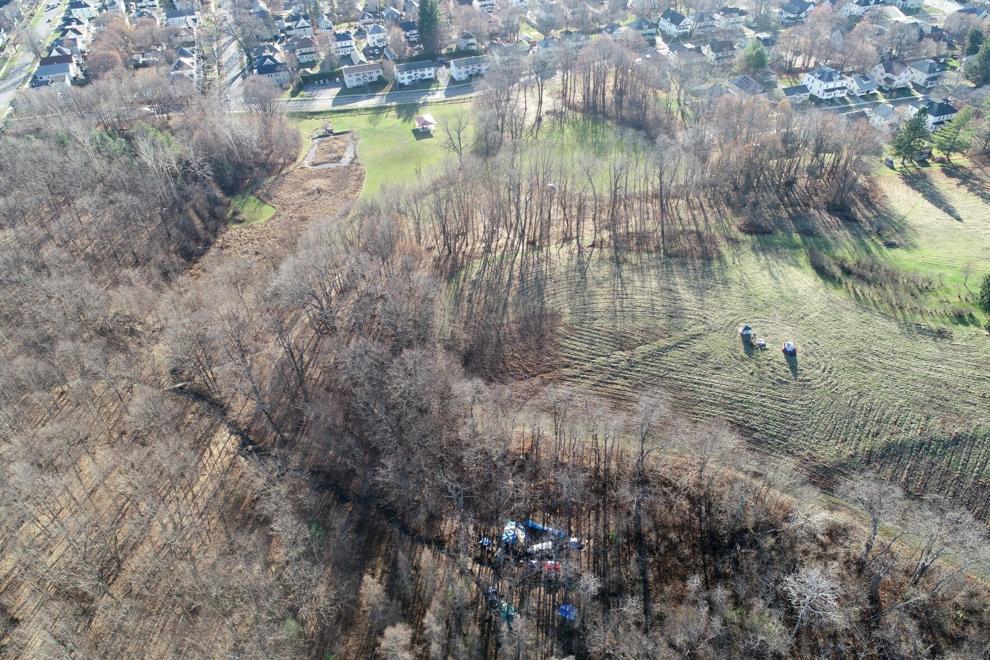 The number of homeless families stayed about the same, while the number of homeless individuals increased over 2021, the data shows.
Overall, risk factors for homelessness like substance use, domestic violence and job loss all increased during the pandemic, McCafferty said. "The pandemic continues to take a severe toll."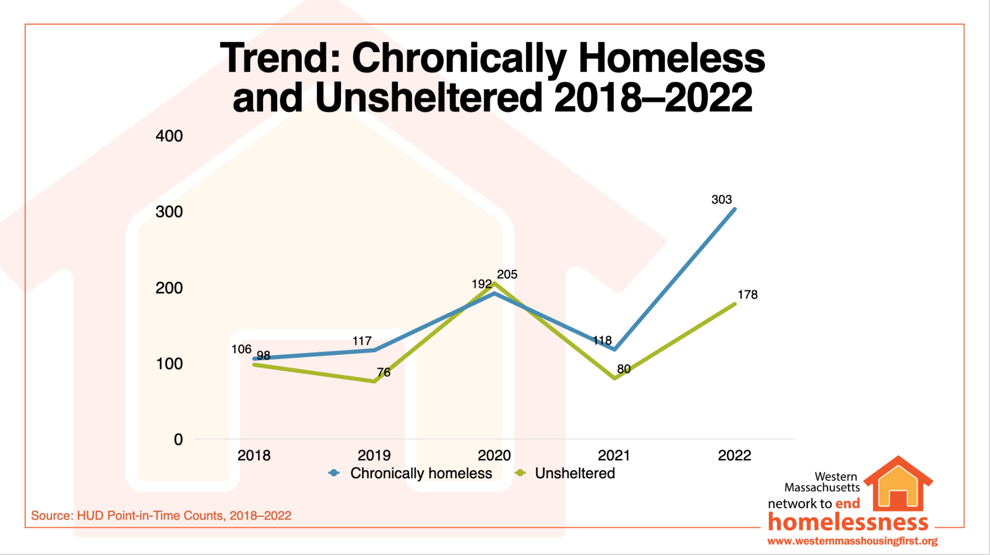 Homelessness is hitting some racial groups more than others. "People of color are disproportionately represented in the homeless population," McCafferty said. Compared to the general western Massachusetts population, there are 2.6 times the number of Black people and three times the number of Hispanic and Latino people who are homeless, she said.
That disparity is also true in the Berkshires. From 2017 to 2020 in the Berkshires, Black residents made up 2.9 percent of the county's overall population, but 17.3 percent of the county's homeless, according to data from the Three County Continuum of Care. Hispanic residents made up 4.6 percent of the population and 12.7 percent of the homeless, the same analysis shows.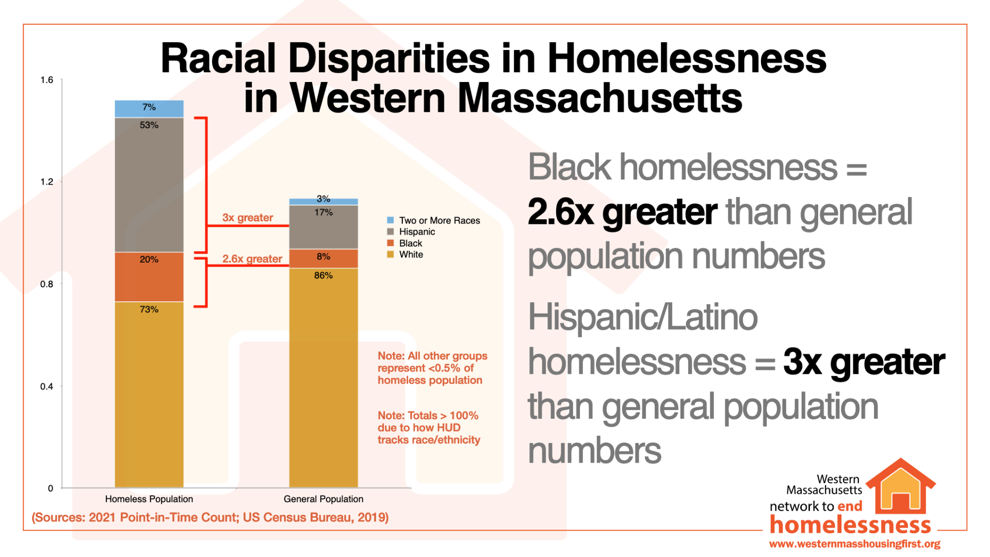 One trauma or event can lead to homelessness, Marisa Perez, program director at ServiceNet and assistant director at the Center for Human Development, told the network at its virtual session Friday.
"We don't wake up one day and say, 'Today I'll become homeless,'" Perez said.
She knows from experience. In 1990, fleeing domestic violence, Perez and her children ended up homeless. "I will never forget those 40 days," she said. While it took her 40 days to get housing, it's taken many of her clients a year or two, making them chronically homeless.
Construct, a southern Berkshire housing nonprofit, has 77 units of permanent housing units available in the southern Berkshires and 800 households on the waiting list, Jane Ralph, the organization's executive director, told The Eagle this week.
Some of those 800 families may be on other housing waiting lists, she said. "There's just not enough afford or workforce housing to go around."
"My concern is as those costs go up and other costs go up, it's going to be harder and harder to make ends meet," she said.
The wait list has always been long, but it has increased over the last several months, Ralph said. While Berkshire County housing groups are working to address the need, there are not enough resources, she said.
Berkshire County faces specific challenges in addressing homelessness, such as a thin public transit system.
"The overarching needs are fundamentally similar," Pamela Schwartz, director of the Western Massachusetts Network to End Homelessness, said in an interview.
Priorities the network is focused on — such as the development of affordable housing and legislation to secure tenants the right to counsel in eviction cases — would help the Berkshires, Schwartz said.
"The reason why it's the network's agenda is because it positively services every county across western Massachusetts," she said.
Other steps
Jennifer Maddox, undersecretary with the state Department of Housing and Community Development, told the network's gathering that her department's eviction diversion program helped nearly 90,000 households avoid eviction with $750 million in aid.
But, she added, "The reality is that rental assistance and shelter can only take our vulnerable communities so far. Housing is the solution for homelessness. We knew this before COVID hit, but it has only become more clear over the past two and a half years."
Housing stock needs to be increased, Keith Fairey, president and CEO of Wayfinders, a regional housing organization, told the network last week. "We need more supply," he said. "We need to decrease the local barriers in our region. Yes, it takes too long to build housing. It's not only because building housing is long and complicated, but because people get in the way without really being helpful. And they create barriers and we need to stop that. We need to work together toward that vision."
The network's annual meeting drew shelter providers, nonprofit groups, lawmakers and leaders through the region, including ServiceNet, the Berkshire Regional Planning Commission and Berkshire United Way.