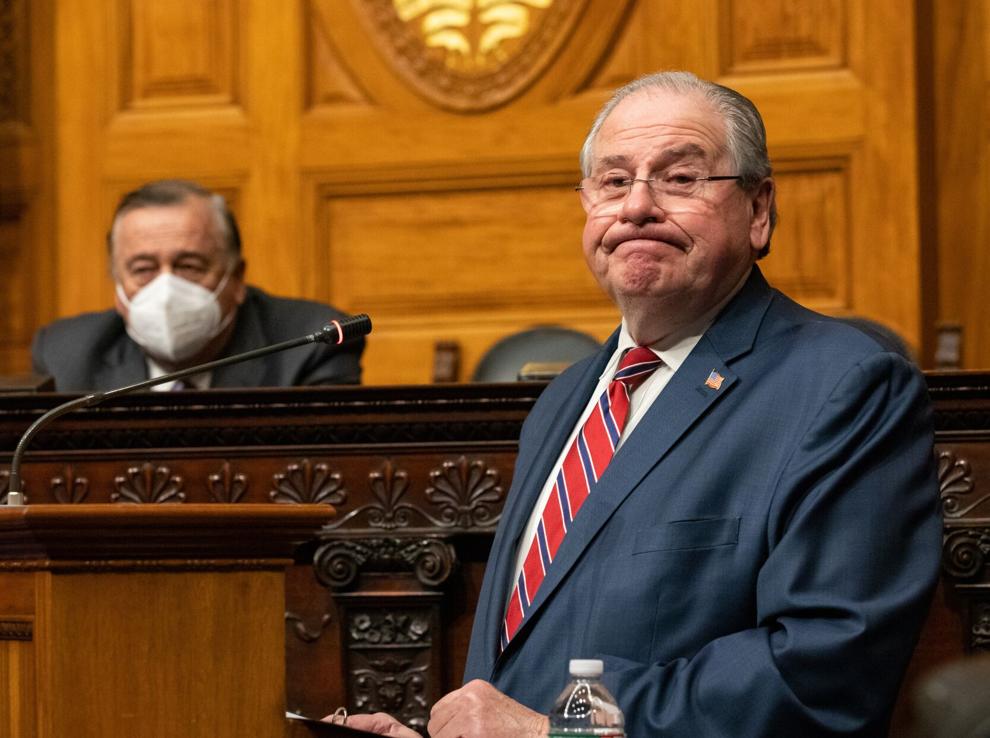 Over the 12 years that Robert DeLeo spent leading the Massachusetts House, he solidified his reputation as "a friend to the Berkshires" among lawmakers from the state's westernmost county.
State Rep. Paul Mark, D-Peru, has hosted groups from his district at the Statehouse every year since he was elected in 2011, and DeLeo spent time speaking with each group.
When Mark's district changed after redistricting in 2012, DeLeo accompanied Mark on a visit to each of the district's 16 municipalities across the 400 square miles from Pittsfield to Northfield.
For Mark, that demonstrated DeLeo's willingness to listen in an effort to build consensus, a hallmark of his leadership.
"It gave him an insight that he never seemed to forget into our distance from Boston, lack of telecom, and agricultural and environmental issues," Mark said. "He knew where we were and that we mattered."
DeLeo, a Winthrop Democrat first elected to the House in 1990, is departing Beacon Hill to negotiate a job at Northeastern University, his alma mater. In his farewell speech Tuesday on the House floor, he expressed gratitude to his colleagues and highlighted legislative accomplishments, including laws concerning health care, gun control, education funding and criminal justice reform.
During DeLeo's time as speaker, the state had four Senate presidents and two governors, and "this House has passed major legislation with all of them," he said.
DeLeo has faced some criticisms, from his left and from Republicans, for a leadership style that some describe as tight-gripped, secretive and slow-moving. Yet, Berkshire lawmakers overwhelmingly saw his approach as a strength.
"Despite his critics who will say that he was strong-armed and tough — he was," said state Rep. John Barrett III, D-North Adams, who also praised DeLeo's work on education funding and local aid. "He controlled the show there, but maybe that was part of the strength to get through some important legislation."
Mark said DeLeo "restored stability and integrity" to the House and credits DeLeo's commitment to building consensus for making him the longest-serving speaker in state history.
"Yes, that was frustrating at times, because it meant some of the ideas I cared most about didn't take center stage," Mark said. "But, the benefit was that he never put us into an us-against-them battle; instead, it always required taking the time to educate, inform and persuade others to be sure the needs of my district ended up part of a total product that reflected the entire state."
State Rep. Tricia Farley-Bouvier, D-Pittsfield, said DeLeo helped set the tone for what she described as "a very collegial environment."
"We don't have in the House that vitriol that you get in other places, and I think it works — we end up getting a lot more done," she said, adding, "Several of these pieces of legislation have become models for the rest of the country."
State Rep. William "Smitty" Pignatelli, D-Lenox, also offered praise for DeLeo on Twitter.
"Thank you Mr. [Speaker] for all your leadership, friendship and support," Pignatelli wrote. "The 4th Berkshire District wishes you all the best in the next chapter. The [House] is well positioned because of your commitment and steady hand."
DeLeo's resignation also makes him the first speaker since 1990 to leave without felony charges looming. The three previous speakers — Charles Flaherty, Thomas Finneran and Salvatore DiMasi — each was convicted after leaving office.
Berkshire lawmakers are similarly supportive of Majority Leader Ron Mariano, D-Quincy, who is running unopposed to replace DeLeo after Rep. Russell Holmes, D-Boston, ended his speaker candidacy.
But, DeLeo's departure makes Tuesday a "sad day," Farley-Bouvier said, and one that deserved to be a bigger occasion than the coronavirus pandemic allowed.
Making his speech to a small audience, with others watching an online broadcast, DeLeo left colleagues with some advice.
"If you are invited to your colleagues' districts, go," he said. "Go humbly, and listen. Listen to each other. You will learn more than you could imagine."