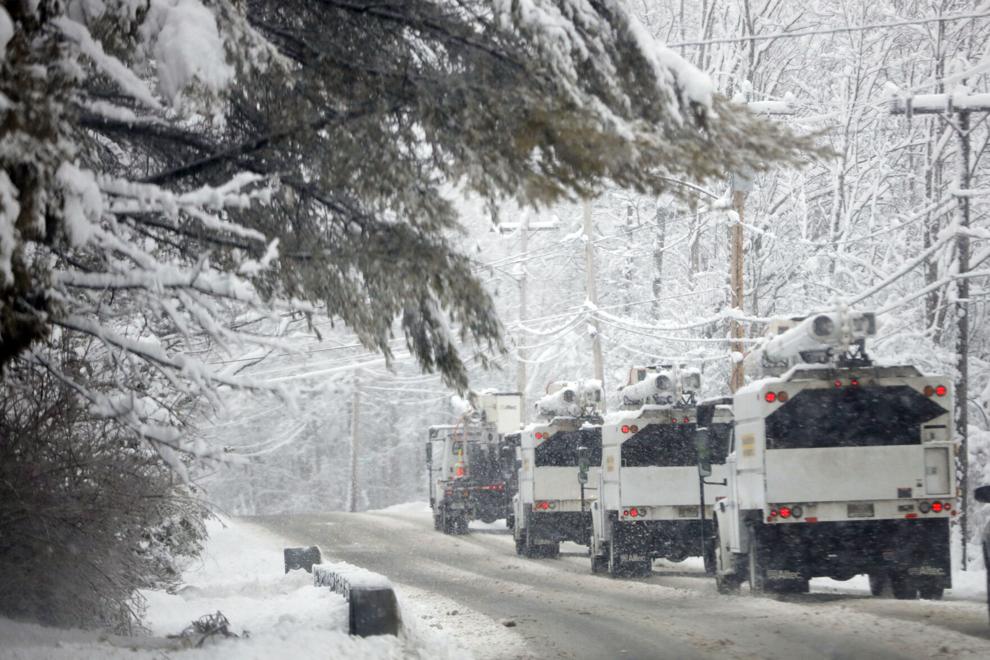 With power still out in some parts of the Berkshires from this week's nor'easter, The Eagle asked Eversource and National Grid — why the prolonged outage?
"The heavy, wet snow, and some unplowed roads made accessing downed lines and substations challenging and slow," National Grid spokesperson John Lamontagne told The Eagle on Thursday. "Parts of the Berkshires got as much as 30 inches of snow."
Neither Eversource nor National Grid said staffing shortages were to blame for extended outages.
"Heavy, wet snow can damage trees, which can cause limbs and branches to break, knocking down power lines," Lamontagne added. "And this storm caused a lot of power lines to get knocked down."
Lamontagne said that National Grid had more than 1,000 crews of about 3,000 personnel respond to the storm. The company redeployed crews from throughout the state Tuesday night to especially hard-hit areas in Central and Western Massachusetts. He said that during storms, National Grid often brings in workers from out of state to assist with restoration efforts. This week, the company brought in crews from Connecticut, Illinois, Indiana, Kentucky, Michigan, New Jersey, Ohio, Pennsylvania and West Virginia.
Eversource Spokesperson Priscilla Ress said the company was still actively trying to restore power late Thursday morning. As of Thursday afternoon, Ress said, there were roughly 300 customers with outages in Western Massachusetts, primarily in Franklin County.
"The greatest challenge is access," Ress said. "In some sections, there is damage in wooded areas that a traditional bucket truck can't get access due to the rough terrain. In these instances, we're using track vehicles, and in some cases our lineworkers are climbing poles to make repairs."
Ress said Eversource had "sufficient crews" to respond to outages.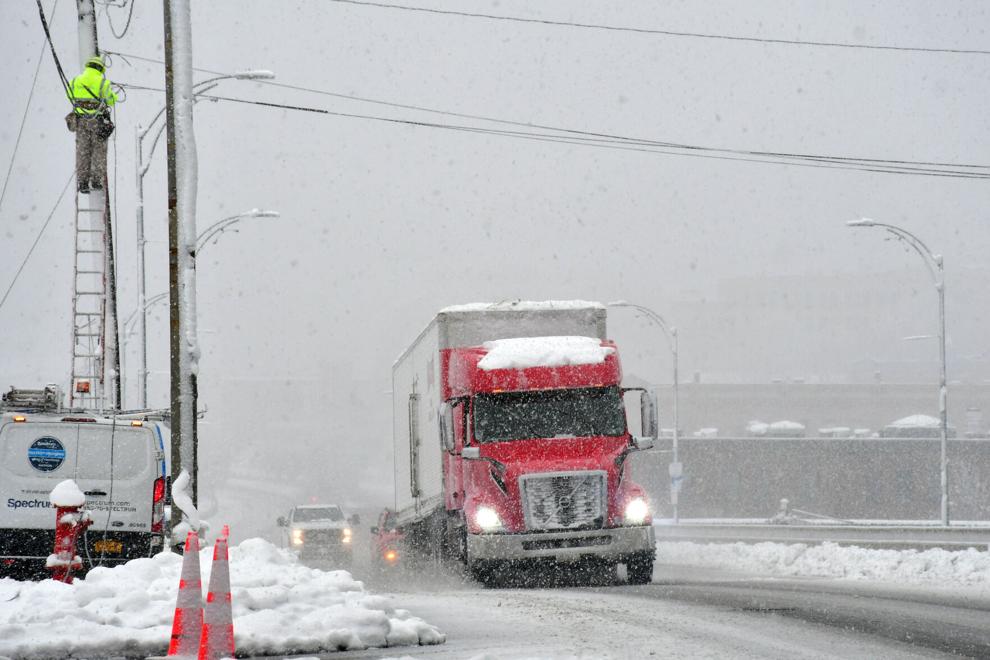 "We currently have more than 160 outside contractors as well working in tandem with our crews," she said Thursday afternoon. "Once our crews were done working in other parts of the state, we brought them here to Western Mass. and have been working through the night and into today to restore power."
Eversource restored power to 55,000 customers since the start of the storm, Ress said.
West Stockbridge Department of Public Works Director Curt Wilton told The Eagle Wednesday that he felt National Grid had prepared for the storm, but there were some "hiccups."
"I think they did a decent job. … They call in private contractors," Wilton said. "When trees fall on the wires, National Grid sees that and assesses the situation. They'll call their tree guys — I talked to a bunch of these tree guys yesterday. They're contractors from Pennsylvania. They come up here and they knock the trees off the wires."
Wilton explained that National Grid first kills the power before removing trees to make it a safe working environment. Once the power is killed, the tree team comes in and cuts the trees off. Public works helps in different ways, including with equipment such as chain saws. Once the trees are off and the area is secure, National Grid personnel puts the wires back up.
Wilton acknowledged that at times, National Grid's response felt insufficient. "I don't know what the South County group takes, I believe they're in charge of eight to 11 towns, so they're spread thin." The severity of the storm also contributed to the lack of power, Wilton said, and the heavy, wet snow occasionally snapped electric poles during the storm.
Wilton credited National Grid for a past tree program to get rid of beetle-infested ash trees that the company put on last year in West Stockbridge.
"If they didn't knock those trees down, we'd have way more devastation than today because those trees were weak and full of beetle larvae," Wilton said.
Lamontagne told The Eagle on Wednesday that the company had about 460 crews in Central and Western Massachusetts, including 90 in the Great Barrington area and 70 in the North Adams area. He said customers in remote locations were taking longer to get to.
According to the Massachusetts Emergency Management Agency, as of 3 p.m. Thursday, about 500 customers of Eversource and National Grid were without power, with the majority of those coming from Williamstown, Egremont and North Adams and supplied by National Grid.
Community voices editor Jane Kaufman contributed to this report.