STOCKBRIDGE — A guru of old-growth forests, Robert T. Leverett recalls first stepping into Ice Glen back in the early 1990s and thinking to himself, "Oh, my God. This is the real deal."
He declared it one of the most spectacular woodland stands in New England. But, today, he speaks with the funereal gloom of this misty-cloaked cleft just south of the village.
"It's sad when an icon of the Northeast forest is lost. That's what's at stake here," said Leverett, the Florence-based co-founder of the Native Tree Society and co-author of "The Sierra Club Guide to the Ancient Forests of the Northeast."
It was at "Icy Glen" where the writers Herman Melville and Nathanial Hawthorne first met during that now-legendary ramble up Monument Mountain in 1850. The glen made an impression. In "Moby-Dick; or, The Whale," Melville later would compare the "wondrous" ecological opulence of a South Pacific island to that "of the Icy Glen."
Its damp, soft mosses, dark caves, primordial ferns and twisted forms together provide a fairy tale ambience that, historically, has brought out the inner pixie to the otherwise buttoned-up, God-fearing people of Stockbridge.
For more than a century, beginning in 1841, townspeople would don costumes and strike up the marching band each year for a jovial, torch-lit excursion beneath the towering dark canopies of Ice Glen's hulking hemlocks, some of which predate the Revolutionary War.
'These trees are hurting'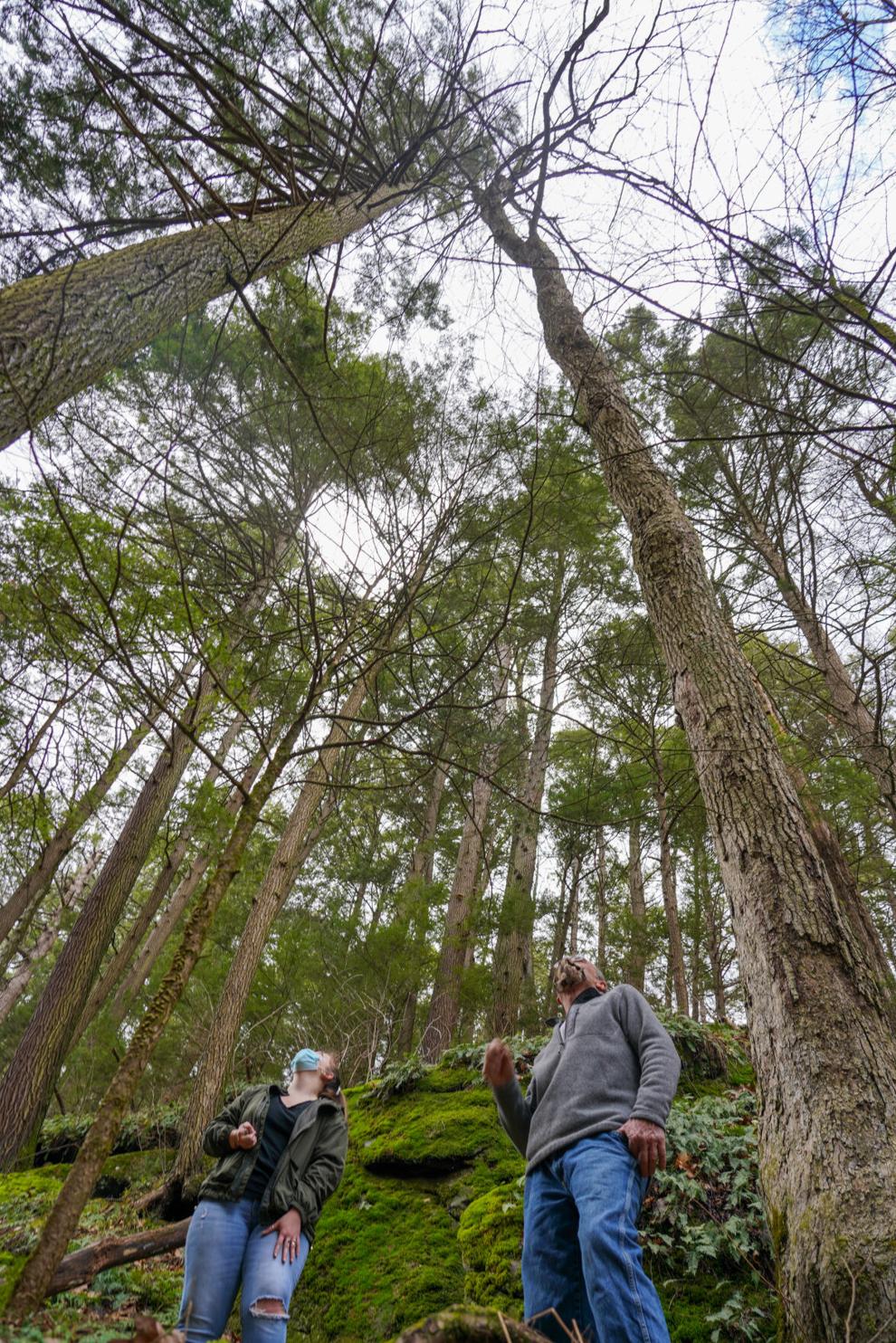 Last week, townspeople gathered at Ice Glen for a grimmer purpose: to see firsthand why the town is pushing to embark on a potentially large-scale and expensive forest-rescue effort.
Amid huge boulders coughed up during an impressively executed geological Heimlich maneuver during the last glacial retreat some 12,000 to 14,000 years ago, Ken Gooch, the retired head of forestry for the Massachusetts Department of Conservation and Recreation, pointed to what can happen in a blink of geologic time.
"That one's gone," he said of a towering hemlock.
Stepping further along the spongy soil, he looked up at a sky that shouldn't be visible.
"These trees are hurting," he said.
Gathered around him were members of the town's Board of Selectmen and Conservation Commission and the president of the Stockbridge Land Trust. Gooch snapped off a small section of lacey hemlock and pointed to the evidence of two primary factors contributing to the hemlocks' poor health condition: the invasive species of tiny sap-suckers called hemlock woolly adelgid and elongate hemlock scale.
"Right there," he said, pointing to the underside of the short, slender, flat needles where the hemlock scale had settled in under a self-producing protective waxy sheath.
The combined effect weakens the tree, leaving it susceptible to a third round of damage, from the hemlock looper, a native prone to taking lethal, c-shaped bites around the needle base.
This triple-insect threat has been made worse by drought and a natural-occurring fungus called armillaria, which turns menacingly active when trees come under distress. Many of Ice Glen's hemlocks have lost at least 50 percent of their needles. Without needles, the trees no longer can photosynthesize and feed themselves.
"When you look up at the crown, you shouldn't be able to see the branches. Not like that," Gooch said.
Ice Glen's white ash and white pine, some 200 to 250 years old, also are under threat from invasive insects and the effects of climate change, he said.
Rescue plan study funded
In unanimous decisions, the town's Board of Selectmen and Finance Committee recently approved an emergency transfer of $6,000 to have Gooch assess Ice Glen's 70 acres of old-growth forest and to grade individual trees on a scale of good, fair or poor. He then will draw up a rescue plan, the funding of which would come, in part, through taxpayers, contingent upon a vote at the upcoming annual town meeting. The town also would pursue state and federal grants and private donations.
The study will be completed in May and include white ash, which, regionally, has been devastated by the emerald ash borer, an Asian beetle whose infestation in Massachusetts first was discovered nine years ago.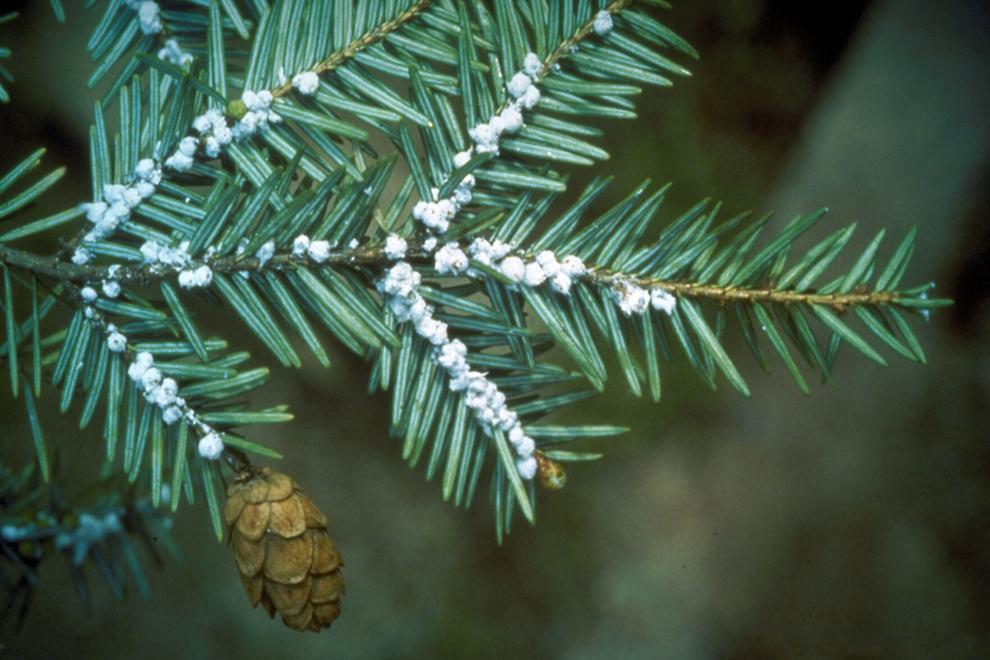 The hemlock woolly adelgid began having noticeable impacts on eastern forests in the late 1980s. The elongate hemlock scale first was found in New York in 1908, and has made devastating inroads in recent decades. Both from Asia, both were brought here accidentally, probably with the rise in demand of exotic plants.
They are proving too much for the hemlock, which hasn't the natural means to protect itself. They are proving too much for Ice Glen itself, a cherished gift to Stockbridge in 1891 from resident David Dudley Field (1805-1894), the lawyer who pushed for systematizing this country's laws.
The glen's steep, rocky topography saved its handsome trees from the ax centuries ago. Its easy accessibility from the village has earned it renown among hikers, old-growth tree hunters and bird watchers on the lookout for blackburnian warblers. Slashed with a quarter-mile-long gorge of piled boulders, among which winter ice can remain amid a summer heat wave, Ice Glen sits adjacent to Laura's Tower Trail, owned by the Laurel Hill Association, and the state-owned Beartown Mountain.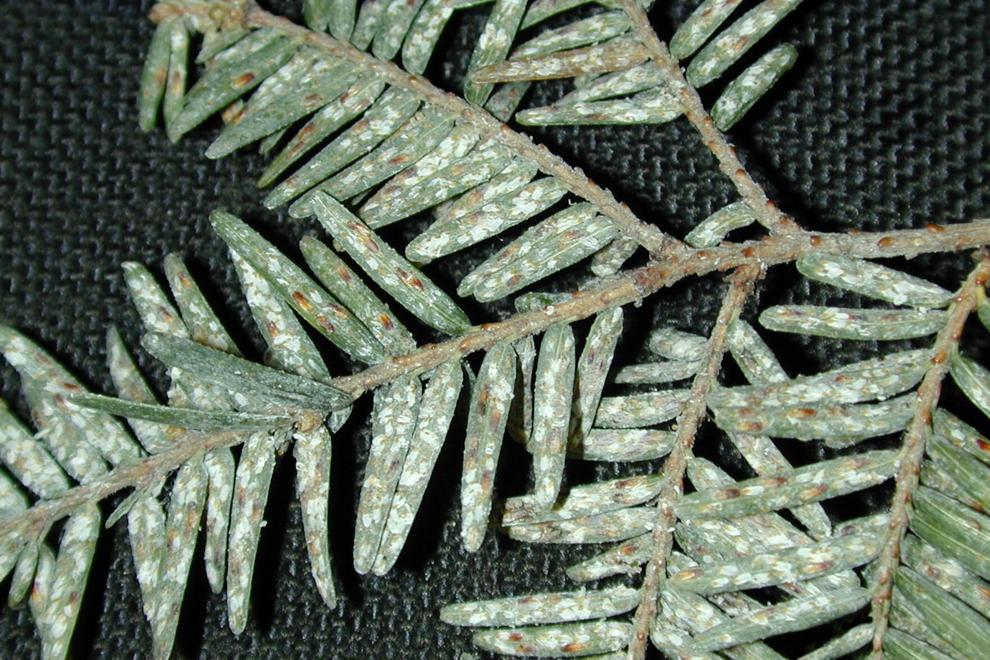 "My position is that Ice Glen, which contains trees that have been there since before Stockbridge was called Stockbridge, is worth saving for current and future enjoyment and inspiration," said Selectman Patrick White. "We need to make priorities, so that what happened at Purgatory Chasm doesn't happen here."
He's referring to Purgatory Chasm State Reservation in Sutton, a state park about 45 miles southwest of Boston. Thirty years ago, its hemlocks looked a lot like those at Ice Glen today. Those hemlocks since have been wiped out. It's a sore topic among conservationists.
"By the time we treated it, it was too late," Gooch said. "And then we had to spend many, many thousands of dollars removing the dead trees because they were a hazard."
As for Ice Glen's ash trees, they appear to be healthy, but the emerald ash borer is closing in. Gooch said his likely recommendation would be for a mitigation strategy treating them with systemic pesticide injections.
"If not treated as soon as possible, the ash die-off will begin within the next one to three years," he said.
Costly problem; pricey solution
Based on average prices submitted from contractors who bid on ash and hemlock pesticide treatment projects when Gooch worked for the state, any treatment plan will be pricey. To treat a single ash tree could cost $6 to $12 per inch of diameter at breast height (DBH), he said. So, for instance, a tree 3 feet in diameter could cost $432 for a one-time treatment.
For the prized hemlocks, there are two methods of treatment. Trunk injection using Dinotefuran, an insecticide, can be up to $15 to $20 per inch of DBH. Bark sprays are less expensive — $8 to $15 per DBH inch.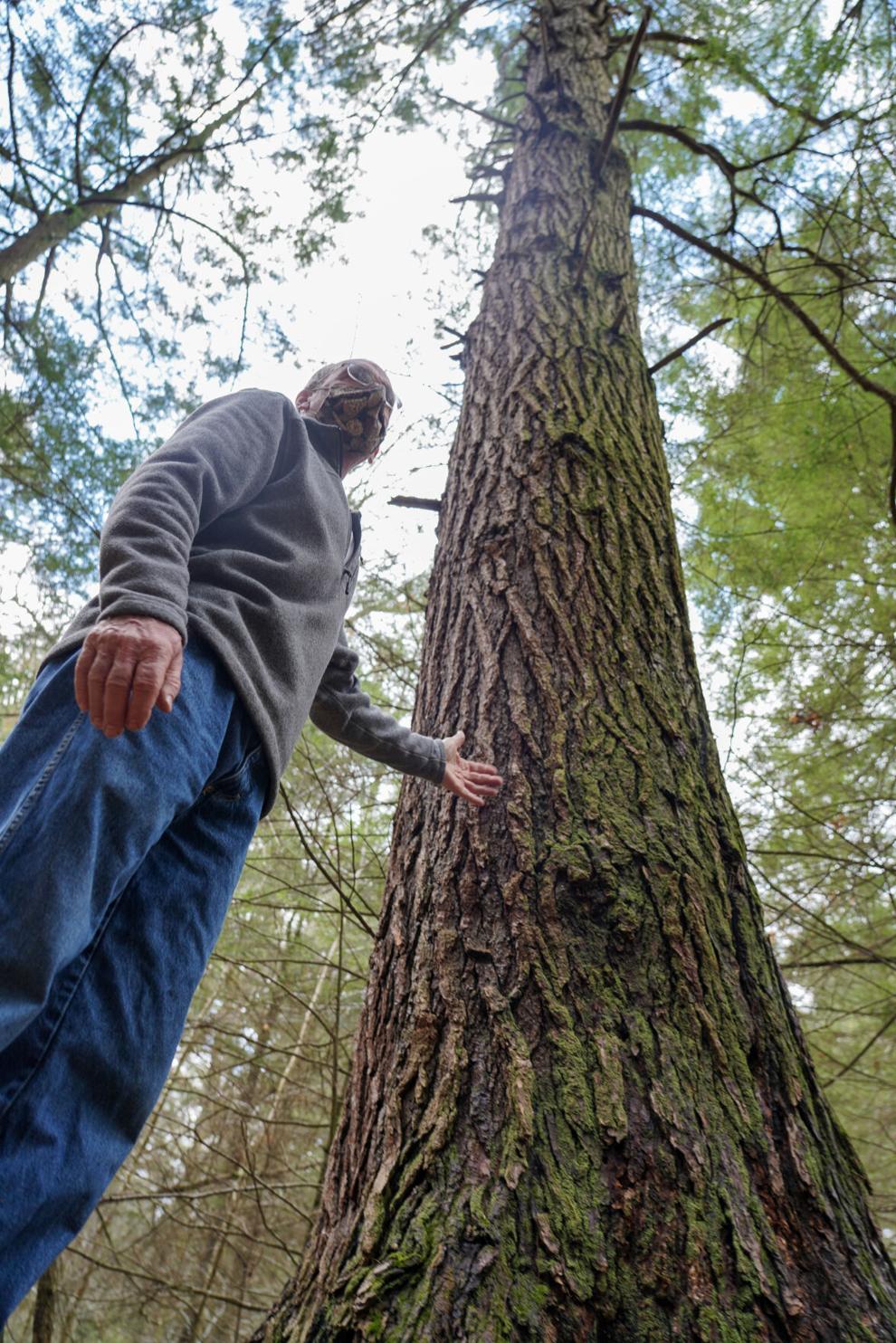 For both the hemlock and ash, the treatments could reduce the trees' stress for a period of three years.
While working for the state, Gooch oversaw successful treatment efforts at Tolland State Forest, Mount Washington State Forest and Mohawk Trail State Forest.
"We know the treatment works. It's been proven," said Gooch, of Worthington, who now runs a private arborist business and teaches at Berkshire Botanical Garden.
Leverett, the tree expert who previously visited Ice Glen in February, estimates that about 30 percent of its old-growth trees now are beyond saving. Absent intervention, the embattled balance could die in the next few years.
"It pays to go ahead and try to save what you can, rather than to prepare for the funeral," he said.