NORTH ADAMS — In a State of the City address that honed in on concerns about public safety infrastructure and the future of the city, North Adams Mayor Tom Bernard took a few minutes to reflect on immense challenges of the past year — and his gratitude.
"I know that most, if not all, of us have experienced moments of fear, isolation and uncertainty," he said in a virtual address Monday evening. "I know many of our colleagues, family, friends and neighbors have endured violence in their homes, lived with substance abuse or misuse, struggled with mental health issues, and experienced hunger and housing insecurity."
But, the way North Adams residents respond to those challenges, he said, has made him proud to be a part of the community. He pointed to the work of local food banks, public safety employees, the county's vaccination team, volunteers who responded to the coronavirus pandemic and all city residents.
"I've heard from so many people who gave their best and asked questions like, 'What do you need?' and 'How can I help?'" he said. "It's important to remember and celebrate that spirit."
He said he even was grateful for what he calls "tough feedback."
"There were few easy answers this past year," Bernard said. "Your concerns, perspectives, questions and suggestions have been invaluable."
Public safety
Early in the address, Bernard turned to one of the city's most pressing concerns — public safety infrastructure — and announced that the city was considering moving the police station to the juvenile court building on Center Street.
"We know that our first responders operate out of a building with significant maintenance and accessibility issues," he said. "We agree that we need a new public safety building."
In recent weeks, long-standing issues with the city's public safety building boiled over as police and city councilors decried frigid temperatures, unusable cells, a lack of potable water and continued accessibility concerns.
Bernard said the city has applied for the state's District Local Technical Assistance Program to consider new sites, including the juvenile court building, and would use that research to advocate for the commonwealth to release money sitting in a capital bond bill to put up a new public safety facility.
He also pointed to the need for "short, medium and long-term" action on fire hydrants, after two fires at which lack of functioning hydrants delayed firefighter responses. The city is conducting a full review of its hydrant infrastructure.
"We are actively exploring the USDA rural communities program for funding a hydrant replacement program," he said. "Additionally, through this year's budget process, we will present options for staffing and funding our water department at the level necessary to meet this critical need."The year in reviewIn the address, Bernard also reflected on how the city has responded to the past year, from moving to virtual schooling to grappling with systemic racism.
"When we made the decision to close schools on Friday, March 13, few of us could imagine that was the end of in-person learning for the school year," he said. "From the start, I insisted on two things. First, that no student go hungry. … Second, I insisted that we provide students with the tools they need to have equitable access to online learning and stay connected to their classmates and teachers."
Since schools closed, Bernard said, North Adams Public Schools has provided over 200,000 meals to students, including breakfast, lunch and dinner for weekdays and the weekend. Also, the district has distributed over 1,200 devices and 130 Wi-Fi hot spots to make sure students can remain connected.HeBernard also acknowledged the burden of pandemic restrictions for local businesses but pointed to bright spots.
"While COVID-19 took its toll on the local business landscape, new businesses have opened," he said. "From The Break Room at Greylock Works, the Immersion Gaming Center on State Road to the soon-to-open Clear Sky Cannabis dispensary, these businesses bring commercial activity and much-needed tax revenue."
He pointed to continued movement on the city's goals despite the pandemic, including obtaining a grant to address drainage and water-flow problems around the Blackinton Mill property, as well as a socially distanced auction of eight properties held by the city. Given the success of that event, Bernard said, the city plans to hold a larger auction in the spring to move more property back onto the tax rolls.
He added that the sale of two major pieces of city property, the Notre Dame Church and School, is expected to close in the spring.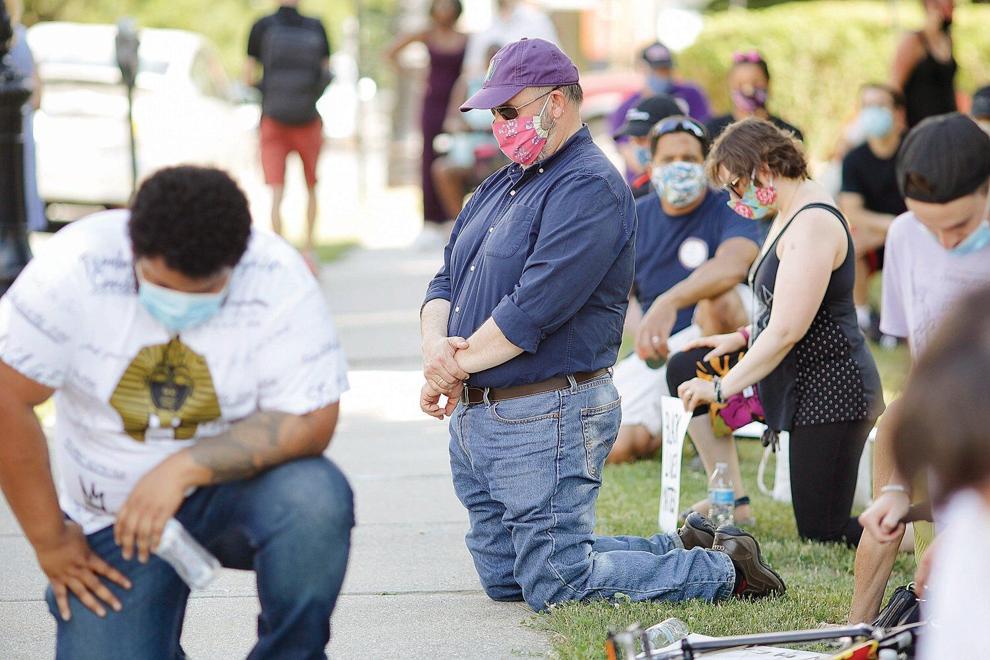 Bernard also took several minutes to praise local Black Lives Matter protesters for their work in response to a national reckoning over racism and white supremacy. He gave thanks as well to the City Council's Inclusion Diversity, Equity and Access working group, and other local organizers.
"I thank everyone who protested, marched and organized for justice ... to confront disproportionality, the legacy of inequity, economic oppression and the divisions that exist among us," he said.
Bernard acknowledged that 2021 would be challenging and asked community members to balance their excitement to return to normal life with empathy for people who will still need to grieve the past year.
"We have a good story to tell in and about North Adams," he said. "Part of that story involves the spirit and the care we share with one another. The pandemic has demonstrated that people are searching for the quality of life and the opportunities North Adams and the Berkshires have to offer. I'm convinced that demand will only grow, as will our shared need to be responsible stewards of continuity, change and inclusion."