As you rush around with a long to-do list and short patience, as some guy cuts you off in traffic, as you endure an endless loop of piped-in holiday music, or as you turn up your collar and shrink into the cold, you might wonder.
Where is it? Where's the holiday spirit? Where's that taproot to the unmistakable feeling that rouses many of us this time of year, the feeling that supports your hopeful suspicions that you are part of something bigger, that maybe the world runs on kindness, charity and self-sacrifice after all?
Where is it?
Everywhere. Take a look around. For instance:
"Every time I look out the window and I see someone slowing down, almost stopping in the road, I'm just like, 'This is great,'" says Matt Pevzner, whose holiday light display at 93 Brush Hill Road in Great Barrington includes more than 30,000 lightbulbs sculptured into stars, trees, snowmen, reindeer and magical archways.
Moreover, in the weekends leading up to Christmas, he set up camp at the foot of his driveway while dressed in a Santa suit, with piped-in music and candy canes. "Just making people happy and seeing the looks on kids' faces — everyone loves it."
Blaise Twing will tell you where the spirit is. He'll shake your hand and your hand will stick to his because of the tree sap on his palms from weeks of loading Christmas trees onto car roofs at Taft Farms in Great Barrington.
"The greatest thing is seeing the parents who came here as kids and bought their trees here, and now here they are bringing their own kids," he said. "I love the tradition. I do love it."
The spirit envelops educators who instill compassion, the devotees of the disenfranchised, people such as Liisa Kelly, senior program director at Berkshire Meadows School in Housatonic, which provides 24/7 care for about 60 people with severe cognitive and physical disabilities. Santa has come to visit. The place is decked out in holiday cheer. The staff understands the power of a smile.
"We do this work because we truly care for the people who are here, and they need a team of people to take care of them," Kelly said. "I had a family member with disabilities, and that's what drew me to this work."
The spirit is found in the actions of Jim Morrison, of Stockbridge, a man with a rock star name and angelic ambitions. He once again organized and directed the Christmas Angels Chorus this year for two performances, Dec. 17 and Dec. 18, in Lee, that included about 30 vocalists, a five-piece band and the Lee Bell Choir, directed by Judy Olds. The concerts were free. Any donations — and there were plenty, about $2,000 worth — went to local families in need.
"Why do I do this?" said Morrison, a school bus driver best known for his work as director and chairman of Earth Angels, the local, all-volunteer, song-and-dance group he and his wife, Gail, founded to raise money for area nonprofits. "I do it because I can. I do it because we can make people happy."
The spirit is found in religious leaders whose words of love, peace and hope spur others to take great pains to relieve others of their great pains.
"Our world, with its hurts and hatred, is not the way God would have us live," said the Rev. Dr. Jay Terbush, during a "Blue Christmas" service Tuesday evening at First Congregational Church of Lee that was geared to offer comfort and solace for those suffering from loss and sadness. "God's kingdom promises something so startlingly new that it takes our breath away. Those who weep now will not weep later. There will be no need for tears."
The spirit is unmistakable in the work done by those who care for the sick. It can be found in people like Susan Grygier, of Lenox, a registered nurse with HospiceCare in The Berkshires. Her role as caregiver, she says, allows family members to concentrate simply on loving those who are close to death.
"It's an old cliche, but it's true that humor is preventive medicine," Grygier said. "We try to pass along cheer. It's important."
The spirit can be found through the ho-ho-ho-ing of Scott Connors and other volunteers who, each year, play that red-suited, jolly ally for Pittsfield's North Pole Calling Program, which, this year, reached about 180 children by telephone. At 62 years old, Connors says, each year he has to familiarize himself with the latest toys. Santa can't be caught flat-footed. Thankfully, with each child's name comes a cheat sheet, provided by the parent.
"It's great to just hear the excitement in the kids' voices," said Connors, who works for the city's information technology department. "I can ask them about how their dog or cat is doing, and they'll say, 'Wow, Santa knows everything!' It's just fun."
The spirit can be found in the young man waiting outside First Baptist Church of Pittsfield on a cold morning this week for a free bag of groceries, swallowing his pride amid tough times.
"We just really appreciate their kindness, you know, especially this time of the year," said the man who identified himself as Parkpoom. "I recently just got released from prison, and they've been a great help. They treat us equally. They don't judge."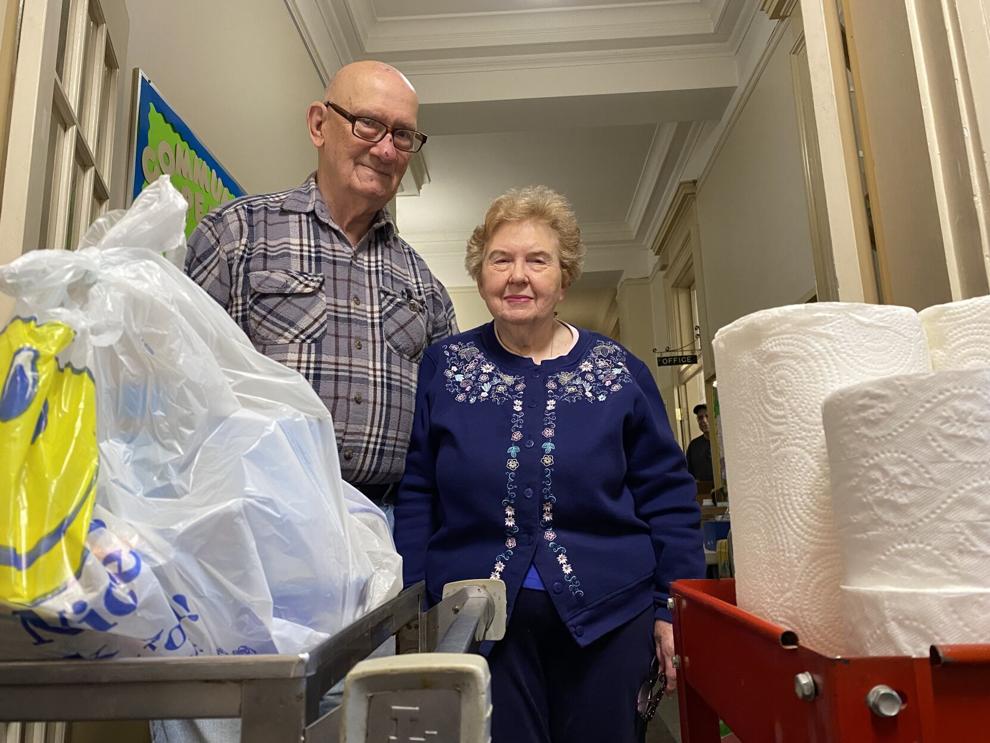 The spirit can be found in the friends to the poor, those not afraid to say "I love you," including those inside that church on South Street that served Parkpoom.
"I always say, 'If I'm supposed to do this, I'll get the money to do this,'" said Nancy Ostresh, a retiree from Dalton who, for 13 years, has led First Baptist Church's weekly food pickup on Tuesdays. About 35 to 40 people use the service each week. "This whole thing fell into my lap, and I picked it up and ran with it because that's what [God] would want me to do."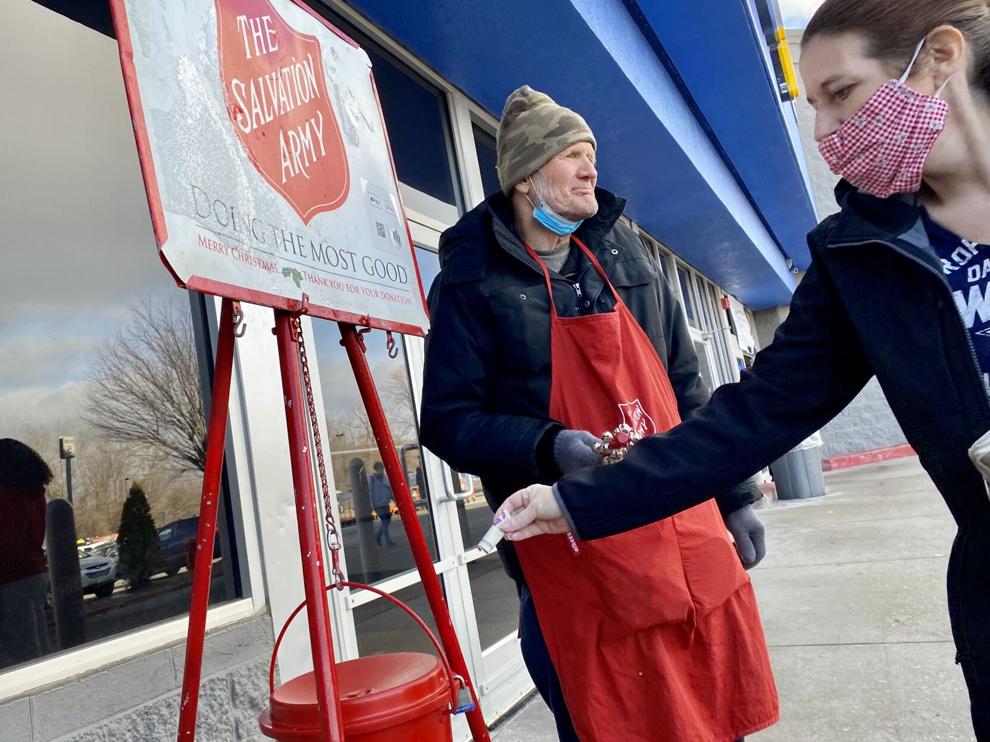 The spirit can be found by following the sound of sleigh bells outside Walmart in Pittsfield. The man ringing those bells, David Webber, is a seven-year veteran ringer on behalf of The Salvation Army's Red Kettle Campaign.
"The Salvation Army helped my father several times years ago, and so here I am," said Webber, who, decades ago, had found himself living in a cardboard box upon returning to Pittsfield from service in the Army. Whenever he has been in need, he said, the community has come to help. "There are so many kind people, it puts tears in your eyes."
The spirit can be found in firefighters and ambulance corps members who leave the warm sanctity of bed on a frigid night to respond to a car accident, or fire, or an alarm that won't shut off that's driving a homeowner nuts.
"Nobody's looking for the pat on the back," said Williamstown Fire Chief Craig Pedercini. "We just go out and do it because we enjoy doing it. We get that satisfaction of helping people."
The spirit is unmistakable this year in the village of Housatonic, where they have lit up the place with holiday lights — because that's what Deb would have loved. Deb who? The beloved artist Deb Koffman, who died in February at 64.
"When driving through Housatonic at night last February, everything felt so dark and forlorn," said Pat Hollenbeck, the chair of the trustees for the Great Barrington libraries and a member of the Great Barrington Commission on Disability. "On top of the pandemic, we lost one of our superheroes who succumbed to an unrelated illness: Deb Koffman, who provided her own unique brand of sunlight to Housatonic.
"In those fleeting moments," he continued, "it dawned on me: Housatonic should never feel this desolate and dark again, and hence the idea to light it up now in honor of Deb."
Joined by Eric Gabriel "and his merry band of electrocutionistas from Gabriel Electric," as well as kids in the neighborhood, Hollenbeck pulled off what he calls a "covert operation." The village, including the playground, trees, buildings and the second floor to Koffman's former studio, lit up beginning on the evening of Dec. 17.
Each evening, the village will stay lit "until the first sign of spring," Hollenbeck said.