LEE — They came from all corners of Berkshire County and Massachusetts to honor retired Lee Police Chief Jeff Roosa.
From Sheffield to North Adams and as far east as Abington and New Bedford, dozens of municipal police officers, state troopers and sheriff's deputies joined firefighters, emergency medical personnel and Lee business leaders in a 61-vehicle, COVID-style parade in front of Roosa's home late Friday afternoon. The well-respected lawman, husband, father and community leader watched the procession from his driveway while under a canopy tent, family and friends by his side.
The terminally ill, wheelchair-bound 47-year-old lifetime Lee resident is battling amyotrophic lateral sclerosis — or, ALS, better known as Lou Gehrig's disease.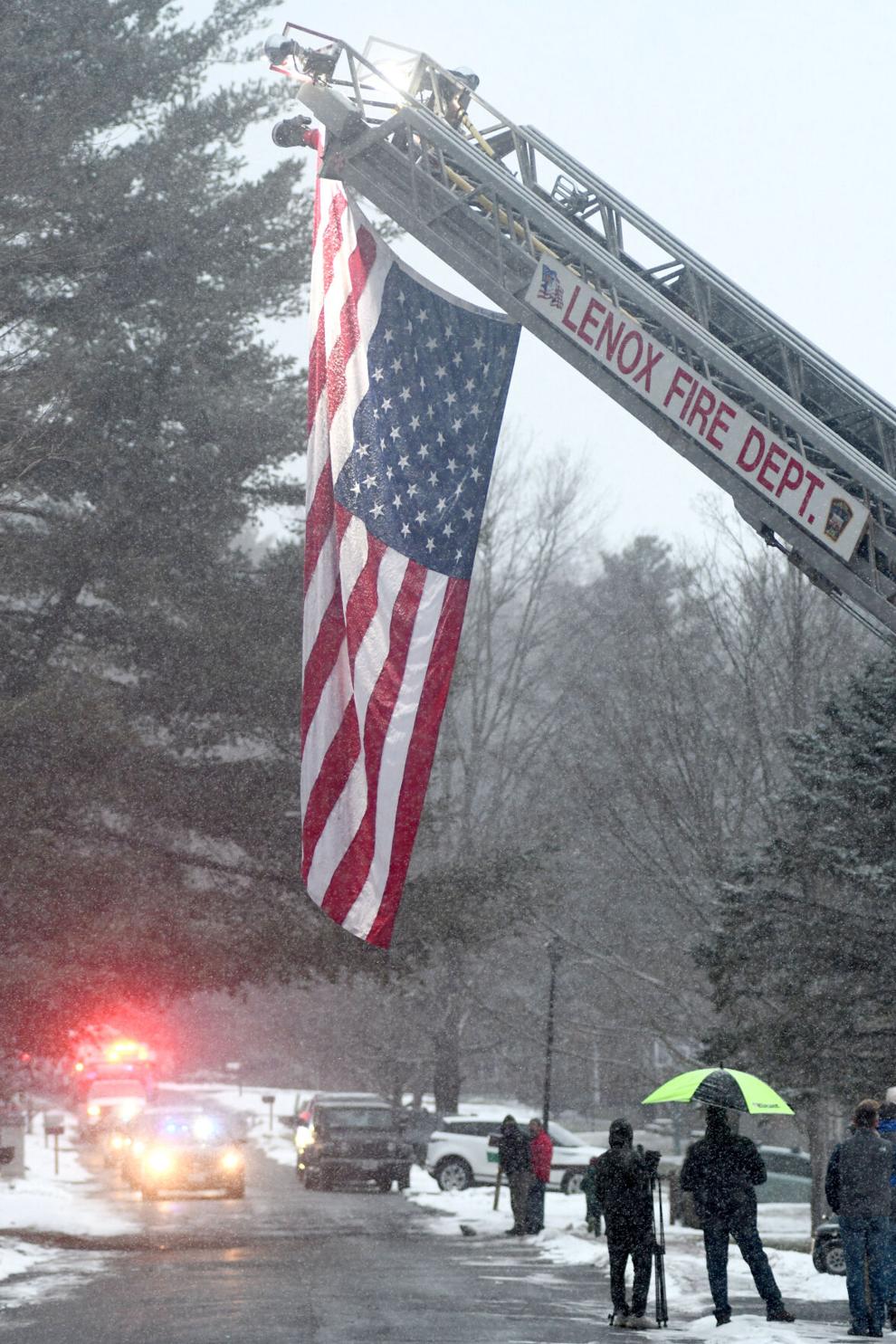 Many driving the police cruisers, firetrucks and private vehicles shouted words of encouragement and thanked Roosa for his service to the town as they drove by, under a 50-foot American flag hoisted by the Lenox Fire Department's ladder truck.
Roosa nodded when asked if he was surprised by the tribute.
Roosa isn't big on being feted or the center of attention, but the tribute — it was a well-kept secret from the retired chief — was well-deserved, says Sgt. Craig DeSantis, a childhood friend and acting Lee Police chief.
"The parade is to acknowledge his incredible career — he's been amazing," said DeSantis, a possible successor to Roosa. But, the Lee Select Board has yet to publicly discuss its plans for finding a new chief.
Roosa stepped down as chief weeks ago and officially retired from the local police force Jan. 15. He served 24 years as a police officer in Sheffield and Lee, the last seven leading the Lee Police Department.
Sheffield Fire Chief Dave Ullrich says Roosa made a lasting impression on the Fire Department when he was a police officer in town two decades ago.
"Jeff always made time to stop by the fire station to see if we needed anything. He always went above and beyond," Ullrich said, just before a Sheffield fire engine lined up for the parade at Lee Middle and High School.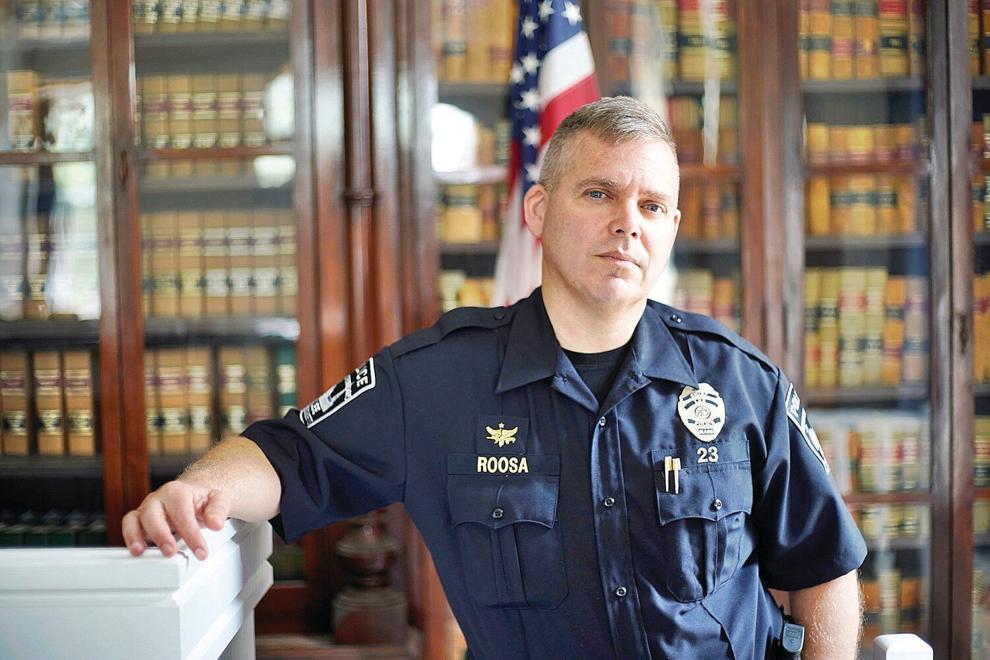 Roosa's wife, Jennifer, wasn't surprised that police from all over the state, as well as Lee residents, rallied to support her husband.
"Law enforcement are like family to us," she said. "The town of Lee is unbelievable; people coming out of the woodwork to support our family. I'm speechless."
Roosa began his law enforcement career as an officer with the Sheffield Police Department in 1996. He joined the Lee Police Department in September 2001, was named sergeant in February 2012 and was elevated to chief a year later.
Roosa, a father of three, replaced ousted Police Chief Joseph Buffis in December 2013. Four months earlier, the Select Board fired Buffis for improperly billing the town $5,000 to pay for his personal cellphone. At the time, he faced a separate federal indictment for extortion and money laundering. In 2015, a federal jury convicted him of those charges, and he was given a two-year prison term.
As chief, Roosa brought stability to the department and a philosophy of letting his officers do their job.
"It's not about being the boss, because everyone here knows what to do," he said in an Eagle interview a day after being appointed chief.
DeSantis, who grew up next door to Roosa, the two attending together the Massachusetts State Police Academy, said his friend never was one for titles.
"Jeff never hid behind being the chief. For him, being chief was leading by example. He showed people how to do things," DeSantis said.
As a youngster, Roosa aspired to be a police officer after his family was struck by a drunken driver during an outing in Lenox nearly 40 years ago. He remembers the state trooper helping him and his family deal with the emotional trauma of a serious car crash involving someone under the influence.
"That incident has stayed with me to this day," Roosa said in that interview.
Roosa has been equally devoted to his family and community during his career.
The former top cop coached local youth sports, found time to eat with the family during his dinner break on the night shift, helped plan the annual Lee Founders Weekend and co-organized two years ago a fundraiser at Tanglewood for ALS research that raised $60,000.
Selectwoman Patricia Carlino couldn't be more proud of Roosa.
"I saw Jeff grow from a kid to become an integral part of the community," she said. "He has lived up to his potential and been one of the best chief's [Lee] ever had."