WEST STOCKBRIDGE — More than two decades ago, the town barred vehicles from a bridge off Main Street that spans the Williams River, converting it to a footbridge.
The bridge leads to Harris Street, which ends at Truc Orient Express restaurant, leaving the only access to the restaurant a private road that unofficially is known as Merritt Way.
Now, that unofficial passage off Center Street, long maintained by the town, is at the heart of a dispute between the owners of Truc and their neighbor, The Foundry, a performing and visual arts venue. The Foundry adjoins the road and is part of the same property owned for two years by Amy Brentano, the Foundry's artistic producing director.
For more than 20 years, Truc patrons have used this road to reach the restaurant, since Truc is "essentially landlocked" by private property, said Truc Nguyen, whose family has owned the Vietnamese restaurant for 42 years.
Enter a shaky post-COVID reopening season. Though it technically will be legal Saturday, when COVID restrictions are lifted, Brentano is choosing to hold weekend performances outside, on that road, until patrons grow more comfortable with a return to the indoor venue, she said.
"It's all very tenuous right now," she added.
But, Brentano's plans to close the road from 5 to 9 p.m. will cut into access to Truc on Friday and Saturday evenings, since Brentano fears the mix of moving cars and Foundry audiences.
This scrambles Truc's plans during its busy hours, as it is about to begin a takeout service while preparing for a full reopening, Nguyen said.
The dispute has shifted attention to Town Hall, where officials already had begun eying an easement that would extend Harris Street to Moscow Road, thus opening up another entry to Truc. This involves closing the $10,000 deal with National Grid, which owns the right of way, and putting out bids for the work.
Also, the town will study whether it should reconstruct the footbridge to allow cars again.
Until then, solutions are sought, and not without pain — and possibly the courts. At a Select Board meeting held Tuesday via Zoom, board member Kathleen Keresey said that the town's attorney told the board it cannot step into this tangle.
Brentano later said that she was accused at the meeting of being "self-serving."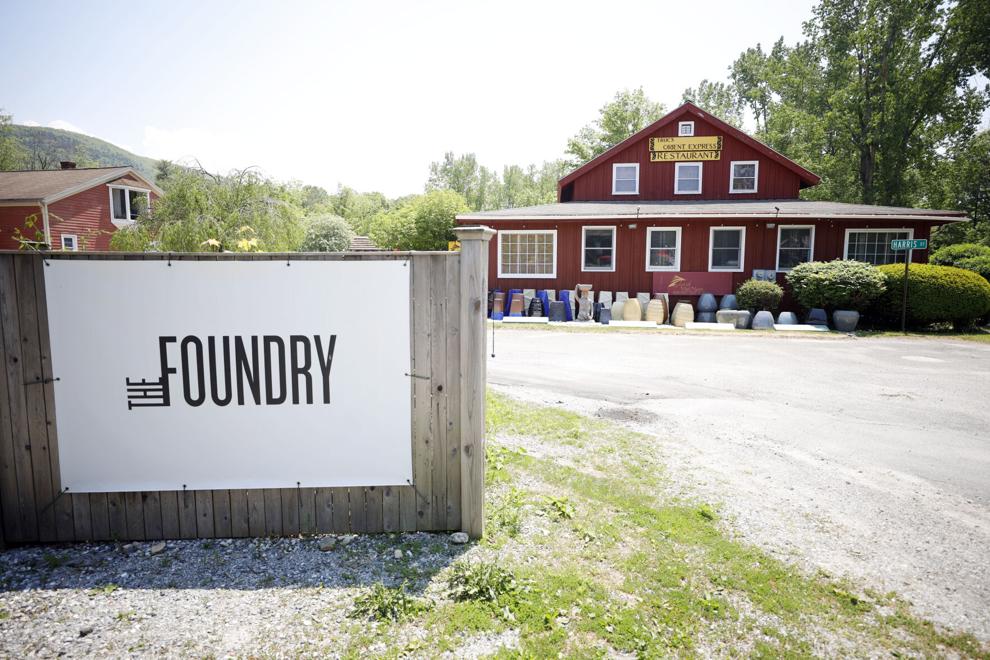 The longtime theater educator in the Berkshires said she feels unfairly maligned by some, even though she allows use of her property for the farmers market and has collaborated extensively with the community.
"Why the meeting veered, and I was accused of some very unpleasant things, I'm not really sure," she said.
The Select Board also took heat.
Town resident Andy Potter said that when Brentano went to the board in March to discuss her plans, the state still was under COVID emergency orders, and most of those are about to expire. He urged the board to force Brentano to cease and desist.
"This Select Board should not be picking winners and losers in this town," he said, noting that Nguyen had been vocal about reopening as soon as she could.
Nguyen told the board that she hadn't learned about the evening road shutdown until May 12, and suggested that the board was favoring The Foundry by default. She said no previous owners of the road ever had tried to cut off access, and that the board never contacted her about this.
"What about me?" said Nguyen, who moved back to town from New York City two years ago to help her mother run the restaurant after her father died. "I live here; does my life not matter?"
At the meeting, Brentano said she had notified abutters of her plans to close the road. She later said she didn't need permission to close it, but brought her plans to the board as a courtesy, and that she offered to pay her staff to run food from Truc to patrons, but that Nguyen has not accepted.
The board also offered to save four spaces on Main Street for Truc.
Nguyen said she is "exploring all options" to solve the problem, and declined to comment on specifics.