PITTSFIELD — Lusia Ambrosio needed to renew her passport to travel home to Mexico. But doing that while living in the Berkshires is no easy task.
Passport renewals are done at the Mexican consulate in Boston, 120 miles away.
"We need help to get there," said Denise Cortes, of Pittsfield, Ambrosio's 19-year old granddaughter.
On Saturday, Ambrosio received the services she needed without leaving Pittsfield. The consulate came to her.
A group of officials from the Mexican consulate were in Pittsfield on Saturday for their annual visit to the Berkshires to assist people in this area with documentation issues. The group spent five hours at St. Mark's Church on West Street, helping the new and recently arrived obtain documents and assist them with governmental procedures and regulations.
The event was called "Consulado Movil," which means mobile consulate in English.
"We try and help people who can't travel to Boston because it's difficult to get there, especially during the week," said Carlos Navarro, an administrative official with the consulate.
According to Navarro, 63 people had made appointments to attend Saturday's session, but he expected many more to show up unannounced. Most of the issues officials dealt with Saturday involved passport renewals visas and obtaining credentials that will allow people to vote, Navarro said.
"Sometimes we have questions from people about immigration issues," he said. "We try and give them assistance. Not today, but sometimes, we give financial advice."
A representative from Volunteers in Medicine Berkshires in Great Barrington was present to help people with health-related issues, including information on COVID-19 vaccinations.
Most people were interested in receiving information on medical, dental and accident insurance, said Marcela Urrea, a community health worker for Volunteers in Medicine.
"The goal is to bring all the information here," she said.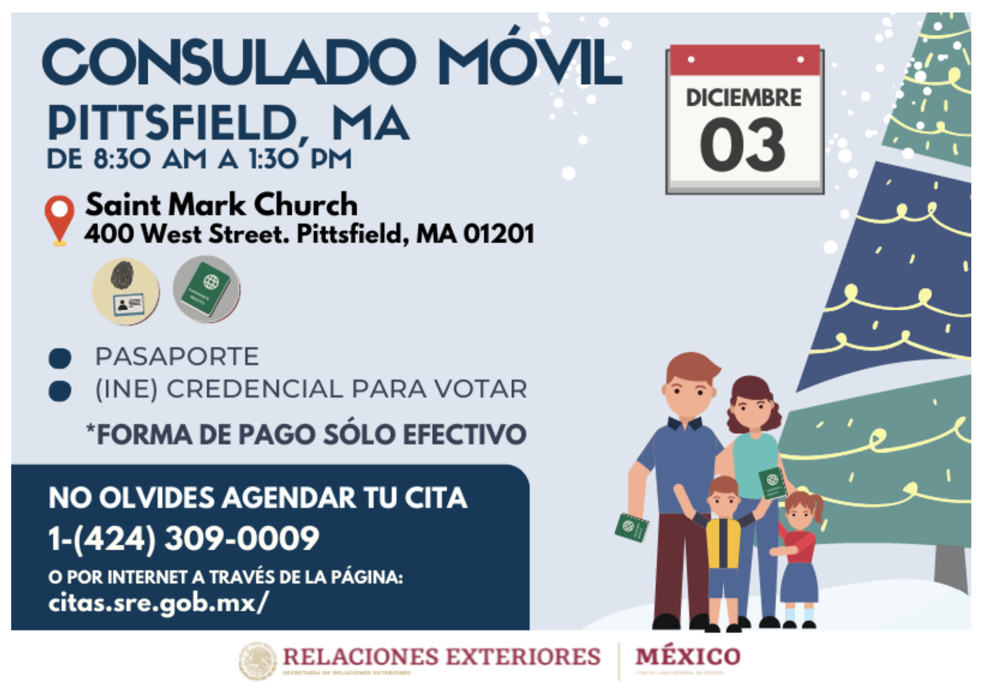 The annual trip across the Mass Pike by consulate officials is appreciated by those who live here, Cortes said. Born and raised in Pittsfield, Cortes attended the session to assist her grandmother, who cannot read.
"It helps the community a lot," Cortes said. "Not many organizations do this."
Oscar Santiago, 22, has lived in Pittsfield for two years. Like Ambrosio, Santiago attended Saturday's event to renew his passport. He's interested in taking a trip back home.
The Mexican consulate in Boston serves all six New England states. Navarro said officials make similar visits all over the region.
Genesis Gomez, a spokeswoman for the consulate, said the consulate has 13 mobile vehicles, "consulates on wheels," used to visit areas in New England.
"We come once a year," to Pittsfield, Gomez said. "We're coming back next year."