NORTH ADAMS — They came from across the county to be vaccinated.
A slow trickle of police, firefighters and emergency services personnel from Adams, Pittsfield, Lee and other parts of the Berkshires made their way through the St. Elizabeth of Hungary Parish Center in North Adams on Monday afternoon for what was the first major vaccination clinic to take place outside of hospitals and nursing homes in Berkshire County.
"Initially I had my reservations, but I did my homework," said Michael Ziemba, acting chief of the Williamstown Police Department. "The pros outweigh the cons. It protects us. It protects our families. It protects the public."
Ziemba was one of the earliest first responders to receive the vaccine in the county. He said most of the officers in his department also have signed up for the shot, and the number of people who do not want to be vaccinated seems to have gone down over time.
"Once the word came out, I think people started to look into it, ask questions," he said. "The only way to get ahead of [the virus] is to be cautious and, you know, get the vaccine if you feel you can do that."
About 800 first responders had signed up for vaccinations as of Monday, according to Laura Kittross, director of the Berkshire County Boards of Health Association. That number represents somewhere between 66 and 80 percent of all first responders in the area, according to the association's estimates, and the list continues to grow.
"It's a moving target as some 'no's' become 'yeses,' " Kittross said.
School nurses who have been performing rapid testing in several county districts were also recently added to the list of employees eligible for vaccinations this week, according to Leslie Drager, a county public health nurse helping to organize the rollout. Local college police officers are also eligible.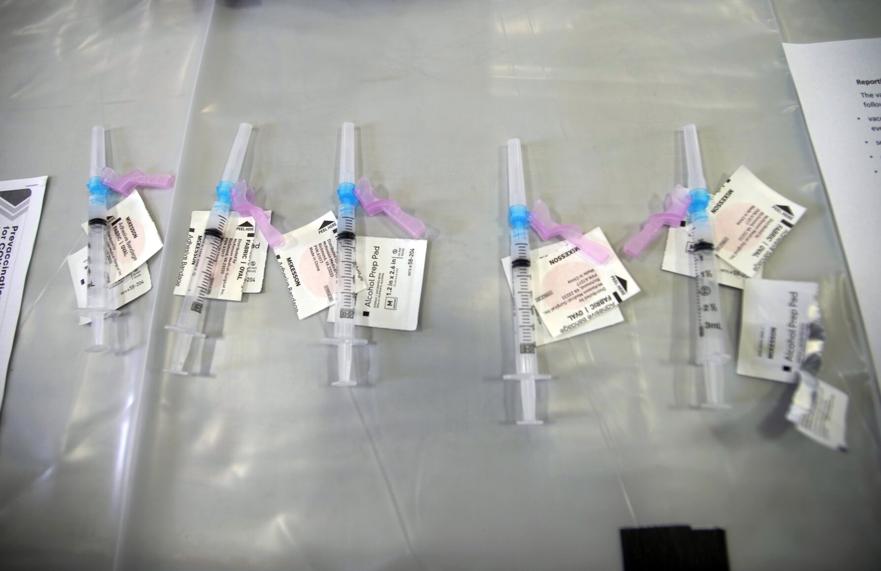 The vaccinations will continue through Saturday, with sites in North Adams, Pittsfield and Great Barrington, each open for two to three days. As of Monday afternoon, the county had not yet received enough doses for all willing first responders, but said the remaining doses were expected to arrive within days, in a process similar to the staggered delivery of the flu vaccine.
Any first responder who is not vaccinated this week can also sign up for a makeup day on Jan. 19. Emergency workers who choose not to receive the vaccine will remain eligible throughout the rest of the rollout, but the state has urged first responders to get the vaccine this week.
Neither the state nor the federal government provided funding for clinic administration, according to the Massachusetts Department of Public Health, leaving financing and many logistical details up to municipalities and local boards of health.
After a practice run on Thursday evening, the North Adams clinic functioned smoothly on Monday. Northern Berkshire EMT staff administered the Moderna vaccine doses at several stations spaced across the parish center, and first responders waited in scattered chairs for 20 minutes after their shots, so that medical personnel could monitor them for any possible allergic reactions.
There were no notable reactions as of 4:30 p.m., halfway through the clinic, according to coordinator Amalio Jusino.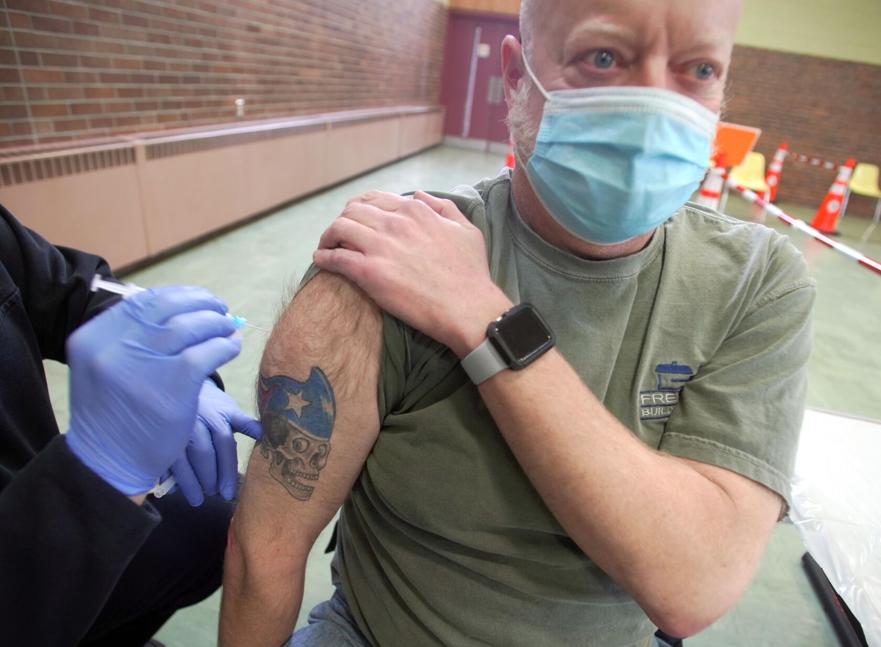 First responders who received their shots on Monday told The Eagle that the vaccinations would change almost nothing in their departments' day-to-day operations.
"I'm still going to be very cautious with all this," said Jason Leja, a firefighter in Adams. "You could still potentially expose other people."
Health experts have warned that people who are vaccinated should continue to wear masks and wash their hands, as it is not yet clear whether the vaccine prevents the spread of the virus.
Like other first responders, Leja said he was apprehensive to receive the vaccine, especially given the short time frame in which it had been developed. But conversations with health care workers helped sway him.
"I have personal relationships with people in the medical industry, so I talked to them, and they were all getting it," he said. "And I'm guessing they're better informed than I am about this sort of thing."