PITTSFIELD — Nicole Jones missed work Tuesday to get a Johnson & Johnson COVID-19 shot at a Walgreens in North Adams. When she was five minutes away, a voicemail message landed: Her appointment was canceled because of an indefinite pause in administering J&J vaccines amid a federal safety review, and the drugstore wasn't booking future slots. Jones, an office administrator who lives in Pittsfield, has multiple health problems and has, for months, tried to find an appointment for the one-jab vaccine that didn't require her to miss a second day of work.
Now, Jones, 35, says she has got other problems.
"I'm struggling to prove to [my boss] that my missed time qualified for sick time due to an appointment since I can't provide the vaccine card they'd asked for," she wrote in an email. The state ordered the pause in administering the company's vaccines Tuesday on the recommendation of the Centers for Disease Control and Prevention and the federal Food and Drug Administration. The agencies are reviewing their safety after six women in the U.S. who had received the J&J shots developed a rare and serious type of blood clot in the days after vaccination.
For many in the Berkshires, the canceled appointments caused a range of emotions, from frustration to mere annoyance, as county health officials say the suspension won't thwart inoculation efforts overall.
"It should not affect us too severely, although we are disappointed to lose any tool in our toolbox," said Laura Kitross, director of the Berkshire County Boards of Health Association and a leader of getvaccinatedberkshires.org. She noted that the Berkshire Vaccine Collaborative, which is giving the bulk of shots at multiple sites, mostly is using the Moderna and Pfizer vaccines, for which there are about 1,400 doses.
She said the group's stockpile of J&J, which requires only a single dose, is at a couple of hundred.
The pause is disappointing, nevertheless, given the vaccine's potential to speed up the end of the coronavirus pandemic.
"There was always that hope that we had more Johnson & Johnson, because it's one and done and logistically easier," she added. One of the six women who suffered the blood clot died, and another is hospitalized in critical condition. Researchers say they don't know whether it was the vaccine, or something else, that caused the blood clots. And it isn't the first concern that the vaccines might set off an immune system response that leads to blood clots. In Europe, researchers are studying AstraZeneca's vaccine after some reports of blood clots.
The CDC and FDA said they recommended the pause out of "an abundance of caution," and physicians from both agencies said in a joint remark that symptoms of blood clots to look out for within three weeks of vaccination are "severe headache, abdominal pain, leg pain, or shortness of breath."
The state contacted Berkshire County officials early Tuesday morning about pausing use of the vaccines until they are cleared for use. Health officials advise anyone who recently had a J&J shot to bring any concerns to their doctor.
As of Monday, more than 6.8 million doses were administered across the U.S.; 181,034 of those were given to Massachusetts residents. Given these high overall numbers, and so few side effects, health officials say it's proof that vaccine safety isn't taken lightly.
"It shows that the safety monitoring systems are working beautifully," Kitross said. "When you are talking about one in a million rare side effects, it takes awhile for [you] to vaccinate enough people where a potential pattern shows up."
Critics of the pause pointed to the low rate of risk presented by the J&J shot. One said birth control pills are more of a threat.
"The risk of blood clots from birth control pills is 1 in 1,000 and is considered a low-risk side effect. The risk from the J&J vaccine is 1 in 1,000,000," tweeted Rebecca Wind, who works for a sexual and reproductive health think tank.
(tncms-inline)1381945792970260480[0](/tncms-inline)
'Easy'
Rebecca Jurczyk, Great Barrington's Health Agent, said the J&J shots were prioritized for the homebound, nursing home residents and people who struggled to get a second dose of the other vaccines.
"That one dose made it easy," she said.
At the Berkshire County Jail and House of Correction, 49 J&J doses remain after 51 were given to detainees before Tuesday's pause, and with no adverse effects, said Berkshire County Sheriff Thomas Bowler. The jail still has about 150 doses of Moderna vaccine left, he added, and clinics Wednesday and Thursday should have everyone covered.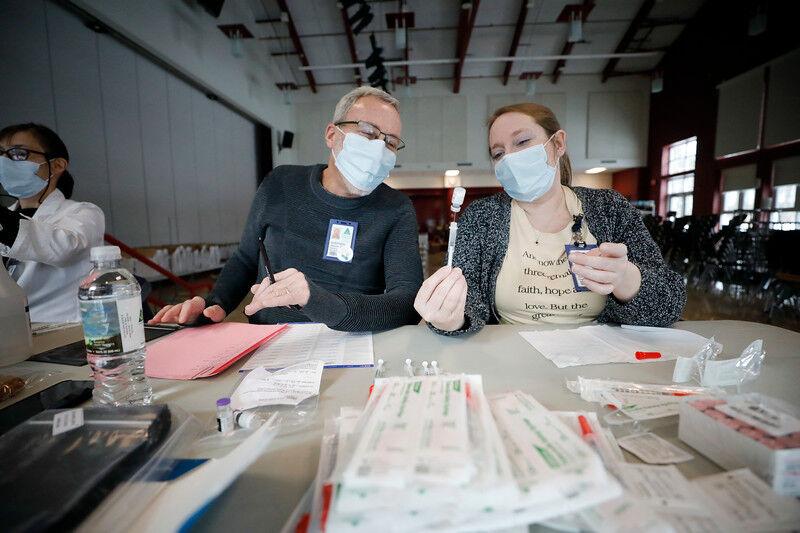 Heather Barbieri, the vaccine collaborative's South County liaison, said she hasn't heard of any problems so far in those who have had the J&J shot; about 200 received it Saturday at W.E.B. Du Bois Regional Middle School in Great Barrington. The other vaccines haven't proved troublesome, either, she said. She has had reports of allergic reactions "that can happen with any medication," and expected effects, like chills, muscle aches, headaches and fever.
"Nothing crazy," she said. "Some people get nothing; some people are sick for days."
Several county residents told The Eagle that they had experienced no side effects or a range of reactions from the J&J vaccine, including trouble breathing. Another said her daughter, 28, eventually passed out from illness and had to be hospitalized, while she and her boyfriend took the vaccine and had no side effects. Barbieri said the collaborative had to cancel a Great Barrington clinic this Thursday at which 40 J&J doses were to be administered; Barbieri said 550 doses of Pfizer will be given Saturday, and about 400 to 500 doses of Moderna vaccines will be divided among clinics around the county. Residents were able to sign up on the collaborative's website Tuesday evening for clinics Saturday in Great Barrington and Pittsfield and April 20 in North Adams.
Walgreens referred questions to its news release Tuesday. In it, the company said it is "rescheduling vaccinations from other manufacturers, as supply allows."
As of April 6, Berkshire County had received a total of 85,660 doses of all types of vaccines, according state data; 40 percent of Berkshire residents have been given at least one dose, and 26 percent of county residents are fully vaccinated.
Statewide, 4,111,327 total vaccine doses have been administered, and 1,571,073 residents fully are vaccinated.
The population of Massachusetts is 6.92 million, as of 2019 U.S. census.