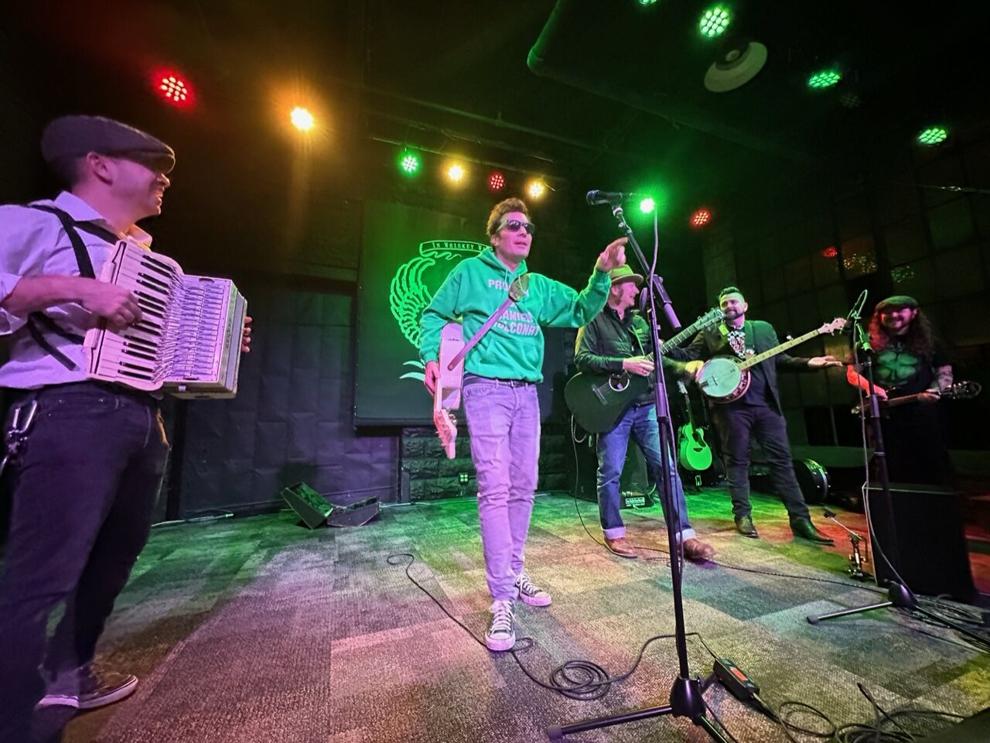 Most nights, viewers across the country can see Jimmy Fallon on the soundstage at 30 Rockefeller Plaza in New York City.
On St. Patrick's Day, however, in a spur-of-the-moment acoustic jam, the host of NBC's "The Tonight Show with Jimmy Fallon," could be found on the stage at Iron Smoke Distillery in Fairport, N.Y., strumming a borrowed guitar and singing some borrowed tunes.
Fallon was flanked on all sides by musicians that had played there earlier that night for a sellout crowd, members of the Irish rock band 1916. One of those rockers was Jon Kane, a Pittsfield resident, playing the mandolin.
"It was nuts," Kane said. "We knew that he was coming, kind of? We got a call earlier in the day that he was going to be there and that we were going to do this private thing afterward where we brought our instruments and everything, but a lot of time that kind of stuff falls through with celebrities."
It didn't on Friday.
By the time Fallon made his presence known, most of the packed house had emptied. There were about 30 people left in the venue when the late night host first began singing with Kane and accordionist Sam Sarratori near the bar in an impromptu chorus.
One thing led to another, and eventually Fallon was borrowing singer Bill Herring's guitar (Herring picked up a banjo for his own string accompaniment) and a custom guitar pick from Kane, which read "Hail Santa" on one side and featured a depiction of Santa Claus with devil horns on the other.
Kane said Fallon kept the guitar pick, and laughed that he'll probably be confused how he ended up with it soon enough.
On stage, Kane played his mandolin and Sarratori played his accordion while Fallon strummed the guitar and sang. Tommy Brunett, the distillery's owner and a touring guitarist with the band Modern English, also played the guitar. They launched into an improvised set including U2's "Desire," Johnny Cash's "Folsom Prison Blues," and fittingly, Modern English's "I Melt With You."
The set, and the celebration that ensued, was only for a select few. The band's bassist and drummer had actually already left, making the set an unplugged one by default. They were still able to bring the house down.
Throughout the evening, the late night host was just fun to be around, Kane said.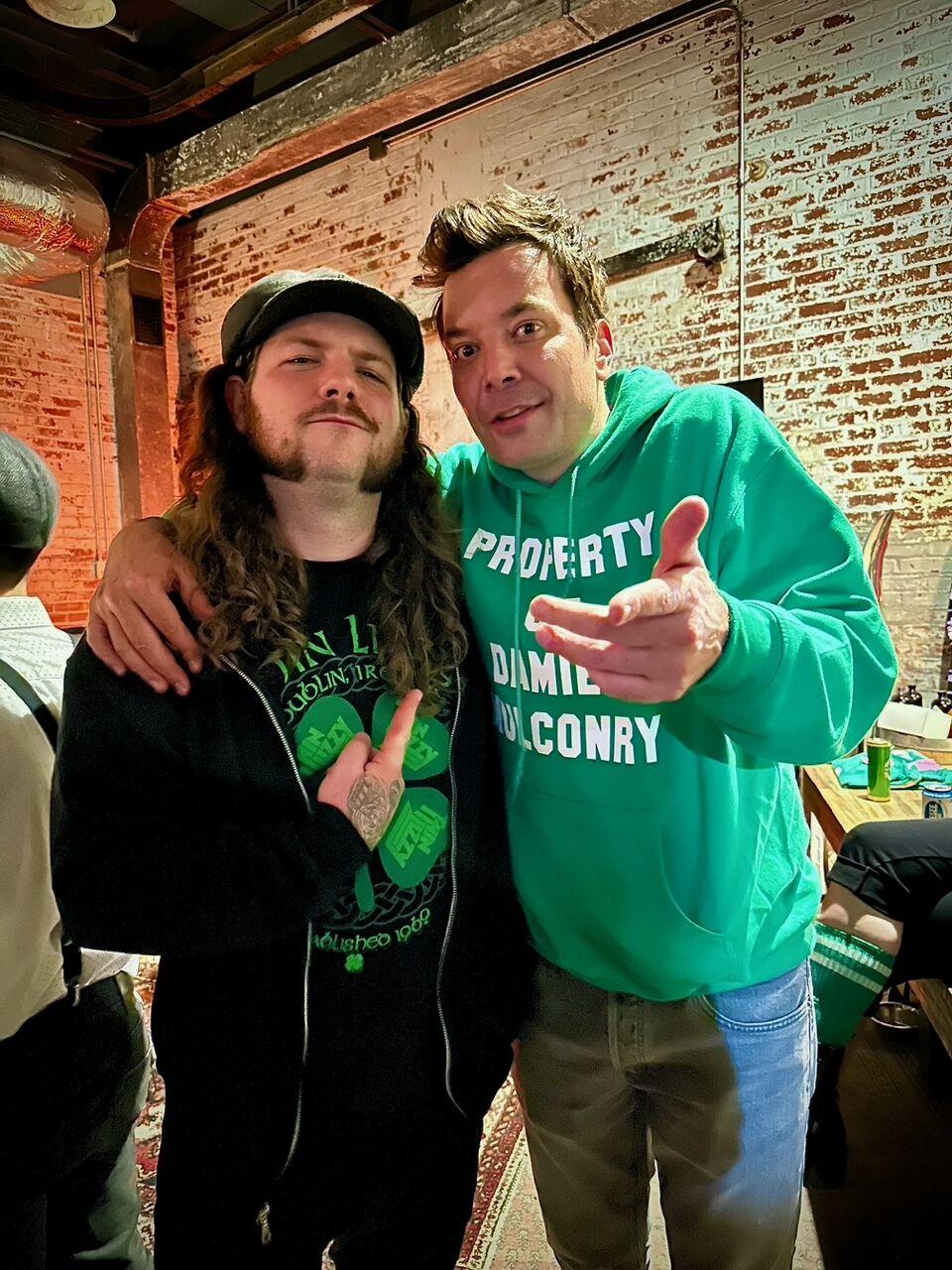 "He was super nice," Kane said. "He was exactly like you'd imagine him on TV."
Brittiny Warner, Kane's girlfriend and a social media specialist for the band, said that it was very intimate — a chance to meet Fallon on the level and just hang out.
"He gave everybody such personal and direct attention when he spoke to them," Warner said. "It was so nice."
When the set was over, Fallon hugged each member of the band and most of the people that were left in the distillery. He also exchanged some kind words with Kane about his mandolin play.
"He's like 'it's perfect,'" Kane recalled Fallon's words. "'It's like, you just go up, you own the thing and you make it great.'"
In spite of being an Irish rock group, the Rochester-based band is an eccentric five-piece, with Herring on vocals, Ryan Hurley on bass, Tony Presutti on percussion and Sarratori on the accordion. Toss in Pittsfield's Kane, a guitarist playing out of position on a mandolin, and that's the lineup.
With each member of the band comes a different musical proclivity, making them hard to pin down.
"It's like if Johnny Cash wrote Irish rock and roll," Kane said. "Our singer is very much into Johnny Cash and Elvis and all that. But then our bassist, he's more into rockabilly stuff since he plays the upright. And our accordion player loves punk music."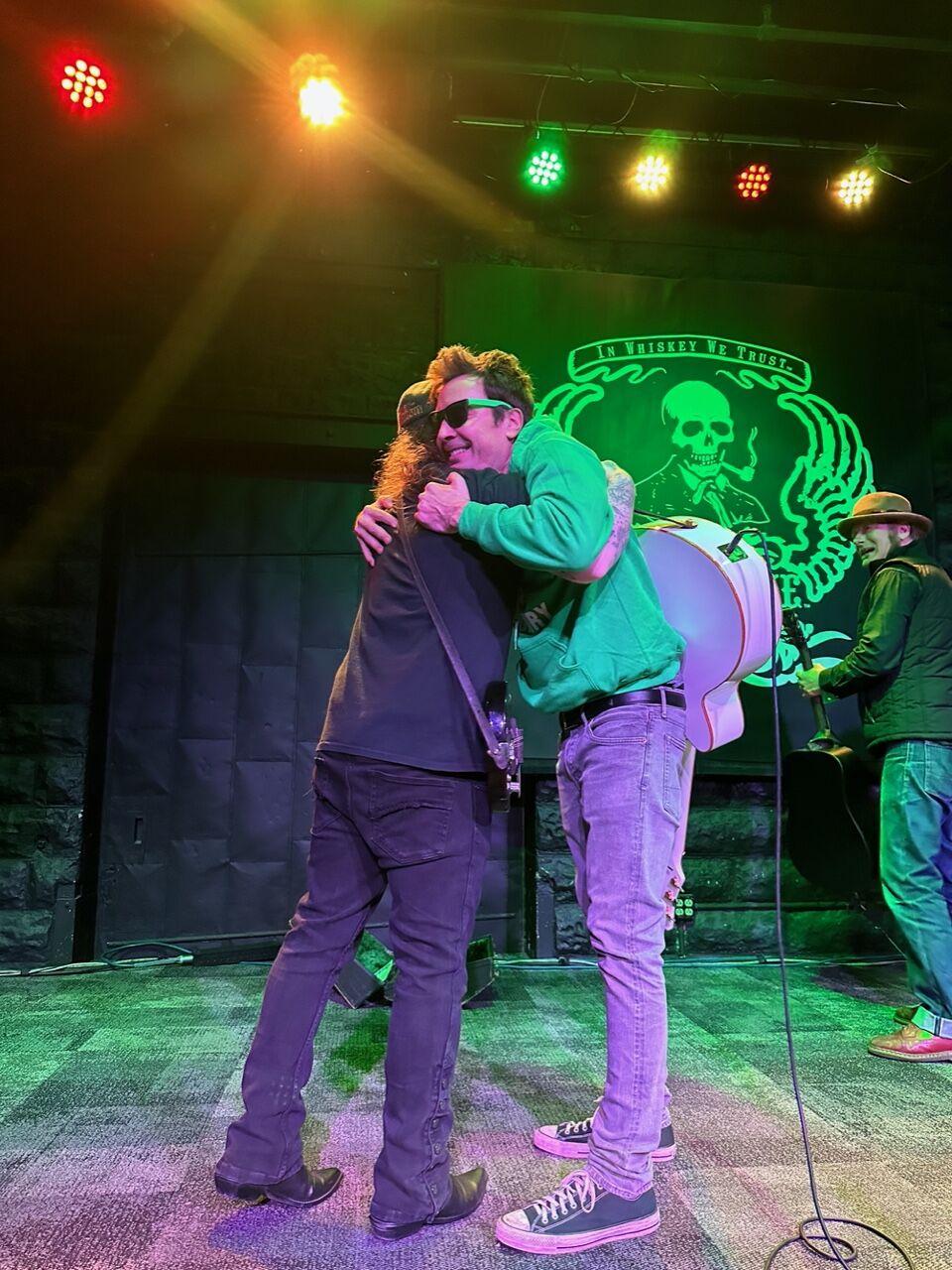 Kane was raised on '80s rock, traditional Irish music and punk. He describes his energy on stage as a mix of KISS and The Clash. Regardless of the band's influences, they tend to put on a raucous show, Kane said.
"I do a lot of stupid stuff," Kane said. "I run around and jump off things. One of our crew guys carries me through the crowd during one of our songs. Our bass player climbs up on his bass while he plays — it's a very interesting show. It's just a lot of high energy and things that no one really sees at any other show."
Kane said he hoped it was the first step to getting more recognition for the band. On Sunday, 1916 played with fellow Irish rock band The Young Dubliners in Connecticut, bringing an end to a weekend tour that spanned several venues, including Iron Smoke Distillery.
"The crowd was so good at that show, they gave us a standing ovation," Kane said. "Which was weird, because we usually don't play a lot of places that have seats."