By the time David Tripp and his wife signed up to get vaccinated, there was just one slot left for the first day of Phase Two clinics.
"I said, 'You take it,'" he recalled. "She said, 'You're older! You take it.'"
They went on like that for a while until Tripp, a 78-year-old Berkshire native and Coast Guard veteran, eventually conceded. "I'd like to stay with her," he said. "So, I took it."
On Tuesday, he became one of the earliest Phase Two recipients in the Berkshire County to get the vaccine, at a clinic in the Berkshire Community College field house in Pittsfield. His wife secured an appointment for a later date.
"I'm just short of euphoric," he told The Eagle after getting his shot. "Really. You want to hear trumpets blaring, and all that stuff. You look and there's a light, you know. It's a little dim, but it's getting brighter."
Berkshire health care providers administered more than 1,200 doses Tuesday at two clinics, in Pittsfield and North Adams. Leslie Drager, lead public health nurse with the Berkshire Public Health Alliance, told The Eagle that officials had considered postponing clinics because of the snowstorm but decided against it, based on the forecasts.
"It's Berkshire County," she said. "We're used to snow."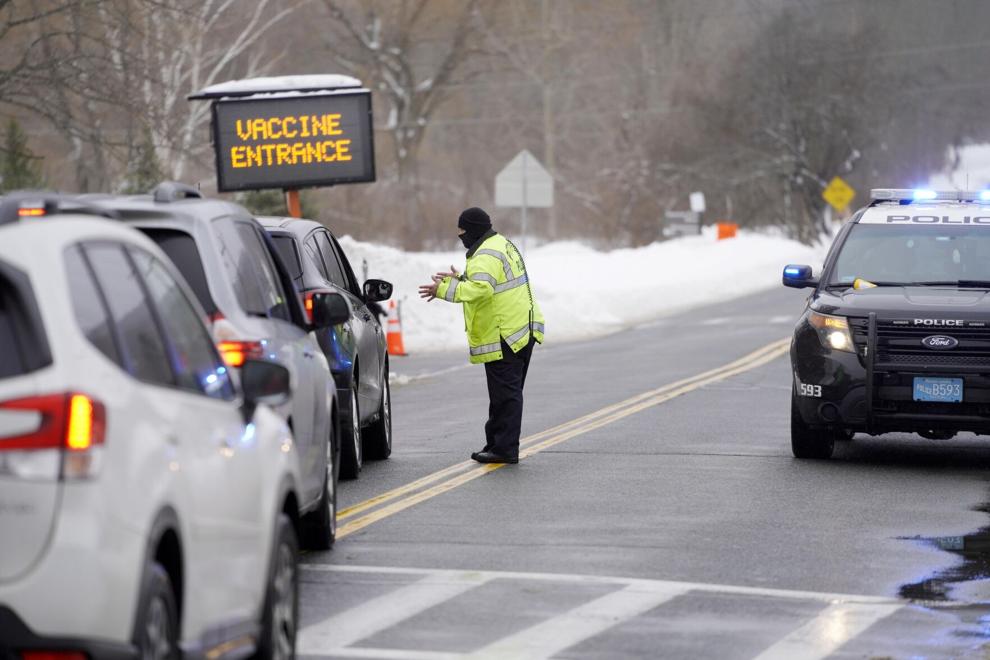 Health care workers from Berkshire Health Systems, Community Health Programs and Northern Berkshire EMS administered doses at the two clinics, while other staff and volunteers — they included police, the Western Massachusetts Medical Reserve Corps, County Ambulance and local health officials — guided people through the process.
In Pittsfield, a line stretched out the door of the field house when the clinic started at noon, but wait times shrank rapidly to just a few minutes, indoors, as the clinic proceeded. Recipients tracked in snow and dirt as they removed layers of coats, scarves and mittens to reveal bare arms.
Health officials told The Eagle they had waiting lists of people from Phase One and Phase Two ready to go in case of leftover doses.
Local vaccine coordinators have been buoyed by large shipments from the state — with more doses delivered to Berkshire County per capita than any other county outside the Boston region, according to the latest state data.
Since the county can handle large quantities of the Pfizer vaccine by running its distribution through Berkshire Health Systems, which has ultracold storage capacity, local officials can take advantage of extra doses in each Pfizer vial. As she prepared vaccines Tuesday, Drager said her team was managing to get six or seven doses out of many vials that had been expected to contain just five doses at the start of the rollout.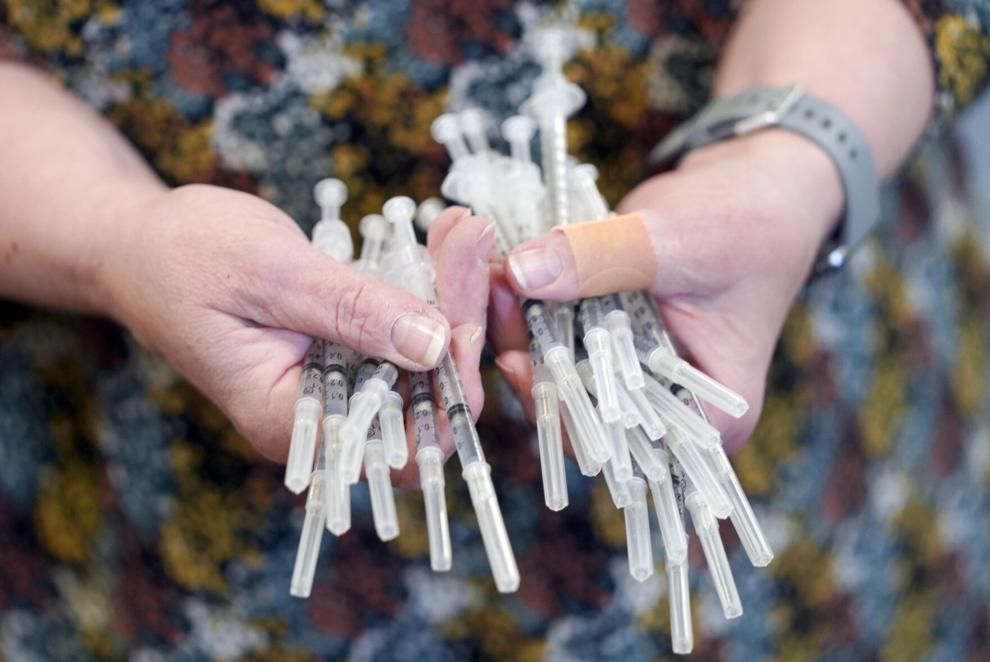 Based on current supply, health officials might be able to vaccinate as many as 4,000 people each week, according to Drager. The Berkshire Vaccine Collaborative is looking at opening up one or two more clinics, she said, including a possible Saturday clinic.
"We are getting what we've asked for [from the state] without any issues," Drager said.
Vaccine coordinators have estimated that there are 18,000 people 75 and older countywide, the group now eligible in Phase Two, though some already have received doses at long-term care facility vaccinations. The county's third public site, located in Great Barrington, begins vaccinations today.
Though most recipients were local, some people from neighboring counties registered for appointments in the Berkshires, and at least three people vaccinated Tuesday came from Eastern Massachusetts.
'Put all that stuff aside'
Recipients who spoke with The Eagle described their excitement at being able to see children and grandchildren again, and the ways the virus had touched their lives. Almost all knew someone who had caught the virus, and many knew at least one person who had died.
"If I could reach out to everybody, I'd say, 'Hey, go get your vaccine,'" said Tripp, whose son survived the virus. "Please, please, please. The politics, religion, put all that stuff aside. Get vaccinated."
Tripp, like many others who managed to secure appointments for the first day of clinics, said he found the registration system time-consuming but easy to navigate.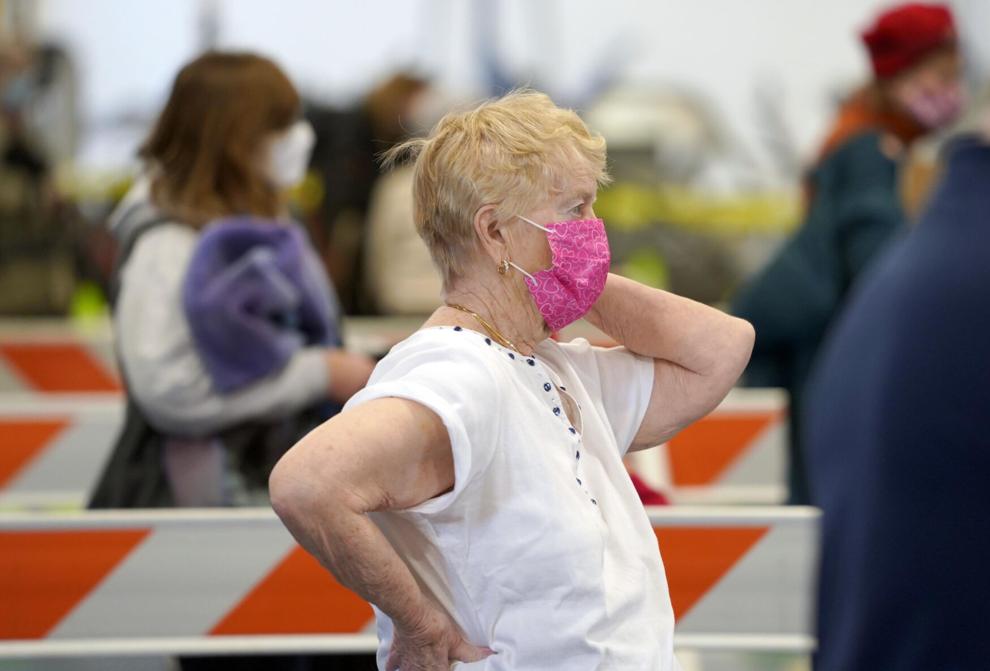 Others relied on friends and family to sign them up. Rosaland Petricca, 84, said her daughter-in-law registered her for the Pittsfield clinic.
"I have 25 grandkids," she said. "So, I'm doing it for them. I'm not going to give up being with them, that's for sure."
The past 10 months have not been easy, she said. Her husband died two years ago, and the presence of her family had been a balm — until the pandemic forced them to stay apart from each other.
"It's been difficult," she said. "You just try to do your best."
Some people, concerned about the logistics of clinics in Eastern Massachusetts, traveled several hours west to get the vaccine.
Joseph McNay, 87, drove with his wife from Chestnut Hill to the North Adams clinic at the St. Elizabeth of Hungary Parish Center. McNay, already familiar with the Berkshires, said he worried about the lines at Boston's mass-vaccination sites.
"I feel just fine," he said after his injection. "I practically didn't feel it."
For some, the brief jab brought a flood of emotions. Marilyn Hickey, a pediatric nurse at Community Health Programs who administered doses in Pittsfield, described seeing one man nearly break down crying.
"He said he was awake all night," she recalled. "He wasn't nervous to get the shot. He was nervous he wouldn't be able to because of the snow."
Someone else told Hickey that neighbors had shoveled their driveway that morning so they could get to the clinic. Others arrived hours early, prepared to wait in the parking lot so as not to miss their appointment.
"I think all of us here are just feeling so uplifted," Hickey said. "We're seeing people move heaven and earth to get their family here."