LENOX — Making good on its plans to open a new outdoor performance site in time for shows this summer, Shakespeare & Company announced this week that the 500-seat amphitheater, The New Spruce Theatre, will host theatergoers for a production of "King Lear."
The company, which canceled its entire live-performance season last year because of the COVID pandemic, aims to fill the new space on its Kemble Street campus at half-capacity, in keeping with state and local regulations, as well as guidance by Actors Equity and other professional unions.
The role of King Lear will be played by Christopher Lloyd, as planned last year before the pandemic forced cancellation of the live performance season.
The theater troupe intends to announce a combination of digital events and in-person performances for its 2021 season.
Last December, the town's zoning board cleared the way for the project by granting a special permit for the demolition of two condemned, dilapidated structures. The demolition has begun, opening up space under towering spruce trees for construction of the outdoor stage and seating for the audience.
During its first two decades when the theater was based at The Mount, Edith Wharton's estate, outdoor shows were among its summer season highlights. The company moved to its current location in 2000.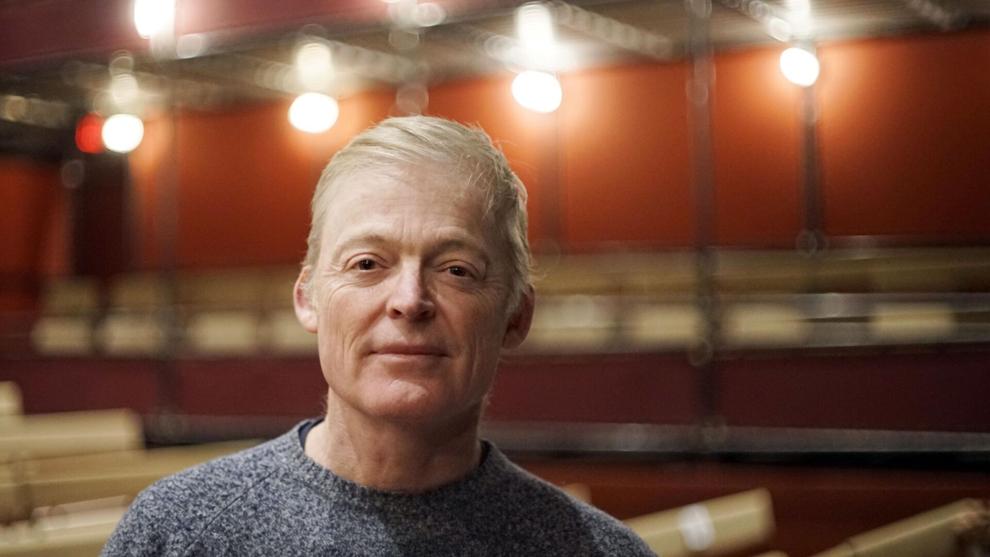 "We've been considering this particular location on the property for a long time as part of our strategic plan," said Artistic Director Allyn Burrows in a prepared statement. "Paying homage to Greek amphitheaters and this company's history, we're thrilled that this venue can serve present times and future generations of theater lovers. In addition, our hope is for this new space to further enable our goal of prioritizing inclusion, diversity, equity, and accessibility — giving us a new stage on which to support that effort."
"We can imagine Shakespeare's words resonating amongst these spruce trees as they have with the pines at The Mount and the lilacs of the Roman Garden Theatre," Burrows added, referring to outdoor shows that have been staged at several locations on the nearly 34-acre campus at 70 Kemble St.
Theater leaders assured the zoning board that despite the creation of a new performance space, traffic flow would be controlled and parking would remain ample.
The new outdoor stage, measuring 100 feet by 140 feet, will operate during daylight hours from Memorial Day to Columbus Day. The campus has 286 paved parking spaces, plus gravel and grass overflow areas with 158 additional spaces.
In the future, no more than two productions would be offered at the same time outdoors and in one of the two indoor theaters, the 466-seat Tina Packer Playhouse or the 195-seat Elayne Bernstein Theatre. Starting times would be staggered to avoid congestion.
For this summer, Shakespeare & Company will institute a "COVID-19 Code of Courtesy" for all in-person outdoor shows, requiring visitors to practice social distancing and wear masks at all times. To enable contact tracing, all ticket buyers will be required to provide contact information for everyone in their party.
In addition, the company stated, out-of-state audience members will need to comply with any Massachusetts travel and quarantine guidelines in effect this summer.
The theater's Board Chairman and President Ken Werner has acknowledged that the pandemic had a disastrous impact on the company last summer, with a loss of well over $1 million in ticket revenue.
"Frankly, I didn't know if we were going to survive," he told the zoning board. Donations and fundraisers kept the company afloat, though Werner cautioned that "I don't know if we can survive another year without any ticketed revenue."
He also stressed that the new stage would be used long after the pandemic fades.
Other plans announced this week:
• Enrollment begins on Saturday for the Riotous Youth summer theater program for students 7 to 17. The outdoor program on the Kemble Street campus will enable young actors to learn text from "The Comedy of Errors," "King Lear" and "Much Ado About Nothing." Information and enrollment details: www.shakespeare.org/education/riotous-youth.
• Shakespeare & Company's Center for Actor Training will offer four sessions of a virtual weeklong intensive focusing on voice training, movement and text work. The sessions begin June 5 for theater undergraduates and acting professionals. Details will be announced soon.