In a year during which local budgets are expected to be stretched thin, the push to ensure equity in the state's education funding has gained renewed urgency.
Some Western Massachusetts towns, according to state lawmakers in the region, pay disproportionately more to maintain service levels when state aid falls short. They say the state aid formula doesn't, for instance, sufficiently fund expenses related to special education or transportation costs for rural districts. As a result, some communities struggle to make up that money on their own.
"There isn't a community in Western Massachusetts that doesn't want to pay for education, but the issue is, we're paying disproportionately more," said state Sen. Jo Comerford, D-Northampton. "And because that's such a big expense for small communities, they run up against having to cut other services."
State Sen. Eric Lesser, D-Longmeadow, first became involved in politics as a 16-year-old junior at Longmeadow High School, after his school principal announced layoffs for several teachers because of budget cuts made at the Statehouse.
"I remember hearing about music programs, art programs that were not going to be returning," Lesser said. "I remember sitting there and feeling very angry that 15-, 16-year-olds were forced to bear the brunt of bad decisions made elsewhere."
Lesser helped put together a coalition to knock on doors in favor of a vote to override Proposition 2½, a 1980 statute that caps local property tax levels. A first vote failed, but after locals realized the impact of the pending layoffs, they approved the tax increase to cover education costs.
"That's a very important power that communities have, to override Prop 2½, but it's not sustainable to indefinitely raise property taxes," said Lesser, who noted that education can take up to 70 to 80 percent of local budgets.
Longmeadow now has the highest residential property tax rate in Massachusetts, at $24.21 per $1,000 of assessed value. In several Western Massachusetts towns that haven't experienced the same economic prosperity as their eastern counterparts, residents have paid proportionately more in taxes to fund services.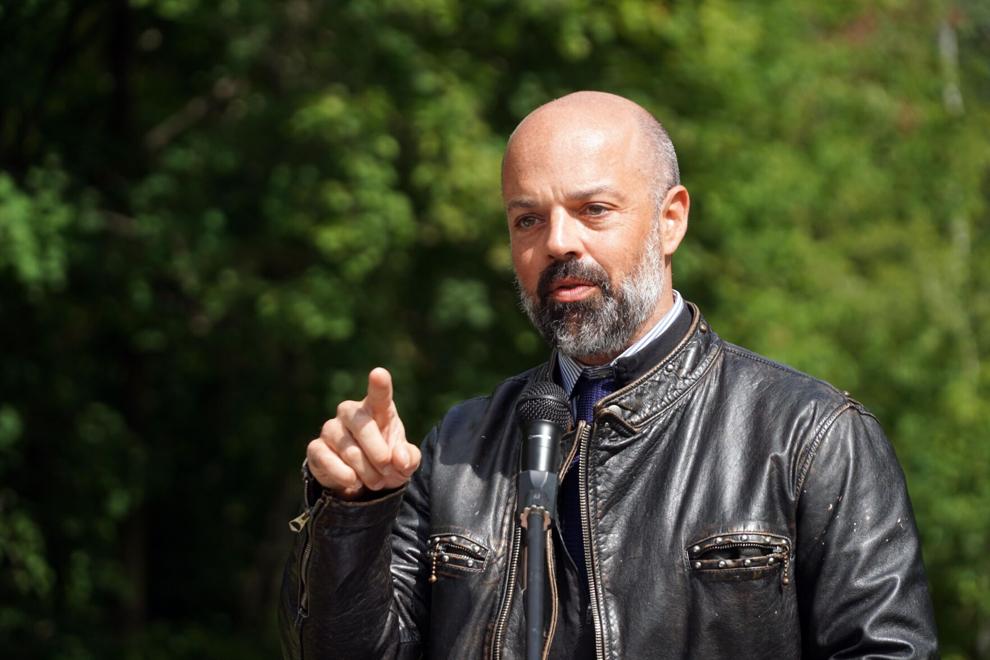 Lesser, Comerford and state Sen. Adam Hinds, D-Pittsfield, represent 15 of the communities with the top 20 rates in the state, among which Adams ranks ninth and Lanesborough slots in at 14th, according to Department of Revenue data for the 2020 fiscal year.
"If property values are going down, but expenses are going up in a community — they can go up a few percent a year, just by the nature of inflation — the only way to get more money is to raise the rate," Lesser said. "The solution, frankly, is growth, because if you're seeing property values go up, you can collect more money with the same rate. … The solution is getting more equitable state funding."
'Equity gaps' in formula
While emphasizing that they don't want to pit districts against each other, several observers have questioned the level of state aid to wealthier districts, many of which fully can cover their own expenses, as less-wealthy districts lack resources.
The state calculates a "foundation budget" for each school district to set a minimum funding level to provide a K-12 education that it deems adequate. That foundation budget is funded by a required local contribution, and the rest comes from Chapter 70 aid.
Although the required local contribution is capped at 82.5 percent of a foundation budget, 104 of the state's 351 municipalities can afford their full foundation budget obligation through local resources this year, according to state calculations.
Moreover, $778 million — 14 percent of the total $5.48 billion in Chapter 70 this year — is given without regard to districts' need. About 64 percent of that sum goes to the wealthiest 20 percent of districts, according to a September report, "Missing the Mark: How Chapter 70 Education Aid Distribution Benefits Wealthier School Districts and Widens Equity Gaps."
"That pool is large enough that it deserves consideration as a commonwealth," said report co-author Ryan Flynn, director of affiliate network growth and strategy at the Business Alliance for Education. "There is some play in the current formula where we can, as a state, make sure that every dollar goes to communities and students that need it."
Some wealthier districts do, in fact, need state aid, said Ed Lambert, executive director of the Business Alliance for Education, but he argued that a revised formula should calculate funding based on those needs, rather than apportioning needs-blind.
The report recommends phasing out minimum aid, as well as the "hold-harmless" provision, which prevents aid from declining one year to the next. Minimum aid gives wealthiest districts six times more aid than the least-wealthy districts, while the wealthiest districts get five times more aid from hold-harmless.
It also proposes increasing the maximum required local contribution to 85 percent of the foundation budget obligation, a reform that would decrease aid to wealthier districts while leaving more for lower- and mid-wealth districts.
"We're not suggesting we have the only solution, but … if you're sending money out that's not based on need, and you're not meeting the need for everyone else, this should be addressed," Lambert said. "Should we be sending that money to communities that can afford to do more on their own at the expense of communities that can't afford to do more?"
'Unique challenges'
Many in Western Massachusetts believe that state aid underfunds costs like regional transportation, a deficit they say puts greater pressure on rural towns in particular.
"All of these things get more expensive every year, and if the state doesn't fully fund them, either through Chapter 70 or outside it, then that town better hope that their property taxes increased, because it's on the towns," said Jared Freedman, Comerford's chief of staff.
Hinds and state Rep. William "Smitty" Pignatelli, D-Lenox, have called for greater funding for rural sparsity aid, a funding pool Hinds created in 2018 to account for differential expenses incurred by schools in areas with low population density.
"Towns face unique challenges when you have a limited tax base for providing basic services and equal education," Hinds said. "We need to have a guarantee of not just the Chapter 70, but the whole range of revenues coming in across the budget."
Communities struggling to make up funding in those areas have come up against Proposition 2½, which, Pignatelli said, "has put a stranglehold on municipalities," although he said he is "blessed" that towns in his district are fairly healthy financially.
In the Student Opportunity Act of 2019 — it's a law that revised the Chapter 70 funding formula — Comerford pushed the state to review the impact Proposition 2½ has had on municipalities' ability to pay for education.
She said she would much prefer to require wealthier communities to pay an amount closer to what they can than to raise property taxes, and Lesser also argues that property taxes are regressive because retired people with low or no income can face rising tax rates.
The Department of Elementary and Secondary Education's study on required local contribution, including how it interacts with Proposition 2½ and the 82.5 percent cap, just has finished its public comment period.
"There is real urgency because if our towns run out of the ability to pay, if their income, essentially, is static but their costs go up, then they're going to hit the levy limit and they're going to be forced to make cuts or reduce the quality of services in other areas," Comerford said.