LENOX — Worried residents from a Laurel Lake neighborhood urged the Lenox Select Board on Wednesday night to relay their concerns about a proposed marijuana business just over the town line at the Cork 'N Hearth restaurant site off Route 20 (Laurel Street) in Lee.
The Lenox town beach and a small beach owned by the Miraval resort (formerly Cranwell) are direct abutters to the location, raising issues about the impact of a cannabis retail and manufacturing facility.
Representatives of up to 25 residents attending the remote board meeting also focused on traffic safety and "quality of life" concerns with the plan.
The restaurant remains open for dining and takeout, but co-owners Chris and Jasmine Ryan are seeking to retire after nearly 25 years operating the eatery.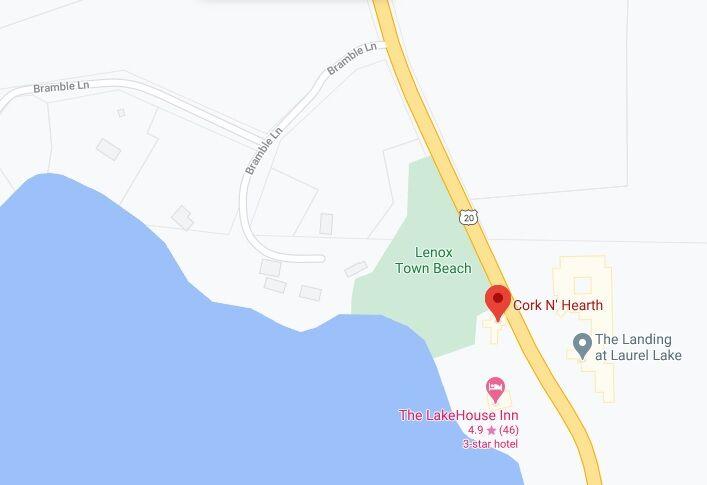 Forest Wilde LLC, a partnership of three applicants, is seeking state and local approval for its plan to convert the restaurant into about 2,600 square feet of retail space. The remaining 3,100 square feet would be for manufacturing cannabis products along with office space in a 400-square-foot addition to the century-old building.
The developers stated in a message to The Eagle that they will not cultivate marijuana, "which greatly reduces the concern regarding odor. However, Forest Wilde is still implementing odor control measures for its product manufacturing and retail areas as appropriate."
The Lee Planning Board will review the site plan for the property in more detail during its Zoom meeting at 6 p.m. Feb. 22. No special permit hearing has been scheduled yet by the town's Select Board, which is waiting for the planners to finish their discussions. The Lenox Planning Board also is interested in reviewing the site plan, as an abutter.
Lenox Selectman Edward Lane said he has contacted members of the Lee Select Board "to tell them we want a seat at the table, because we are direct abutters. The town of Lenox, all the residents, abutters and everybody that has a say in the matter should voice their opinion."
He described the three-member Lee Select Board as "very encouraging, and they said, 'Welcome aboard, whenever the meeting is, we'll let you know and welcome you to that meeting.' They're not trying to push us aside, they're fully open to have us come and share our opinion as direct abutters. We're very concerned, and we just want our voice heard."
Lenox Select Board Chairman Neal Maxymillian agreed, pointing out that "because of our position as abutters, we have a seat at that table no matter what, because of our location and proximity to the shop. The good thing is, Lee recognizes that, and is welcoming our commentary, and is not confrontational."
According to the Lee zoning bylaw, aligned with state law, "no marijuana retailer may be located closer than 500 feet from any school, place of worship, any type of child care facility … or other similar facility where minors commonly congregate and are the primary population served by the facility." The setback distance is measured in a straight line from the nearest point of the property line of the proposed marijuana retailer and the nearest point of the property line of the facilities listed in the bylaw.
But, the 200-foot setback in the Lenox zoning bylaw only applies to registered medical dispensaries (RMDs). For retailers purveying marijuana for adult recreational use, the 500-foot setback in the state law applies, Lenox Land Use Director and Town Planner Gwen Miller told The Eagle.
"We do have concerns that relate specifically to Lenox," said Deb Bronston-Culp of Bramble Lane in Lenox, also representing nine other households on the road, which also has Lee residents. "We are not anti-marijuana; we understand the benefits of such a business."
She also cited potential changes to "the character of the town or the lake, since there are potential environmental issues we should know about. In the proposal, there is some mention of odor and remediation, but how much can be remediated, what is the odor? We just don't know because we don't have that information in the special permit application."
Other issues include security lighting of the facility that could cause "light pollution," Bronston-Culp said.
Ongoing traffic safety concerns involving the heavily traveled Route 20 corridor also are worrisome, she pointed out, especially sightline challenges when vehicles make a left turn out of the parking lot now serving Cork 'N Hearth.
State law prohibits loitering and consumption of cannabis on the property or anywhere in public, said Peter D'Agostino of Tenax Strategies, a Boston public relations firm representing Forest Wilde. He also noted that the law holds marijuana establishments responsible for ensuring that those activities are not occurring.
But, Bronston-Culp noted that the adjacent beach could be "a natural place to go" for cannabis purchasers.
Selectman David Roche emphasized that the Lenox board's role "is to do exactly what we were elected to do, to represent our residents. I have not heard, and maybe I will, a whole lot of people speak in favor, that this is a good location for this particular venture. That's the message we need to deliver to the Lee Select Board."
Lee-Lenox Chief Administrative Officer Christopher Ketchen recused himself from Wednesday night's discussion, citing a conflict of interest in his dual role managing the towns.
Citing Open Meeting Law guidance from the state, Miller noted that the Select Board members, as members of a public body, "may attend a meeting of another public body provided that they communicate only by open participation; however, they may not deliberate at such gatherings."