LENOX — Four Lenox police officers won high honors and citations at a public ceremony Saturday recognizing their bravery and professionalism for subduing an armed and dangerous arson suspect following a multi-town, high-speed car chase in 2019 and for saving the life of a trapped tenant in a local house fire last month.
"The two events are extraordinary, but by no means take away from the day-to-day activities of this police department," said Police Chief Stephen O'Brien at the Town Hall gathering attended by police and fire officers, family members, town leaders and state Rep. William "Smitty" Pignatelli, D-Lenox. A CTSB video of the event will be televised and made available on demand at https://ctsbtv.org/government-channel-1303/.
He presented citations to Sgt. Michael Smith, Officers William Colvin and Joseph Kennedy and Reserve Officer Thomas Scherben that were signed by state House of Representatives Speaker Ronald Mariano and Pignatelli, as well as from Gov. Charlie Baker and Lt. Gov. Karyn Polito and from U.S. Rep. Richard Neal, D-Springfield.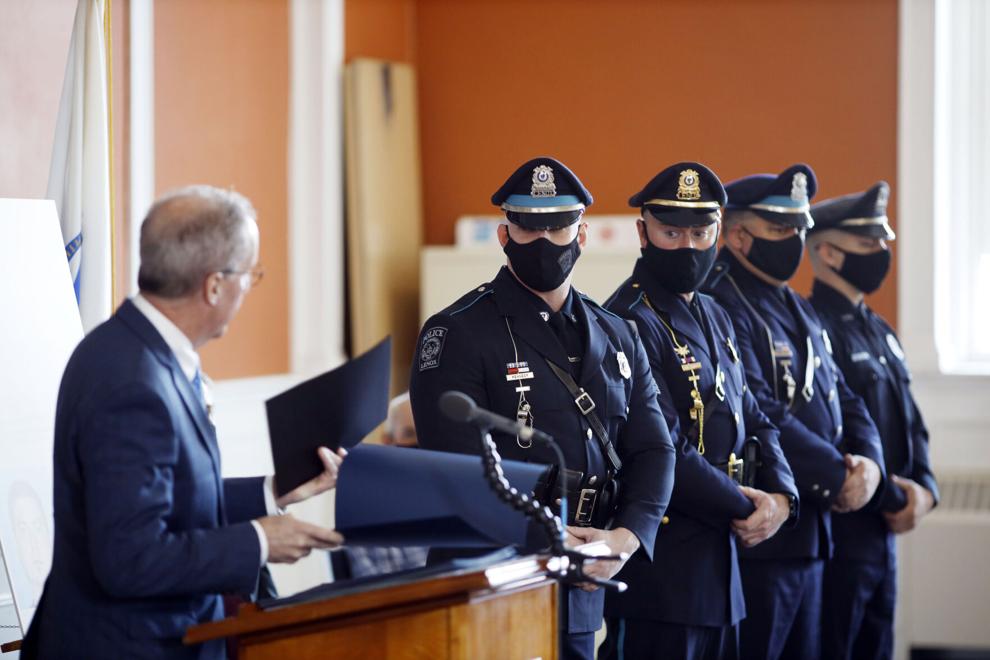 "We hear a lot of negatives about police, everybody's quick with a cellphone camera to take videos," Pignatelli commented. "The heroes we recognize today are just a snapshot of what you guys do every day. You're the unsung heroes of this community. You make this town special and we're very fortunate. We don't take it for granted."
"These four men displayed the very highest level of great bravery, valor, courage and heroism," Select Board Chairman Neal Maxymillian said. "We're just in awe of their valor and courage. Today is a day of pride and celebration, and the town should feel very proud of their public servants."
"Our force is out there every day, they don't save a life every day, but they are always ready to do that," Maxymillian added. "It speaks to their professionalism, training, and willingness to act unselfishly in the face of great danger and do the right thing."
In the most recent incident, Smith and Kennedy were cited for saving the life of a local resident trapped on the second floor during a nighttime March 27 house fire on West Street.
Fighting through heavy smoke, Smith and Kennedy found a ladder to rescue the woman. The tenant, who has preferred to remain anonymous, was treated and released at BMC for smoke inhalation. Smith and Kennedy also were treated for exposure to smoke before returning to duty.
"Their actions definitely saved a life, and they should be commended for their remarkable, courageous and outstanding work above and beyond the call of duty," the police chief said.
Colvin, who's also deputy fire chief, led on-scene operations with assistance from Fire Chief Christopher O'Brien. It took 25 firefighters to control the blaze.
"Officers Smith and Kennedy, first to arrive, turned what could have been a tragic scene into a much more manageable one," the fire chief stated. "There were many heroes, but their quick thinking saved the life of a tenant."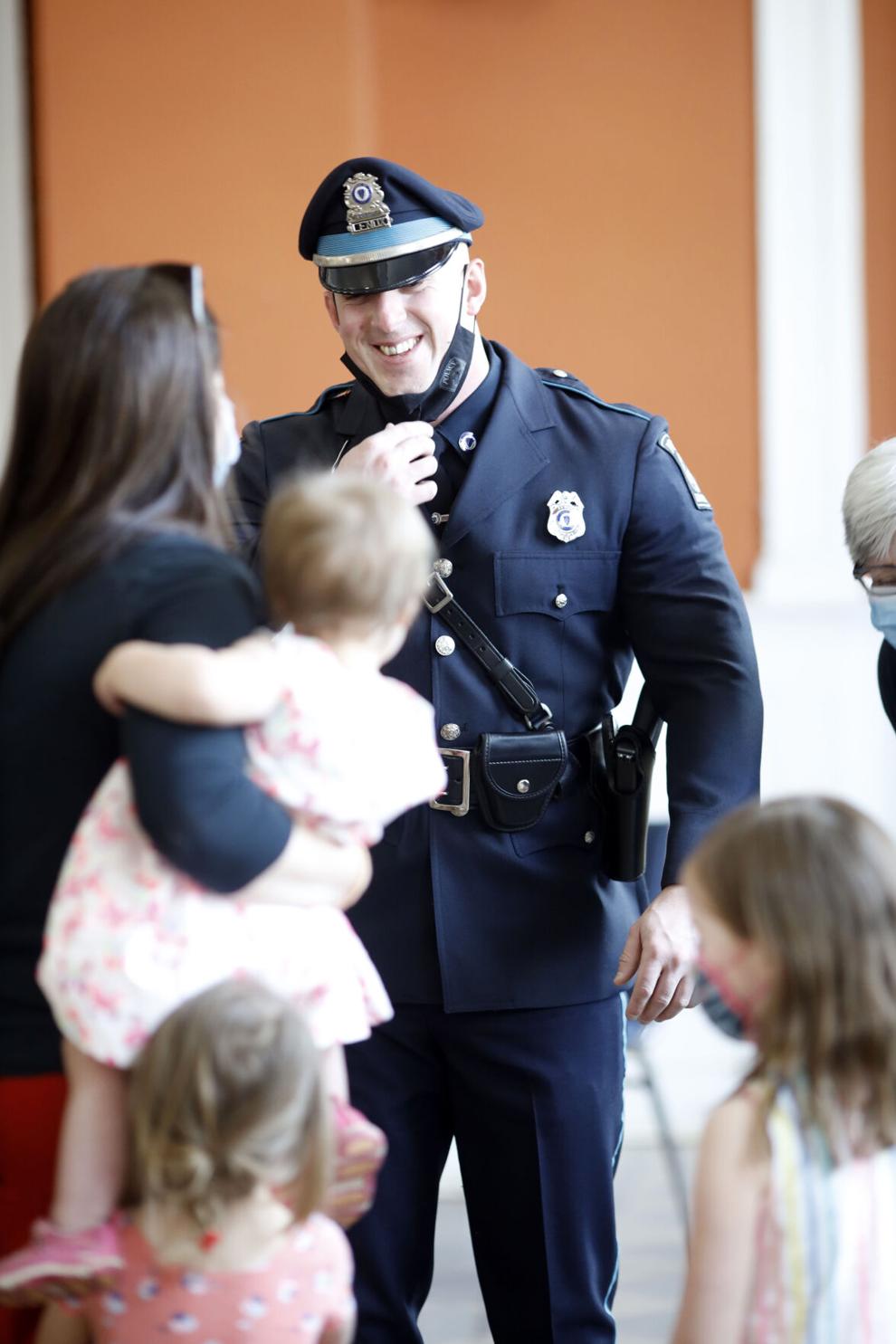 On behalf of the fire department, O'Brien thanked them for their "commitment to the community, professionalism and loyalty to your job."
In the 2019 incident, Colvin, Kennedy and Scherben were cited for arresting a suspect accused of pouring gasoline through a bedroom window and setting fire to his family's Adams home on Oct. 22, 2019. The suspect was also involved in a domestic incident on the same day in Pittsfield.
Courtney Cross, 34, was arrested on Route 8 near the Berkshire Mall entrance in Lanesborough after a high-speed, mid-afternoon chase after speeding erratically and recklessly northbound on Pittsfield Road from the vicinity of his former workplace in Lenox, where he had been terminated under adverse circumstances.
Cross entered Pittsfield on South Street at a speed approaching 100 mph, continuing onto North Street and into Pittsfield residential neighborhoods on Elm and Williams streets, Dalton Division Road and Hubbard Avenue "with no regard for public safety," Police Chief O'Brien noted.
After striking a guardrail on Route 8, Cross jumped from his vehicle brandishing a 12-inch kitchen knife and screaming repeatedly at the officers, now including Pittsfield Police Capt. Matthew Kirchner, threatening their lives, urging them repeatedly to take his own life and resisting police commands to stand down, O'Brien stated.
After Cross tossed away the knife but still refused orders to surrender, Kirchner fired three non-lethal gunshots, enabling Kennedy, Scherben and Colvin to subdue the suspect. Cross was transported under arrest to Berkshire Medical Center for treatment of non life-threatening injuries.
"Due to the outstanding patience, perseverance and compassion of these police officers, no one was killed, or even seriously injured, in a series of events that certainly could have caused that," O'Brien said. "These officers went above and beyond the call of duty that day, not only to protect people's lives but to protect the people of Berkshire County."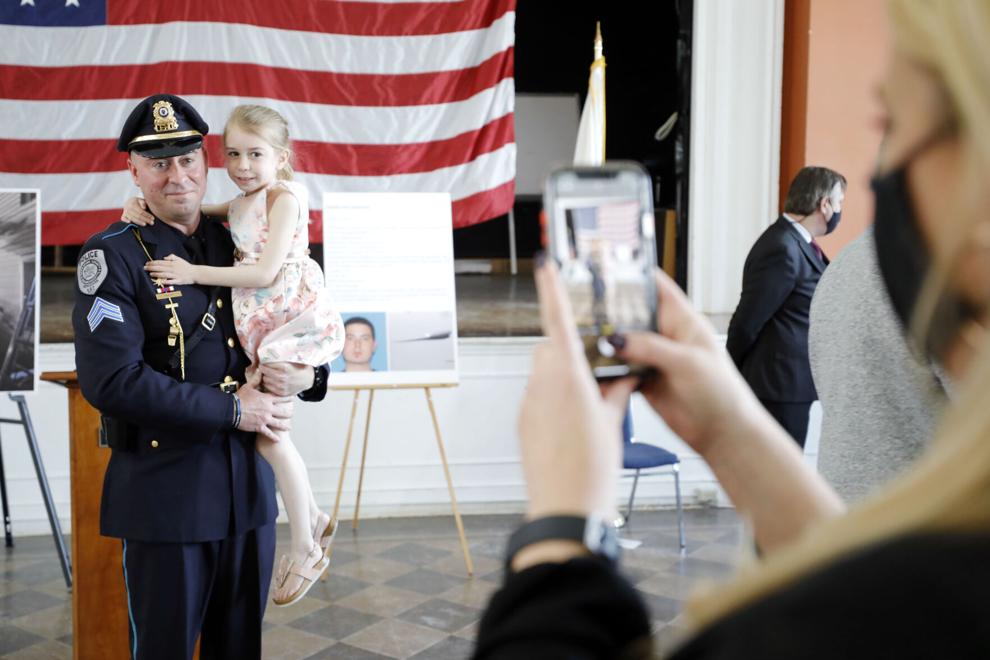 On March 24 of this year, Cross pleaded guilty at Berkshire Superior Court to charges of burning a dwelling house, assault with a dangerous weapon, reckless operation of a motor vehicle, and operating under the influence of liquor, according to Andrew McKeever, the Berkshire District Attorney's director of communications.
On the combined charges in a plea bargain, Cross was sentenced to four and a half years at the Berkshire County Jail and House of Correction, following by three years probation requiring treatment at mental health and alcohol programs, McKeever told The Eagle. The commonwealth had sought a six- to eight-year sentence at state prison, while the defense requested three years, he said.