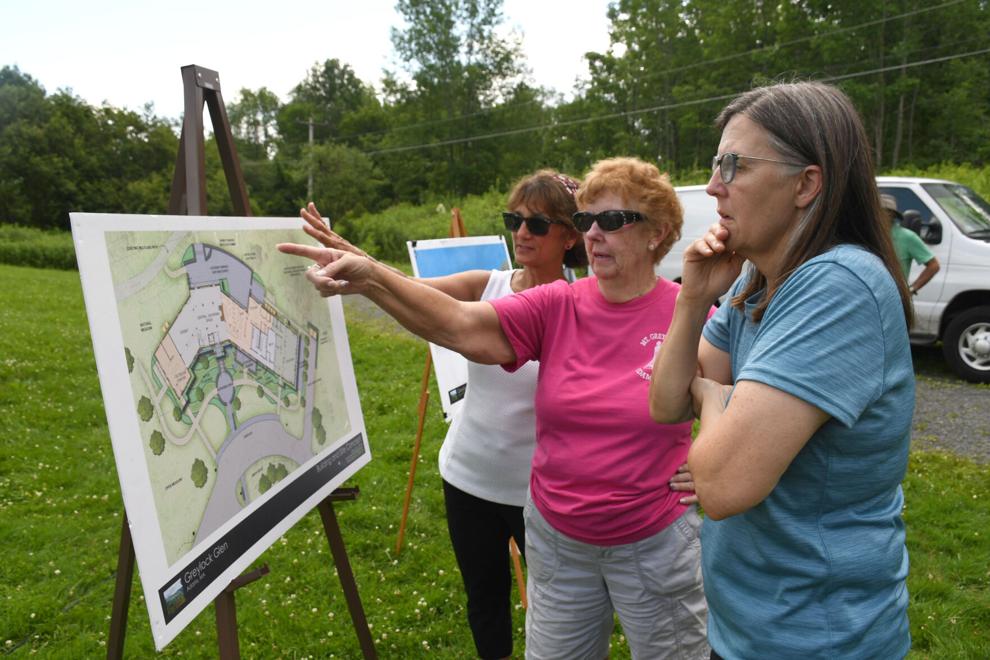 ADAMS — To any doubters standing before him, on a sun-drenched field beneath Mount Greylock, Gov. Charlie Baker made this promise Wednesday: "We're going to make sure this gets done, period. For you, it's been a long time coming."
Half a century, in fact.
Two months ago, Baker cleared the release of $6.5 million in bond money to build an outdoor recreation center at Greylock Glen. That whole amount has been wired to the town — and an invitation for bids is expected to be published by the town next month. Construction could begin this year.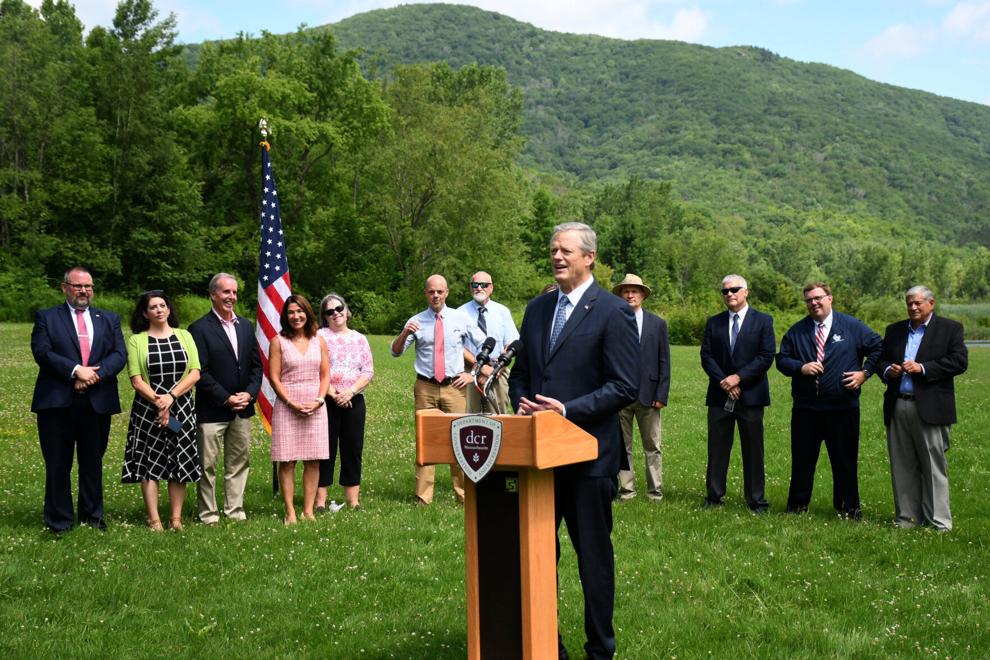 On Wednesday, more than a dozen members of his administration came from Boston to this high ground to mark the moment. They reflected on decades of false starts and put into words what the investment means for Adams and the Berkshires.
"It is the right time," Baker said.
The 11,000-square-foot center, designed by Maclay Architects of Vermont, will house space for environmental education programs, a cafe, equipment rentals and other features. It will sit off Gould Road on the Glen parcel, with its sweeping views up to the state's highest peak and out across the valley. The 1,063-acre tract includes woodlands, open land, ponds and wetlands; it abuts the 12,500-acre Mount Greylock State Reservation.
Visitors couldn't help but remark on the beauty of the land, once eyed for resorts, casinos and golf courses, but now to be celebrated more simply, for its nature.
Kathleen Theoharides, secretary of the Executive Office of Energy and Environmental Affairs, had first come to Greylock Glen on a snowy January day, two months before the pandemic hit.
"What a chance to marry the preservation and stewardship of this beautiful asset with economic development and all of the benefits that tourism dollars coming into the community will mean," she said.
One of the project's key backers, state Rep. John Barrett III, D-North Adams, was teased by Baker for having pushed relentlessly for funding to be released. "He basically bit my head off over Greylock Glen," Baker said, remembering one call.
When it was his turn to stand before a podium atop the grassing mowing, Barrett turned around and glanced at Baker. "Governor, if I was on the other end of that phone call, I would have hung up on me."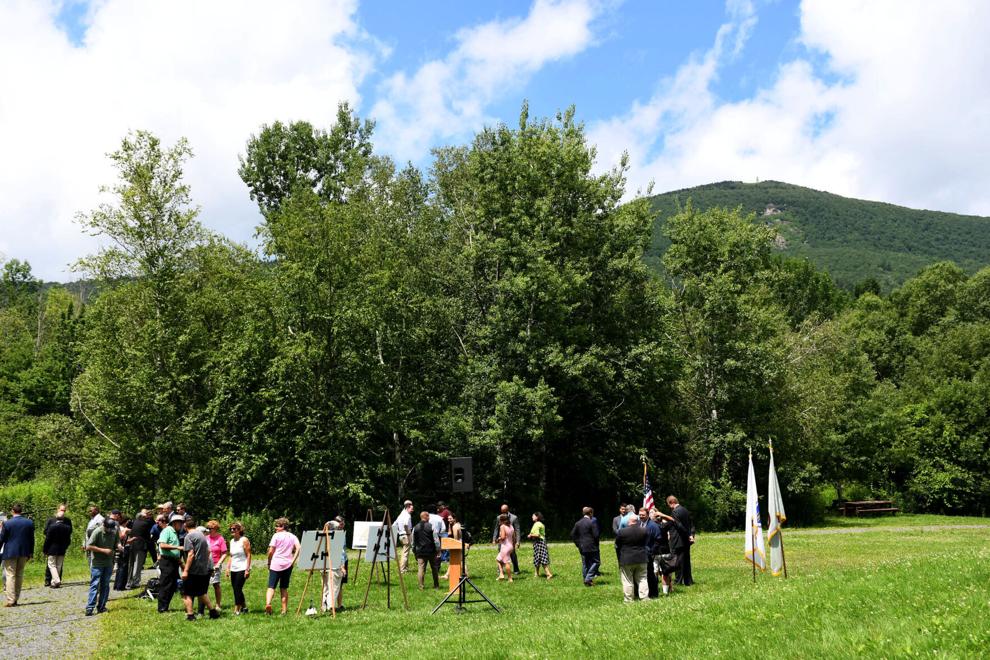 Though the Glen project starts with just an outdoor center, officials hope the new state investment will spur the private sector to back future development on the parcel. But within limits. More than 90 percent of the thousand acres will remain undeveloped.
"This is the single most important economic development project that's going to happen over the next 25 years in northern Berkshire," Barrett said. "It will be the catalyst to get a lot of other things happening."
"I guarantee that it's going to be a diamond that shines each and every day for the rest of our lives," he said.
State Sen. Adam Hinds, D-Pittsfield, noted that at least three governors held office as the project moved forward. Locally, he praised Donna Cesan, the town's former director of community development, with being "the connective tissue through all of that." Though she retired from that job, Cesan continues to work as a special projects manager to prepare bid paperwork.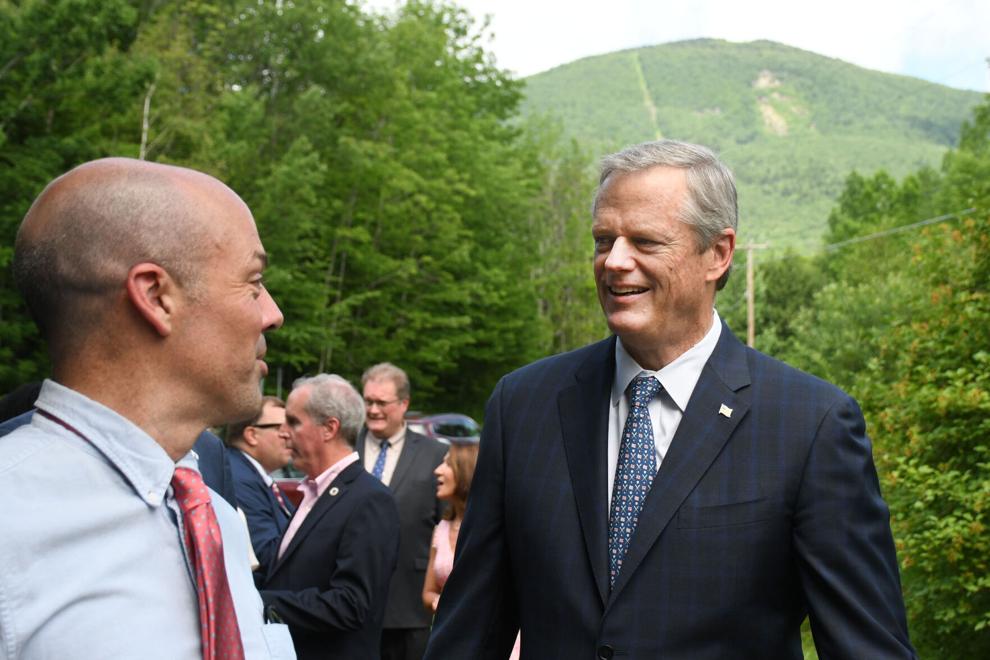 "It's been a project of passion for so many," Hinds said.
In an interview, Christine Hoyt, a member of the Adams Select Board, said she believes the state's investment will open the door to private-sector involvement at the Glen, as envisioned by Cesan and others.
That "one step at a time" approach was forged over years of setbacks and disappointments, after more elaborate projects withered.
"I think it will help the entire region. This is now the main attraction for the town of Adams," Hoyt said.
In time, plans call for further development oriented to outdoor recreation on the mountain's eastern slope. Designers have outlined a possible 2,500-seat performing arts amphitheater as well as a lodge and conference center, if private investors step up.
Adams officials say they continue to get inquiries about opportunities to be part of the long-delayed Glen venture.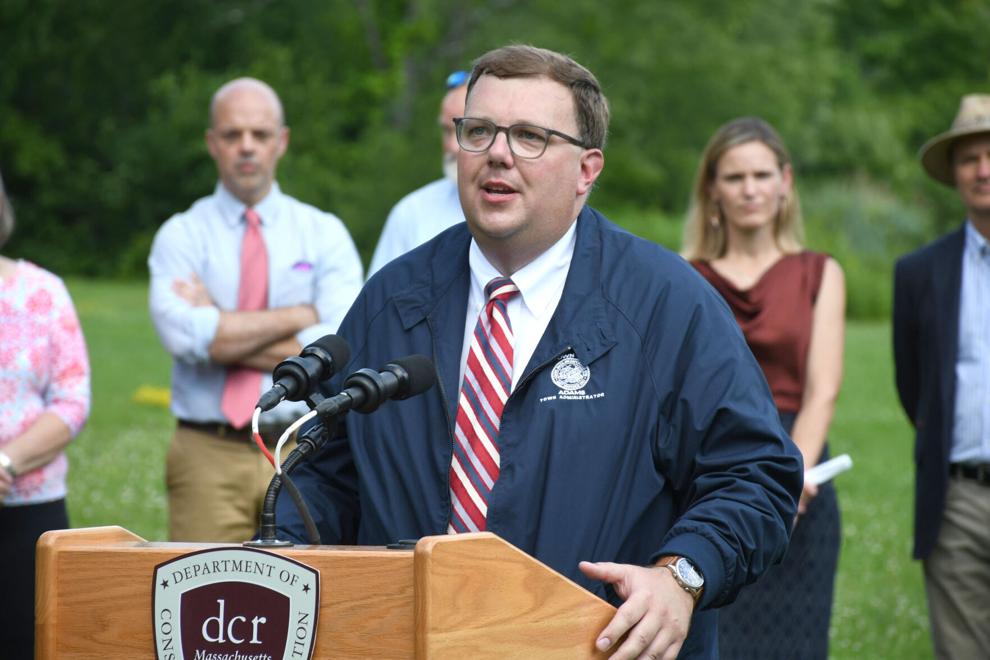 "This is a day of realization for the town of Adams," said Jay Green, the town administrator. "We're done talking about it. As the governor said, we're just going to do this."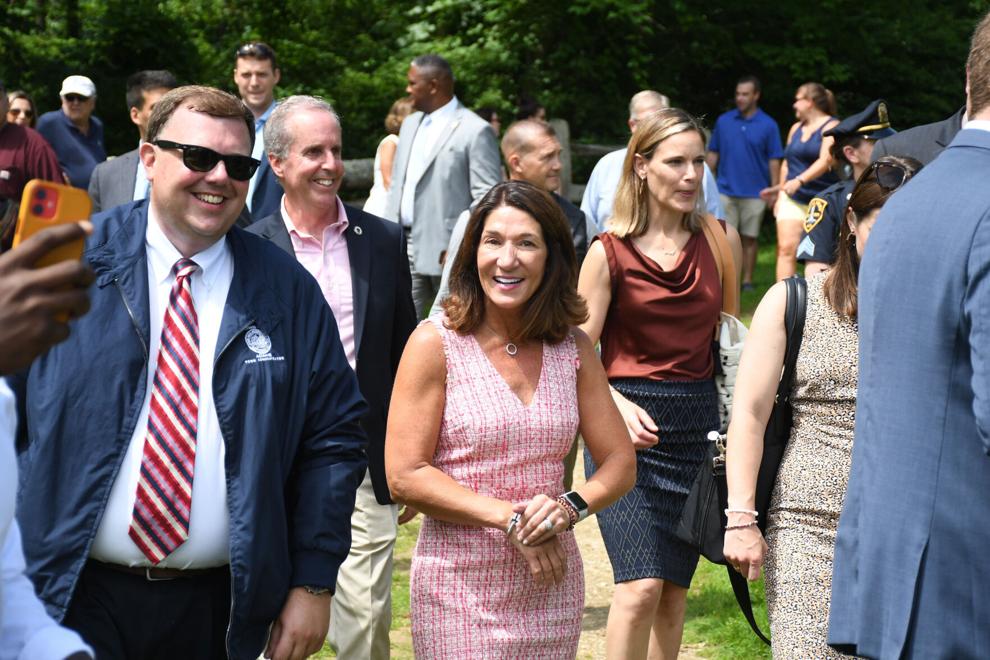 The long wait — and payoff this year — helped bring out a crowd of town residents, including Sgt. Donna Malloy of the Adams Police Department, there in her uniform.
"This has been going on since before I was born," she said. "And nothing came to fruition."
State Rep. William P. "Smitty" Pignatelli, D-Lenox, said he believes the Glen development will benefit all of the Berkshires.
Other local officials praised the steps taken, at long last. "I see it as a major win for the region, and north county especially," said Ben Lamb, a North Adams city councilor.