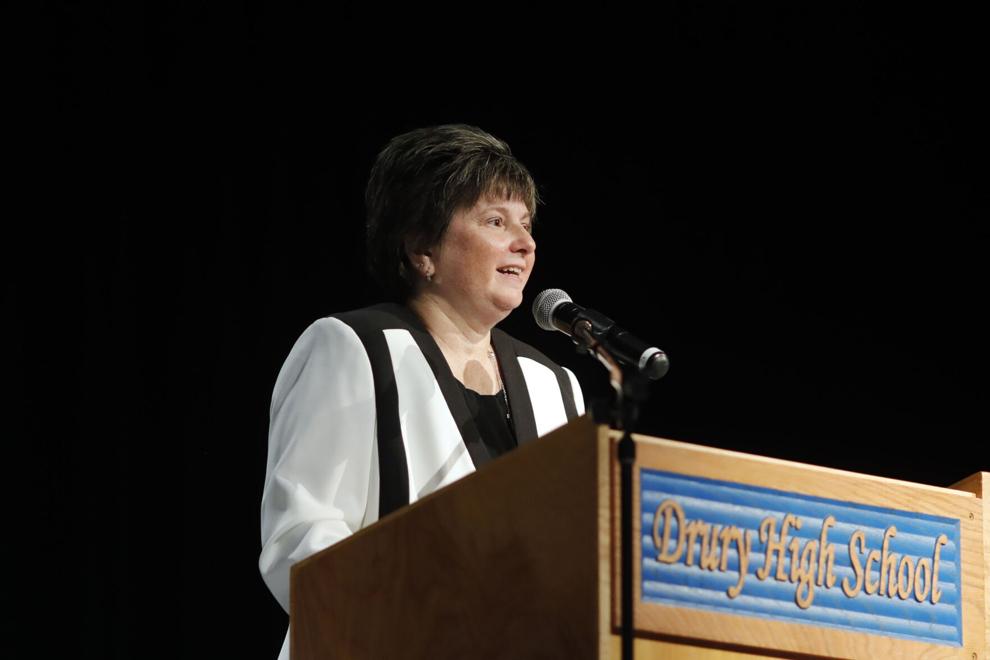 NORTH ADAMS — Making history as the first woman mayor of North Adams, Jennifer Macksey took the oath of office on Saturday, pledging her commitment to securing both generational change and basic city services.
The Democrat issued her inaugural address on New Year's Day to about 175 onlookers at her alma mater, Drury High School, where a new crop of city councilors was also sworn in.
After a year that saw resignations on the City Council and tension between outgoing mayor Tom Bernard and state Rep. John Barrett III, a theme of the late-morning proceeding was collaboration.
"Today I begin a journey that will be most challenging, while at the same time I hope will be the most rewarding part of my career. The journey will have to be an inclusive process, as we work toward the goal of making North Adams the best it can be," said Macksey, the city's 33rd mayor.
"If I am to be successful, I understand that I need the commitment of a whole team, a commitment on the part of the citizens, employees, businesses and of course, my partners in government, the City Council," she added. "My administration's biggest challenge will be to regain the confidence in our residents to believe in government, so they believe we will and can work in their best interest."
Macksey defeated Lynette Bond in last November's election, cinching the mayoral seat.
She said she will be a "hands-on mayor," describing her vision as being an accessible leader who is present in schools, businesses and neighborhoods, while representing her constituents in "the most respectful and honorable manner."
"My commitment to the residents of North Adams is that we will have an open and inclusive government," Macksey said.
"Residents should expect that their government be efficient, inclusive and well-managed. A mayor cannot have knowledge of what's going on in their community if they spend all their time in their office," she said.
Macksey, the city's former director of finance, mentioned several projects she'll aim to spearhead during her time in office.
She set a goal of breaking ground on a new public safety complex "within the next two years," while financing the undertaking "without placing an unfair tax burden on our taxpayers."
"We'll be facing over the next several years challenges which can no longer be delayed," she said. "The days of kicking the can down the road are over."
Also on her agenda, she said, is addressing deteriorating streets, homes, sidewalks, and flood control systems, while giving immediate attention to the historic library, and restoring the bedraggled Western Gateway Heritage State Park.
She vowed to eliminate blight, get tough on absentee landlords and reinstate the position of municipal code enforcement officer.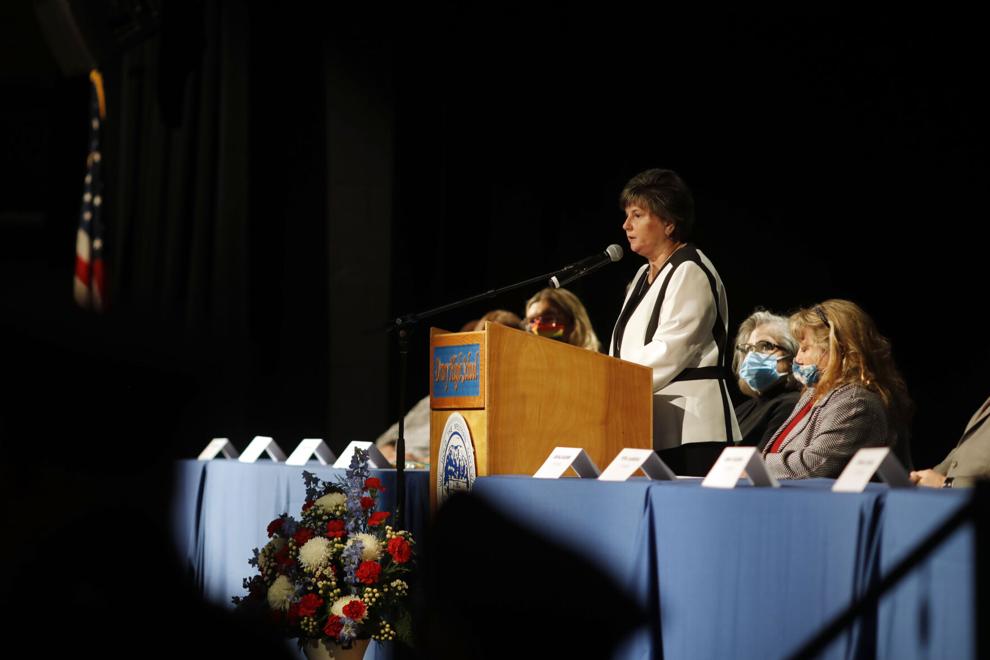 "I'm committed to rebuilding our neighborhoods, even if it's one street at a time," she said.
She promised to govern with transparency and integrity, and to be "fair yet firm."
Her vision for the Mohawk Theater will see it function as a "catalyst and regenerating and rejuvenating the downtown."
She noted what she said was a theme of her campaign — quality of life in North Adams. And to her, that "starts with safety first."
"Our citizens young and old will be safe in North Adams. Police officers will be out patrolling so you know them in good times and bad. Crimes and drugs are issues that will be addressed head on. I will have a no-tolerance policy for drug crime in our city. I understand that it can't be eliminated completely. But we will make it difficult for dealers to sell drugs here in North Adams," she said.
She also said she is sensitive to the needs of those suffering from addiction.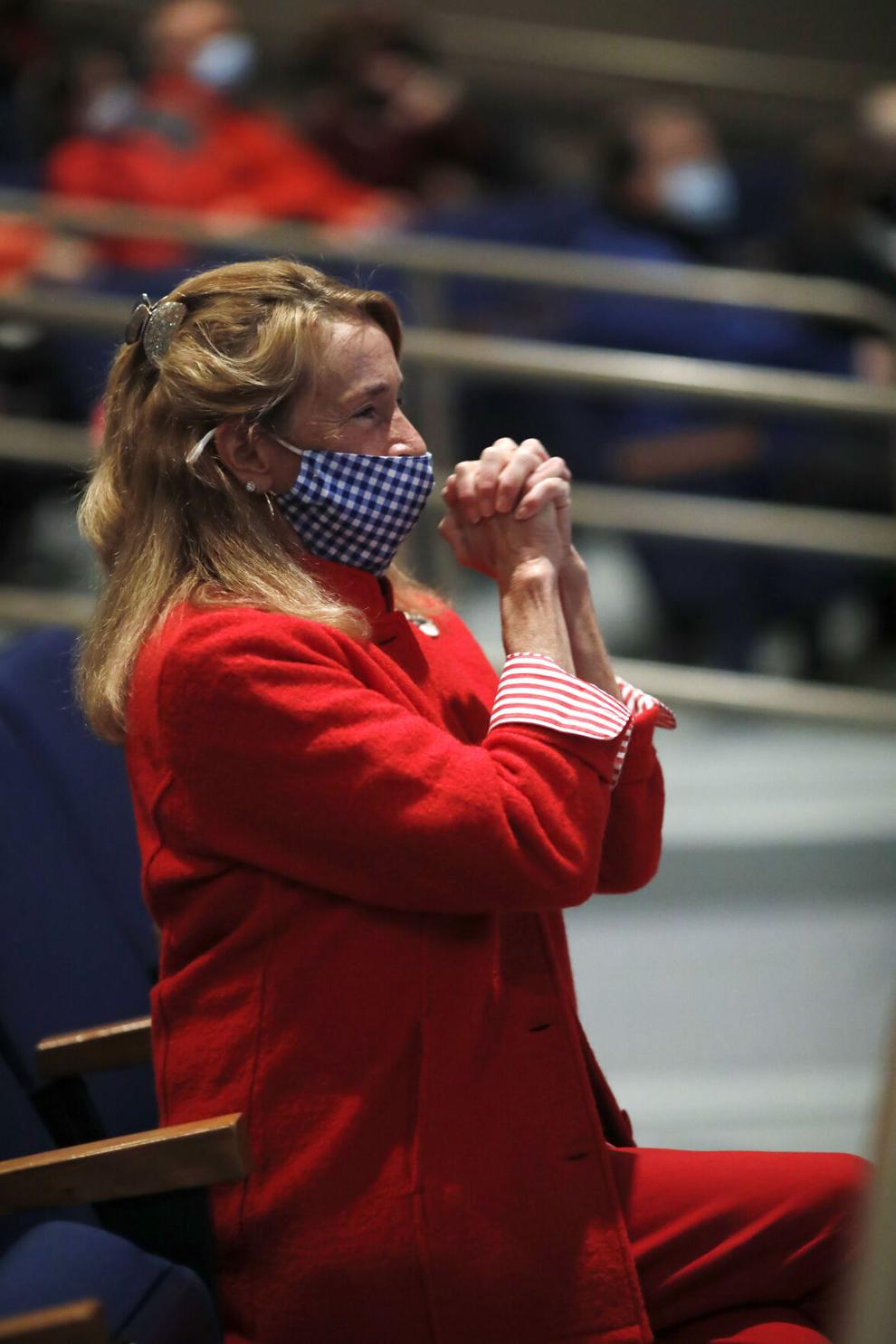 "I look forward to a positive working relationship with the district attorney to address these issues. Public safety in North Adams will be a priority," Macksey said.
City Clerk Cathleen King presided over the ceremony in the auditorium, a venue chosen to maximize opportunities to keep socially distant.
In 1896, Albert Charles Houghton was chosen as the city's first mayor, she said.
And now, 125 years later, Macksey broke ground by becoming the city's first woman mayor, said King. Ashley Shade become the first transgender person elected to the City Council, and councilor Michael Obasohan the first person of color.
"It's about time," King said. "These are signs that the city is opening its doors embracing and empowering diversity and change during a very difficult time, which includes obviously a continuing pandemic, and a continued need for strong leadership to guide the future development of the city than all of us treasure."
King implored the newly elected officials to "set aside personal sentiments in order to act in the best interests" of the city, and "to remain professional in times of controversy."
"If this is beginning to sound like the undertaking of an impossible job, you may be right," she said. "It certainly will test you, but it will also be rewarding when you have helped to bring food to those who need it; to help a new business owner open her doors; to locate badly needed funding for infrastructure and housing; to secure resources for local schoolchildren."
Several School Committee members took their oaths of office: Richard Alcombright, Emily Daunis, David Sookey and Joshua Vallieres. Northern Berkshire Vocational Regional School Committee members Gary Rivers and Diane Parsons were also sworn in.
Along with Shade and Obasohan, Councilors Jennifer Barbeau, Lisa Blackmer, Keith Bona, Marie T. Harpin, Peter Oleskiewicz, Bryan Sapienza and Wayne Wilkinson were sworn into office for two-year terms.
By unanimous votes, councilors elected Blackmer to serve as council president, and Oleskiewicz as vice president.
"I am hopeful that a council fully engaged in their committee work and their community will help us continue to move the city of North Adams forward," Blackmer said.