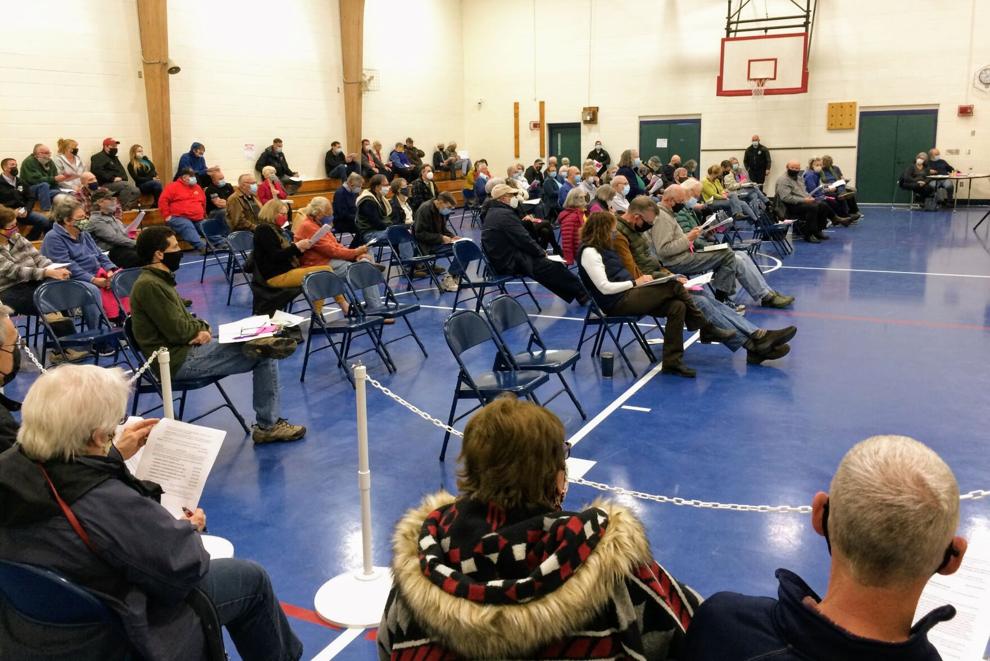 BECKET — In construction season, as many as 100 heavy-duty trucks can pass each day along Becket roads where Robert Benton likes to walk.
That's what happens when you live near two busy companies, Williams Stone and Tonlino & Sons Crushed Stone, on Algerie Road and neighboring streets.
Benton rose during the annual town meeting Saturday to explain why he shaped a citizens petition on the night's warrant after speaking with local truckers and twice presenting a case to the Select Board that the noise from "engine braking" is detrimental to well-being and public health.
One measure of this braking on Becket roads, Benton said, captured a 100-decibel reading. According to the Yale Environmental Health & Safety program, a subway at 200 feet produces noise at 95 decibels; a power mower, 107 decibels; and a chain saw at 3 feet, 110 decibels.
Benton's proposal to prohibit the nonemergency use of engine braking, which employs engine compression to slow vehicles, became the night's most debated issue — and failed by a wide margin.
It went down after residents heard pleas from one of those stone companies that the braking system under scrutiny is a key safety feature, despite the abrupt, blat-blat-blat noise it generates.
"This bylaw would greatly increase the risk of an accident on these roads," said John Tonlino, a stone company manager.
Benton's proposal also caught flak from Police Chief Kristopher McDonough, who said his officers would not be able to discern noise levels and enforce the new rule.
"Impossible," the chief said, adding that he doubted the measure would stand up in court. "It seems like a disaster waiting to happen."
Ethan Klepetar, standing, moderates at Becket's annual town meeting Saturday.
On that point, legal counsel Joel Bard, sitting at a head table with Becket officials, observed that the wording of the proposed bylaw, under the "Prohibitions" section, did not actually prohibit anything. Benton's phrasing appealed to truck drivers to use gears and their "service" brakes, "avoiding unnecessary use" of engine braking in nonemergency situations, and to drive at speeds that don't require hard braking. He said he wanted to balance safety against the irritation and noise faced by residents.
"In my opinion, it would be a very problematic bylaw to enforce," Bard said.
In 20 minutes of debate, several people stepped to a microphone set up in a center aisle of the Becket Washington School gym. One trucker spoke against the bylaw, adding that people who walk three abreast in the road are the safety problem.
"Trucks make noise. What can I tell you?" he said.
Another resident brought a round of applause from the bleachers after deriding the proposal as an example of government overreach.
Select Board member William H. Elovirta said he was not in favor of the bylaw, but added, "We do sympathize with these people."
Resident Jeremy Dunn asked Moderator Ethan Klepetar to call the question. When that procedure easily passed, ending debate, the bylaw failed, with only a dozen or so residents, out of well more than 100, raising red voting cards in support.
A few residents gathered around Benton after the meeting to offer support.
"You can always go back," Benton said in an interview after the meeting. "There's always another day."
Other votes
Residents agreed to steer $100,000 from the Community Preservation Act fund to the First Congregational Church, which plans to tackle a $200,000 project to restore its belfry. It will borrow the rest of the money needed, said Raymond Ellsworth, a church trustee.
"Without the help of the town, I'm not sure what's going to happen to the building," he said.
With scant discussion, residents approved an operating budget of $7,039,413 for the year that starts July 1, a 0.9 percent increase. The figure includes $384,812 in debt payments.
The budget includes a $2,392,842 assessment from the Central Berkshire Regional School District, up $73,949, or 3.1 percent.
That does not include $126,981 in debt payments in the coming fiscal year for the town's share of the new Wahconah Regional High School.