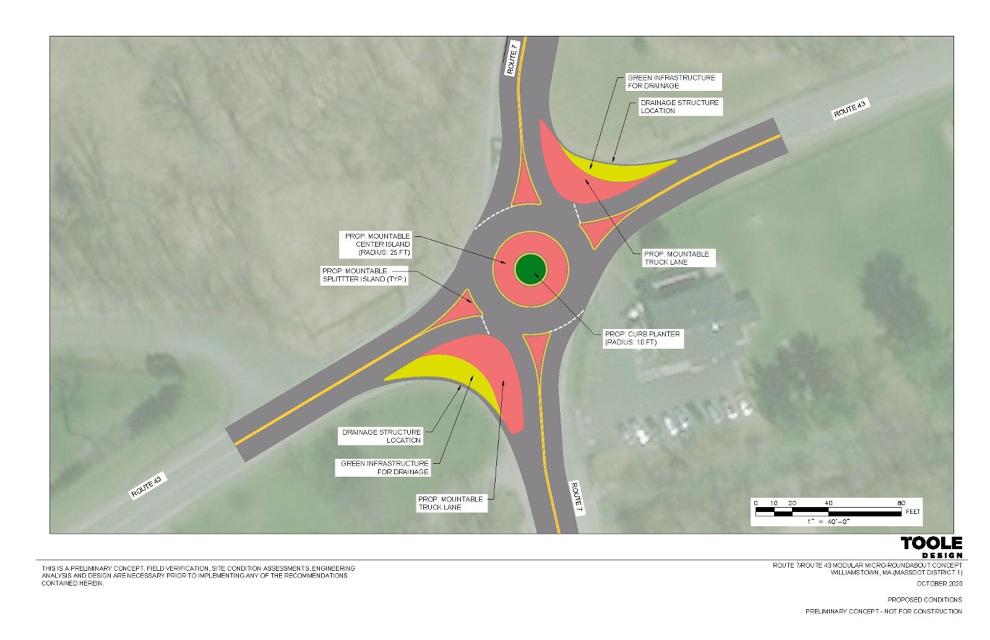 WILLIAMSTOWN — Early reviews are mixed on a proposed roundabout at Five Corners in Williamstown. People have until Feb. 3 to comment on a project that is years away, if it happens at all.
Using traffic data, designers estimate that the number of crashes at Five Corners is likely to decrease by about 71 percent with a roundabout, while fatal and serious-injury crashes likely would decrease by about 87 percent.
According to information provided by Massachusetts Department of Transportation spokesperson Judith Riley, the current estimated cost of the project is slightly more than $1.5 million. A comment period is open.
Nearby residents have mixed feelings about the proposal, and some already have submitted comments to the state.
"The next steps for the project include the review and incorporation of submitted comments into a 25 percent design," Riley said. "A 25 percent Design Public Hearing will be conducted when this project advances. A Design Public Hearing could occur as early as 2022.
"The project could be designed and ready for advertising in 2023, if funding is identified," Riley said.
The project is not yet on the Regional Transportation Improvement Program or included in MassDOT's Capital Investment Plan. Both will need to be completed for the project to advance.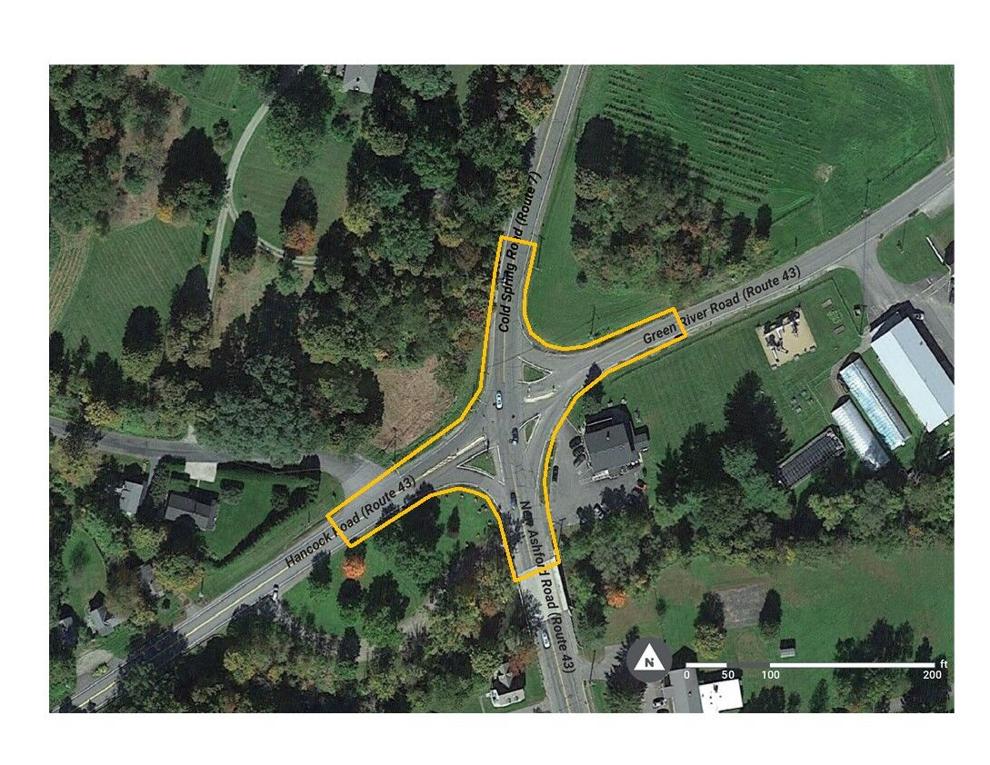 The neighborhood around the intersection is considered historic. Local residents have come to be known as resistant to any alterations of the landscape.
"I'm not in favor of it," said Bette Craig, a nearby resident and president of the South Williamstown Community Association. "That intersection is definitely a problem, but I just don't think a roundabout is the right way to go. And that is a beautiful entrance to town. I don't see how a roundabout will make it any better."
Matthew Baya, a member of the board of the association, said the idea has some merit.
"Those one-lane roundabouts seem to flow pretty well," he said. "It all seems to make sense to me."
"I think it's a good idea," said Mark Thaisz, who nearly was killed at that intersection in a 1989 car accident. "But, whether they can fit it into that slot, I don't know. It's awfully tight. But, if it does, I think it would be a positive thing."
He was concerned that it might eat into parking available for the Store at Five Corners.
Another neighbor said that while she generally likes roundabouts, she doesn't want to change the appearance of this entry point into Williamstown.
According to information provided in an online presentation, from 2013 to 2017 the junction was the site of 20 traffic accidents yielding three injuries and one fatality. Four of them were head-on crashes.
The presentation notes that southbound Route 7 approaching the intersection is a steep downhill run, leading to increased speeds and limited stopping distance, especially with wet or icy conditions. The stop sign bypass right-turn lanes encourage turning at higher speeds. Larger trucks find it challenging to make left-hand turns from any direction because of the traffic islands and geometry of the turn lanes.
Sightlines are somewhat limited while at the stop signs on Route 43.
Data used in the presentation visualizes 32 potential vehicle-to-vehicle "conflict points" in the existing intersection where accidents likely are to occur. It also shows that, with a roundabout, there are only eight potential vehicle-to-vehicle conflict points.
Designers say the number of areas that put pedestrians and vehicles at risk of contact would be reduced from 16 to eight with a traffic roundabout.
The presentation notes that, because of slower speeds, a roundabout would reduce crash severity, allow safer merges, and provide more time for drivers to detect and correct mistakes and detect mistakes by others.
The roundabout would result in reduced speeds at each approach to the intersection, and provide improved access for trucks through the installation of truck aprons, officials say.
Here is how the state describes the intersection on the website: "Route 7 is a rural minor arterial under state jurisdiction. Route 7 is generally a two-lane road with lanes 12 to 13 feet wide and shoulders of various widths up to 10 feet wide. Route 43 is a rural major collector also under state jurisdiction. Route 43 is generally a two-lane roadway with lanes 11 to 12 feet wide and shoulders vary from zero to four feet."