When the first travelers on the new Berkshire Flyer arrive in Pittsfield on July 8, they'll have a freshly-painted mural there to greet them.
Jesse Tobin McCauley, the artist who painted it, hopes that her mural at the Joseph Scelsi Intermodal Transportation Center at 1 Columbus Ave. will act as a welcome sign, and maybe an energy boost, for those that need it.
"I want them to get off and smile," she said. "They've had a long train ride and it's kind of like a nice welcome that hopefully reinvigorates them and really just makes them happy."
The Berkshire Flyer is an Amtrak train that will carry passengers from New York City to Pittsfield for weekend trips, leaving on Friday afternoons and returning on Sundays. The Flyer is currently a pilot program that will take place this year and in 2023, beginning on July 8.
McCauley based the mural off the logo for the Berkshire Flyer, while adding color and a few elements to represent the area, including mountains, water and a passenger on their way off the platform.
The mural is abstract, so some of the shapes might not appear to viewers at first blush. Its design, a white background with bright, colorful shapes spread around, is meant to be an "eye-opener," she said.
The words "Welcome to Pittsfield" are present on the mural as well.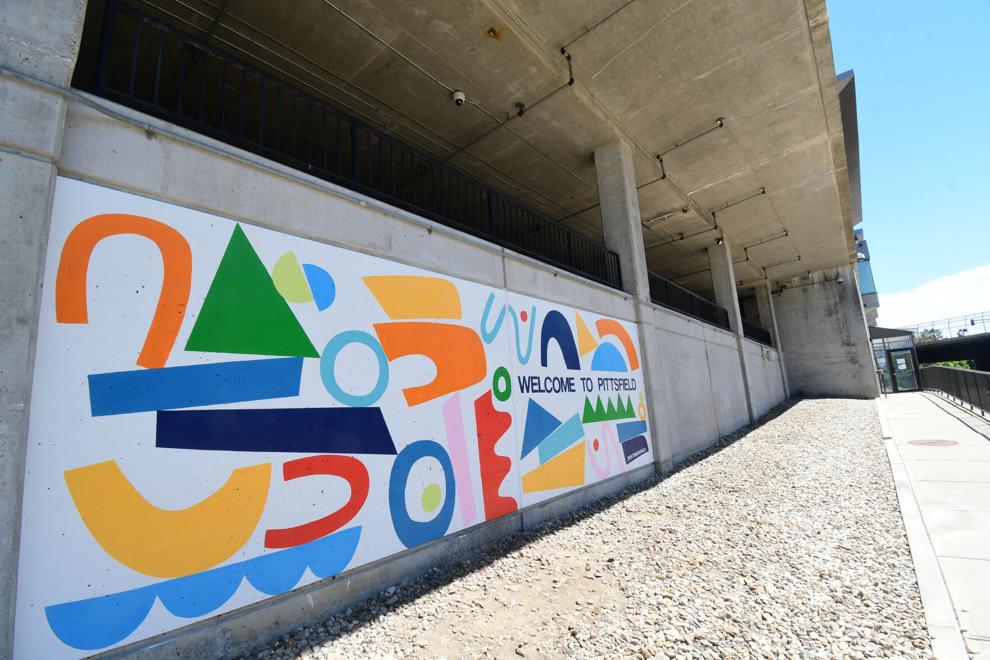 The mural stands at about six feet high and 19 feet wide. It took McCauley about 25 hours to complete, which is roughly four straight work days.
While McCauley has worked in smaller paintings and graphic design, this isn't her first mural. She has worked on other projects throughout the city, including the mural at 443 North St.
Specifically, though, she began working on murals two years ago in response to the COVID-19 pandemic. The need for public art that could be viewed safely outside — and art that was available to everyone — was a perfect reason to get into the new format, she said.
"Oddly, COVID kicked off my mural career," she said.
For McCauley, who grew up in Pittsfield and returned to the city nearly ten years ago, the mural is a chance to share some sunshine with the New York travelers.
"I think this represents bright, cheery happiness and hopefully that's what they're going to experience when they're here," she said.