PITTSFIELD — A new partner will bring victims' views to the forefront, as a task force prepares to guide the Springfield Diocese on how to improve its response to clergy sexual abuse.
The diocese said Thursday it has contracted with a nonprofit group, Stop It Now!, to gather information from abuse survivors. The point, those involved say, is to use victims' experience and insight — elicited carefully and respectfully — to inform recommendations the task force will present to the region's new Catholic bishop.
"We need to listen to people with lived experience," said Jeffrey Trant, director of the Office of Safe Environment and Victim Assistance for the Diocese of Springfield, speaking at a Springfield news conference. "We want to listen with humility and learn what will be helpful."
The renewed outreach to survivors, handled through an independent party, is the latest move to bring transparency and fairness to what long has been a closed process controlled by the Catholic Church.
Olan Horne, of Chester, a clergy abuse survivor and advocate for victims, says that while the new group's work can have meaning and value for survivors, it does not address a backlog of specific complaints that, in his view, continues to impair trust in local Catholic leaders. He also said the task force, after six months of operation, should by now understand what victims have experienced and what they most need — without paying for six weeks of study by a group like Stop It Now!
Many victims of past abuse within the Springfield Diocese, Horne said Thursday, continue to wait for the church to resolve their requests for an audience with church leaders, as well as for justice and, in some cases, financial compensation.
"It's a lollipop and we need a meal," Horne said of the program announced Thursday. "You've got survivors who have been waiting six and seven years. The diocese is not prioritizing what's most important to people who are suffering today. That's what's missing here."
The Eagle asked a spokeswoman for the diocese to say whether the new bishop plans to accelerate resolution of those cases, and why the new outreach is needed. The spokeswoman said she would seek answers but as of 8 p.m. had not responded.
New group's role
The task force, led by Daniel Ford, a retired Pittsfield judge, was created last May, weeks before another former jurist managing an independent review concluded that Christopher J. Weldon, a former Springfield bishop, engaged in sexual abuse.
On Thursday, Ford joined representatives of Stop It Now! to explain the group's role and to invite survivors to take advantage of the outreach.
"We're hoping that the media will get the word out to the people at large," Ford said, standing under blue skies outside the Bishop Marshall Center on Elliot Street in Springfield.
To arrange a session with Stop It Now!, people can call 413-587-3502 and leave a message in what the group says is a confidential voicemail system, providing their first name and a callback number. Contact also can be arranged by sending an email to info@stopitnow.org, putting "You Matter" in the subject line. More information is available at stopitnow.org/youmatter.
People are asked to register interest in participating by Jan. 25. Stop It Now!, which has no affiliation with the Catholic Church, plans to forward its findings to Ford's task force by March 1.
Ford said that the nonprofit, which has been working for nearly 30 years to prevent sexual abuse, will allow people to describe their experiences in a format designed to protect them from suffering further trauma. A representative of the group said it is using a consultant to devise survey questions that will build out its report to Ford's task force.
It isn't yet known when the task force will file its recommendations with the diocese's new leader, Bishop William Byrne, who was installed Dec. 14 as the region's 10th bishop.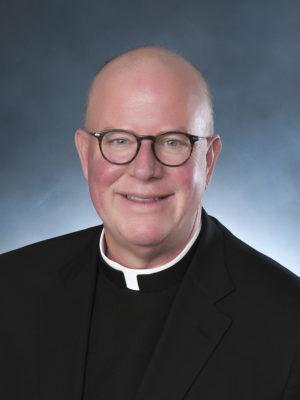 When asked about differing policies among Catholic dioceses on identifying confirmed abusers, the bishop suggested Thursday that he is committed to disclosure. Days before he took his new post, the diocese announced it would change its policy and post online the names of priests who were credibly accused of abuse, even if those complaints were received after the priests had died. Until then, those clerics had been spared exposure.
"Transparency is a top priority here in Western Massachusetts now," Byrne said Thursday. The diocese represents Catholics in the state's four western counties, including Berkshire County.
Peter Pollard, himself a clergy abuse survivor, said at Thursday's news conference that the kind of work done by Stop It Now! offers a path toward healing, if survivors can feel that a sense of personal safety has been restored and that people who abused others have been held to account.
"What we really need to do is listen. That's what's so wonderful about this project," he said.
Pollard urged people injured by clergy misconduct to come forward. "Let us know. What would help prevent future abuse? Tell us what they would need, and what would be useful for them."