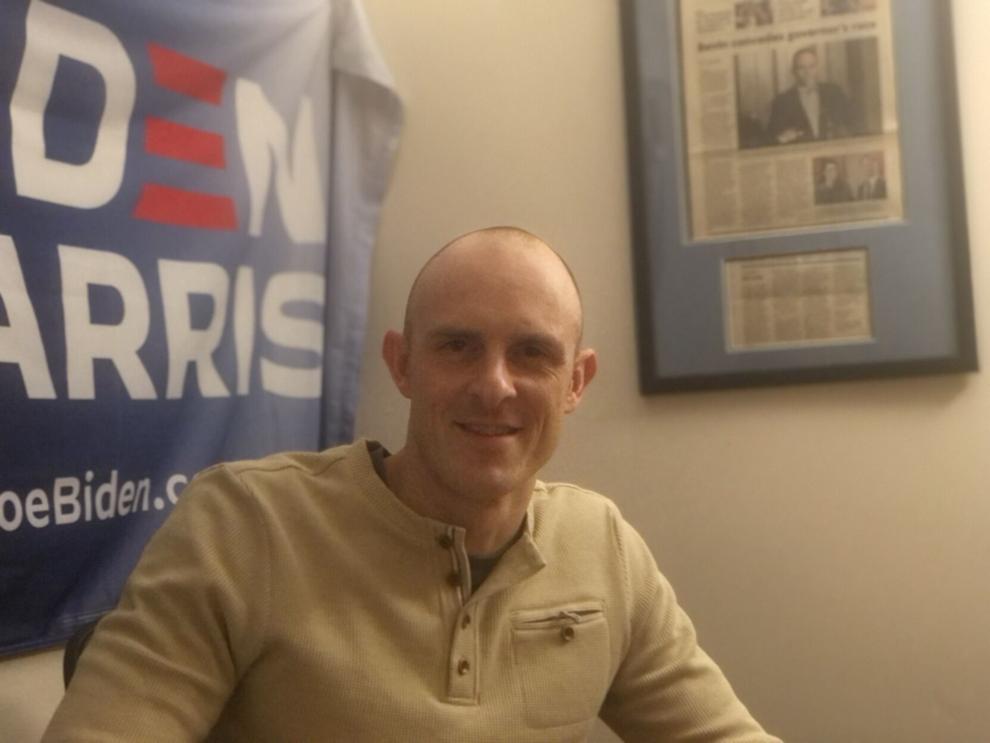 Eric Hyers is not interested in easy races.
Hyers, a native of North Adams, has spent nearly two decades working on and managing political campaigns for Democrats across the United States, from Virginia to Montana, with a penchant for contests that look unwinnable to others.
In his latest role, he led the Joe Biden-Kamala Harris campaign to victory in Michigan, turning the state blue once again and helping the former vice president secure the White House.
"I wanted to do it because I knew how important Michigan was to the campaign's chances of winning," he said. "I knew it was going to be hard, and I knew it had to be done well."
When the Biden campaign tapped Hyers for the job, The Wall Street Journal called him "a veteran of red-state Democratic campaigns."
He already had led Kentucky Gov. Andy Beshear to victory over a Republican incumbent backed by President Donald Trump, and spearheaded Montana Gov. Steve Bullock's successful reelection bid. Bullock, a Democrat, won Montana by 4 points in the same year that Trump swept the state by 20.
With those victories under his belt, Hyers wanted in on the presidential race. Michigan, which had swung dramatically to Trump in 2016 and become a crucial part of Biden's 2020 campaign, was exactly the kind of challenge Hyers had prepared for all his career.
'Like a big sponge'
Hyers was a toddler when his family moved to North Adams in the late 1980s. His parents, Peggy Winslow and Don Hyers, worked in public education, his father a professor at the Massachusetts College of Liberal Arts.
In his junior year at Drury High School, Hyers became interested in politics as he watched the George W. Bush-versus-Al Gore case unfold in the U.S. Supreme Court. His political identity as a Democrat also was shaped by growing up in North Adams as the city reeled economically from the loss of Sprague Electric.
"That really solidified in me that there was one party who [cares] about people," he said, "and fights for jobs, and health care and good public schools."
In the summers, the family would take cross-country road trips, his mother said, and "by the age of 5, he could draw a pretty good outline of the United States and put in most of the states. He was like a big sponge."
His career choice — traveling around the country, helping Democrats win elections, a new address each year — never surprised her.
"He's very energetic," she said. "Go, go, go."
Wins and losses
Hyers became involved in politics in his first year at Skidmore College in Saratoga Springs, N.Y., when he and a friend put together a video on attempts by local Republicans to stymie the college vote.
Local Democrats paid to have 1,000 or so copies made and distributed, he said. A low-quality production, by his own admission, but enough to spur his budding excitement for politics.
For his senior thesis, he tried to figure out whether door knocking and phone calls make an impact in local, municipal elections. His conclusion? They work.
That same year, he became one of those people knocking on doors.
"I took one day off after graduation and started the next Monday as a field organizer for then a relatively unknown woman running for Congress," he said. That woman was Kirsten Gillibrand, now a New York senator.
Gillibrand won her race, and Hyers moved to Washington to chase his big break in politics.
"People who want to be actors move to LA and wait tables until they get a call," he said. "I moved to D.C. and waited tables until I got a call."
That call sent him to Iowa, where he worked as a field organizer for John Edwards' presidential bid and met his wife, another field organizer.
By 2009, he was managing campaigns. His first shot was a race for the Legislature in a rural, deeply Republican part of Virginia. The candidate lost by more than 30 percentage points but still outperformed the top of the ticket that year by about 6 percentage points, Hyers remembers.
After that race, he flew to Rhode Island to meet then-Providence Mayor David Cicilline. Hyers managed Cicilline's first run for Congress and returned for the representative's reelection two years later.
Ahead of that second campaign, Cicilline "was rated one of the most vulnerable members of Congress," Hyers remembers, and the Democratic Congressional Campaign Committee was asking him to get out of the race.
"He was like, 'Nope, I'm staying in, we're going to win,'" Hyers said. "And we did."
By 2014, he had moved on to managing gubernatorial races, including Gina Raimondo's election in Rhode Island and Bullock's reelection in Montana. Then, last year, just as Hyers decided he was done with governor's races, Kentucky's Democratic attorney general, Beshear, decided to try to oust the state's incumbent Republican governor.
"[Beshear's] team reached out and said, 'Hey, do you want to come beat [Gov.] Matt Bevin?'" Hyers remembered. "That's not something you can say no to."
It was a boon to the Beshear campaign that Bevin ranked among the most unpopular governors in America. But, the race still was taking place in a state that had gone for Trump for president by almost 30 percent just a few years earlier, and Bevin had Trump's full support.
"In a state like Kentucky, if you're going to run a statewide campaign for a Democrat, you've got to be very close to flawless," Hyers said. "And you still gotta have a couple of things break your way."
The election broke his way. Beshear won by just over 5,000 votes out of 1.4 million cast.
A Zoom presidential campaign
Hyers has lived at more than 20 addresses since he graduated college, by his own estimate. But, when the biggest race of his political life came calling, there would be no move.
He began his work with the Biden campaign in June, months into the coronavirus pandemic. As Biden campaigned largely from home for much of the spring and summer, Hyers, too, spent most of his time working over Zoom from Kentucky.
For the Michigan team, the pandemic meant switching out traditional ground efforts, like knocking on doors, for digital campaigning, from Zoom meetings with surrogates to a massive texting effort. The campaign was not just about turning out Democrats, Hyers said, but actually changing people's minds.
"We made the decision very early on that we had to be having conversations with voters," he said. "We had to do the work to convince people to vote for the vice president."
The Michigan team identified three priorities, according to Hyers. They would try to increase turnout of Black voters, swing suburban voters back to the Democratic Party, and drive up Biden's margin in rural areas that Trump was sure to win.
"Margins matter," Hyers said. "I saw that firsthand in both Montana and Kentucky."
In the end, those margins were crucial to Biden's success. About two-thirds of the counties that backed Trump became more Democratic, according to The Associated Press. The former vice president also flipped three counties, and the campaign managed to drive up turnout significantly in the suburbs.
Although Biden won Michigan by almost 3 percentage points, there was no election night victory to celebrate. Hyers had to wait until the next day before enough mail-in ballots were counted for the race to be called.
Back in North Adams, Peggy Winslow also was waiting.
"My stomach was in knots," she said. Not only was the presidency at stake, but her son's success, too.
"It's always kind of nerve-racking to me," she said. "I'm a mom! I don't like all that stress."
With the election finally behind them, though, she was glad to catch up with her son — without constant work interruptions from his phone. As for Hyers, his post-election plans mostly include sleep and tennis, a hobby that he picked up at Drury.
When it comes to his next race and the future of the Democratic Party, as Biden gears up to assume the presidency, Hyers has no comment yet.
"I'll take a pass on that one," he said with a laugh.