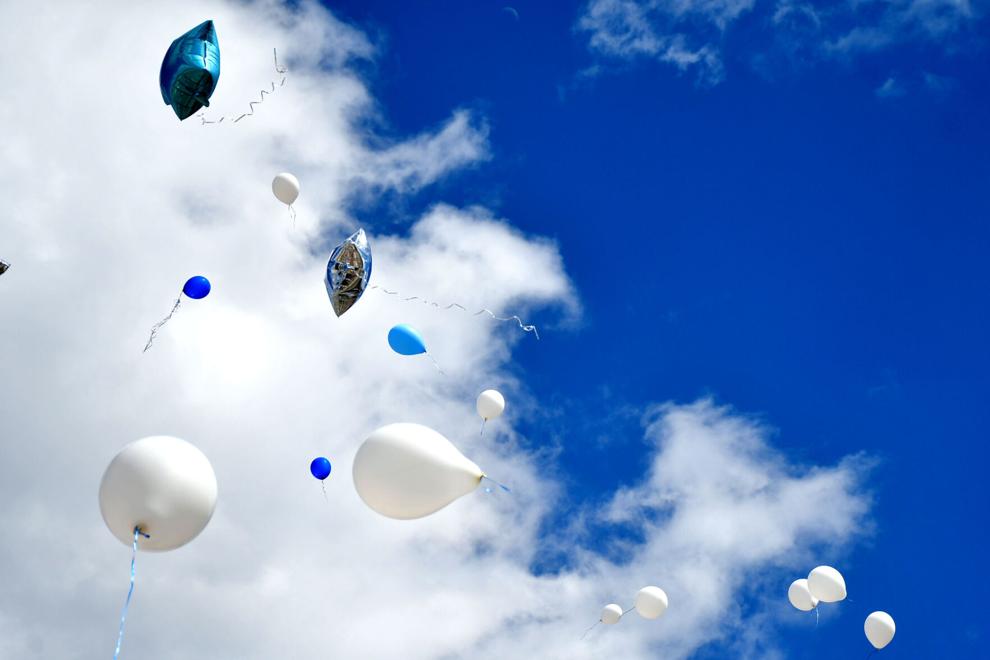 A day after the one-year anniversary of Miguel Estrella's death, a fleet of balloons was sent up in hopes of finding him somewhere in the clouds.
Supporters and people who knew Miguel Estrella and his family gathered at Persip Park on Sunday with balloons in hand. It was a picture-perfect Spring day for the vigil, as Elina Estrella, Miguel Estrella's sister, said that he provided sunshine for the event after recent cold spells. A few in the crowd also joked that Miguel was taking some balloons early, as they drifted away before their official release.
The intention behind releasing the balloons — blue and white helium bulbs, with some shaped like stars — was to send a message to him; that he is loved. Elina Estrella asked everyone gathered there to take a moment and think of an intention before releasing them.
"It's like a releasing of energy, because your energy never dies," Elina Estrella said. "I figured why not release them and kind of release our intentions so hopefully, whatever people believe in, it reaches him and he can hear our thoughts and prayers and manifestations and intentions with these balloons."
Miguel Estrella was killed by police on March 25, 2022, during a mental health crisis in which he approached an officer with a knife. He was 22 years old. His death provided a rallying cry to change how the city responds to mental health calls.
Elina Estrella began her remarks to the crowd gathered there with gratitude, saying that she and her family could feel the love from those who attended. She conducted the release of the balloons, and also announced the family's intention to mount a picture of Miguel Estrella on the wall across the street from Persip Park, on the side of the building that houses Ad Lib Inc. at 215 North St.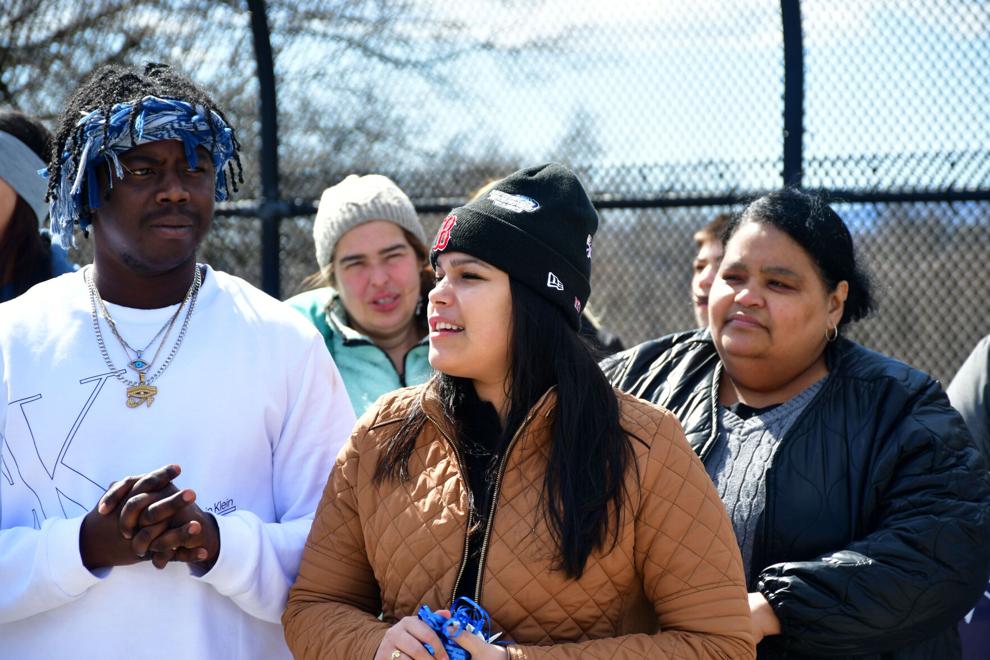 The installation features a picture of Miguel Estrella and words from his mother, with text in both English and Spanish: "Enough of so much injustice. Everything that surrounds us has the imprint of your dedication, your affection and your love. Even though you left, you are still with us."
Elina Estrella said they hoped to get the picture mounted in the next few weeks, after approval from the city.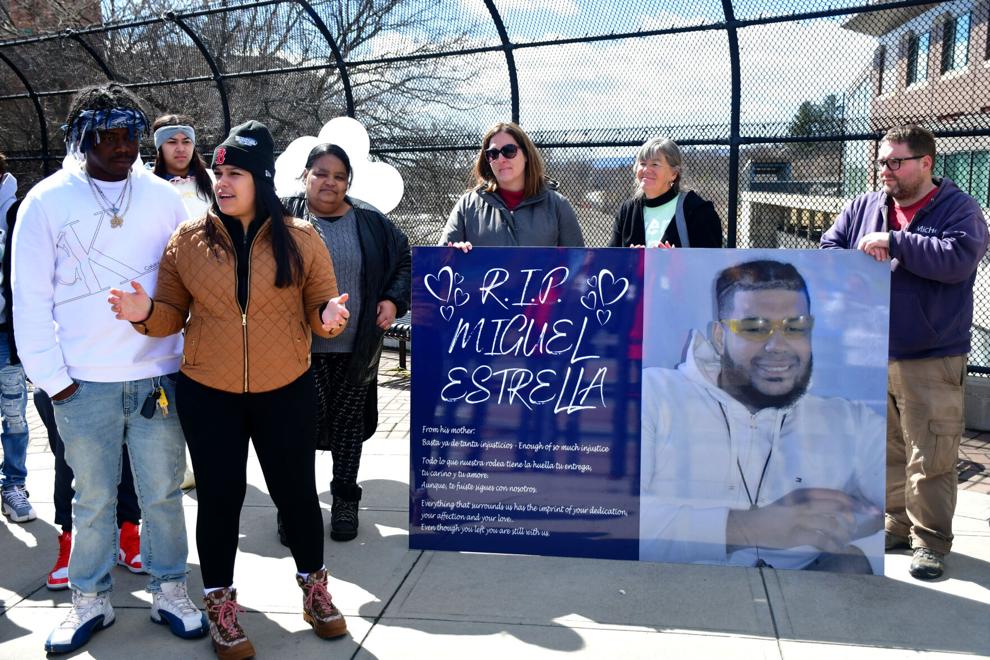 Marisol Estrella, Miguel Estrella's mother, said that the picture has been in their house surrounded by candles and flowers for a whole year. She said she would be proud to have it displayed on such a prominent wall in town, and hoped that it would represent hope for change — particularly, an end to injustice.
One year later, Marisol Estrella grieves for Miguel Estrella as a good man, a good son and someone who was beloved by many.
"He was joyful," Marisol Estrella said. "He was a light in the darkness."
Marisol Estrella said that Miguel Estrella had big dreams — he wanted to buy a house, take her to live in Texas and go to visit family in the Dominican Republic. She recalls how easily Miguel Estrella could help take her stress away, even as he struggled with his own problems.
"He was a diamond in the rough who knew how to help other people shine, but didn't quite know how to make himself shine," Marisol Estrella said.
Anaelisa Jacobsen of Manos Unidas provided translation for Marisol Estrella's comments in an interview with The Eagle.
During her speech, Elina Estrella urged attendees to sign a petition to end qualified immunity for officers at the state level, as organized by the Impacted Families Embracing Police Accountability coalition. The petition would seek to have the state legislature require independent investigations into deadly use-of-force encounters, and get rid of the qualified immunity statute that protects government officials as individuals from lawsuits, particularly civil cases.
In a subsequent interview, she said she wanted to see changes to the way officer-involved shootings are handled for the sake of the victims' families.
"I don't really think it should be completely taken away, because not every officer is a bad officer, and I think they do deserve protection for themselves when they're out in the field," Elina Estrella said. "But I'm looking forward to learning more about it and seeing what the conversations are around it when these politicians start to try to make changes."
She said she also hoped to have a dialogue with incoming city leaders, including the successors for Mayor Linda Tyer and Pittsfield Police Chief Michael Wynn when they are respectively elected and selected. She hopes to advocate for mental health professionals to respond to calls, among other suggestions.
Corey "Wu" Johnson, a big brother figure to Miguel Estrella, delivered remarks to the crowd. He talked about de-escalating situations — starting small and working through a problem with somebody to find out what the real issue is, rather than reacting with aggression. He said he wished police would regard those in crisis with humanity.
"Treat people like people," Johnson said.
In an interview with The Eagle, Johnson talked about the importance of providing positive spaces and influences for youth. He said there needed to be more activities and good role models for kids in Pittsfield. The change starts with all of us, he said, and community investment always comes full-circle.
"We're all products of our environment," Johnson said. "But if nobody's going to change the environment, nothing's going to change."
Terry Moore, a community activist with the cooperative group Roots & Dreams and Mustard Seeds, emphasized the need to give kids an outlet to express themselves, especially in the summer months. He said getting groups of kids together to give them a better sense of community, whether it is for simple activities like bike riding or gardening, was an important place to start.
Kristina Cardot, founder of the Re-FORMation academy, said there needed to be more mental health resources for kids in schools, too.
For Elina Estrella, the biggest thing she hoped people learned: just be kind. You never know what someone else is going through, she said. She said that Miguel Estrella was a kind person who was dealing with his own mental health struggles — that he was learning to cope with them, and that just because someone has a bad day, it doesn't make them a bad person.
"He was just the type of person to be like, 'I got you,'" Elina Estrella said. "Whatever it was, he had your back."