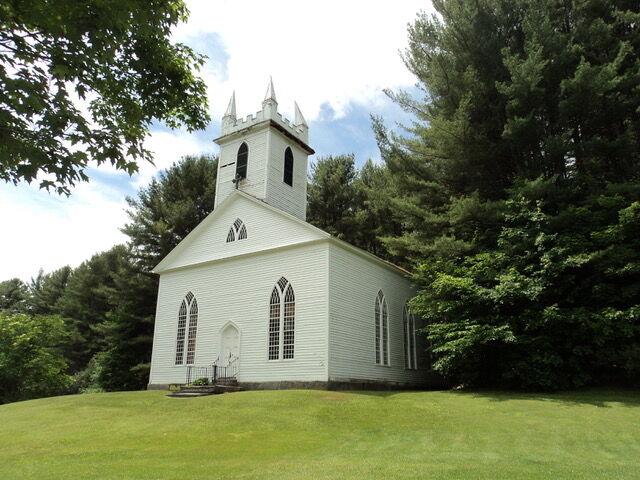 OTIS — An historic church given to the town of Otis will remain publicly owned, despite an effort to put it in other hands.
The failure of a citizens petition at town meeting this week was a victory for advocates of the former St. Paul's Episcopal Church, but a partial one. Two other articles that would have helped to secure the future of the 194-year-old building came up short.
"We have swayed enough people," Diane Provenz, a member of both the town's Historical Commission and the Otis Preservation Trust, said of the vote to retain ownership. "The commission is really thrilled with the result. Now we're ready to go ahead."
At Tuesday's meeting, 142 residents present in the Town Hall parking lot approved a new $5,807,974.35 Otis budget for the year that starts July 1 without discussion and quickly dispatched other financial business.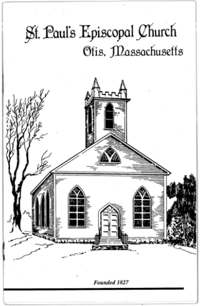 St. Paul's Church illustration Otis (copy)
A citizens' petition on the Otis annual town meeting warrant this week asked residents to approve transferring the former St. John's Episcopal…
Just a few articles into the agenda, Select Board Chair William Hiller won the meeting's agreement to move up consideration of a citizens petition he backed calling for the town to transfer ownership of the church to the trust. According to the petition, if the trust declined that transfer, the town had the right to find other parties willing to take ownership. The trust, which was formed to raise money for building work, had not been asked by the petition's proponents whether it was prepared to take on that duty, its member say.
The move failed, 72-54.
Residents voted after hearing several townspeople speak, including Lynne Geane, the trust's newly named president. Geane told residents about the trust's work to raise money to restore the historic church. In nine months, fundraising has brought in $95,000 from 250 people. "Clearly, people are interested in supporting St. Paul's," she said in an interview Thursday.
Geane said she sees the defeat of the measure as an expression that residents value the 13 Monterey Road church and want to see steps taken to save it. "This is a super worthwhile project. It's one of the anchors of the downtown district," she said.
Though the trust has notched early fundraising successes, its leaders felt it could not take on ownership. "It was too much at this point. Our message was 'Don't derail us. Let us keep going on this track,'" Geane said.
Though residents turned back the property transfer, they declined, 58-50, to designate the church as a community center. And they said no, 62-44, to allowing restoration work to use the $70,000 held in a community center account. That funding has been salted away by the town over more than a decade with hopes of some day funding a center that would include sports facilities, including a swimming pool.
Geane said that by "community center," supporters of the church project envisioned many types of public uses, including, perhaps, evening concerts and art exhibits, as well as rentals for weddings and family reunions. The cost of insulating and heating the church prohibits, for now, year-round use, she said.
"Basically, it will be for the community," Geane said.
Other decisions
– Residents agreed to allow the town to borrow $500,000 for a new pumper truck for the Fire Department and spend $70,000 for a new Highway Department pickup truck.
– They approved payments of $432,197.50 on the wind project bond and $214,375 on the Otis Fiber broadband bond.
– Residents green-lighted $263,000 worth of repairs to Judd, Ed Jones, Merritt and Dimock roads.
– They backed an article to create a 6 percent local occupancy tax for short-term rentals.
– They agreed to a move to appoint rather than elect a town treasurer, a change recommended by the state Department of Revenue. The position will be filled by the Select Board.
– An effort to perform work on the Knox Trail, which marks a section of the route of a famous Revolutionary War-era military trek, secured $5,000.